In the U.S., the best areas for public golf are far from the best areas for private golf. The result is something for everybody.
It's almost as if the public and private sectors of American golf don't meet. That's one of the great ironies of the country's golf course inventory: Those areas where the private clubs are strongest in terms of quality design don't overlap at all with regions where distinctive, publicly accessible golf can be found.
At the considerable risk of generalizing, the story can be told in fairly simple terms. Private-club golf flourished in areas where the game took hold early on among the monied classes. That invariably meant in major metropolitan areas like New York, Boston, Philadelphia, and Chicago, where golf became well established at the beginning of the 20th century and where it became entrenched by the 1920s. What is widely known as the "Golden Age" of golf course architecture is also the heyday of private-club golf. Donald Ross, Alister MacKenzie, C.B. Macdonald, and A.W. Tillinghast all made their reputations working for wealthy clients in the major cities.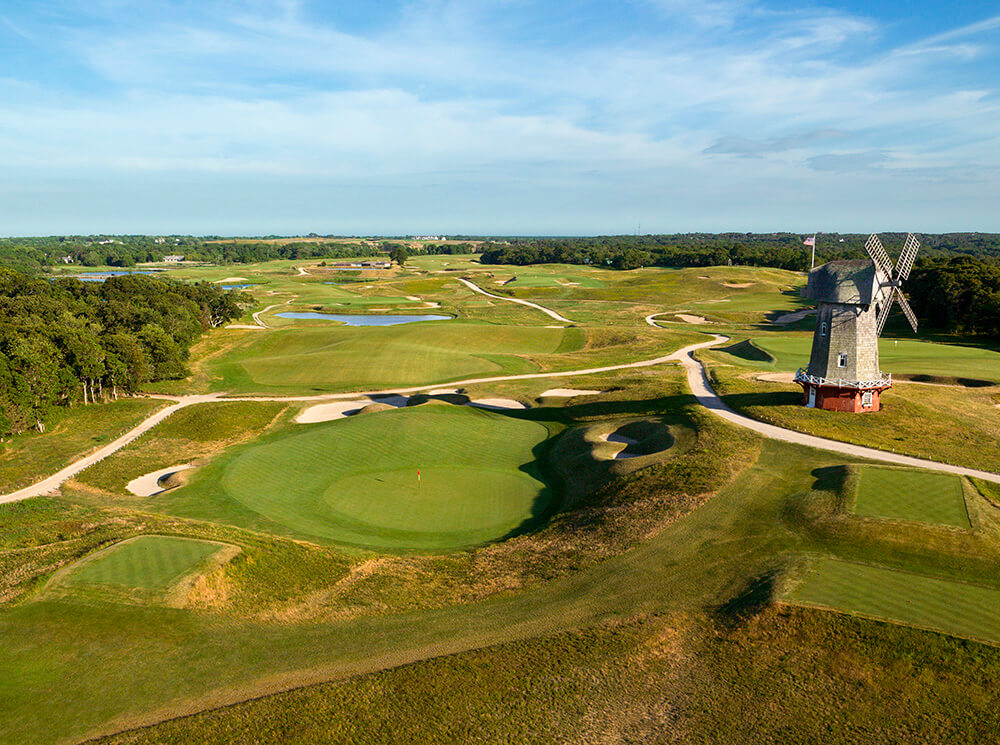 By 1930, there were 4,000 private golf courses in the U.S., comprising more than 90 percent of the country's entire supply of golf. Interestingly, there are still 4,000 private golf courses today, but now they account for just over a quarter of the country's 15,000-plus golf courses.
In the intervening years, golf moved out into the suburbs, and beyond that into the country. Public golf flourished in an era of post-World War II wealth, along with the travel opportunities afforded by a national highway system and an extensive airline grid. Golf grew into the hinterlands, into areas as far flung and remote as coastal Oregon, northern Michigan, and coastal South Carolina. The one anomaly was Phoenix, that hotbed of Sun Belt golf, which flourished less on the private-club market than on the appeal of wintertime living at real estate communities and resorts.
So which are the best areas for private and public golf? What follows is a regional ranking effort, based upon my own take through experience, lists, and the collective wisdom of colleagues.
Private
NEW YORK METRO AREA
Nothing else comes close in the U.S. It starts with museum-quality places like National Golf Links of America and Shinnecock Hills Golf Club, side by side on Long Island's South Fork—and, not incidentally, next door to Sebonack Golf Club. There are 36-hole major championship stalwarts like Winged Foot Golf Club in Westchester and Baltusrol Golf Club in New Jersey. And a plethora of highly regarded gems like Tillinghast's Quaker Ridge Golf Club in Westchester and both Ridgewood Country Club and Somerset Hills Country Club in New Jersey; a Ross masterpiece of interesting greens at Mountain Ridge Country Club, also in New Jersey; Devereux Emmet's astonishing bunker work at St. George's Golf & Country Club on Long Island's North Shore; and Seth Raynor-Macdonald gems at Piping Rock and The Creek, both on Long Island.
PHILADELPHIA
The region is said to be home to numerous courses ranked top 100 in the country that don't make top 10 in Philadelphia. Start with Pine Valley and Merion, two of the most revered classic designs anywhere in the world. There's Aronimink, a Ross gem with a wild proliferation of bunkers and green contours, plus Tillinghast's iconic Wissahickon Course at Philadelphia Cricket Club. There are also many standout layouts by William Flynn, all private: Manufacturers' Golf & Country Club, Huntingdon Valley Country Club, Lancaster Country Club, Lehigh Country Club, and Rolling Green Golf Club. Add Tom Doak's Stonewall west of the Main Line and that's already a dozen private clubs with national standing.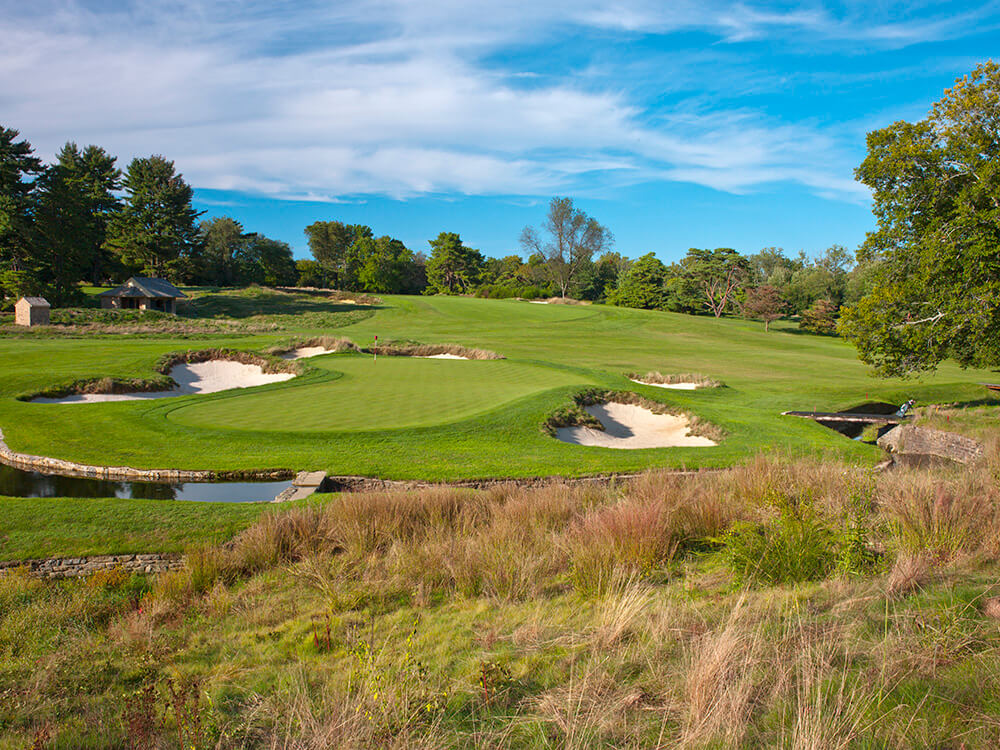 BOSTON
The Country Club (in Brookline, Mass.) was the focal point of elite club membership even before Francis Ouimet's stunning win in the 1913 U.S. Open there. Essex County Club and Myopia Hunt Club on Boston's North Shore were classic golf and country club retreats for the newly emergent wealthy elite in the late 19th century. Having Ross in summer residence during the first half of the 20th century gave him proximity to many local sites he converted into fine golf, including Salem Country Club, Brae Burn Country Club, and Charles River Country Club. Nearby Cape Cod was a hotbed of classic design excellence at Eastward Ho, Oyster Harbors Club, and Hyannisport Club. Rare for a classic-era hub like Boston, the region has also seen two recent standout private clubs that are consensus top-100 picks: Gil Hanse's Boston Golf Club and Old Sandwich Golf Club by Bill Coore and Ben Crenshaw.
CHICAGO
Between North Shore, South Side, and the Western suburbs, Chicago has an impressive array of elite membership clubs. The most venerable is Chicago Golf Club, a Macdonald (1895; Raynor, 1922) that was most recently showcased at the inaugural U.S. Senior Women's Open in 2018. Of Medinah Country Club's three layouts, Course No. 3 hosted U.S. Opens in 1949, 1975, and 1990 as well as PGA Championships in 1999 and 2006 and the Ryder Cup in 2012. Old Elm Club is the unique collaboration of Harry Colt and Ross. Nearby Skokie Country Club still bears the trademark character of its triple heritage at the hands of Tom Bendelow (1904), Ross (1914), and William Langford and Theodore J. Moreau (1938). Raynor's 1922 work at Shoreacres weaves his template holes along a ravine. Olympia Fields Country Club still has two stellar layouts, down from four at its peak before World War II. And when it comes to privacy, you're unlikely to outdo Bob O'Link Golf Club, Butler National Golf Club, and Black Sheep Golf Club for limited access.
COLUMBUS, OHIO
Ohio's state capital is a center of quality private clubs more by the strength of design character than volume, qualifying with only a handful that exude a distinct and enduring identity. Scioto Country Club was one of Ross's strongest designs back in 1916 due to numerous cross bunkers: Despite hosting the 1926 U.S. Open, 1931 Ryder Cup, 1950 PGA Championship, 1968 U.S. Amateur, and U.S. Senior Opens in 1986 and 2016, it lost some of its original flair and is now being restored by Andrew Green. Muirfield Village Golf Club owes its 1974 design to the unlikely collaboration of Jack Nicklaus and Desmond Muirfield and has become a stalwart home to the PGA Tour and championship golf. Pete Dye's The Golf Club, by contrast, has kept a very low profile and remains an iconic example of the Hall of Famer's design imagination. Finally, there is the Jay Morrish-Tom Weiskopf-designed Double Eagle Golf Club, a relaxed private venue just north of town.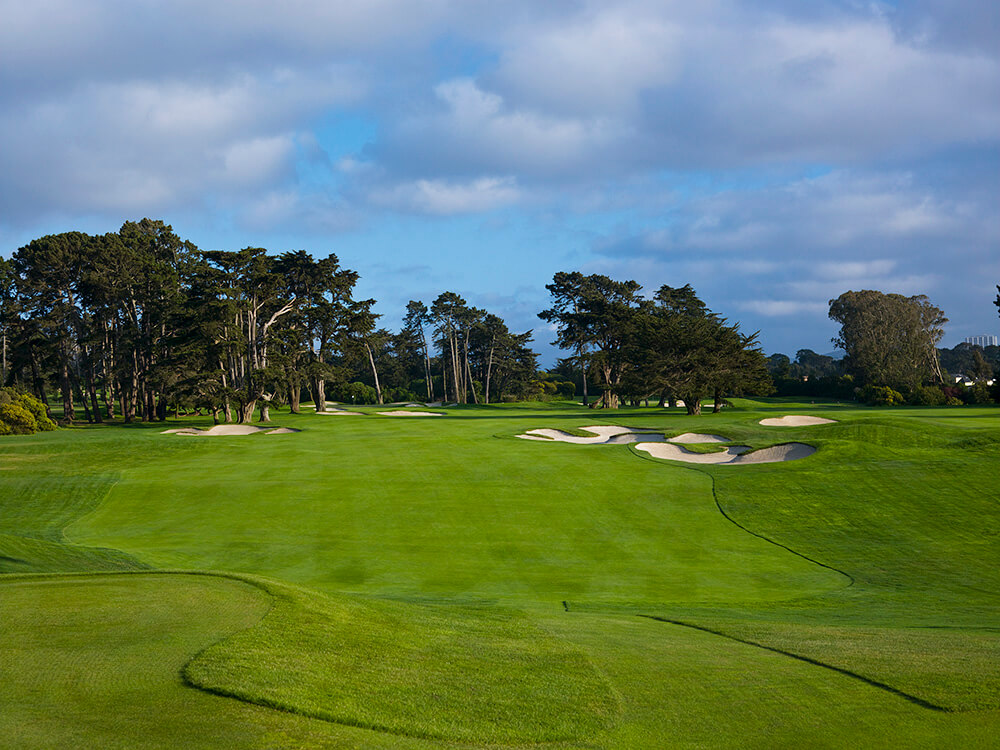 SAN FRANCISCO/ MONTEREY
Let's not forget the Bay Area, home to a stirring run of private courses, some of them running along or overlooking the Pacific Ocean, others well guarded behind heavily planted borders. In town, there is San Francisco Golf Club (Tillinghast), California Golf Club of San Francisco (a MacKenzie-Vernon Macan-Willie Locke layout restored/reimaged a decade ago by Kyle Phillips), and the two layouts (and coastal par-3) at Olympic Club. Down Rte. 1 in Monterey can be found the two courses at Monterey Peninsula Country Club and a Tom Fazio-designed private club/real estate enclave called The Preserve Golf Club. Oh, we almost forgot a quiet layout routed over seaside dunes with a few oceanfront holes: a place called Cypress Point Club.
Public
BANDON, OREGON
It is impossible to ignore the impact of Bandon Dunes Golf Resort on quality public golf nationwide. It affirmed the idea that if you build compelling golf in the middle of nowhere, avid golfers will make the trek part of the adventure. Now in its third decade of operation, the project that Mike Keiser figured might break even if it did 10,000 rounds hosts closer to 50,000 rounds annually, thanks to Bandon Dunes by David McLay Kidd (1999), Pacific Dunes by Doak (2001), Old Macdonald (Doak & Jim Urbina, 2010), and three totally different layouts by Coore & Crenshaw: Bandon Trails (2005), the 13-hole par-3 Bandon Preserve (2012), and a bunkerless layout that hangs over the edge of the bluffs above the Pacific, Sheep Ranch (2020).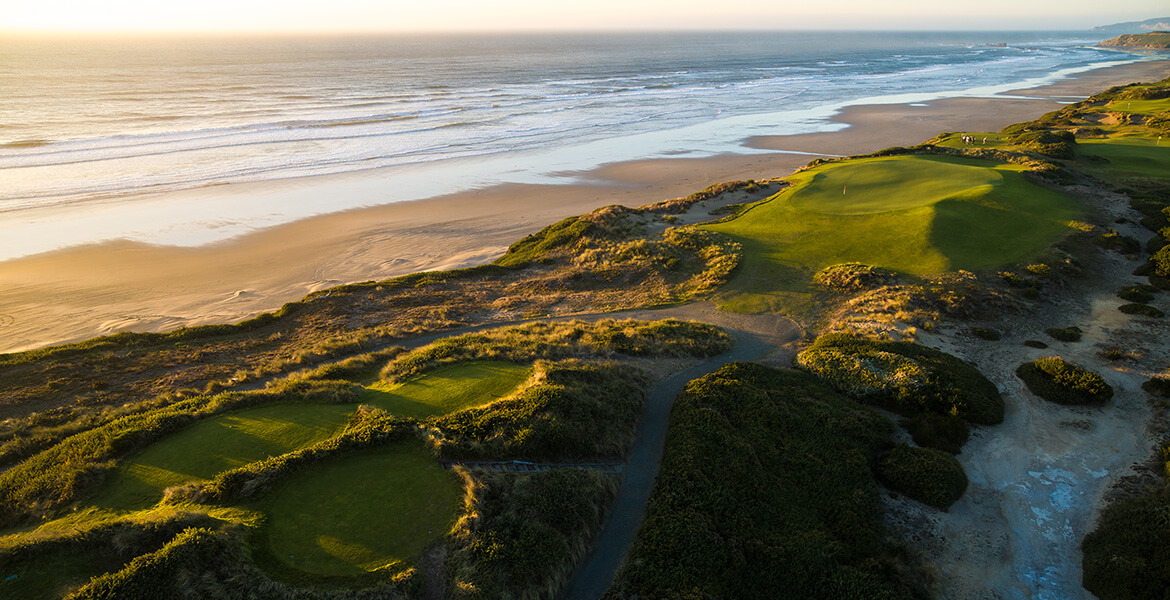 NORTH CAROLINA SANDHILLS
The resort town of Pinehurst has earned its sobriquet as "The Cradle of American Golf": The original five courses (Nos. 1–4 by Ross, No. 5 by Ellis Maples) just outside the Carolina Hotel's gates assured that. But in the last few decades, the property has expanded its reputation with No. 6 (George and Tom Fazio), No. 7 (Rees Jones), No. 8 (Tom Fazio), No. 9 (Nicklaus), the nine-hole par-3 (The Cradle, Hanse), and the restoration of No. 4 (Hanse). And that's only the beginning of the region's public-golf appeal. Three more Ross-designed layouts are down the road in nearby Southern Pines—Mid Pines, Pine Needles, and Southern Pines Golf Club—all restored by Kyle Franz and now stars in their own right. Also joining the ranks of the Sandhills gems is Tobacco Road Golf Club, 22 miles north in Sanford, where the late Mike Strantz plied his bold artistry over ground that used to be devoted to tobacco curing and sand mining.
NORTHERN MICHIGAN
Even during the slowdown of new construction in the last decade, the mainland of Northern Michigan added quality courses. The regional breakthrough from mere quantity to real quality began in 1998 when the Arthur Hills-designed 27-hole Bay Harbor Golf Club opened up on a bluff overlooking Little Traverse Bay. The state's west coast along Lake Michigan has seen a trio of fascinating new layouts: the Nicklaus-designed Harbor Shores Golf Club, part of urban redevelopment in Benton Harbor; Arcadia Bluffs by Rick Smith in 2000 along wild dunes works; and most recently the retro-Raynor Arcadia Bluffs South by Dana Fry and Jason Straka on dead-flat farmland. Inland, on the east side of the state, three courses at Forest Dunes Golf Club have made a major impact in the last two decades: the initial Forest Dunes layout by Weiskopf in 2002, followed by the path-breaking (because reversible) layouts by Doak, Forest Dunes Loop Black (clockwise) and Forest Dunes Loop Red (counterclockwise). If that doesn't set a new direction for public golf, nothing will.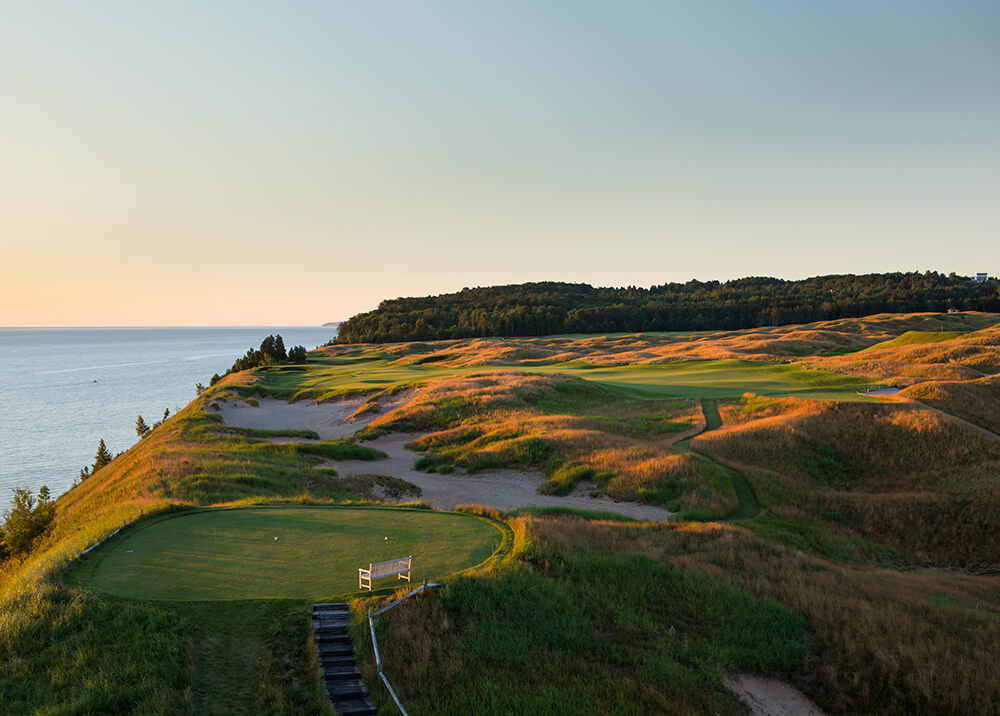 CENTRAL WISCONSIN
Start 37 miles northwest of downtown Milwaukee with Erin Hills, home to the 2017 U.S. Open. From there it's only an hour's drive northeast to Destination Kohler, the resort that claims four dizzying Dye-designed courses: River and Meadow Valleys Courses at Blackwolf Run and Straits and Irish Courses at Whistling Straits. There's also Lawsonia Links in Green Lake, which remains the best preserved of all Langford-Moreau layouts from the Golden Age. Farther north sits SentryWorld Golf Club in Stevens Point, a very 1980s Robert Trent Jones Jr. layout whose contour-mowed fairways and flouncy bunkering were tastefully upgraded (and partially rerouted) by Jay Blasi half a dozen years ago—while leaving in place the layout's signature flower-bed par-three 16th hole. The latest addition to the country's high-end destination resort arsenal, a la Bandon Dunes and Streamsong, is Sand Valley, with one layout by Coore & Crenshaw and another (Mammoth Dunes) by Kidd—plus a 17-hole par-3 layout for emergency play afterwards.
PHOENIX
High-quality public golf in Maricopa County has attracted unaffiliated snowbirds since the mid-1980s. There are two fine courses at TPC Scottsdale, Champions and Stadium, with the latter featured annually at a PGA Tour event that showcases the Fenway Park-style drama of the par-three 16th hole. Grayhawk Golf Club also features two fine, well-honed courses that cut low over arroyos. The resort property of Talking Stick has two Coore & Crenshaw courses—O'odham and Piipaash—as contrasting as desert and parkland. Troon North's duet, Monument and Pinnacle, takes golfers into the foothills of the Sonoran Desert, as do the 36 holes at We-Ko-Pa Resort Golf Club in Fort McDowell. The two courses at The (appropriately named) Boulders Resort, up in Carefree, present golf through prehistoric Dinosaur Age terrain in terms of the primitive edginess of the rocks that comprise the layout. The Rees Jones-designed Quintero Golf Club in Peoria takes golfers on a breathless ride over occasionally intense desert terrain, while out in Wickenburg, a town just now being roped into suburban development, Wickenburg Ranch Golf Club manages to tame the rocky terrain and create risk/reward shotmaking along the way.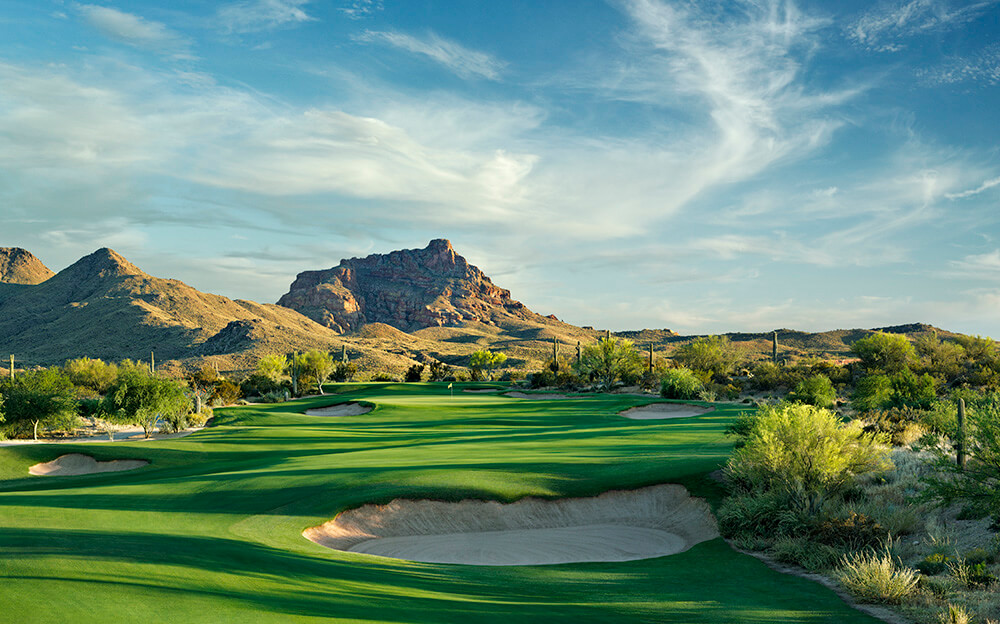 MYRTLE BEACH
It's easy to underestimate the quality of the golf here. Perhaps because the area is so accessible to major East Coast population centers and is (in places) surprisingly affordable, as well. Start with Pine Lakes Golf Club, a 1927 design by Scotsman Robert White in whose elegant, Georgian Revival clubhouse Sports Illustrated was launched in 1954. An iconic Robert Trent Jones Sr. design from 1948 is intact as The Dunes Golf and Beach Club, while across the street, the Roger Rulewich-designed Grande Dunes Resort Golf Club makes intriguing use of the Intracoastal Waterway. Just up the road, four courses at Bare- foot Resort—by Dye, Fazio, Davis Love III, and Greg Norman—variously make use of the inland terrain as well as wetlands and the Intracoastal. And if anyone wants to see what the fuss was all about during the meteoric (if short-lived) design career of Strantz, simply play his across-the-street layouts, True Blue and Caledonia Golf & Fish Club: If those doglegs were folded any sharper, they'd break in half.