From the outskirts of Ft. Lauderdale to Boca Raton and greater Miami, compelling rounds of public golf await across all of South Florida. Here, we spotlight six noteworthy courses to seek out the next time you visit the southernmost stretches of the Sunshine State.
While it might be difficult to imagine, at one time the land upon which Osprey Point's 27 holes now reside was once overgrown farmland. In 2010, Palm Beach County's parks and recreation department transformed that downtrodden land into an eco-friendly golf course, one that embraces the natural world around it—so much so that in 2011, Osprey Point became Florida's first golf course to earn an Audubon International Classic Sanctuary designation. That distinction required that the course utilize Seashore Paspalum—an environmentally friendly grass—and expand the areas of protected natural habitat on and around the playing areas. As a result, players are likely to come across birdhouses and butterfly gardens, and they'll need to maneuver carefully around natural wetland areas. They may also find that the back tees provide more generous landing areas, but only for players who insist on pulling driver from their bags on almost every hole.
While it may not be an Audubon-certified course like Osprey Point, Crandon Golf at Key Biscayne is no less defined by the wildlife sightings that it can offer. Thanks to seven saltwater lakes that punctuate the property, golfers are likely to spot blue and tri-colored herons, white ibises, snowy egrets, and pelicans. Hopefully, players will add a few other birdies to their scorecards during their rounds, and if they're really lucky, they may even see one of three crocodiles that are known to live in those aforementioned lakes.
Although only 10 minutes from downtown Miami, Crandon Golf at Key Biscayne can often feel like it's positioned worlds away from that bustling metropolis, which is perhaps the course's most compelling feature. The layout—designed by Robert von Hagge and Bruce Devlin—is no pushover, either. It hosted a PGA Tour Champions event for 18 years and requires players to navigate several water features, as well as numerous bunkers and mangrove thickets. In fact, first-time visitors to the course will know exactly what to expect across all 18 holes just from playing the 1st—a par five that doglegs sharply to the left and requires a forced carry off the tee over both water and mangroves.
Those who have played golf across the pond in Scotland might feel a sense of familiarity when they tee it up at Plantation Preserve, but that's only because the course is built around a 40-acre wetland/upland preservation area that features a 1.5-mile hiking trail. In Scotland, because all golfing land is deemed public parkland, it's not uncommon to see non-golfers walking their dogs along the perimeter of some of the holes. In Plantation, Fla.—at least at Plantation Preserve—similar experiences await.
As for the actual golf, the 7,148-yard par-72 course—the handiwork of Robert van Hagge, Michael Smelek, and Richard Baril—delivers well-conditioned paspalum fairways and greens, rolling hills, and plenty of water that must be skillfully avoided. Like Osprey Point, Plantation Preserve is Audubon-certified, which means golfers who walk its fairways will assuredly find themselves surrounded by flora and fauna.
Originally known as the Bayshore Golf Course, this 6,813-yard layout has evolved substantially over the years. When it was first conceived by developer Carl Fisher, the course existed as an amenity of the nearby Alton Beach residential community. Two decades later, the course became the temporary property of the U.S. Army, which annually rented the land for a dollar and utilized it as a training outpost.
During the early 2000s, the course benefited from a much needed, $11-million renovation—one that reshaped bunkers and fairway mounding, resigned several water features (for better drainage and playability), re-seeded all playing areas with paspalum, and created a modern practice facility. That renovation project, led by Arthur Hills, also included the construction of a new Art Deco-styled clubhouse.
Upon initial glance at the scorecard, first-time visitors may find the course intimidating. At the very least they'll likely deem the layout was designed with long hitters in mind. However, many holes are acutely doglegged, which means players can mitigate much of the length with drives that cut the corner. The course's real defense against low scores are its green complexes, which are not only elevated but also heavily bunkered.
Like Miami Beach Golf Club, Miami Springs opened in 1923—then known as Miami-Hialeah Golf Course—which makes it one of the oldest golf clubs in South Florida. For 30 years, beginning in 1925, the course hosted the Miami Open. That tournament, which was nationally recognized as the start of the winter golf season, produced victories by some of the game's all-time greats: Gene Sarazen, Tommy Armour, Sam Snead, and Byron Nelson. It also served as the professional debut of Arnold Palmer in 1954.
Stretching to 6,755 yards, the par-71 course was originally laid out by William Langford, and while it offers vistas and features landscaping that are customary for many courses in the greater Miami area, Miami Springs is unique for featuring the 15,000-square-foot restored mansion of Glenn H. Curtiss (located just to the right of the third tee box). Known as the "Architect of Aviation," Curtiss is recognized as the founder of the U.S. aviation industry. During the early 1920s, Curtiss and his partner James Bright teamed up with a group of Miami golfers affectionately called the Miami Coconuts to develop the golf club.
If you've played much golf in New England—especially at restored or well-preserved Donald Ross courses—The Biltmore will offer familiar challenges. The course originally opened in 1925 and was owned by the municipality of Coral Gables; however, The Biltmore Hotel acquired the course several decades ago and enlisted architect Brian Silva to oversee not one, but two restorations—the latter of which was completed in 2019 and benefited from Silva's access to Ross's original plans.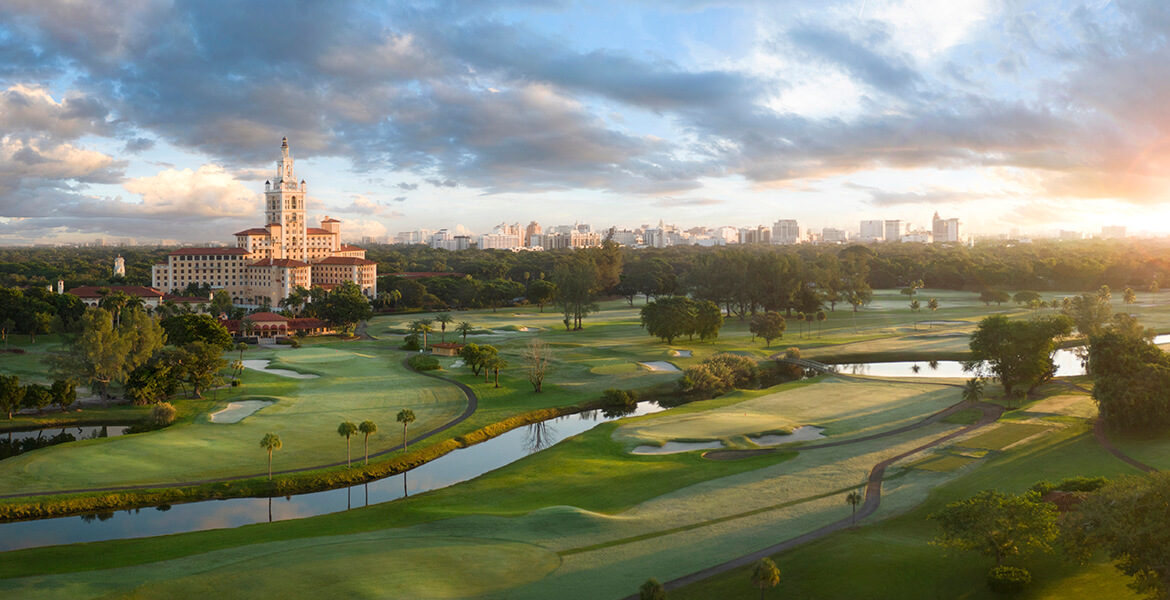 In Ross's day, the par-71 course maxed out at 6,742 yards but today it stretches to an even 7,100 yards. Silva's restoration also included the addition of new bunkers and re-seeding from tee to green with Bermuda grass. Weaving its way around a series of canals that at one time were lined with gondolas for hotel guests, the golf course offers views of the historic Mediterranean Revival-style hotel on almost every hole and also features massive banyan trees that frame many of the green complexes. Speaking of those green complexes, the putting surfaces—in classic Donald Ross fashion—can be treacherous. Three-putts here are not uncommon, especially if you should find yourself in the unenviable position of being above the hole.
What is your favorite public golf course in South Florida?