When it comes to the glories of mountain golf, our neighbor to the north rises above all others
In a country as vast and geographically rich as Canada, notable physical features are a dime a dozen. Dense northern forests, ice-smeared seas, craggy coastlines, and windswept prairies immediately come to mind. However, without a doubt the most famous, most recognizable landmarks are the chiseled, snow-dipped Canadian Rockies. Throw in a baby-blue lake, a moose, and a red canoe gliding on the shimmering surface and you've got the "Great White North."
Fittingly, the country's most recognizable golf courses are also found in the Rockies. Banff, Jasper, Canmore, Kananaskis—names synonymous with time-tested mountain courses that are at the head of the class in this genre.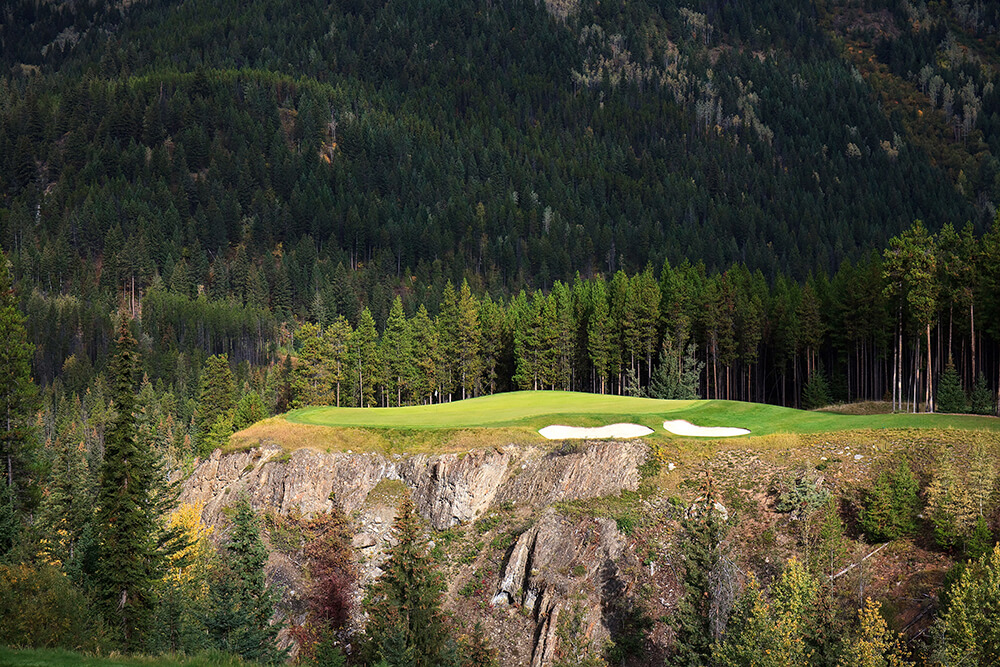 While some of the new, or "newish," entries have gained plenty of traction in attracting globe-trotting connoisseurs (more on those later), it's the Golden-age masterpieces, the heralded work of "The Toronto Terror" Stanley Thompson, that continue to be the gold standard for mountain golf in Canada and, arguably, the world.
Both the Fairmont Banff Springs Golf Course, the first course in history to cost a million dollars to build, and the Fairmont Jasper Park Lodge Golf Course are testament to how great golf in the mountains can be. The artistic and architectural merits of these works have been well documented. And golfers from around the world have been singing their praises for more than 90 years.
Naturally, there is also a decades-old argument surrounding these relics: Which of Thompson's masterpieces is better? Banff, with its riverside setting in the beautiful Bow Valley, is definitely the tougher of the two. The run of strong par fours on the back nine is as good as it gets. And everyone would agree that the famous Devil's Cauldron—the par-three 4th, which features a punchbowl green guarded by a clutch of bunkers on the other side of a gorgeous, jade-green lake—is one of the best in the world.
However, purists argue that Jasper, with its sublime setting along Lac Beauvert, is better virtually unchanged since the day it opened in 1925. Banff lost some luster when the routing shifted and its famous start, a tee perched just steps from the hotel, was no more. This reconfiguration, which occurred in 1989 to accommodate a much larger clubhouse and a new recreational nine, also altered Thompson's notable finish beneath the castle-like hotel on what is now the 14th green.
But Jasper's exceptional playability (it was built for the resort golfer), remarkable collection of par threes, and wonderful finishing run around the lake give it a slight edge. Suffice it to say, both should be played on your trip to the Canadian Rockies.
But where to next? A handful belongs on your itinerary.
If your journey starts in Calgary, as many international junkets do, play a warm-up round at the brand-new Mickelson National, situated just west of town in rolling ranchland. While an intense test of power and short-game competency, this is not mountain golf. A flashy and formidable prairie links that can crush your ego and expose your suspect skills with the wedge? Yes. Mickelson National is as good a place as any to take a couple of straight jabs on the chin. And with the crazy-deep bunkers and beautiful mountain views, your head will be snapped halfway back already.
After five years of construction, there was plenty of hype when Mickelson National finally opened in 2020. Similarly, after being shuttered for five years due to the devastating 2013 Alberta floods (the costliest natural disaster in Canadian history at the time), there was much excitement in the air when the Kananaskis Country Golf Course reopened in 2018.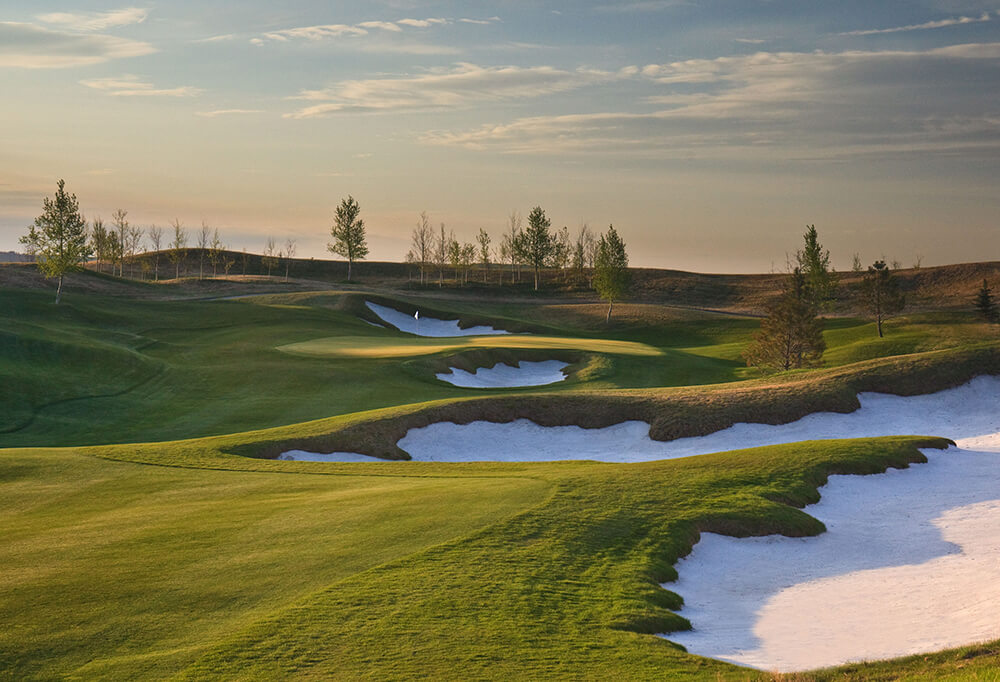 Originally designed by Robert Trent Jones Sr. in 1982, both courses at Kananaskis—Mount Lorette and Mount Kidd—were completely redone by Alberta-based architect Gary Browning. Although the routings are basically the same, Browning added his syrupy-smooth touch by softening contours, removing dozens of bunkers, and widening corridors. The end result is two highly playable resort courses that parade through one of the most beautiful and unblemished settings in the game.
Of course, even for the politest club-wielding Canadians, a spirited argument is bound to ensue: Which course in K Country is better? I give a slight edge to Mount Kidd. Not only does it feature terrain with more movement, it boasts the most iconic hole on the property, the par-three 4th. From an elevated perch, the golfer has a bird's-eye view down the stunning Kananaskis Valley. And the gigantic, water-ringed green complex is possibly the most picturesque target in the country.
But fans of Greywolf's "Cliffhanger," one of the most daring par threes ever built, would have something to say about that. Located a couple of hours west of Banff in British Columbia (in the Purcell Mountains), Greywolf is a spectacular Doug Carrick design that's no one-hole wonder. Many people would call it the best "contemporary" mountain course in Canada. I wouldn't argue with them.
Numerous holes plunge down the mountainside, run along the spirited, glacier-fed creeks, and careen through rock outcroppings. But "Clifffhanger," the par-three 6th, is the showstopper. The green clings to a ragged cliff over a deep ravine and, apparently, when Carrick first saw this potential green site he was gobsmacked and routed the entire golf course around it.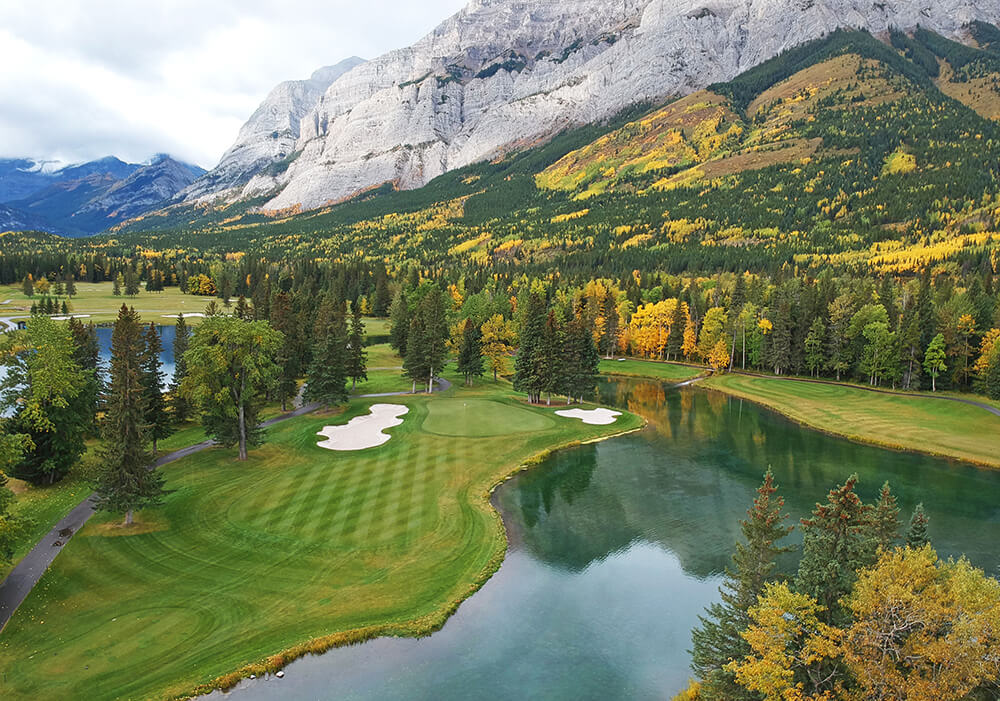 Venturing west to play Greywolf is a great call. (If you have time, add rounds at Eagle Ranch and Copper Point in Invermere.) However, staying in Alberta and challenging the remaining "must plays" is a no-lose proposition.
A few days in Canmore, an hour west of Calgary, is ideal for taking on all the heavy hitters. Next door to Banff and Kananaskis, Canmore is home to three excellent courses that capitalize on the area's sensational scenery.
The Canmore Golf & Curling Club (you're in Canada, remember?) is a charming community course, very walkable, with loads of "parkland" charm and a beautiful riverside patio where you can unwind after play.
The other two—Stewart Creek and Silvertip—are bona fide mountain courses that nose-dive off high points and gallivant through sturdy spruce on the rugged benchlands above the townsite. While both exhibit the wild elevation changes that you'd expect from mountain golf, they are decidedly different in disposition.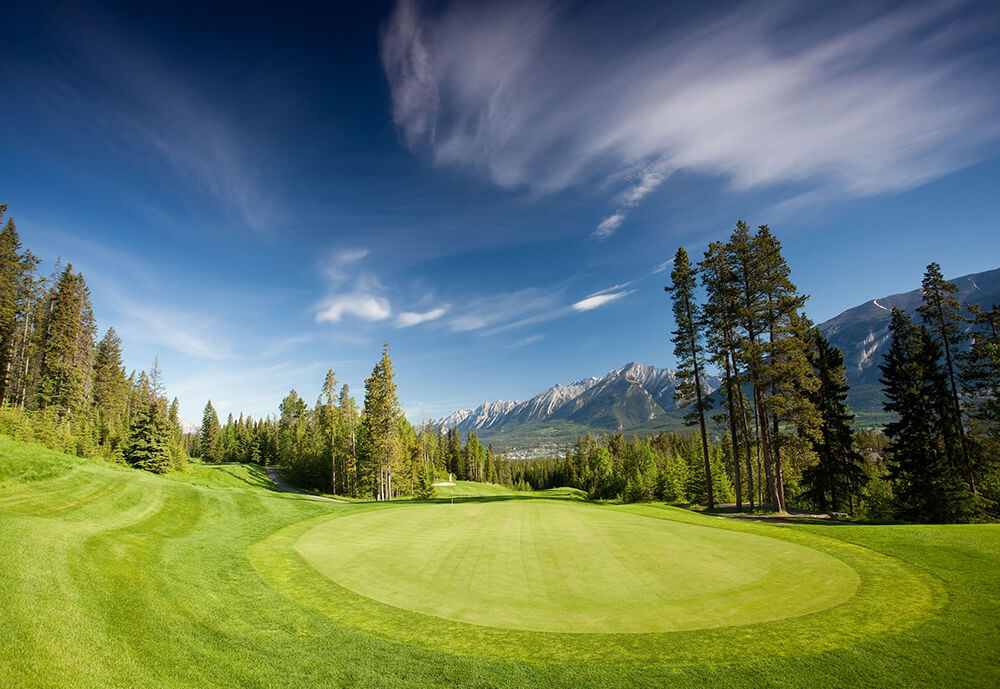 Designed by local architect Browning, the smooth and subtle shaping of Stewart Creek is evidence of an architect who prefers to tread lightly on the land, utilizing existing shapes and features to define holes. The result is a polished "minimalist" course, fast and fluid, with a few unexpected turns or twists. Play it once and you'll realize why it's a local favorite.
Across the valley, the Les Furber-designed Silvertip features daring doglegs, detailed rock work, multi-tiered greens and fairways, massive mounding, bold bunker complexes, and a few quirky surprises. In many ways, the par-four 18th, an eye-candy hole if there ever was one, is a summation of the test: It careens down the hill, bends hard left, and leaves the golfer with an awe-inspiring scene of mountains, water, rock, and enough standing timber to build a small city.
All the elements you expect from a magnificent mountain course in the Canadian Rockies.