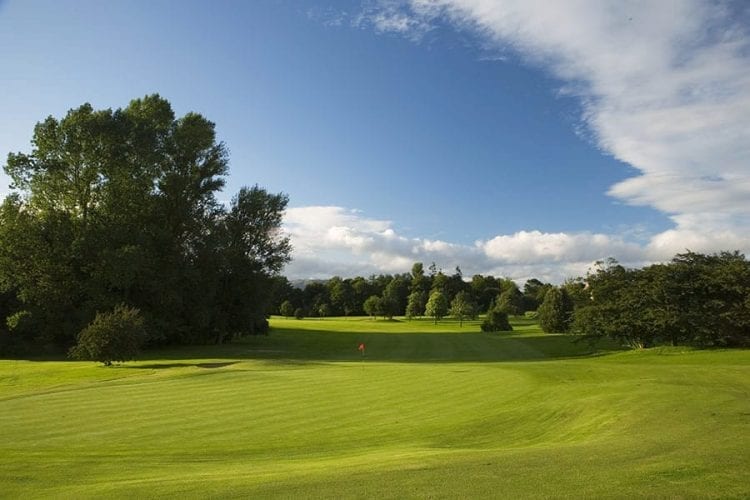 In the early '90s, when Yanks began descending en masse on Ireland's mightiest links, they first gathered at the magisterial courses of the southwest (think Ballybunion and Lahinch), then east coast wonders like Portmarnock and the European Club, and more recently, the raw and secluded northwest.
But without direct flights to Belfast and scared off by decades of Protestant-Catholic mayhem that claimed more than 3,200 lives, the tour buses usually missed the island's greatest golf destinations: Northern Ireland's magnificent links, including Ulster's consensus world top 10s, Royal County Down and Royal Portrush.
With a new millennium, however, Northern Ireland's "troubles" are truly fading into history. Belfast lures the world with hip festivals and urban renaissance, while County Down and Portrush are finally awash with busloads of Yanks on holiday. Yet some things may never change. Near the heart of Belfast, one of Ireland's revered courses, Belvoir Park Golf Club, still sits largely undiscovered by Americans—a victim not of tourists' fears but of the silly notion that says that while doing Ireland, don't waste your time with 6,600-yard parkland courses.
The good folks of Belvoir Park—for centuries pronounced "beaver," an English corruption of the loathed French—are understandably a bit torn about flying under your golf radar. See, they would love for you to know that in the fall the thousands of oaks, elms, beeches and chestnuts that color this rolling Lagan River estate might rival the finest upstate New York courses, or that sages like the BBC's Peter Alliss have compared Belvoir's classic brilliance to Firestone Country Club.
They would especially like the world's golf cognoscenti to know that their demanding course, opened in 1929, was designed by England's renowned Harry S. Colt. But if all that prestige means clogging up their cozy car park with Greyhounds, they'll do without the fame, thank you.
Welcoming to the public, Belvoir Park's 850 members are a religiously mixed bunch and (they say) "a bit more middle class" than another Belfast gem, Malone Golf Club, two miles away in the same river valley. "With hand over heart," states member Peter Megaw, a retired banker, "I can say bigotry hasn't infected this club, and I wouldn't stay here if it were so."
My last visit coincided with the Sunday of Dubliner Padraig Harrington's victory at Carnoustie in the British Open. I was fortunate to be the only American in the dining room as a properly partisan crowd flocked to the high-def telly.
In a sweet Rockwellian scene, freckled juniors sat closest to the screen near young mothers balancing pink babies and plates of roast beef on their laps. Under-40 dads lined one wall, and with every Harrington surge broke out half-jokingly in the unified Irish rugby anthem "Ireland's Call."
Ireland, Ireland,
Together standing tall
Shoulder to shoulder
We'll answer Ireland's call.
In the back row, loving all the splendid craic and chatting about their morning four-balls, silver-haired couples seemed as happy in this intergenerational Irish golf moment as if it were a family reunion. I would not have traded my seat for one at Carnoustie.
As soon as Harrington vanquished Sergio Garcia, my three hosts and I bolted to the 1st tee. Gordon Bell, Stewart Johnston and Frank O'Donoghue—club captain, president and chairman of course development, respectively—walked me past the leaky clubhouse, which is being razed to make room for a grand $6 million design, including new women's lockers.
"We've been debating it for 10 years," says Bell, who has lived most of his life within a mile of the club, "but we had 470 members show up for the last vote, and it was 10 to one in favor."
My hosts were excited to explain that English architect Martin Hawtree, famous for his thoughtful restorations at Lahinch, Portmarnock and several British Open venues, is renovating several holes. Like the best of Colt's creations, the original 1929 layout is a visual joy from the 1st hole, with ingenious bunkering and crafty approach-shot angles, although with more trees than Colt would probably like. Like Donald Ross, his contemporary, Colt masterfully used tree lines and elevation changes to effortlessly bend the golfer's eye to where a great tee ball should land. No visual tomfoolery here.
Belvoir Park's strengths are lengthy, heavily bunkered par 3s, three humbling finishing holes that rank among the best in Ireland, and a quartet of mighty, uphill and downhill par 4s—the 428-yard 3rd, 434-yard 7th, 483-yard 12th and 439-yard 17th.
The grueling 12th, often thought of as Belvoir's best, looks less than menacing at first because the ample oak-lined fairway plummets downward from the tee into a creek that crosses and runs parallel to the hole. Crush your drive, avoid the water, favor the left side—and you've only conquered the easy part. The hard part is an approach of 180–210 yards from a downhill lie to a distant uphill green that slopes right to left and away from your approach shot. But venture a wee bit right and you're cast into two daunting greenside bunkers.
"It'll take three great shots," sly members say of the 12th, "to get on in two."
Best advice: Enjoy your well-earned bogey and the pastoral elegance of the surrounding Antrim Hills.
"Our course's weakness," admits O'Donoghue, a Belfast attorney with a graceful swing, "has been the par 5s. At 513, 493, 479 and 509 yards they could simply no longer defend against the modern ball and golf club." Hawtree will expand them, bringing the course to roughly 7,000 yards from 6,597. He also will enlarge and reshape some lackluster greens before Belvoir hosts the Irish Amateur Close tournament in June 2008.
On the stillest of Belfast summer evenings, we walked fairways that were patrolled at night during World War II by Belfast volunteers called the Home Guard, who, while trolling for Germans certainly must have worked on their swings. Just across the street from the Belvoir entrance is the impressive Knockbreda Parish Church, a mere 270 years old. Down the road is the three-story Pavilion Bar ("the Big House" to locals), featuring indie rock and plasma televisions.
If you ever become a member you'll get to wear a sweater with the historic and perhaps whimsical Belvoir Park crest, which features a bat—the flying kind—with the Latin motto: Nocte Volamus.
We fly by night.