By Graylyn Loomis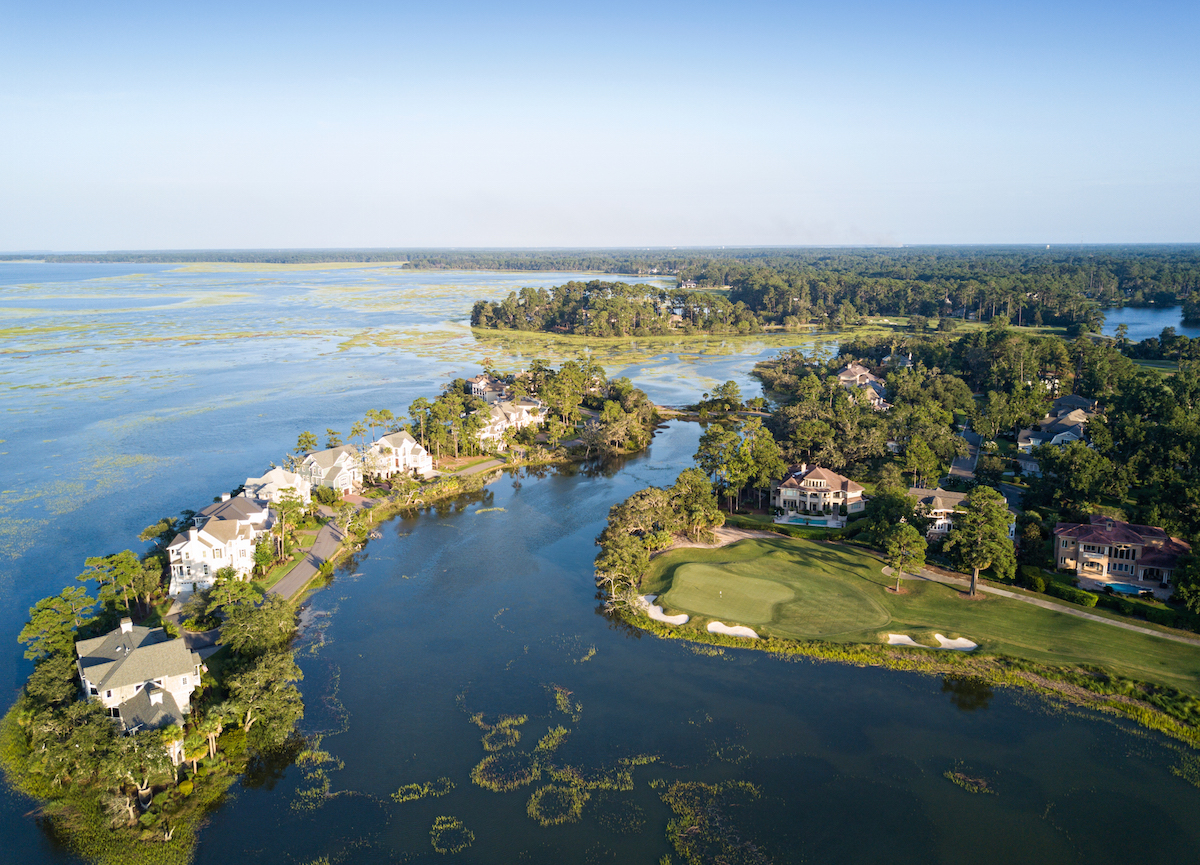 In 1811 William Telfair and Betsey Bellinger of Savannah, Ga., were married and built a plantation in Bluffton, S.C. They called it Belfair, a combination of their two names. Today, more than 200 years later, that rich history and tradition remain a key part of Belfair—recognized by its half mile avenue of stately oaks draped in Spanish moss—which is now a luxurious and exciting golf community.
What was once productive farm land is now two Tom Fazio-designed golf courses, a world-class golf learning center, tennis facilities that include grass courts, and indoor/outdoor pools, with construction slated to begin soon on what will be one of the best private-club fitness facilities in the state. The new fitness campus is part of a multi-million-dollar investment plan: The 21,000-square-foot facility will feature a café, family pool, lap pool, cardio and training rooms, classrooms, and more. Another amenity opening soon is a covered outdoor dining area behind the clubhouse that will overlook the grass courts and golf course as well as the Colleton River beyond.
The recently opened golf learning center offers everything any golfer could want. New covered hitting bays and a lounge were constructed beside the full outdoor range,  putting and chipping greens built to USGA specifications, and an area dedicated to working on the short game that replicates the challenges to be found on the course—everything from side-hill lies to large, undulating putting surfaces. The teaching staff are TPI—Titleist Performance Institute—certified, meaning they've been trained to the highest standards in golf health, fitness, and swing instruction. And the training is holistic, with the golf team working with the fitness center staff to ensure workouts, lessons, and classes are geared to each member's strength and abilities.
The instruction also features the latest in technology. The hitting bays are fitted with in-floor pressure pads, video cameras, sensors, and monitors that track every element of the swing. The same facilities also make Belfair a leader in club-fitting, with swing data figuring decisively in tailoring clubs to members' swings.
Both the East and West courses are walkable designs that fit naturally in the Lowcountry landscape. Fazio used lakes, ponds, and graceful contouring to bring movement and even some elevation to what is mostly flat terrain. And while both courses play along both the marsh and river, each has its own identity. The East is known for wide fairways with homes set well back from the course to create an open feel, and the West tends to be slightly more challenging with smaller greens and narrower fairways. Five sets of tees—from under 5,000 yards to more than 7,000—make a fit for all players.
Throughout the club, the atmosphere is laid-back but the membership is active. "Belfair gives its members the ability to enjoy life by providing the facilities to enhance any interest," says member Karen Renshaw. "Unparalleled golf, tennis, fitness, and dining along with our numerous clubs-within-the-club offer up the opportunity to live one's life to its fullest."
The real estate market is 70 percent built out and homes are under construction throughout the community. Homes start at $399,000 and go past $1.9 million for prime riverfront locations.