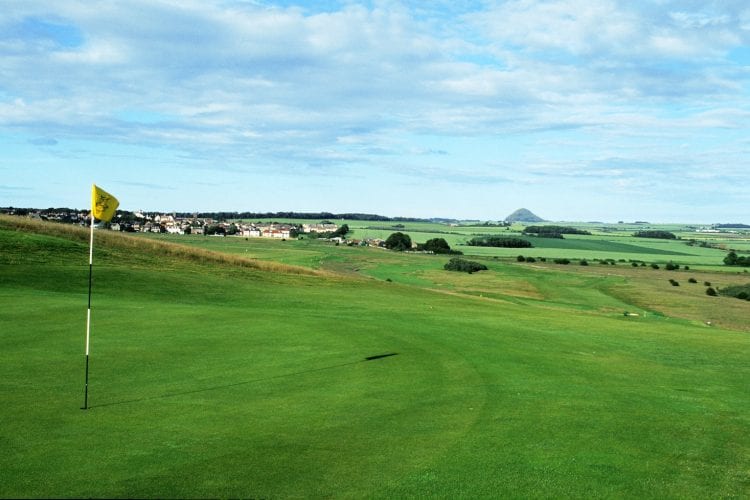 Just a few steps from the 18th green of the No. 1 Course at Gullane, Scotland, is a tiny, whitewashed stone cottage. At first glance it might seem an extension of the club's modest pro shop, but no, it's something apart—centuries apart.
It is the Heritage of Golf Museum, and if that title is a bit ambitious for the one-room collection of golfiana that comprises it, its founder and proprietor may be forgiven, for he has donated generously of his time and possessions to make it what it is.
Archie Baird is a former RAF fighter pilot and veterinary surgeon whose interest in golf collecting began more than half a century ago when he acquired his most prized possession, his wife Sheila, who happened to be not only a medical doctor but the great-granddaughter of Willie Park Sr., the first British Open Champion, at Prestwick back in 1860.
The couple inherited a small flat in Edinburgh, and being on a tight budget, they furnished their home by scouting for bargains at second-hand shops and auction sales. On one such expedition, Archie came upon an old canvas bag of hickory clubs. Rubbing the dust off one of the long-nosed woods, he discovered it was stamped with the name Park. A family heirloom! He promptly bought it for the princely sum of five shillings (less than a dollar).
"That's what got me going," he says. "In those days, such clubs could be found all over Edinburgh, so I started collecting them—hundreds of them—and not just Parks, but Philps, Forgans, all the top makers. Eventually I filled my wine cellar with them." In those days also, Archie was known to do a bit of veterinary "trading," treating the odd dog or cat for free in exchange for clubs that had caught his eye.
In the process, he became curious about the game's beginnings, and so began collecting golf books, which led to memorabilia, medals, trinkets, and ultimately to his keenest interest, artwork. Today, Baird has the most valuable private collection of golf art in the world.
In 1980, he decided to share some of his treasures. With fellow collector Ben Crenshaw (in town for the Open Championship at Muirfield) cutting the ribbon, the Heritage of Golf Museum opened.
A sturdy terrier of a man, often clad in plus-fours of tweed or tartan, he is still an active golfer at the age of 88 (a member of both Gullane and Muirfield), and continues to give free tours to those who make an advance booking (phone the Heritage of Golf Museum direct from the U.S.—011 441 875 870 277).
His 20-minute presentation is as entertaining as it is informative, and traces golf's birth back to   the 1300s. Rather generously for a Scot, he cites the Dutch as inventors of the game: "They were ahead of the Scots, but they couldn't make decent clubs—they didn't need to because they played on iced-over canals, so everyone hit the ball a long way.
"Nonetheless," he adds, "it was the Scottish craftsmen, with their fine woods of beech and ash, who made the first great golf clubs, and it was the Scots who spread the game."
This is an interactive tour and visitors are encouraged to heft and inspect the artifacts as Archie delivers a series of well-honed one-liners. Offering a few of his precious featheries to the assembled group, he says, "This is the only museum in the world where you're allowed to handle the curator's balls."
Golf's heritage, by Baird's reckoning, petered out in the 1930s with the advent of steel shafts. "After that," he says, "I lost interest," and with that pronouncement his tour ends.
Asked to point out his most prized possession, Archie smiles slyly. "All my good stuff is at home." One can only imagine what treasures grace the walls, cabinets, and bookcases of the Baird residence. Happily, however, Archie's castoffs are rare gems to the rest of us.