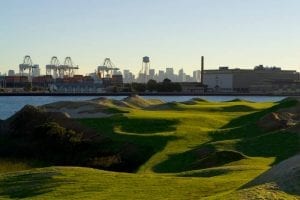 Even for the most jaded golfers—those who have stood over majestic bodies of water like the Pacific Ocean at Pebble Beach, Lake Michigan at Whistling Straits, or the Irish Sea at Royal County Down—the view of New York Harbor from the 16th tee at Bayonne Golf Club elicits far more than a passing glance.
Beyond the green of the 486-yard par 4 that tumbles from the elevated tee, past the Statue of Liberty and overlooking the cruise ships heading for foreign ports of call, the skyline of lower Manhattan offers one of the most memorable backdrops in golf, and you will want to linger on the tee box long after your drive has come to rest on the fairway.
But after reluctantly making the trek to your ball, you'll find the approach shot to the large green, which sits on a peninsula extending into the harbor, can be nearly as exhilarating as the drive. As are most of the shots on this 7,106-yard faux links built on a former landfill.
In addition to creating the elevation changes that offer skyline views, Eric Bergstol used more than 7 million cubic yards of sludge dredged from the harbor floor to shape dunes that look as naturally formed by the sea and wind as any in Ireland. As a result, when not depositing golfers at strategic high spots from which they can gawk at the landscape, the course rises, falls and winds among the fescue-topped dunes, providing a strange sense of displacement: The mind knows you are in a blue-collar city whose patron saint is former boxer Chuck Wepner, the "Bayonne Bleeder," but the heart shouts County Sligo.
Which is exactly what Bergstol had in mind when he conceived a course resembling an Irish links on a site that originally had been as flat as the helipad that transports the club's
masters-of-the-universe members from Wall Street, less than five miles away.
A longtime fixture in the New York area golf scene, Bergstol has developed and designed several courses in the area. But Bayonne no doubt will be his legacy-defining project, thanks to holes like the 16th, the core of a finishing stretch that fully highlights both Bayonne's New York Harbor location and the sense of place created by Bergstol.
The green of the 222-yard 14th sits on a slight plateau, inviting a creative chip following a missed green. The 316-yard 15th climbs uphill and has some of the best greenside bunkering on the course. The 491-yard par-4 17th wraps around the harbor while the 454-yard 18th climbs to a green that sits just below the newly completed clubhouse.
Players who have hit less than perfect drives on the 18th can aim for the clubhouse's lighthouse, a fitting beacon at this bright light of modern golf architecture.