A new owner, big plans, and a magnificent setting on the Chesapeake have Bay Creek poised for an exciting future
There's a story told about Sam Snead's first visit to St. Andrews. Coming into town on the train, he looked out the window and said, "Looks like there used to be a golf course there." He was looking at the Old Course.
I understood how Snead felt while riding around what had been nine holes at Bay Creek, a golf community near the southern cape of Virginia's Eastern Shore across the Chesapeake Bay from the mainland. Until late last year, there were two layouts at Bay Creek, 18 holes each from Jack Nicklaus and Arnold Palmer, both laid out in the early 2000s. But last winter, soon after new owners took over, Jack's back nine was taken out of rotation and allowed to go wild in preparation for becoming part of a newly created 350-acre nature preserve of woodlands, creeks, and tidal wetlands.
It's something to see. Skinny pine trees and stands of dog fennel poking through once-manicured fairways. Bunkers, their sand blown away, filling in with long grasses. Greens that would putt around 1 on the Stimpmeter, their pristine surfaces returning to their original state.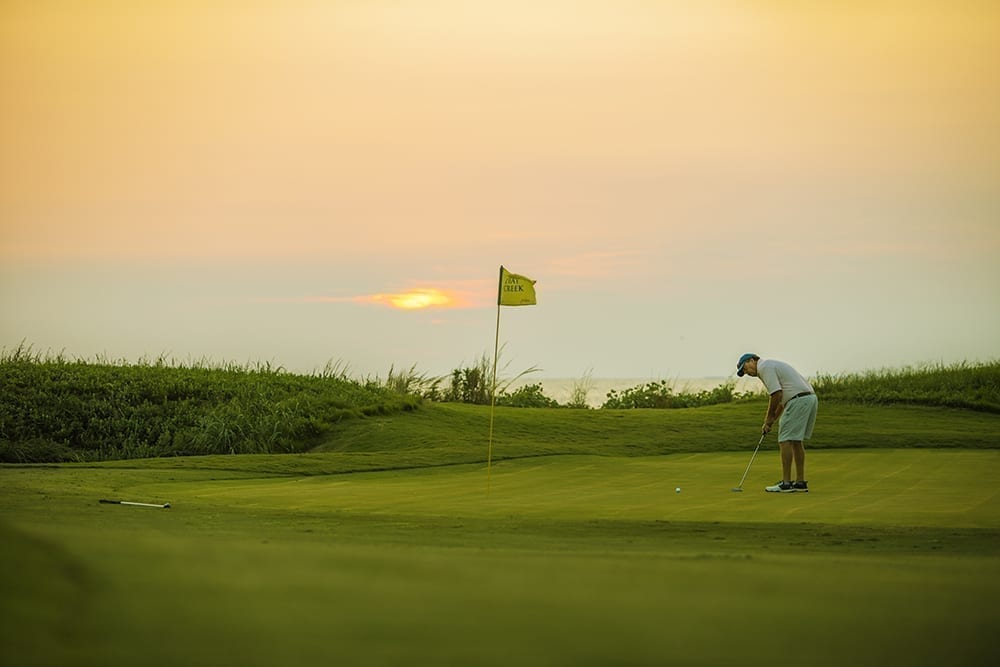 All this in less than nine months, explains David Brannon, a partner in Preserve Communities—Bay Creek's new owner—and a landscape architect as well as admitted tree-hugger. Driving on what had been cart paths, he points out where the Picnic Pavilion will go (oyster roasts on Sunday nights!), the kayak launch for exploring the miles of creeks and streams that flow through the habitat, and a sandy spot along the bay where residents will take their golf carts in the late afternoon to enjoy a drink and the sunset.
As we sit in his pickup watching a backhoe grade the land for Base Camp, as they're calling the habitat's recreation-center-to-be, Brannon says it should all be ready in two years, with some amenities opening even sooner. The preserve will also have a boathouse, community garden, multipurpose sports field, and miles of marked trails for hiking and biking. He's brought in experts to survey the trees and wildlife, and hired a naturalist to teach residents and local school kids about the ecology—the region is on a major migratory flyway for birds—as well as lead nature walks. There's already been a father-son fishing tournament.
While mitigation goes on at one end of the property, a different kind of work is happening elsewhere. Houses are being built—and bought, on Zoom calls, as fast as they're announced. Brannon's plans include new neighborhoods as well as new and expanded amenities. He's even looking for the right places to install filtered-water dispensers, and wondering how to encourage more recycling.
Heading deeper into the preserve, we pass the remains of a 19th-century homestead surrounded by old-growth trees planted by 19th-century businessman William L. Scott. Then he shows me where they'll break through a little dam to let the bay flow back in and invigorate the wetlands.
"Three years from now," he says, "this place will really be on the map."
The tagline for Bay Creek should be "Coming Soon." Which is odd, since the community has been there for two decades. But, as Brannon puts it, "we're 20 years old and in our infancy."
The original developer launched Bay Creek in the early 2000s with big dreams. He hired golf's two biggest names to design the courses. More than $120 million was spent on infrastructure, resulting in such clever—but expensive— touches as paths routed under roads for better safety and aesthetics. The driving range is enormous. And from the start, residents could build or choose from a variety of home styles and sizes, including duplexes, villas, ranch-style homes, and big brick Colonials festooned with columns.
About 800 of the original 1,500 lots sold. Nearly 400 houses were built, spread out over more than 1,700 acres: Some pockets developed into neighborhoods while others had only a home or two. Then the recession hit, the developer went bankrupt, and a new owner—one without any applicable experience—took over.
To keep the doors open, the courses were opened to the public, and the community was marketed for golf and little else. Some homeowners sold, if they could. But others stuck it out. Same with much of the staff. Times were tough, but for those who'd already bought—mostly from the Norfolk and Richmond areas on the other side of the 20-mile-long Chesapeake Bay Bridge, or from Washington, D.C. about four hours away—Bay Creek and its surrounding area were special.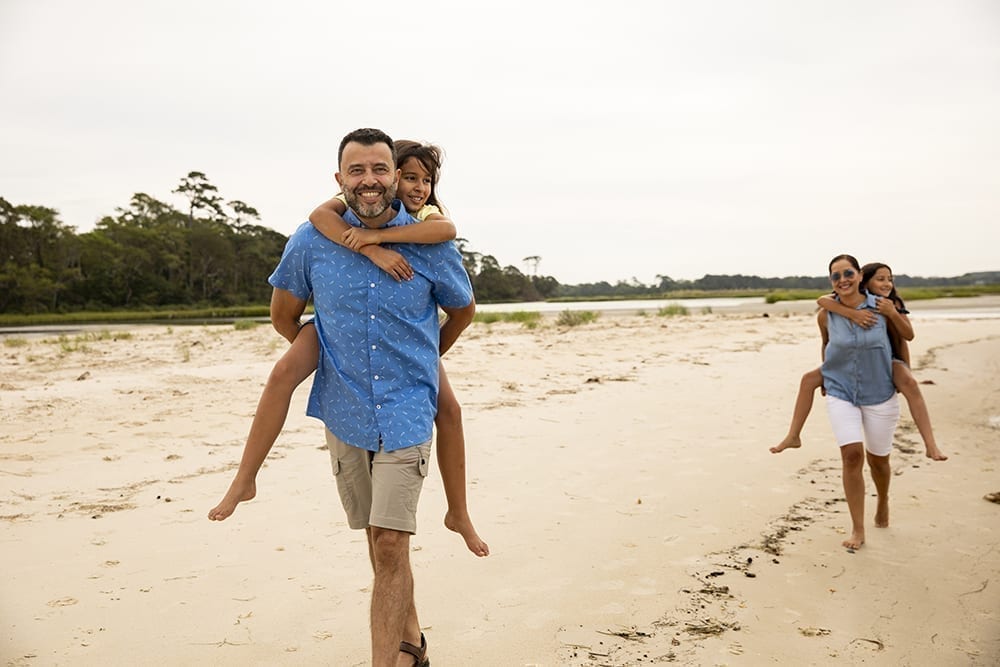 They still are. Now, as then, members appreciate that the region is secluded, safe, good for families. They love having two miles of private beach along the Chesapeake to themselves. At the Life Center, there are two pools (one for laps, one for kids), as well as a fully equipped fitness center. The region has long been famous for fishing—in the bay, creeks, marshland, from piers, you name it—and many residents have boats and kayaks to go with their easy access, while the head golf pro, Zach Pringst, is also a renowned fishing guide. There's so much water nearby that anyone can drop a few crab pots or dig for oysters; if that's too much work, it's a short drive to local seafood shacks.
The golf courses present a fun mix. Palmer's 18 is "parkland by the bay," in the words of Director of Golf Joe Burbee, the Nicklaus nine "more linksy." Water is in almost constant view, with the Nicklaus nine and Palmer's front nine heading to and from the bay and the rest of Palmer playing along Old Plantation Creek. The breezes are capricious and the conditions surprisingly good after a decade of minimal maintenance. The courses are playable all year, with golfers especially fond of late-season rounds, Burbee says, as the dormant turf provides a cushiony, forgiving surface.
Many residents have their own golf carts, which they use to ride into historic Cape Charles, a six-by-six-block jewel regularly voted one of Virginia's prettiest beach towns and a growing second-home favorite. From its cape-style homes to quaint shops, public beach to busy little harbor—soon to be joined by a marina capable of servicing superyachts—Cape Charles is a delightful throwback where neighbors really do wave and look after one another. There's also a growing restaurant scene, from gourmet to fish house, as well as artisanal ice cream and a bar/distillery that makes its own moonshine.
For all this and more, those who stuck it out feel they're finally reaping the rewards. The courses are now private, but the community retains a resort component, renting homes and letting guests pay to play (which helps keep dues low). Membership has been made a requirement of ownership, which will continue to apply even when a house is sold. The new owner is involving residents in important decisions, and, in a particularly telling sign, houses that had been on the market have been sold or taken off.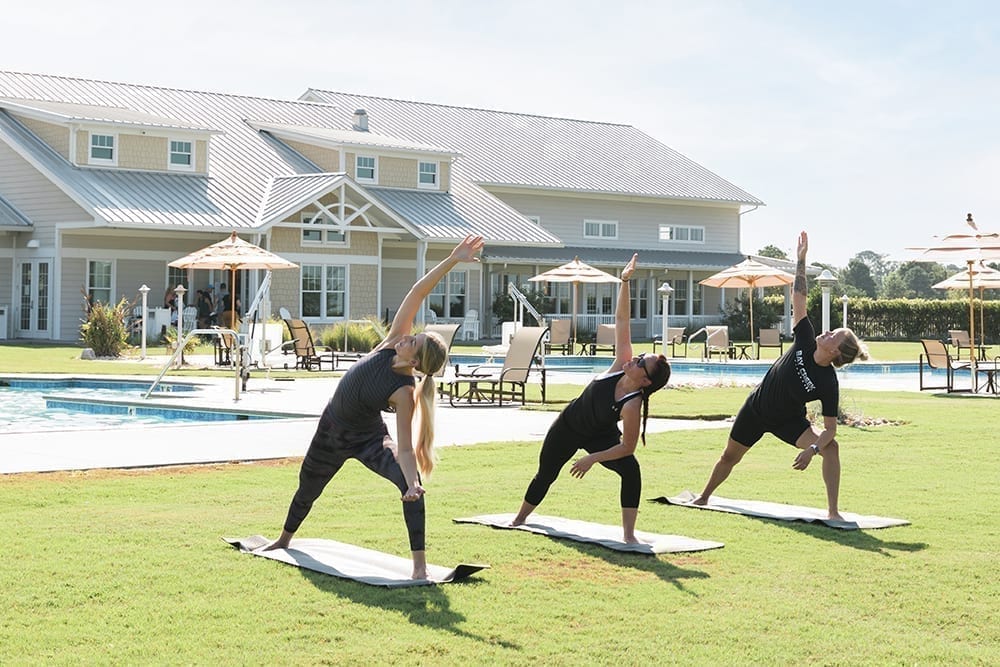 And there's excitement about what's to come. The Beach Club will open in 2022, with a bath house, bar, deck, and restaurant just steps from the wave-free private beaches along the bay. The golf clubhouse, where residents already enjoy the open-all-day-long Coach House restaurant, has been spiffed up and will undergo more work, including the addition of private dining rooms for members. More tennis courts are coming, dedicated pickleball courts, too. A short- game area is going in at the far end of the driving range.
Also expanding are the real estate choices. Eventually, there will be close to 2,000 homesites. New entry-level villas of 1,800 to 2,000 square feet start around $450,000. Cape-style cottages of 2,000–2,500 square feet are proving popular from $650,000. Numerous neighborhoods offer numerous options, including beachfront houses that will start around $1 million. They expect a lot of demand for 18 or so lots hidden in the pines along the Nicklaus nine and featuring views across the course and the bay, revealing that rarest of East Coast wonders, a sunset over water.
"It's a one-of-a-kind place," explains Dan Collins, whose company handles sales and marketing for Bay Creek. "It has a totally different feeling, remote and rural, but all connected on some level. You can come with a family and play golf, hike, fish, and explore nature. Where else do you get all this?"
In the lingo of the Eastern Shore, natives are said to be "from here." Others "come here."
Meaghan Neville, Bay Creek's director of concierge services, is a "from here." She says living on the shore is a little like being captive, "but in a wonderful way. It's almost like an island. It's a little too far."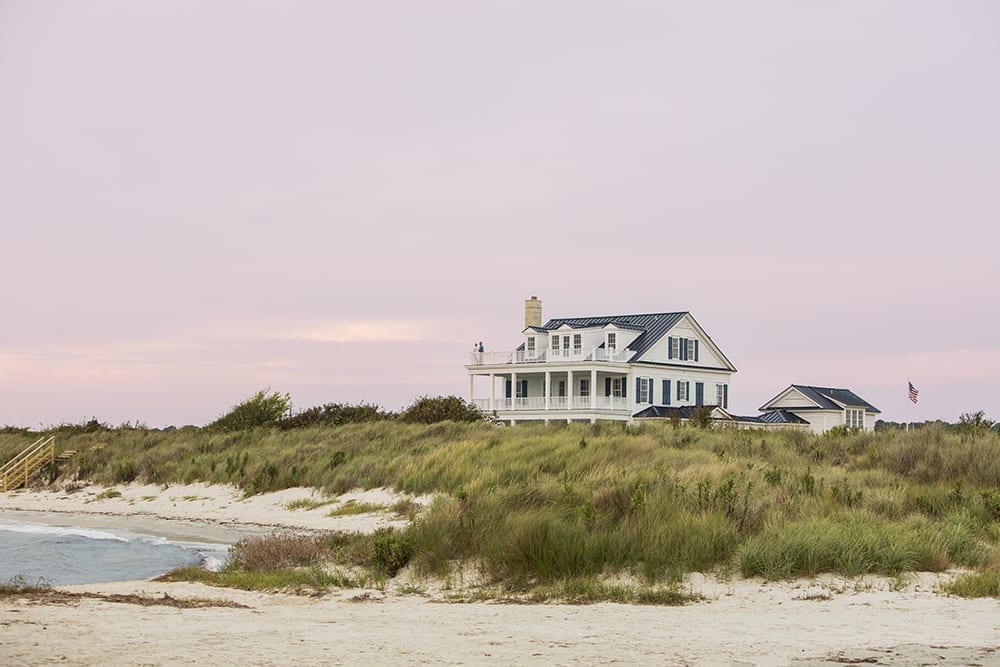 That it takes a little effort and a little time to get there is good. The "come heres" want to come and love the shore for what it is. They also want to help: The residents of Bay Creek have always contributed to the community and under the new owners will continue to do so.
"We care, we give back, we get people involved," says Brannon. "We have a duty and a sense of responsibility to what is special about the Eastern Shore."
It's that specialness that kept Bay Creek alive, that kept the die-hards hanging in, that is the key to a successful future.
"In a couple of years, people are going to say they missed the opportunity to buy something here," says Collins. "The sweet spot is now."
With so much to come.