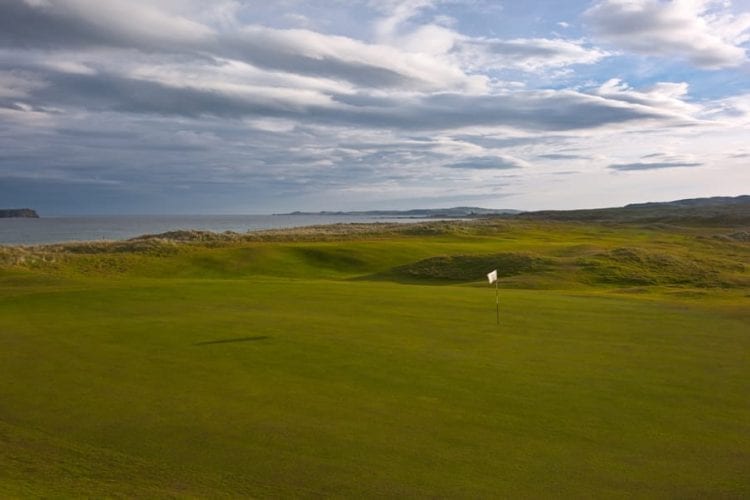 The Second Coming of Ballybunion?
Years ago I subscribed to the New Yorker and it was then that I first became familiar with the name Herbert Warren Wind, the sportswriter. I was attracted not only by the clarity of his writing but by the mellifluosity of his name, which had as good a ring to it as my all-time favorite journalistic byline—T. Waverly Root, who wrote for the International Herald Tribune in Paris.
One day, browsing through the magazine I found to my delight a piece by Wind about golf in Ireland. The magazine did not stint Wind, whose beautifully sculpted English had been honed at both Yale and Cambridge and whose ability to write long, elegant sentences was matched only by his politeness and reluctance to be seen without a collar and tie. Wind, I would discover when I got to know him better, took as much care over the whereabouts of a comma or a semi-colon in a sentence as a professional golfer would over a two-foot downhill, curling putt for his first tournament victory. Wind could scarcely clear his throat in less than 2,000 words. Accordingly, "The Greens of Ireland: The Southwest" must have been longer than a novella.
I dropped whatever I was doing and curled up in a chair. As Wind recounted his visits to Lahinch, Killarney, Ballybunion and Portmarnock, the great names of Ireland, a sense of enjoyment throbbed through every sentence. At the end of his whirlwind trip he visited Ballybunion, "a small, gray seaside resort in northern Kerry, forty miles west of Limerick and some twenty-five miles north of Tralee."
Wind did not play the course, but in the company of various club officials he walked it, and even when writing weeks later he could do nothing to conceal his excitement. "Despite the ripping wind and some intermittent rain, the two-hour walk was profoundly exciting," Wind wrote. "Ballybunion revealed itself to be nothing less than the finest seaside course I have ever seen … I breathed it all in slowly, wondering first to myself and then aloud who the architect was who had the genius to use the duneland in such a thrilling way."
Years later I saw Ballybunion for myself and played both the Old and the New courses. Welcomed by the benign friendliness of Sean Walsh, who was the secretary as well as its abiding spirit, I began to understand the reverence that is shown to Ballybunion. Though I wished it was more of a test and less of a resort course with wide fairways and short rough to enable the visitors to get round speedily, it soon became central to my view that Co. Kerry had more memorable courses per capita than anywhere of comparable size in the world. Once I was fortunate to spend three or four days researching this theory and then writing about it.
Returning from Killarney to my hotel in Kenmare, I became accustomed to having to nudge sleeping sheep out of the center of the road at night, and while playing golf at Killarney I smiled every time I saw a sign on the putting green which read: "Keep off the grass." One night, while I was playing the 17th of Ballybunion's Old course the setting sun shed a wide swathe of light out to sea so that it seemed a continuation of the fairway. Ballybunion was a magical place and in a moment of enthusiasm I decided that when I died I wanted my ashes to be scattered over the 17th tee. I was, in short, spellbound by Co. Kerry.
But wait. Ballybunion has been elbowed aside in my affections. I have found the new Ballybunion, another club in the Republic of Ireland, this time one in the far north, an hour from Londonderry, two hours from Belfast. Its name is Ballyliffin and, like Ballybunion, it has two links courses. One, the Old course, looks so natural it could have been laid out 100 years ago; the other, the Glashedy Links, opened in 1994 and may be the best new links course to have been built this century. It is good enough to stage the British Open. Of all the links courses throughout Europe and the U.S. that I have seen, there is no doubt in my mind that the two at Ballyliffin are among the very best. Ballyliffin is a dot of a place in County Donegal in the Republic of Ireland, just south of the country's most northerly point, Malin Head. Blink as you drive along the Inishowen peninsula and you'll miss Ballyliffin. It is a straggly collection of two hotels, two shops, a post office, garage, and dozens of homes offering bed and breakfast. The total population of Ballyliffin and surrounding villages may not be 5,000 but such is its sense of community spirit that a huge sports hall has been built entirely by volunteers.
In Donegal, music is a natural part of life, which explains why Clannad, the pop group, has its roots here and so does Enya, the singer. Here, in this community of a few thousand people live men who are tug of war champions of Europe. Danny McGonigle, a bull of a man, is their captain and he has a house full of pins, cups and trophies after 25 years of tug of war success at this ancient English pastime. A sand wedge was needed to cut through McGonigle's accent and it was a long time after he first mentioned "hull" and "shud" before I realized that the former was not the bottom of a ship but a hill and the latter the low green shed in which the Clonmany tug of war team trained each week using a medieval series of pulleys and weights.
In this part of Donegal the air is as clear as crystal, the wind roars in from the Atlantic, the beaches are spectacular. One was recently voted the second best beach in the world. It might seem odd that such good golf courses should be found in such a remote place except that in Ireland the odd is the normal. At Ballyliffin, for example, the annual profit of the golf club in 1986 was $10 dollars and yet the members had no qualms about spending $70,000 on a new clubhouse.
The story of Ballyliffin can be briefly told. It centers on a core of far-sighted and ambitious members and, more importantly, on a remarkable family named Doherty who owned Carrickabraghy Castle on the foreshore as well as a small family house nearby.
The matriarch of the Doherty clan was married at 16 and in time gave birth to 23 children. Each week she would bicycle to the village shop, buy a bag of flour, attach it to her bicycle and pedal back to her home. She died at 93. One son went to the U.S. and won $4 million in the lottery.
Soon after the war, the land just behind the beach was bought by a group of members—including several Dohertys— from a local landowner. And on this rolling, classic, linksland turf, which tumbles and falls this way and that, was laid out of the Old course, nine holes at first, 18 later. Move this course to Scotland, say, and you'd swear it evolved in the same way as the Old Course at St. Andrews. It was to this course that Nick Faldo came in 1993 while touring Irish golf courses by helicopter. "It's wonderful," he said. "It has the most amazing undulations and it is so natural it looks as though it has been there for centuries. It is a little gem of a golf course." The uphill, par-3 fifth is the class of the front nine on the Old course, while the back nine is replete with attractive, strong golf holes, such as the 485-yard, par-five 13th and the 370-yard 14th, both of which begin with elevated tees and sweep through dunes and sandhills. Another solid hole is the 556-yard, par-five 18th, which curves to the left between the dunes before arriving at a handsome perch near the clubhouse.
The newer course is the Glashedy Links, named for the Ailsa-like plug of rock one mile offshore. It was designed by Pat Ruddy, a burly, jovial Irishman, and his partner, Tom Craddock, a former Walker Cup player. Ruddy is an entrepreneur who runs a golf magazine in Ireland, owns The European Golf Club (another outstanding links course), an hour's drive south of Dublin, and uses typically robust Irish humor to cope with the vicissitudes of designing golf courses.
Ruddy's work among the sand dunes of Ballyliffin is outstanding. Each hole of the Glashedy seems to be a touch stronger than its predecessor. The course begins gently, confronting the visitor with a stern par-4 on the second and another on the third, both of which can be into the wind, before turning back to catch a glimpse of the sea. The fairway of the fourth is like a long carpet and when the sun shines it can touch the grass with a sheen of glass. As you walk up the fairway your eyes are drawn beyond two cross bunkers to the green and there, just to the right, as if in a painting, is Glashedy Rock, as much of a landmark for Ballyliffin as Ailsa Craig is for Turnberry.
The fifth is a delightful par-3, the first of three on the course, that tests your accuracy to the fullest. It has deep bunkers almost ringing the green. I walked off that green with a par and felt as if I had birdied the hole. To compound the feeling of virtuosity that I had as I approached the sixth tee, I noticed that the sea was flat calm and so smooth I wanted to rush out with a cloth and give it a final polish. There in the distance were the brown faces of some of the biggest sandhills in Europe, drenched in the sun and looking as though they were smiling at us. The rugged, exhilarating back nine stretches 3,821 yards and plays to a par of 37. Holes 10 through 12 form a terrific trio of par-4s, but merely set the table for the main course, holes 13 through 15. Thirteen is a monstrous, 572-yard, uphill par-5 with a wildly rolling fairway stuck between towering sandhills. Fourteen is a petite, drop shot par-3, while No. 15 is a 440-yard par-4 which features a downhill drive to a fairway that doglegs to the left.
The Glashedy Links has big greens and revetted bunkers. From the back tees, it is 7,102 yards (longer than the Old Course's 6,612 yards) and represents a challenge that could be unplayable in any kind of wind. And the wind does blow here. The wind was gale force on 19 of the 31 days in a recent July. But that is links golf for you. If you want tranquillity, an even stance and narrow fairways, then go elsewhere. But if, like me, you believe that the elements play a full part in golf as  do the contours beneath the footstep, then go to Ballyliffin immediately. As Faldo said, it is a little gem.