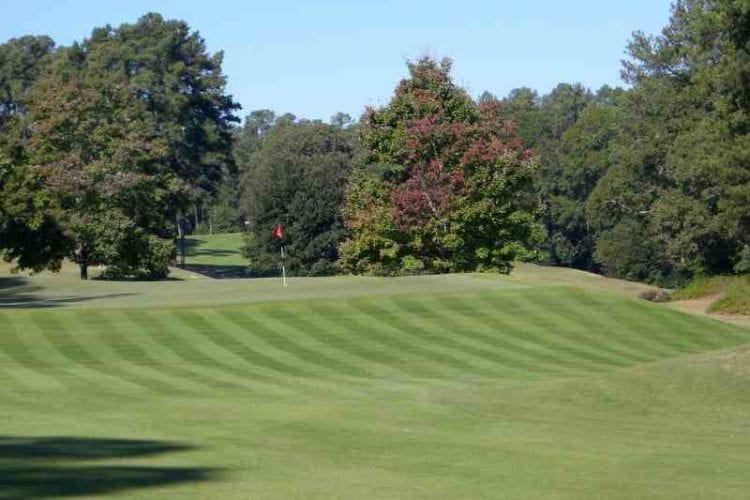 Like the guy who married Halle Berry, Augusta Country Club is notable for who it stands beside. The Country Club and Augusta National Golf Club share a fence, a famous creek, a valley and a couple dozen members. Their histories intertwine, too, as histories always do in little Southern towns.
While the rest of the world is breathless about Augusta National, ACC members are blasé. They refer to a round at the home of the Masters simply as "playing across the creek." They are amused by fellow members who preen for an invitation to join the National, referring to them as "pledges." They are patient with guests who stop in the 9nth fairway to gaze through the thick border of pines and magnolias at Amen Corner, emerald green and usually deserted. The Country Club does not begrudge its neighbor's fame and beauty or its annual April traffic jam, partly because reflected glory is still glory, and partly because jealousy would be so callow and unseemly.
Yet ACC does not stand there with its figurative hat in its hand. You can't miss its pride. A picture of NCAA champion and PGA Tour star Charles Howell III, who learned to play here, hints at the club's dedication to junior golf. Other photographs and plaques on the clubhouse walls indicate that important competitions have been held at the Country Club—the Titleholders, once a professional women's major, and the Southeast Open, which Bobby Jones won to kick off his Grand Slam year of 1930.
Black-and-white photos of such early 20th-century stars as Jones, Gene Sarazen and Tommy Armour remind a visitor that this place has been here a long while. The caps in Tommy Brannen's pro shop reveal exactly how long a long while is: "1899" is embroidered in large numbers above the brims, denoting the year of the club's founding.
Until a year ago, however, something was missing. Dirt and time had obscured the best part of Augusta Country Club—its golf course, designed by Donald Ross. Seventy-four years later, when leaders the club were discussing some course improvements, superintendent Greg Burleson discovered Ross's ACC drawings in the Tufts Archive at Pinehurst. He bought a copy for $40.
The club was already in discussions with architect Brian Silva, a bundle of Boston-accented energy and an accomplished hand at restoring old Donald Ross courses. "When you have such detailed plans, like the ones Donald Ross left us at Augusta, it's not exactly a brain teaser," says Silva. "The only problem was maintaining discipline. Every once in a while, someone would say, 'Let's move that bunker 30 yards that way.'"
The course re-opened for business on a snowy day in January 2002. The holes at Augusta Country Club now vary between rum raisin and chocolate almond fudge and there's no vanilla on the menu. It's a memorable course, in other words, and great fun to play. It's still not as famous or photogenic as the movie star across the creek, of course. But then again, what is?
Par: 72
Yardage: 6,771
Year founded: 1899
Architect: Donald Ross