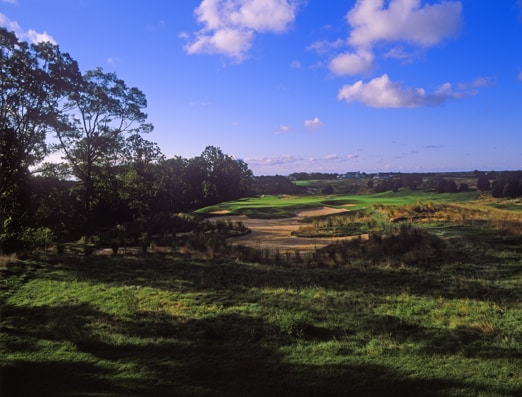 The story of Atlantic Golf Club begins with Lowell M. Shulman, a highly successful developer of corporate office parks and buildings in metropolitan New York. Schulman was born and raised in Westchester County and started a lifelong fascination with golf in 1940 as a caddie at Winged Foot Golf Club. In the mid-1960s he helped develop Brae Burn Country Club in nearby Purchase. But it was not until more than three decades later that the idea struck him of building his own golf club.
After buying a 204-acre former potato farm in Bridgehampton, he tracked down Rees Jones. It would be no easy matter to build a worthy course in an area where reputations had long been established by the likes of Maidstone, Shinnecock Hills and National Golf Links.
Jones' work at Atlantic was done the old-fashioned way: through numerous field visits, on-site sketches and hand waving. The course presents stunning internal vistas. The only stands of trees on site are native spruce, hemlock and black willows confined to out-of-play areas. Holes unfold seamlessly, each nested in its own natural corridor of dunes.
Many of the holes are set in parallel fashion. But the mixed routing, with a partial overlapping of nines, assures that you never see the same group twice in mid-round. Each hole sits in its won sculpted area. The result is a sense of mystery, with each new angle revealing a completely different view.
Here is a course that never plays the same one day to the next, or even from one hole to the next, it requires a continual shifting of gears in terms of distance, direction and playing character. A generous downhill opening hole is followed by a tough uphill approach at the second to a green above a steep swale. The 3rd, into the wind, is only a 348-yard dogleg left; but the entire left side is heavily protected and the wise approach is made from the right.
The long par-4 15th hole through dunes is followed by an equally long par 4 that runs at a right angle, playing over a stunning array of bunkers. The final hole is a long, graceful par 5 that will accept nothing less than three perfectly shaped shots to a green at the foot of the clubhouse.
The par 3s are especially intriguing because they run the gamut from a short-iron approach to a full-bore fairway wood. At the 127-yard 7th, for example, the shot is little more than a pitch through a crosswind to a postage-stamp plateau green. By contrast, the 14th plays 218 yards into a headlong wind with a low-profile green cast diagonally from front left to back right.
Jones' trademark is a low-running hole surrounded by dunes-like features. He also relies upon gentle concave bunkers, with the entrances to the sand set at natural levels. His fairway bunkers are shallow, while the greenside sand hazards tend to be somewhat deeper. His putting surfaces offer natural-looking ramps that blend easily into the surroundings.
Wide fairways at Atlantic afford ample ground for strategic play in windswept setting.
The bentgrass tees, fairways and greens look like they have been in place for years. It is a pleasure to confront properly sized putting surfaces that are shaped for the appropriate shot. There are plenty of subtle contours and cupping areas. Yet the pitches and rolls blend together so that the greens, while readily playable, can also pose formidable challenges.
Par: 72
Yardage: 7,117
Year founded: 1991
Architect: Rees Jones