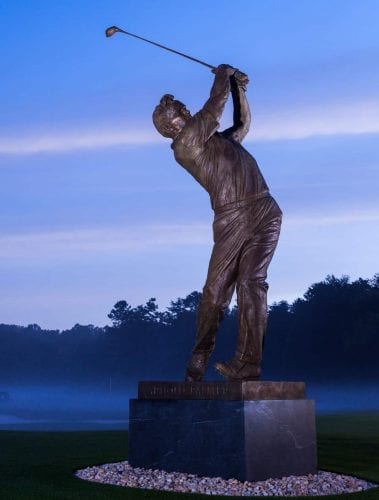 Arnold Palmer might no longer be with us, but soon, a permanent likeness of him will be on display at his Bay Hill Club and Lodge.
On Saturday, March 11 a 13 foot statue of Palmer will be unveiled at Bay Hill. The statue, which is a replica of the one on the campus of Wake Forest, Palmer's alma mater, was created by renowned sculptor Bruce Wolfe.
The statue will be unveiled during a volunteer breakfast event traditionally held for the 1,500 volunteers who staff Palmer's tournament every year. The statue will then be on permanent display at the course, overlooking the first and 10th tees.
"There will be no ropes or fences around this statue," said Marci Doyle, chief operating officer of the Arnold Palmer Invitational. "It will be infinitely approachable, just like Mr. Palmer."
Long time tournament sponsor Mastercard covered all costs for the statue, including production, shipping, and installation. The company has been the title sponsor for more than 10 years and have also been major supporters of the Arnold Palmer Hospital for Children and Winnie Palmer Hospital for Women & Babies.
The 2017 edition of the Arnold Palmer Invitational presented by Mastercard will take place at Palmer's Bay Hill Club and Lodge March 13-19.