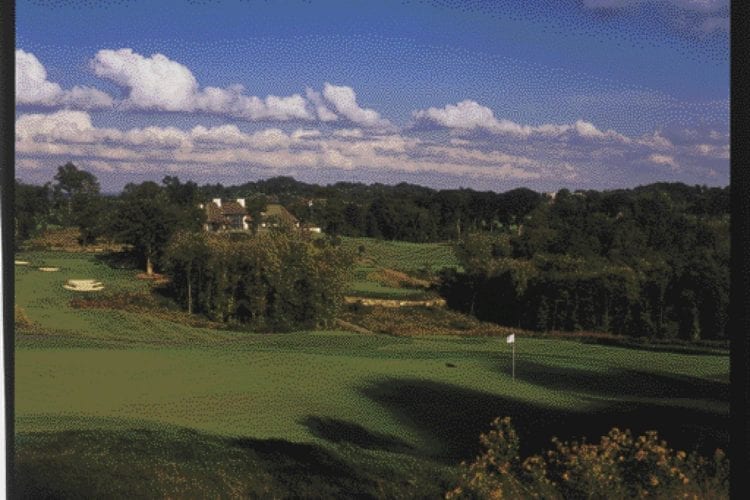 Last hurrahs don't often get the crowds cheering. Alfred Hitchcock signed off with Family Plot, Stanley Kubrick with Eyes Wide Shut. Sure, Ted Williams homered in his final at-bat, but most Hall of Famers finish with pop-ups.
Robert Trent Jones Sr. capped an unparalleled career in course design with Anglebrook Golf Club. His final canvas was 240 bucolic acres in Somers, New York, a seldom-seen corner of that most fertile golf soil, Westchester County.
It would be tempting but facile to say that Anglebrook, which opened in May 1998, comprises all Jones learned in designing over 500 courses worldwide. Surely it does—we're all the sum of our experiences—and surely it does not. Artistic endeavors, after all, demand choices, not regurgitation. Nearly every choice made here seems well judged.
Given the serene beauty of the country-style clubhouse, itself designed by the noted postmodern architect Robert A.M. Sterm, you might expect to be eased into the 7,001-yard, par-72 layout. You would be wrong. Three of Anglebrook's five hardest holes are found among the opening quartet, starting with the 454-yard 1st. It's as if Jones, who died in June 2000, were saying, "No, I have not mellowed, I will not go gently."
The 602-yard 4th is that rare thing—a par 5 that genuinely deserves to be the No. 1-handicap hole. Starting, as will many later holes, from a glorious perch, No. 4 features a tee box some 200 feet above the fairway. The ensuing lay-up is exceedingly difficult. It needs both length and draw to find the fairway and even get a peek at the bi-level green sitting across a chasm of wetlands—the first of many such rough-hewn areas running through the property. Par feels like birdie here; I suspect few know what birdie feels like.
Yet even this demanding early stretch offers hints that playability will be the governing principle. The fairways are vast, as are the greens, although with their jackrabbit speed and numerous pockets and tiers, they are far less forgiving of middling or ill-conceived shots.
Having captured your full attention—"The old man's still got it!" you'll whisper—Jones shifts to a more paternal tone that will hold sway over the rest of the round. Anglebrook is also a rarity for its modulated use of often-severe terrain. Too many courses this hilly tend to feel extreme, causing us to walk off the 18th mildly seasick.
You can drink in drop-dead-gorgeous panoramic views, like the one found on the 430-yard 14th hole, knowing there will also be moderately sloped tee shots and approaches on shorter par 4s, such as the 335-yard 15th. Jones well knew that dessert tastes better when part of a well-rounded meal, and Anglebrook is just that.
The view from the 18th tee box would be odd even if not for the inarguably fair 17 holes preceding it. Sitting like a giant pockmark smack-dab in the middle of the fairway—exactly where the perfect drive would seem to want to land—is a nasty, yawning bunker. There is precious little room to its left (wetlands) or right (trees), and a short drive leaves an approach of well over 200 yards that in any case needs to thread a claustrophobic gap between trees to a narrow entrance to an elevated green. All of which begs the question: What is that thing doing there?
Sadly, Jones isn't around to ask anymore. But at the risk of presumptuousness, I'd venture the following: In the end, golf dwells in the realm of the impossible—designers just help determine how impossible. As a final statement, then, by forcefully reminding us that golf will not be conquered and that we should content ourselves in battling it as best we can, the unorthodox 18th at Anglebrook contains more than a little wit and pathos.
Par: 72
Yardage: 7,001
Year founded: 1998
Architect: Robert Trent Jones Sr.