Near one of the country's most crowded golf markets—Phoenix and Scottsdale—one Arizona course is hoping to stand out… by moving into the spotlight.
The big differentiator for the course, Grass Clippings at Rolling Hills in Tempe, isn't the roaring lions or howling monkeys from the nearby Phoenix Zoo that can be heard on the 3rd hole. Rather it's that the course—a par 62 that will play as a par 54 at night—will have modern LED technology illuminating tee boxes and greens, offering nighttime play until midnight. Meaning when it opens in early 2024, Grass Clippings will be Arizona's only fully lighted 18-hole golf course and practice facility.
Even with the proliferation of well-lit golf entertainment venues like Topgolf, there aren't more than a few dozen lighted courses in the U.S. Meanwhile a country like South Korea, which has about 20 times fewer golf courses than America, counts more than 100. I was fortunate enough to play one in South Korea several years back and the experience was surreal, with tee shots often easier to see at night than during the day, like a towering fly ball into a dark sky at a Major League Baseball stadium.
The following list shines a light on other notable illuminated golf courses in the U.S.
Not unlike Rolling Hills, this Par-3 course near the heart of Greenville has been transformed—from an 18-hole layout into an upscale, 12-hole course with lights that stays open until 10 p.m. from Monday to Wednesday and 10:30 p.m. from Thursday to Sunday. The facility also has an 18-hole putting course called "Humps & Bumps" as well as an energetic food and beverage offering that includes burgers, barbeque, beers, and cocktails. The price for an all-day weekend pass to 3's is $59.
Cloud 9 is a replica course, incorporating design concepts found at some of the game's legendary par-three holes—like the Postage Stamp at Royal Troon and TPC Sawgrass's island green. But most notably for the purposes here, nine of the layout's 12 holes can be played under the lights after the sun goes down, with holes varying in length from 80 to 130 yards. With a walking rate of $25 for non-residents, you won't miss the gambling losses you might otherwise incur on the Vegas Strip. And for only $5 more, you can go twice around the natural grass greens of the Devine 9 Putting Course, which is also lighted for night play.
View this post on Instagram
Just over 20 miles southeast of Houston is an 18-hole course with lights called Beacon Lakes, but closer to downtown is a dynamic short course that opened in 2022 with views of the city skyline called the East River 9. Situated on a peninsula that extends into the Buffalo Bayou, East River 9 is an affordable, public Par-3 course that's the centerpiece to a mixed-use development that includes a 300-yard driving range, 12,000-square-foot social putting green, and six pickleball courts, adding greenspace back to a rundown site once home to a manufacturing plant that built Sherman tanks. The links-style layout has holes ranging from 80–150 yards and can be played for a "Prime Time" rate of $46 on the weekend.
When David Postlethwait opened his first 18 holes of lighted golf near Raleigh in 1998, the facility did 60,000 rounds in the first year. That led Postlethwait, who got his start on a construction crew working under Pete Dye, to expand Knights Play to 27 fully illuminated par-three holes. The facility is also known for its 60-station driving range, which is likewise illuminated at night. Walking 18 weekend holes in primetime… just $18.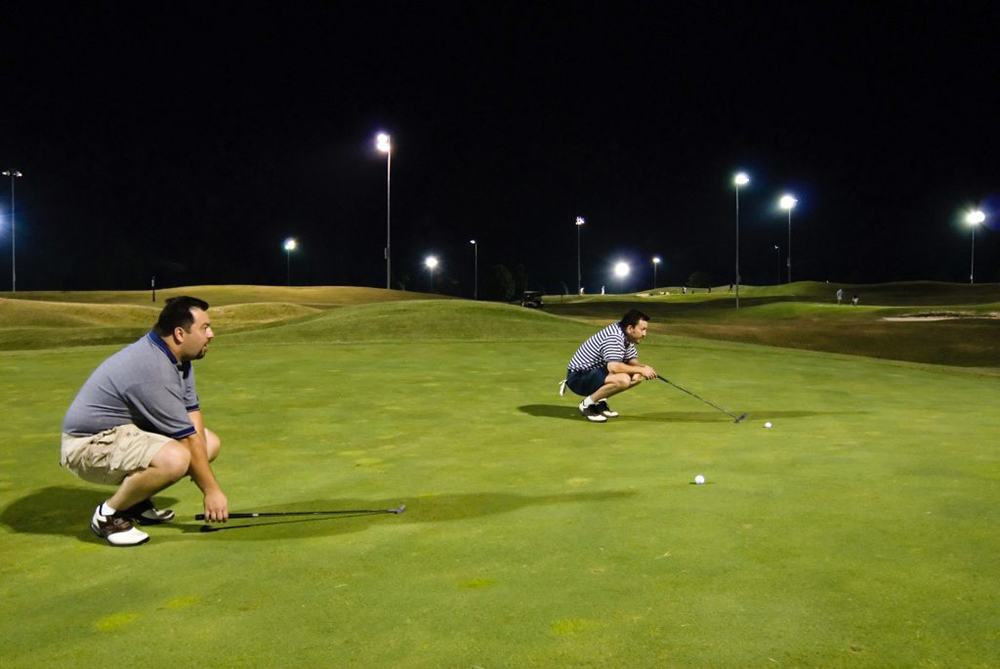 Owned by the City of Indio, the Lights at Indio Golf Course is the only lighted golf course in California's golf-rich Coachella Valley. Built on approximately 46 acres, this 18-hole layout is among the longer Par-3 courses in the country, with holes ranging in length from 110 yards to 240 yards. From the back tees, seven holes top 160 yards, providing a stiff test for those who travel to the desert to "Play the Lights," for just $37. There's also FootGolf for visitors who are more interested in kicking a ball instead of hitting one.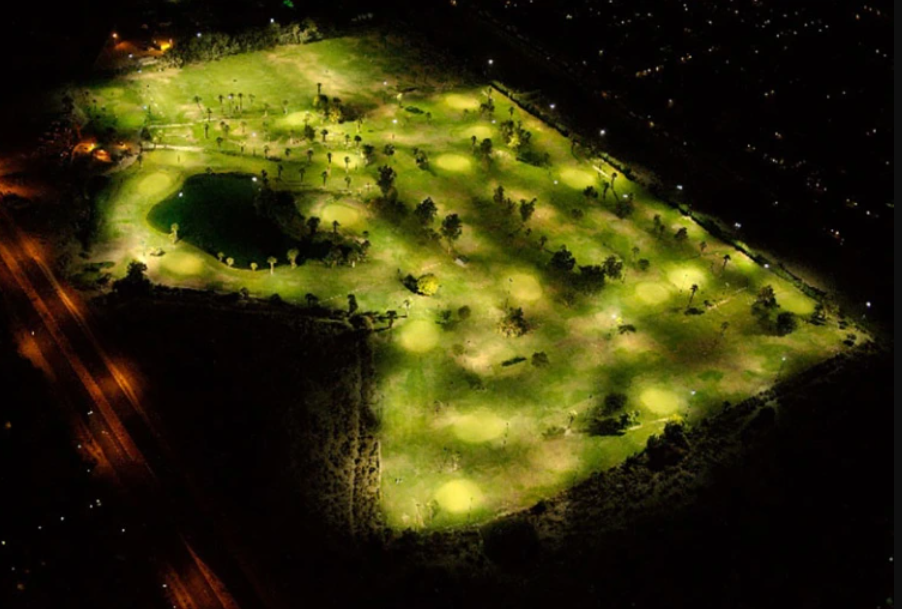 In western Pennsylvania, just east of Pittsburgh, Manor Valley is a public course that was built on a property that was once the Frye family farm and is now run by third and fourth generation members of the family. The course has had 30- to 40-foot light poles since 1964, offering night golf over the first nine holes on Tuesdays, Wednesdays, and Thursdays. The rate for walking nine holes on the weekend is only $16.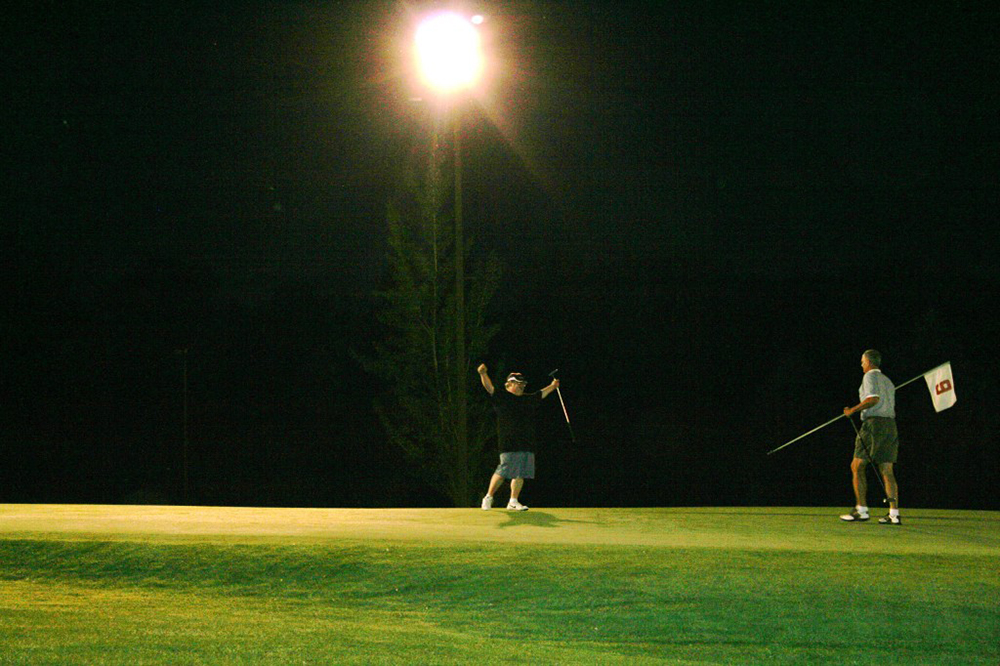 There are close to 100 golf courses in and around the Naples area in southwest Florida, but this 4,000-yard par-61 executive length public course is the only one to offer night golf. Lighted play is only available from November to April, when many courses in the area are busy with tourists and seasonal residents. On Wednesday through Saturday nights, golfers can play 18 holes under the lights for $35.
Have you played a golf course that was lighted for play at night? Tell us about your experience in the comment section.