The chief requirement for making this list is that the golf course must be owned by a municipality. We're judging here on the quality of the design, test of golf, scenic appeal, and tournament lore. For best-value munis? We'll leave that for another time.
Here then are the 10 best municipal courses in the U.S.
10. Memorial Park—Houston, Texas
This Depression-era creation from John Bredemus, who also authored fabled Colonial in Fort Worth, played host to 14 of the PGA Tour's Houston Opens from 1947 to 1963, when winners included Arnold Palmer, Jackie Burke Jr., Cary Middlecoff, and Bobby Locke. Current home to the Houston Open since 2020, Memorial Park benefited from a 2019 remodeling by Tom Doak, with Brooks Koepka consulting, which resulted in a more open course with only 19 bunkers. However, it proved newly testing at 7,292 yards, with heightened risk/reward opportunities, especially down the stretch and greens marked by steep falloffs and short grass surrounds, placing a premium on accurate approaches and creative recoveries.
Nothing quite like a Houston sunrise pic.twitter.com/vZYXFYNfgW

— Cadence Bank Houston Open (@HouOpenGolf) November 9, 2022
9. TPC Harding Park—San Francisco, Calif.
The aptly named host to the 2009 Presidents Cup, this venerable 1925 muni sports fairways hemmed in by frequent fog and cypress trees, lush rough, and a wild closer (the 15th during the Presidents Cup), a 475-yard par four that opens with a bite-off-as-much-as-you-can-chew drive over a lake, followed by an uphill smash to a rollicking three-tier green. At the hotly contested 2020 PGA Championship, eventual winner Collin Morikawa hit the shot of the year, driving the green at the 336-yard par-four 16th, when bunkers, trees, and Lake Merced lurking to the left could have wrecked his chances. There's a bit of sameness to the holes at this William Watson/Sam Whiting design—the same duo that created the Olympic Club's courses next door—but it's all challenging and it's all beautiful.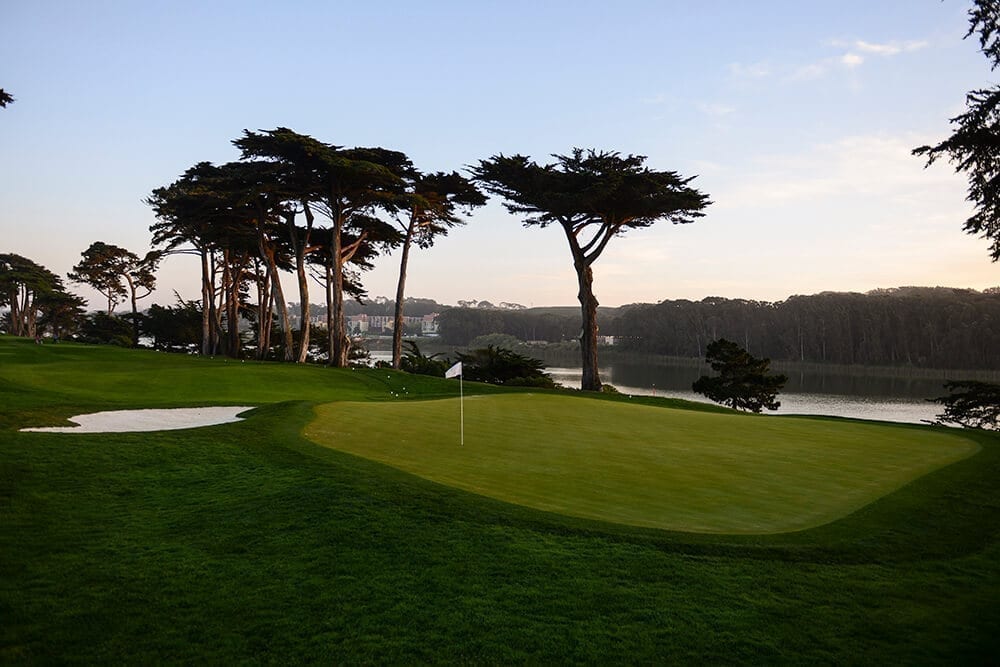 8. Gold Mountain (Olympic)—Bremerton, Wash.
Located on the Olympic Peninsula 25 miles west of Seattle, this 36-hole city-owned complex sports a medal-winning 1996 design from John Harbottle III. Host to the 2006 U.S. Public Links Championship, where Anthony Kim reached the final, and to the 2011 U.S. Junior Amateur, won by Jordan Spieth, Gold Mountain's Olympic stretches 7,104 yards. The layout features a flattish, forested front nine, followed by a hilly journey on the back, highlighted by the 357-yard par-four 15th, which plays to a peninsular green at lake's edge. Sandy terrain underfoot, deep, sod-wall bunkers, and wavy native fescue grasses complete a stirring scene.
7. Desert Willow (Firecliff)—Palm Desert, Calif.
Owned by the city of Palm Desert in the Palm Springs area, Desert Willow's Firecliff boasts a kaleidoscope of desert flora plantings, sprawling bunkers, and handsome mountain vistas. Its environmentally seamless meld into the landscape once landed Firecliff on the cover of Smithsonian magazine, the only golf course ever to do so. Designed by Michael Hurdzan and Dana Fry, the duo that delivered 2017 U.S. Open venue Erin Hills, Firecliff is 7,056 yards of pure scenic fun that's maintained like a top private club.
6. Indian Wells Golf Resort (Players)—Indian Wells, Calif.
The city-owned Indian Wells Golf Resort replaced its two original courses more than 15 years ago, and in their stead are two marvelous tracks. Clive Clark's Celebrity course blasts you with a cornucopia of flowers, water features, and mountain panoramas, while John Fought's Players course is the more rustic and open, with bigger, deeper bunkers. Fought's layout gets the nod from low-handicap players, thanks to strong par fours such as the 469-yard 5th and 459-yard 6th, which tangle with a barranca, a lake, and bold bunkers. Those holes are balanced by the 10th, a petite par four with a tee shot complicated by a large cross bunker 260 yards from the Cabernet (back) tee. Backdrops of the Santa Rosa, San Jacinto, and San Bernadino Mountains add beauty and character to every shot.
5. Trump Golf Links at Ferry Point—The Bronx, N.Y.
Designed by Jack Nicklaus (with architect John Sanford collaborating), the city-owned Trump Ferry Point occupies a remarkable tract—a former landfill adjacent to the Whitestone Bridge with backdrops that include the East River, Long Island Sound, the Throgs Neck Bridge, and the Manhattan skyline. Natural-looking dunes topped with wavy fescue grasses frame nearly every hole, yielding a links-like look. At 7,407 yards, it will test the best, but there are few forced carries to torment the duffer. Highlights include the 425-yard par-four 9th and the 576-yard par-five 18th that play practically onto the entrance ramp to the Whitestone Bridge as well as the 441-yard par-four 13th that wows with the cityscape. Best is the 487-yard par-four 16th that dishes out a fairway ribboning through shaggy-fringed bunkers and wetlands with an East River background.
4. TPC Scottsdale (Stadium)—Scottsdale, Ariz.
The circus-like atmosphere that pervades the Waste Management Phoenix Open often obscures the fact that its stage is vastly underrated, notably on the back nine. Tom Weiskopf and Jay Morrish infused the final nine holes with some of the greatest risk/reward fun in golf, from the reachable island-green, par-five 15th to the raucous par-three 16th, to the drivable par-four 17th, all with compelling McDowell Mountain backdrops. Owned by the city of Scottsdale, this desert-accented layout has yielded champions that include Phil Mickelson, Brooks Koepka, Hideki Matsuyama, and in 2022, Scottie Scheffler—so if you like walking in famous footsteps, you'll find them here.
Good morning, @TPCScottsdale. ☀️⛰ pic.twitter.com/7dNAfkQ4N7

— PGA TOUR (@PGATOUR) February 3, 2021
3. Torrey Pines (South)—La Jolla, Calif.
Owned by the City of San Diego, this 7,650-yard, cliff-top venue overlooking the Pacific Ocean merges beauty and brawn in remarkable fashion. Crafted in 1957 by William P. Bell and his son William F. Bell, the layout was remodeled several times in the past 20 years by Rees Jones, most notably in 2001, when he moved several green sites closer to canyon edges. Coastal breezes and occasional fog can make Torrey play even harder, but there's nothing tricky about it. It rewards the best playing their best—just look at its two U.S. Open winners, Tiger Woods and Jon Rahm, both of whom held the World No. 1 ranking at trophy time.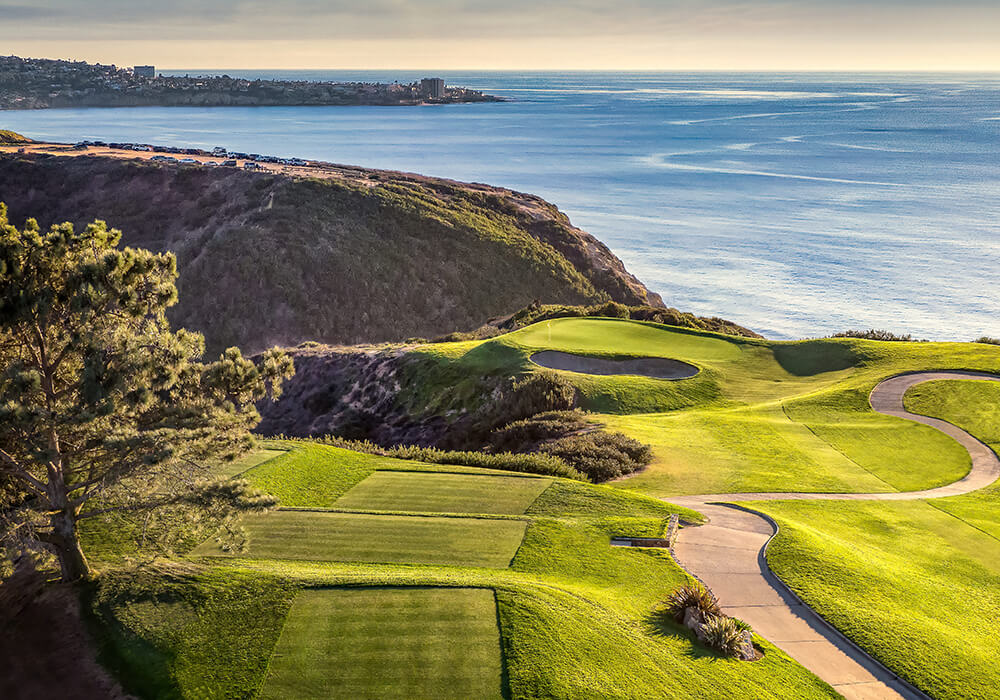 2. Chambers Bay—University Place, Wash.
Home to the 2010 U.S. Amateur, the 2015 U.S. Open, and the 2022 U.S. Women's Amateur, this Pierce County layout near Tacoma unfolds atop an old gravel mine at the southeast tip of Puget Sound, 45 minutes south of Seattle. Stretching nearly 7,700 yards, this walking-only, Robert Trent Jones II design now boasts smooth poa annua greens that replaced the old bumpy fescue surfaces in 2019. What hasn't changed is the superb routing and variety of holes over firm and fast terrain where links-style tactics are often the prudent play. The closing four holes that feature train tracks, views of the Sound, and the Olympic Mountains and on 18, vast concrete sorting bins, are as fascinating as any in golf.
1. Bethpage State Park (Black)—Farmingdale, N.Y.
In the education of a golfer, Bethpage Black is a bar exam. Located on Long Island, about an hour's drive east of New York City, the walking-only Black scares golfers with a sign at the first tee: "Warning—The Black Course is an extremely difficult course which we recommend only for highly skilled golfers." Among the highly skilled? Tiger Woods, Lucas Glover, and Brooks Koepka, who have captured majors here. Massive bunkers, wrist-fracturing rough, glassy greens, and uphill climbs combine to send scores soaring. Yet, the A.W. Tillinghast design, restored and revamped by Rees Jones in 1998, is the real star. It's punishingly hard, but eminently fair, as 2024 Ryder Cup participants will discover.
What is your favorite municipal golf course?