Some of the country's best layouts have been branded with a certain directional moniker. Think of the four main points of a compass, and a familiar golf course should come to mind—whether it's hosted major championships or simply continues to dazzle its guests.
After looking at a handful of the country's well-known "North" courses, we reflect on the most significant "South" courses in the U.S. that have captivated golfers for decades.
Redesigned by Robert Trent Jones Sr., ahead of the 1960 PGA Championship, the South Course at Firestone Country Club has hosted a slew of notable tournaments, including two additional PGA Championships (in 1966 and 1975). The 7,400-yard layout has also witnessed its fair share of unbelievable shots, none more iconic than Tiger Woods's 8-iron approach from 167 yards, practically in the dark, that landed tight to the final hole of the 2000 World Golf Championships.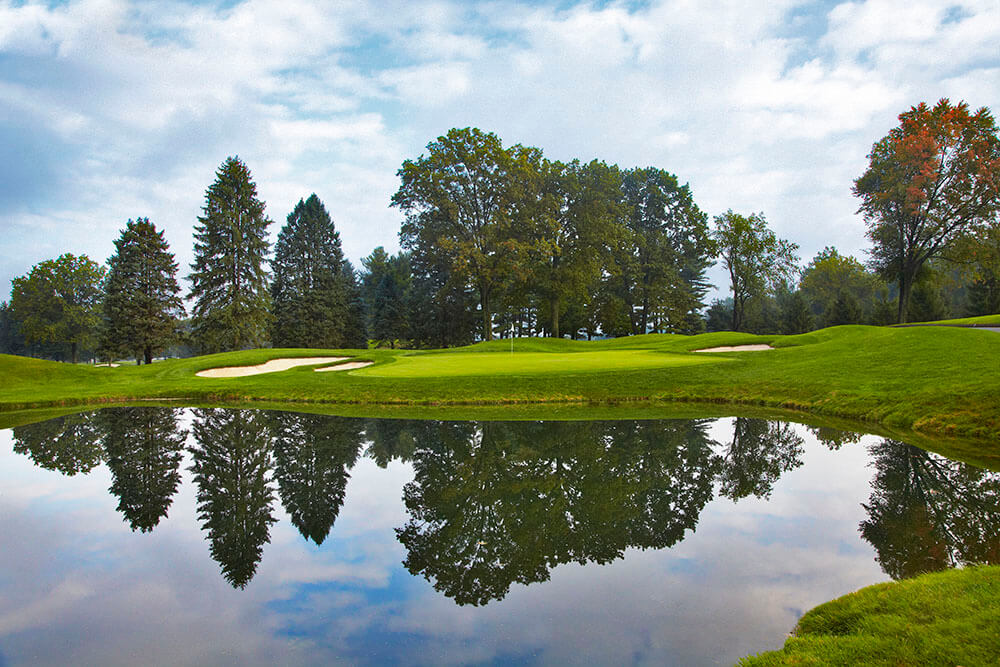 Fortunately, those who are lucky enough to tee it up here won't struggle to see their shots (Firestone offers a limited number of stay-and-play packages available to the public). That's a good thing considering the course is plenty difficult even with everything in clear view. "If you just miss the fairway by a yard, it's effectively a half-stroke or full stroke penalty," one of Firestone's former directors of golf acknowledges.
That said, Firestone's famous South Course isn't unfair—it simply requires precision. It also allows guests a chance to walk in the footsteps of golfing legends who have played the course before them. "It has a presence that's pretty unique," Firestone's General Manager Jay Walkinshaw says of both the South Course and the club as a whole. "It's truly one of those iconic places."
Built in 2018 by Dana Fry and Jason Straka, the South Course at Arcadia Bluffs on Michigan's northwest coast is laid out across a vast, 311-acre parcel of land that is devoid of many trees—a characteristic that makes the local winds blowing in from Lake Michigan an even more veritable test. Moreover, the course's layout across that square-shaped plot of land forms two distinct 9-hole loops, which means golfers will encounter holes that play in every direction. In other words, enjoy the assist from the wind when you get it; you'll be forced to hit shots against it soon enough.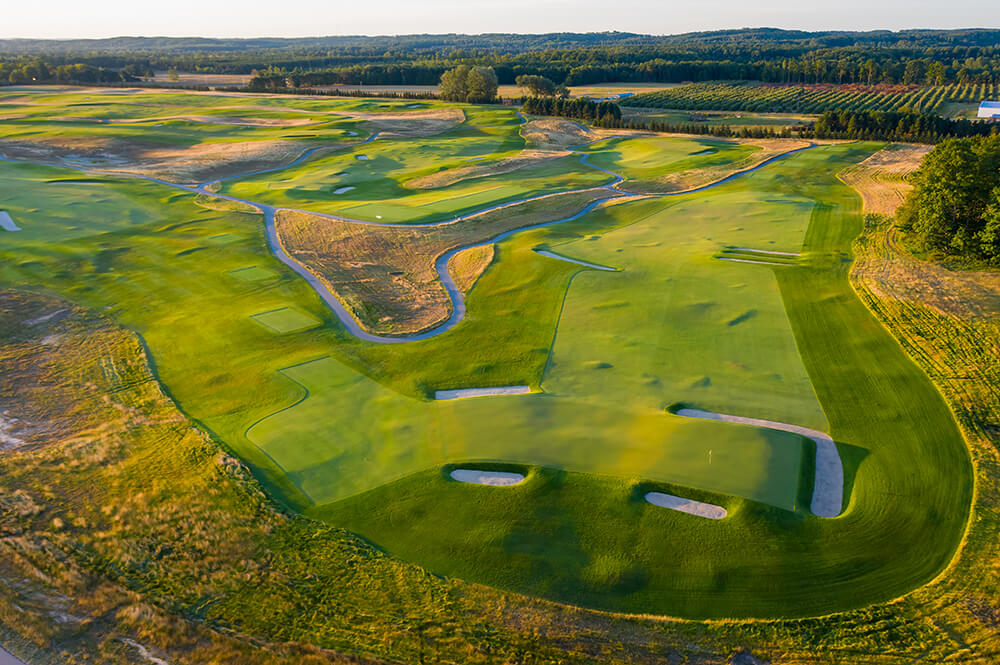 In describing the inspiration behind the South Course's design, Arcadia Bluffs has coined the motto, "complexity veiled by simplicity." Simply put, Fry and Straka looked to classic designs from America's earliest golf courses and created wide fairways that place a premium on shot angles, as well as expansive greens that average more than 9,400-square-feet in area. Hitting a green in regulation won't guarantee a two-putt par, however, as many of the South Course's putting surfaces are bifurcated by swales, ridges, slopes, and mounds.
To date, the South Course at Oakland Hills has hosted 17 major championships. That alone speaks volumes to the significance of the layout. Nicknamed "The Monster," the South Course—all 7,445 yards of it—benefited from a two-year restoration led by Gil Hanse. Hanse and company expanded greens to breathe new life into Donald Ross's original contours, while also shifting many bunkers back to where Ross originally placed them—not where Robert Trent Jones Sr. had relocated them ahead of the 1951 U.S. Open. The general public will get a glimpse at the updates at the 2031 U.S. Women's Open and the ensuing 2034 U.S. Open; in total, Oakland Hills has been selected to host six future USGA championships starting in 2024 with the U.S. Junior Amateur.
Visitors to the club are certain to be amazed by the South Course's conditioning; however, that astonishment will be replaced by a different source of wonder once guests experience the course's greens. On every hole, three-putts are in play. Moreover, players might find that they occasionally have a birdie chance, yet the course just as easily serves up opportunities where far bigger numbers can sabotage a round. Simply put, the South Course at Oakland Hills plays just as you might expect a U.S. Open venue would.
Built within two years of each other—in 1991 and 1993—the Ocean North and Ocean South courses at Pelican Hill, both designed by Tom Fazio, are equally compelling. Some might point to the Ocean North as the more dramatic of the two; it does boast panoramic ocean views on every hole, after all. But the Ocean South is no pushover, given that seven of its 18 holes also deliver sweeping vistas of the Pacific. Ocean South also came first, which lends its own unique appeal.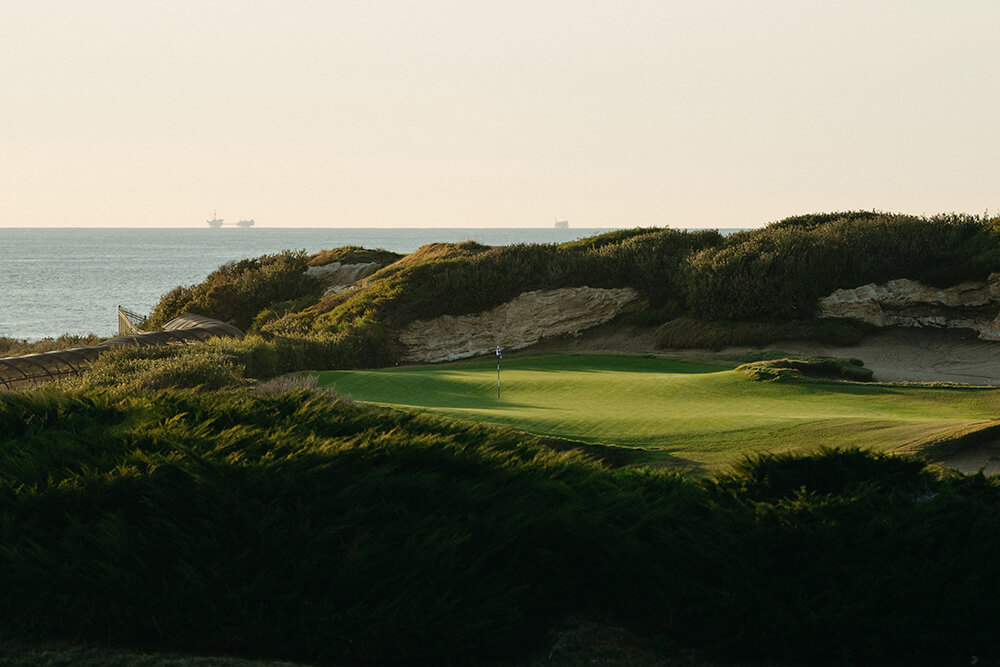 Routed across a landscape of sage and eucalyptus trees, the Ocean South Course, which plays only 6,580 yards from the tips, is somewhat less intimidating on the scorecard, as it features four par fours that play less than 400 yards in addition to five par threes, including the unique, 131-yard par-three 13th with its dual green sites. It would seem the course provides more chances to score, however, coastal winds can flip that script. Additionally, those gettable holes are balanced by three par fives that carry an average distance of 559 yards. Prudent course management skills and restraint are crucial if you want to score well on the Ocean South, evidenced by the routing's course rating, which is two strokes above par.
With two U.S. Opens under its belt (2008 and 2021) and an annual PGA Tour event played on its grounds in late January, the South Course at Torrey Pines is likely well-known and recognizable to a broad audience of avid golfers. That said, those players may be familiar with the look of the course, but they might not know the best way to play it. "We built diagonal greens and we designed a lot of greens with little tongues—places where greenkeepers can hide pins behind contours or in corners," says Rees Jones, who redesigned and later renovated the course ahead of its two U.S. Opens. "The average golfer has to not always go for the pin if it's hidden by a contour or a bunker or an angle. They need to play to the center of the green."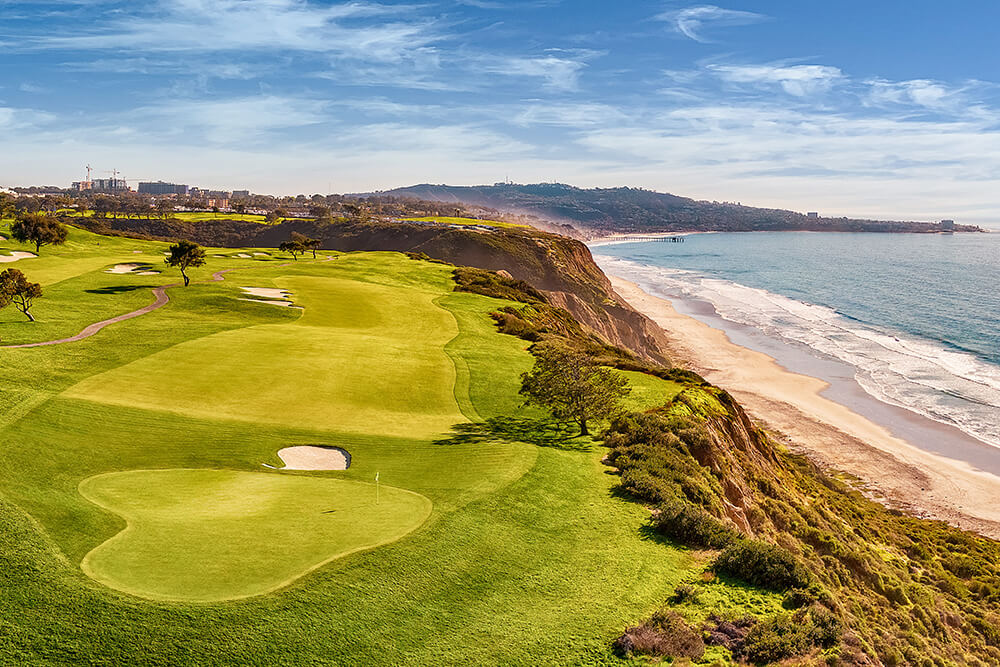 The greens themselves, in some cases, are set in close proximity to several canyons that cut their way across the San Diego landscape; and Jones made sure to rebuild them with more dynamic contours, all of which makes the course a truer test for the world's best players. However, Jones acknowledges that he redesigned the course to be accommodating for players of all abilities. Case in point: Many of the greens can accept low-running approach shots. "On a number of holes, they can access the green on the ground," Jones reminds average players. "The pros don't do that."
In the greater Pinehurst, N.C., area, Tom Fazio may be best known for Pinehurst Resort's No. 8 course; however, the celebrated architect put an equally noteworthy stamp on the ground only three miles to the east at Forest Creek. The private club is home to two Fazio creations, the South Course, which opened in 1996, and the North Course, which was completed about a decade later. Whereas the North features native sandscapes and, in the words of the club, is "rugged golf," the South was inspired by Augusta National's rolling landscape.
Notably, Fazio didn't need to move much dirt during the routing and subsequent construction of the South Course. What he created is a player-friendly layout that can still challenge without being unfair. Water hazards, for example, are only in play a handful of times, and even then it would require a shot hit drastically off line for those ponds to be a factor. On the other hand, the South Course is home to many bunkers, but their bark—namely, their appearance—is more menacing than their bite.
View this post on Instagram
What South courses did we miss? Nominate your candidates in the comment section.