This is our version of the American Dream—really good golf where everyone is welcome and everyone can afford to play.
I've had the good fortune to play quite a bit in the Deep South and don't remember a course I haven't liked (granted I don't go looking for bad golf courses). Here's a dozen great finds in Alabama, Arkansas, Louisiana, Mississippi, and Texas.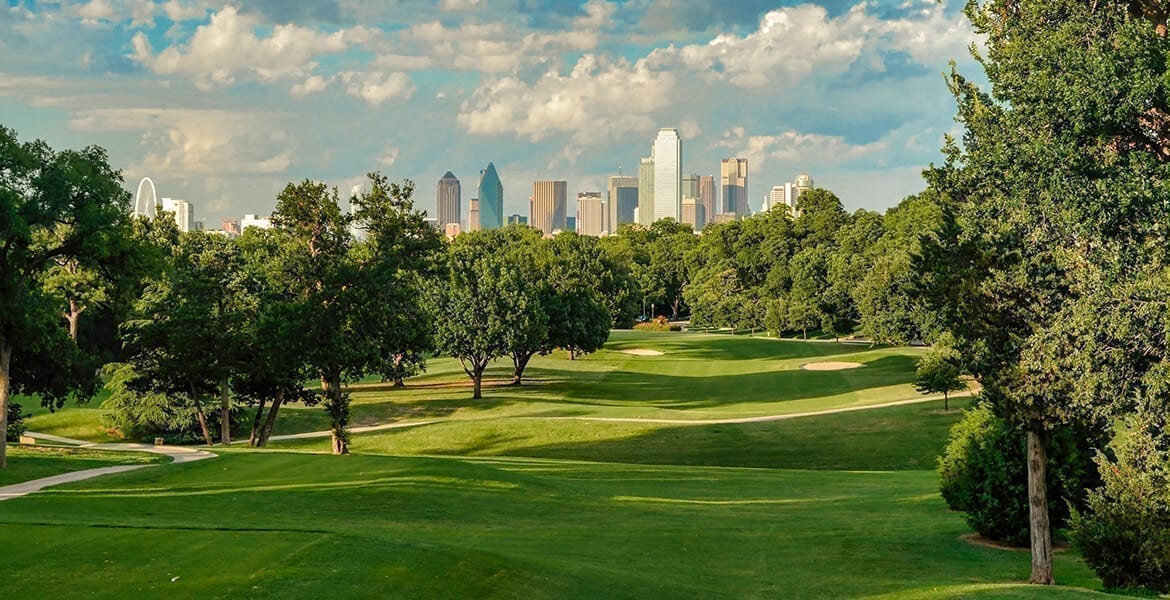 Ole Miss—Oxford, Miss.
The home course of the University of Mississippi first opened in 1973 and was designed by its greatest-ever player, Cary Middlecoff—Ole Miss's first golf All-American in 1939, winner of 39 PGA Tour events, and a three-time major champion (1949 and '56 U.S. Opens, 1955 Masters). In 2008, the wooded course was completely remodeled by Mississippi State alumni Nathan Crace who built new greens and bunkers, re-grassed everything, and installed an entirely new drainage system. "The goal was to create a fun and playable course for the public, retirees settling in Oxford, and alumni returning for ball games while still being a challenge for the university's men's and women's golf teams," says Crace. A steal at just $29 for a midweek 18. https://www.theolemissgolfcourse.com/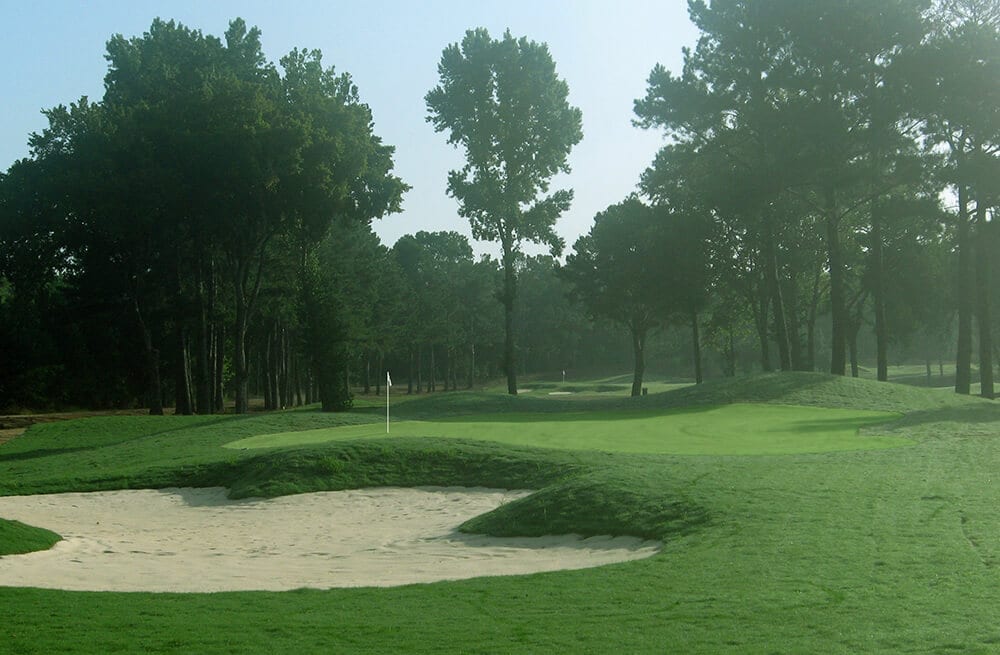 Beau Pré—Natchez, Miss.
We featured his course at The Fields in LaGrange, Ga., in an earlier edition, and Beau Pré in Natchez is another terrific design in Mike Young's impressive portfolio. Meaning "Beautiful Meadow," Beau Pré is actually a largely wooded course five miles west of the Homochitto National Forest, and a couple east of the Mississippi River. Young calls Beau Pré, a private club (but open to visitors from outside its surrounding counties) where every hole has a French name, one of his favorite projects. "There were very few homes surrounding the site and the soil is sandy," he says. "That's always a great combination." $60 for a midweek 18 with cart. http://beauprenatchez.com/
Gulf Shores—Gulf Shores, Ala.
The first time I played here, the temperature hit 95 degrees and overwhelming humidity made it very uncomfortable for a pale and pasty British-born lad more used to cold rain. The second time, the needle barely reached 35 degrees as a biting cold front descended from the north. Despite the somewhat varied meteorological conditions, this excellent Earl Stone-designed (1967), Jay Morrish-renovated (2007) course, a couple of miles north of the town's white-sand beach, proved extremely enjoyable both times. A midweek 18 costs $65. https://www.gulfshoresgolfclub.com/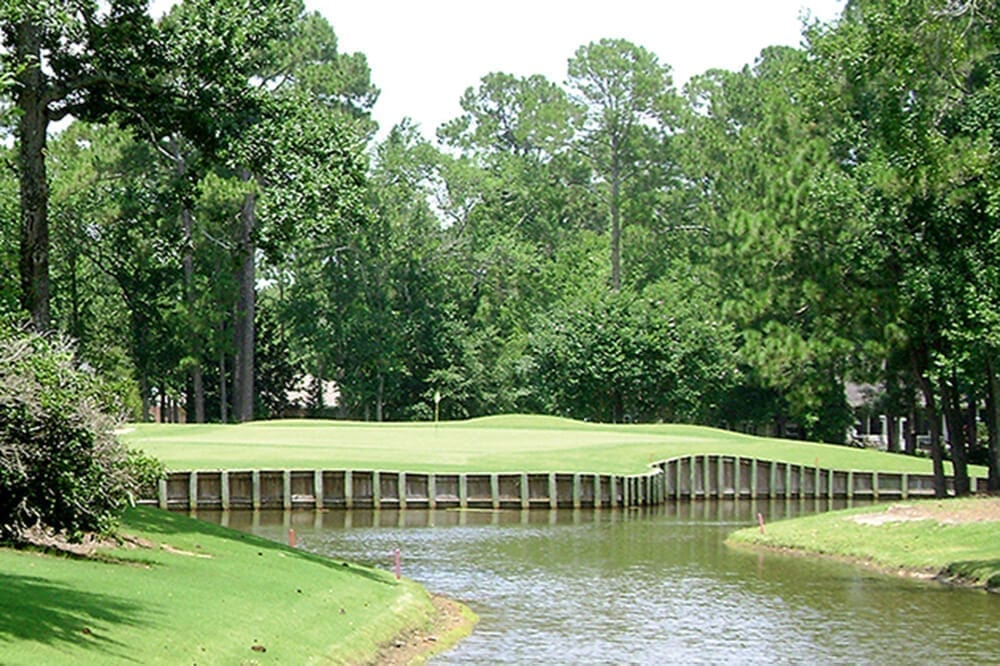 Cider Ridge—Oxford, Ala.
Built on an old apple orchard that once produced more than 20,000 gallons of cider a year, Cider Ridge is a big, wooded beauty located on the edge of the Talladega National Forest, 22 miles east of the Talladega Speedway, and 65 miles east of Birmingham. Though bordered by thick stands of oak and mixed pines, the playing corridors are plenty wide. Designed by former PGA Tour player and Georgia State Amateur champion Bill Bergin, the course opened in 2002. Play midweek for $46. https://ciderridgegolf.com/
Autumn colors + golf = an AWESOME day pic.twitter.com/KwHQqqLjsr

— Cider Ridge Golf (@CiderRidgeGolf) November 18, 2020
Crooked Hollow—Greenwood, La.
There have been a number of places that have really epitomized what this series is all about—quiet, unpretentious, affordable courses that might not necessarily appear on any list but which you'll love going back to often—and you can definitely add Crooked Hollow, 15 miles west of Shreveport, to the list. This is the sort of place where if no one's in the pro shop late on a Friday, calls get put through to the owner's cell phone while he's having his dinner. Ain't nothing but a few trees and ponds out here. Just $28 to play this gem. https://www.crookedhollowgolf.com/
View this post on Instagram
The National Golf Club of Louisiana—Westlake, La.
Despite its rather theatrical moniker, the National is largely unknown outside the Pelican State and charges a very "un-National" green fee to play it. Designed by Dave Bennett, who built a few courses with Lee Trevino in the 1970s and who sadly passed in 2019 at the age of 84, the National was cut from a dense pine forest a few miles to the north of the petrochemical refining city of Lake Charles and opened in 2010. The midweek rate is just $42. https://nationalgcla.com/
Big Sugar—Pea Ridge, Ark.
An occasionally wild ride through the wooded hills of northwest Arkansas, 120 miles east of Tulsa, Okla., Big Sugar has endured some tempestuous times but after numerous owners have come and gone it is currently enjoying some stability after being bought by two local players who didn't wish to see it die. Designed by Jerry Slack, who had a hand in over 60 projects throughout the Midwest (and also Virginia), the course opened in 2002. $35 will get you a round. http://bigsugargolf.com/
Big Creek—Mountain Home, Ark.
The aerial photographs on the home page of its website tell you everything you need to know about magnificent Big Creek—a mostly wide-open, expansive course covering 200 acres with a handful of significant water hazards. It was designed by Tom Clark of Ault, Clark and Associates and is located three hours due north of Little Rock. It opened in 2000 and measures an eye-popping 7,300 yards from the back tees. You can play it for $40 midweek. https://bigcreekgolf.com/
Willow Springs—San Antonio, Texas
Designed by Emil Loeffler, Oakmont Country Club's superintendent from 1916 to 1948 and head pro from '27 to '47, and fellow Oakmont super John McGlynn, Willow Springs opened in 1924 and has hosted 10 Texas Opens in its 96 years (1927–28 and 1941–49). Ben Hogan claimed the title here in 1946 while Sam Snead won two years later. Located across the street from AT&T Center, home of the San Antonio Spurs, five miles east of downtown, the course is now part of the eight-facility Alamo City Golf Trail and is very playable thanks to generous fairways and large greens. $28 is all you need. https://www.alamocitygolftrail.com/
Just shy of 600 yards from the back tees, the 12th hole at Willow Springs Golf Course is a great hole that doesn't get enough love when compared to Big Brother… the 650+ yard 2nd hole.#GolfWillowSprings #HoleTwelve #LongParFive pic.twitter.com/akIiXhdB2w

— AlamoCityGolfTrail (@AlamoCityGolf) November 27, 2020
Stevens Park—Dallas, Texas
Originally opened in 1924 and designed by Jack Burke Sr., father of 1956 Masters and PGA Championship winner Jack (Jackie) Burke Jr., Stevens Park was given a complete overhaul by Trey Kemp of Colligan Golf in 2011. Just three miles from downtown and set on just 110 acres in the Kessler Park neighborhood, virtually everything here was rebuilt or re-grassed, with Kemp even rerouting 12 holes. "The old course had a lot of sharp doglegs where the average player couldn't hit a driver," says Kemp. "By rerouting holes, we opened up views of the city skyline and gave golfers the option of hitting driver again. It's still not long at 6,300 yards, but I think there's plenty of variety and strategy." Play this city-owned treasure for just $45 with cart. https://www.stevensparkgolf.com/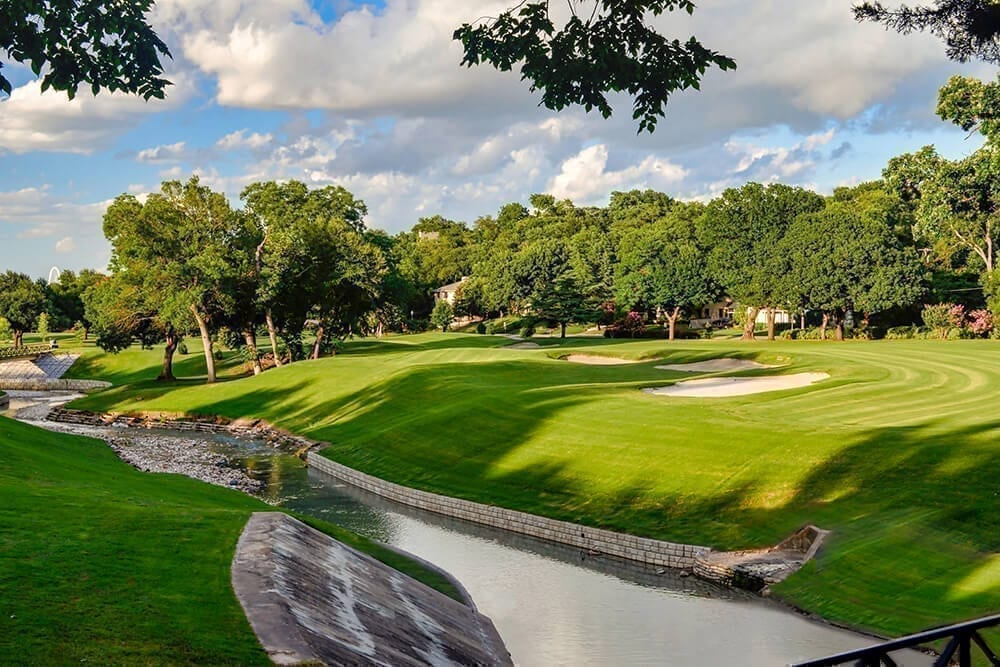 The Rawls Course—Lubbock, Texas
Paid for with an $8 million donation from Texas Tech alumni Jerry Rawls, co-founder of fiber-optics company Finisar, the Rawls Course is the third Tom Doak design in the series and, for our money, the best of the three. On an entirely flat, featureless, 268-acre cotton field a mile northwest of the main campus, Doak moved 1.3 million cubic yards of dirt (more than on his previous 10 projects combined) in trying to "mimic the land east and south of Lubbock, where the great plain suddenly starts falling into the valleys and canyons that lead to the Caprock region," and created a course of great subtlety and interest that opened in 2003. Having just built Pacific Dunes in Oregon on what must be one of the greatest sites for golf a designer was ever given, Doak and his Renaissance Golf team needed to prove their creative/artistic flair and engineering/construction skills and did so magnificently. $55 for 18 midweek. https://therawlscourse.com/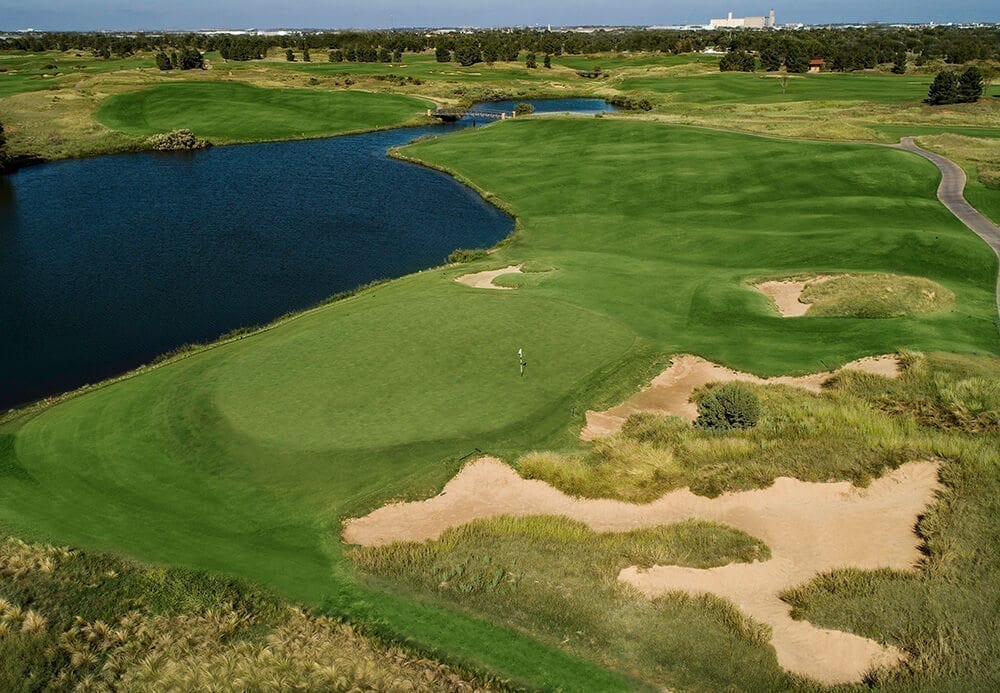 Ross Rogers Wild Horse—Amarillo, Texas
Public golfers in the north Texas city of Amarillo can count themselves very fortunate to have two excellent, 36-hole, city-owned facilities from which to choose. The Comanche Trail complex, five miles south of downtown, offers the Charles Howard-designed Tomahawk Course and Bob Cupp's Arrowhead Course, and the Ross Rogers (Mayor of the City from 1932–1941) complex two miles north of the Santa Fe Building on Polk St. boasts the Mustang and Wild Horse courses. John Colligan and Amarillo High School grad Trey Kemp (see Stevens Park above) extensively renovated the old East Course creating the Mustang, which re-opened in 2013 while, 10 years previously, D.A. Weibring and Steve Wolfard had performed similarly substantial surgery on the old West Course in creating Wild Horse. Play it for $26 midweek. https://www.playgolfamarillo.com/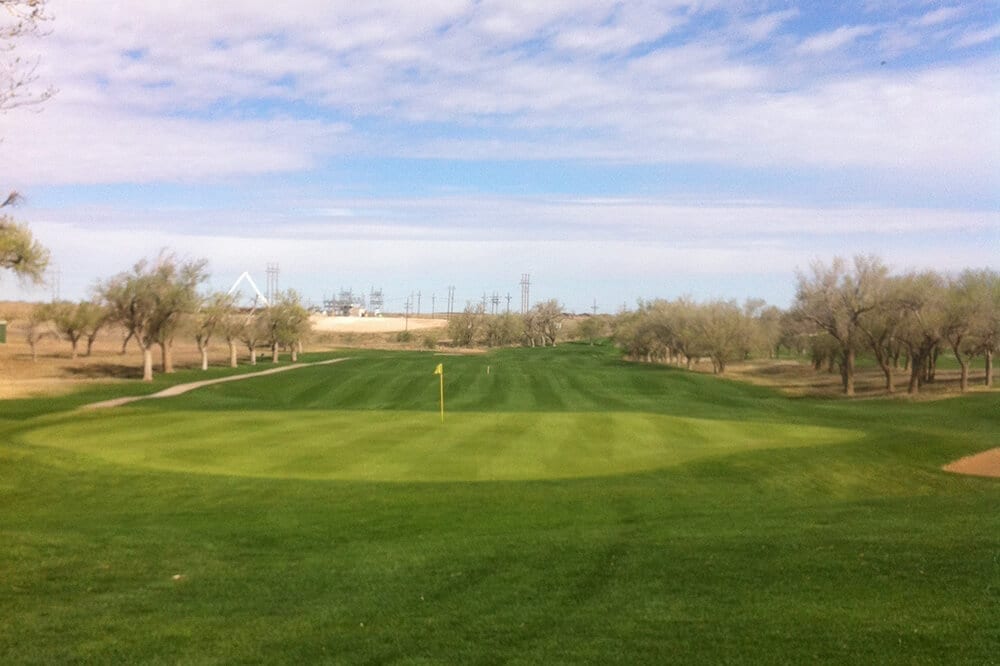 Know of other great value courses in the deep south? Tell us about them in the comment section.