As America becomes increasingly urbanized, golf courses are more important than ever as providers of green space for wildlife habitat. The most visionary owners and operators have sought to make their courses environmentally accountable and sustainable by reducing water consumption and chemical use and finding alternative energy sources such as solar and geothermal. To date 786 U.S. courses have received a Cooperative or Signature Sanctuary designation from Audubon International. At the top of that list are the following, chosen by LINKS as the 10 Most Eco-Friendly Courses in America. (Our thanks go to Cornell University turfgrass expert Frank Rossi and Audubon International's Programs Manager Joellen Lampman for help in compiling the list.)
1. Vineyard Golf Club
Edgartown, Mass.
America's only truly organic course
When the Martha's Vineyard County Commission finally gave the go-ahead to build Vineyard Golf Club (pictured) after much local opposition (it was the island's first course in 30 years when it opened in 2002), the board placed one stipulation on the club: Make the maintenance operation completely organic. Designed by British architects Donald Steel and Tom Mackenzie, the course has replaced traditional pesticides with bio-stimulants and composted fertilizers that help protect the island's single-source aquifer. More importantly, the club has succeeded in convincing members that the course doesn't need to look perfect to provide great playability.
2. Chambers Bay
University Place, Wash.
Only Audubon International Certified Silver Signature Sanctuary in the Northwest
Certified Silver Signature Sanctuary in the Northwest Located along Puget Sound near Tacoma, the site for Chambers Bay was a former sand and gravel mine, so any golf course would have been a big improvement. But Chambers Bay isn't just any course. Designed by Robert Trent Jones Jr., Bruce Charlton, and Jay Blasi, the 2015 U.S. Open host now welcomes wildlife in droves. The course converts bio-solid waste from a nearby waste-treatment facility into fertilizer. And a satellite-linked irrigation system with weather-monitoring capability has cut water use by about 20 percent.
3. Saucon Valley Country Club
Bethlehem, Pa.
2008 Environmental Leaders in Golf National Private and Overall Awards
The host of the 2009 U.S. Women's Open, Saucon Valley, an hour north of Philadelphia, boasts three highly regarded layouts as well as a six-hole short course. The members take their stewardship of the land seriously enough to have formed the Saucon Sanctuary Committee, which oversees all the environmental initiatives, like the recent bank restoration of the creek that runs through the property. Now water that exits the property is actually cleaner than water entering it. But the biggest innovation has been the GPS mapping of soil samples for a prescription application of fertilizer that saves $15,000 a year and
hundreds of pounds of inputs.
4. Collier's Reserve Country Club
Naples, Fla.
World's first Audubon Signature Cooperative Sanctuary in 1995
Located along the scenic Cocohatchee River, this 448-acre private golf community set a new standard when it received Audubon's first designation but it didn't stop there. In addition to replacing all tee boxes with paspalum grass in 1994, they also replanted all the surrounding areas with native grasses and mulched walking paths. In 2011, the club updated its irrigation system to use effluent water on the entire course.
5. Westchester Country Club
Rye, N.Y.
2009 Metropolitan Golf Association Club Environmental Award
Not too long ago, there was a smokestack at Westchester Country Club spewing black smoke into the air to heat and cool the clubhouse and its 300-room hotel. No longer. A $3.5 million geothermal heating and cooling system, which required digging more than 200 wells 300 feet deep, replaced it in 2001, providing a constant 55-degree temperature to the club. The reduced carbon footprint is evident on the course, too, where a lot of areas grow wild. Holding ponds have been enlarged to capture rainwater for irrigation, while algae-eating fish (white amurs) have replaced chemicals like copper. Bird boxes have helped restore the bluebird population, which was almost extinct.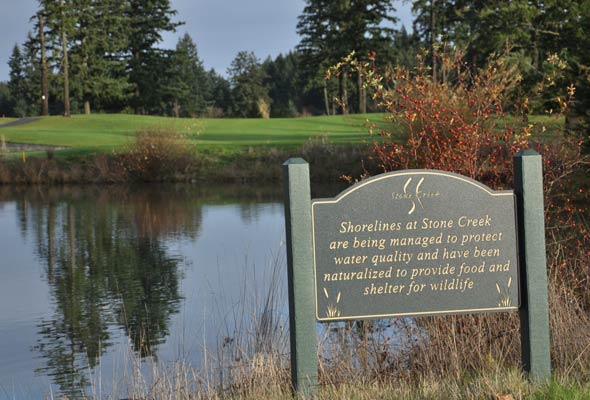 6. Stone Creek Golf Club
Oregon City, Ore.
Superintendent David Phipps won the 2012 President's Award for Environmental Stewardship from the Golf Course Superintendents Association of America
When it comes to environmental consciousness, perhaps no state is as advanced as Oregon. No surprise, then, that the golf courses are, too. Stone Creek, a Peter Jacobsen/Jim Hardy design on the outskirts of Portland, was constructed with wildlife corridors to minimize the disturbance of nature. The course has an integrated pest management program that uses pesticides sparingly and irrigates only the in-play areas, allowing other areas to go fallow in the summer and provide habitat for ground-nesting birds. The lakes are 100 percent buffered and the water is tested annually for pesticides and fertilizers.
7. Pebble Beach Golf Links
Pebble Beach, Calif.
Hosted first golf environmental summit in 1995
Home to one of the most beautiful native forests and coastlines in the world, Pebble Beach Resorts is committed to the protection of its pristine natural setting. The resort irrigates fairways and greens with high-quality recycled water, uses organic and slow release fertilizers, pulls the majority of weeds by hand, and employs integrated pest management techniques to reduce the need for chemical applications. It annually recycles more than 6.5 million pounds of plastic, glass, and cardboard. Restaurants compost food scraps year round. The forestry and ecology department within Pebble Beach Company also composts all of its green waste for reuse around Del Monte Forest. The departments also maintain more than 1,000 acres of natural open space, including planting thousands of native, drought-resistant plants and trees each year.
8. Bandon Dunes Golf Resort
Bandon, Ore.
When the par-three course Bandon Preserve opens in May, all the net proceeds will benefit the Wild Rivers Coast Alliance
While the resort benefits from the right mix of climate and grass types, it also has a commitment to the links style of golf that values playability over visual perfection. The strict walking policy reduces the resort's carbon footprint, as does the use of solar panels. Bandon also has made serious efforts to protect natural vegetation and wildlife during its development. The resort recognizes the natural beauty of the rugged coastal setting, embraces its value, and provides maintenance under a "less is better" (fertilizing, mowing, watering) policy.
9. Old Corkscrew Golf Club
Estero, Fla.
State-of-the-art maintenance facility reduces environmental impact
Though this core Jack Nicklaus course is set on 275 acres, there are just 83 acres of turfgrass to irrigate. Native land, lakes, and wetlands make up most of the property. The county required 17 acres of preserved conservation areas but the club preserved more than 40. They also re-vegetated disturbed areas and teeing areas with 300,000 native plants, while removing 10 acres of invasive plants.
10. Barona Creek Golf Club
Lakeside, Calif.
First Audubon International Signature Sanctuary on Native American sovereign land in California
Because cattle grazed on the 250-acre grounds for nearly 100 years, much of the original oak woodlands had been severely depleted. A large-scale oak restoration project resulted in the transplanting of more than 170 mature native oaks. With the goal of increasing biodiversity, architects Gary Roger Baird and Todd Eckenrode developed natural-looking drainage areas into dry creek beds that produced new habitat, while the open land between holes serves as wildlife corridors. They also created 12 acres of lakes and streams for irrigation that provides vegetated shorelines for wildlife cover and has become a haven for migra-tory birds. In just a few years the number of bird species increased from 62 to 134.