When my parents moved from the East Coast to the Monterey Peninsula several decades ago, it opened up a new golf frontier for me, spurring several golf trips in and around 17-Mile Drive and the Carmel Valley. 
More recently, they bought a new home in the Southwest, on the outer fringes of the ever-expanding Phoenix/Scottsdale area. The latest relocation prompted me to make several visits to Arizona with golf clubs in tow, eager to experience what for me was another largely untapped market. Naturally, that's created an even greater awareness of the terrific golf options in the southwest U.S. and led to my next step—mapping out a week-long, multi-state golf road trip with a buddy. What follows is my (perhaps ambitious) plan, one that entails a rental car, a wealth of incredible public golf in Arizona, Utah, and Nevada, and a bit of sightseeing along the way.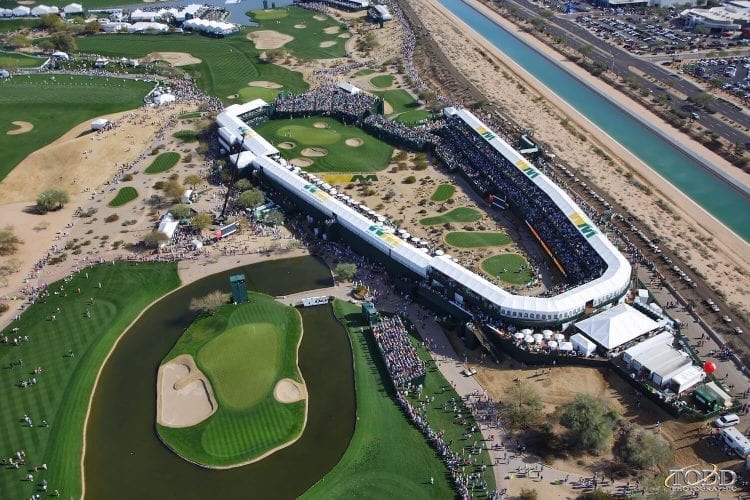 After arriving at Phoenix Sky Harbor International Airport and trekking to the frustratingly-distant offsite rental car center, our first stop for golf is the site of perhaps the wildest event on the PGA Tour schedule: TPC Scottsdale and its Stadium Course. While I've been to the Waste Management Phoenix Open and witnessed the largest crowds for any golf event in the world, getting a chance to actually tee it up on holes like the par-3 16thhole—which for one week a year transforms into one of the most electric settings in the game—is a completely different ballgame. 
The next stop is We-Ko-Pa Golf Club. Located in the Sonoran Desert about 20 minutes outside downtown Phoenix, We-Ko-Pa features two very different courses: The Cholla course, a quintessential target style desert design, and the more traditional Saguaro course from the team of Bill Coore and Ben Crenshaw. Both lie on Fort McDowell Yavapai Nation Land and feature dramatic views of the surrounding mountains.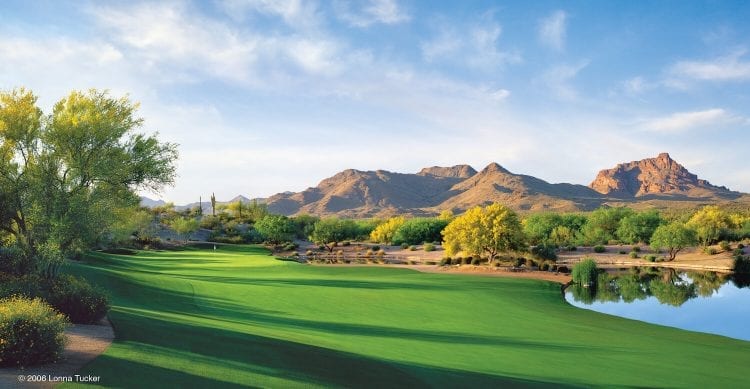 Just up the road is Troon North Golf Club and its two 18-hole courses—Monument and Pinnacle—that weave across the rugged desert landscape through natural ravines and foothills in the shadows of Pinnacle Peak. These immaculate courses deliver the pure desert experience. And being able to play 36 holes at both We-Ko-Pa and Troon North is a nice option.
From here, we'll head north toward Utah, with a requisite detour along the way for a stop at the Grand Canyon for photos and an inevitable debate about how long it would take a golf ball to reach the bottom after a good drive from the rim. 
The longest leg of the trip is a journey to a unique and emerging golf destination in the southwest corner of Utah, where a sandbelt of red silica has given rise to a growing collection of value-priced courses. The can't-miss property is Sand Hollow Resort and its 27 holes, including the visually-stunning Championship Course, designed by former U.S. Amateur Champion John Fought. The back nine is loaded with eye-popping drama, including a downhill par-3 that features a green perched atop a butte backed a gorge that's several miles wide. The four holes after that are strung along a spectacular ledge of red rock, with drop-offs of 100 feet or more, and have been a popular social media subject for golf photographers with drones. 
A trip to nearby Zion National Park will likely be in the cards, unless we decide to tack on an extra 18 at one of the other great courses in the area such as Coral Canyon and The Ledges of St. George.
From Utah back into Arizona and then just across the border into Nevada, in less than an hour we'll be at one of the wildest rides in golf: Wolf Creek. From the jaw-dropping opening shot atop an elevated tee to the waterfall at the final hole, Wolf Creek is a course that will leave you wondering how in the world it was even built from a logistical standpoint. Indeed, during construction helicopters were needed to fill some of the bunkers with sand. Several vibrantly-green holes seemingly hang on clifftops atop sandstone hills while others play through canyons that perfectly capture shadows from the early and late-day sun. 
Wolf Creek is about as memorable an experience as you'll find in the game and a perfect prelude to a jaunt into Las Vegas a little over an hour away. 
What happens in Vegas stays in Vegas, so we'll jump ahead to our drive back into Arizona and the final two stops before our departing flight from Phoenix.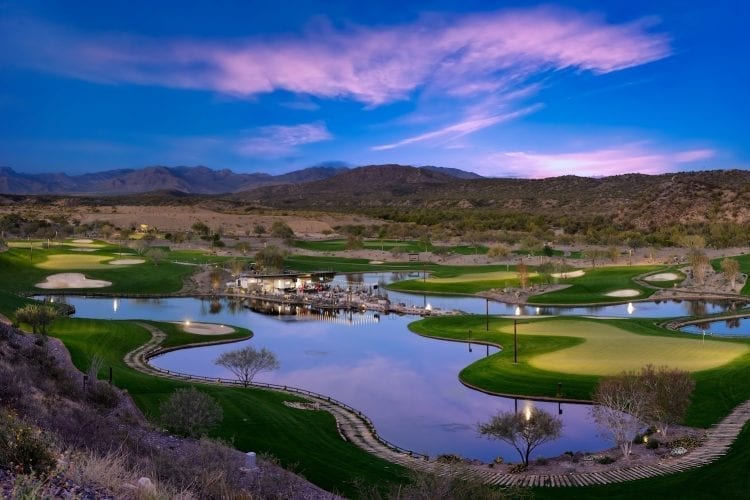 Wickenburg Ranch is a cozy desert community that features an 18-hole championship course called Big Wick and a fun 9-hole par-3 course called, you guessed it, Li'l Wick. The main course features a rare mix of six par 3s, five par 5s and seven par 4s, while the short course is about as unpretentious as they come, with no tee times, a relaxed dress code and music streamed throughout the property.   
A little bit closer to downtown Phoenix and the airport, Quintero Golf Club has been recognized by several publications as the best public course in the Scottsdale-Phoenix market. The pristine Rees Jones design not only offers a wonderful feeling of seclusion, but I figure it provides a perfect desert experience to cap our Southwest golf swing. 
So, which mix of courses would make up your dream golf trip through the Southwest U.S.? Let us know in the comments below!