At least once a year, I visit my in-laws in southern England. Along with seeing family and catching up with friends, I try to squeeze in at least a few rounds of golf. I like to think I've nearly perfected the "long UK golf weekend" and a few things about the greater London area make these getaways very easy. 
First, public transportation across the UK—and the south of England in particular—is stellar. The network of rail lines and stations makes it possible to access nearly any town or village without renting a car and dealing with parking in London. In England's well-populated south, trains can get you within a 10- to 15-minute cab or Uber ride of nearly every major golf course.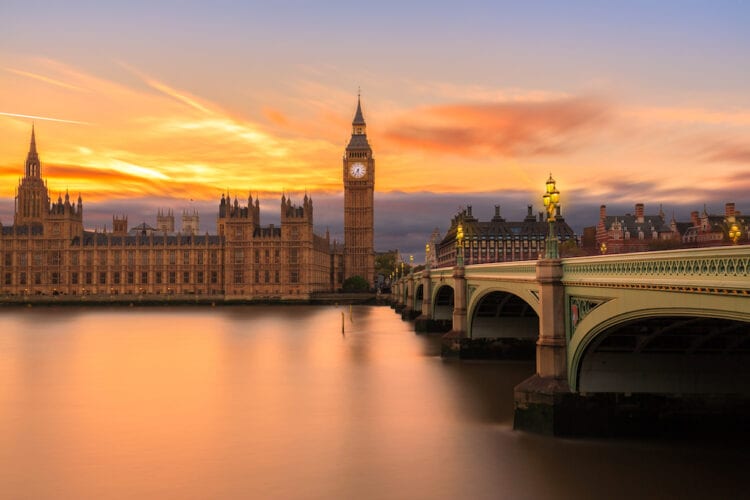 Second, even the most prestigious British clubs allow visitors to play their courses at some point during the week (days are listed on each club's website). And in almost every case, visitors can eat in club dining rooms (often shoulder to shoulder with members), use all of the facilities, and members don't turn up their noses.
That winning combination makes London perfect for golf, whether it's a golf-dedicated journey or sneaking in a few rounds while visiting for business or pleasure. I went a few months ago and got in four rounds over three days. Each day, I left the house after an early breakfast and was home in time for dinner. I chose to visit three clubs from the famous belt of heathland courses south of London, but could have added Swinley Forest, Wentworth, Stoke Park, Liphook, or others. Here's where I played and how you can get there:
Sunningdale Golf Club
47 minutes on the train from London Waterloo Station to Sunningdale Station, then a five-minute walk to the club. Sunningdale's Old and New courses are among England's best, prime examples of the stellar heathland belt of courses south of London. The club welcomes visitors Monday to Thursday and although it's a pricey 36-hole day at £360, few other places let you play two world top 100 courses without leaving the property. The Old is a 1901 Willie Park Jr. design, its intimate feel created by surrounding trees. The New was designed by Harry Colt and John Morrison in 1923 and is much more open, longer, and challenging. The Old, one of the best inland courses in the world, was my preference. 
St. George's Hill Golf Club
29 minutes on the train from London Waterloo Station to Weybridge Station, then four minutes in one of the waiting taxis. Talk about a surprise: I was blown away. The club sits on a 964-acre estate that was developed in 1910 as a residential compound for celebrities and businesspeople. Some of the original homes still stand, but many have been torn down and replaced by enormous mansions you see throughout the round. The course has three nines—the Red, Blue, and Green. The Red and Blue comprise the original course designed by Harry Colt in 1912, and he masterfully used the hilly property to set up difficult angles, stances, and beautiful vistas. No two holes are alike and each remains vivid in my memory months later. Visitors are welcome Wednesday, Thursday, and Friday; I strongly suggest leaving time to enjoy a pint on the clubhouse porch overlooking the course and countryside beyond.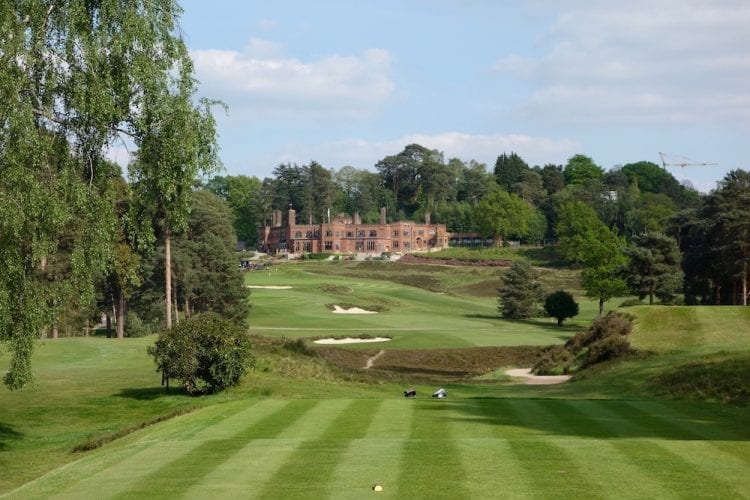 Walton Heath Golf Club
51 minutes on the train from London Bridge Station to Tadworth, then another four-minute taxi ride to the club. Another 36-hole club, its Old and New courses were built in 1903 and 1907, both by Herbert Fowler. I only played the Old Course, which reminded me of a Scottish links in an inland setting, right down to making me realize I needed many more rounds to truly appreciate the design. Both courses sit on an open swath of heathland, dotted with occasional trees, bunkers, and purple heather. The Old is consistently in the world's top 100 courses.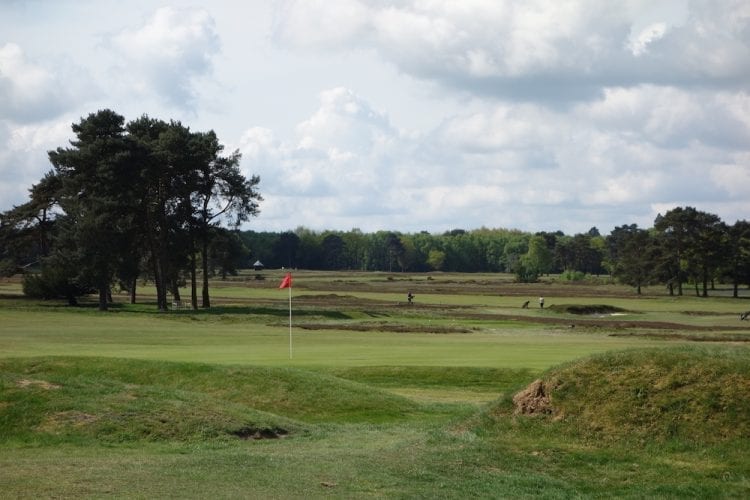 Each club and course impressed me in different ways, and every evening I returned to my in-laws with a big smile on my face. But what I'll remember most were the welcomes I received from members at all three. After the round at Sunningdale, an older member stopped me and another guest in the parking lot and asked if we'd enjoyed the day. After we both said how much fun it had been, he replied in earnest, "Thank you for visiting our club! Come back sooner than later!" Mark it down as southern (England) hospitality.
One Way to do London
London is a massive city comprised of dozens of distinct areas of "boroughs." All were once separate villages, but London has grown to swallow them in its giant metropolis. One such village-within-a-city is Chelsea—officially part of the Borough of Kensington and Chelsea—and I think it's the perfect place to base a week in London. 
It's by no means cheap (nowhere and nothing is in London), but Chelsea offers the perfect balance of local charm, village feel, and proximity to the leading tourist destinations. Additionally, Chelsea is on the southwestern side of London, making it easy to get out and down to all the aforementioned clubs south of the city.
Sloane Square and South Kensington tube stations are an easy walk from most of Chelsea and provide quick Underground access to anywhere, including the train stations that take you south and west toward the golf courses.
One of Chelsea's positives could also be a negative. It's not very touristy, but that also means there aren't many hotels. A convenient one where my family has stayed is My Hotel Chelsea, in a great location and reasonably priced for London. Another option is Number Sixteen (technically located in South Kensington), slightly more expensive and located very close to London's best museums including the Natural History Museum, the Victoria and Albert, and more.
For food, Chelsea has it all, from Italian restaurants like Manicomio and Ziani to local pubs like the Phoenix. My favorite brunch spots—The Botanist and Café Colbert—are both on Sloane Square. The King's Road that runs through Chelsea features lots of shopping and the major UK food and retail shops. Harrod's, the world-famous department store, is a 15-minute walk north; Kensington Palace and many museums are a short walk in the other direction.