Golfers know Orlando for the Golf Channel and as the winter retreat of Arnold Palmer before he passed away, plus industry types make an annual pilgrimage to attend the city's PGA Merchandise Show in January. And lest anyone forget, the upscale neighboring suburb of Windermere is the place where Tiger Woods hit a certain fire hydrant. For 12 years, the City Beautiful was my hometown, too, and I played my fair share of golf here.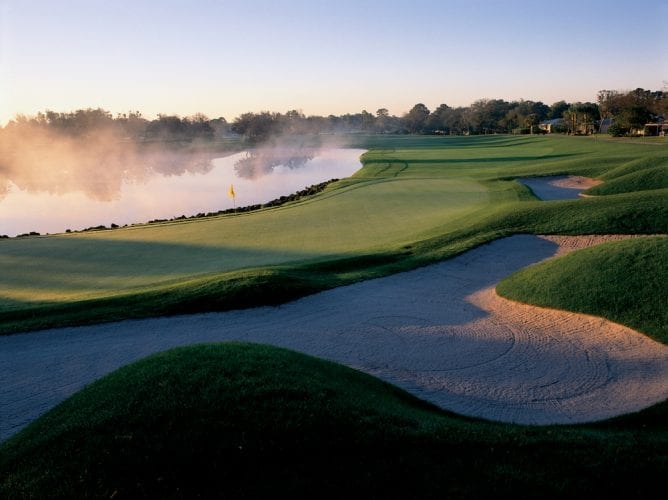 The scouting report on the golf scene can best be summed up as quantity over quality. The best courses in my book are these handful of private courses: Lake Nona, Isleworth, Interlachen, Country Club of Orlando, and should you be so lucky, Mountain Lake, a Seth Raynor design an hour away in Lake Wales. But that doesn't mean there aren't several public, muni, and resort courses worth schlepping your clubs along for the ride when joining the masses in the most-visited destination in the U.S.
Day 1
MORNING: Dubsdread Golf Course is the oldest public layout in central Florida dating to 1924, and thanks to a facelift in 2008, it's still a local favorite for the budget conscious. The Taproom is a popular spot for lunch—try the burger—but an equally good option is to swing by College Park, where clustered along the main thoroughfare are gastropubs, hip boutiques, and vintage stores. I've never had a bad meal at Rusteak, which is in my top-5 for eats in Orlando.
AFTERNOON: The Winter Park 9 is where I became a convert to nine-hole golf. It was my jam long before the architecture team of Keith Rhebb and Riley Johns took it next level. This is affordable golf that can be enjoyed by all levels of golfer. I miss playing here on a regular basis and I bet one trip around won't be enough for you.
OFF-COURSE OPTION: Park Avenue in Winter Park is the place to be and be seen. It is packed with wonderful boutique shops and alfresco restaurants.
EVENING: Winter Park is a foodie haven. Top of the list is The Ravenous Pig, my go-to spot and home to the best burger in town (and I've tried them all). How good is the BBQ at 4 Rivers Smokehouse? I've stood in an hour-long line on a 39-degree night—in Florida. It's that good. The Alfond Inn is a swanky place to meet for drinks, but also check out Imperial Wine Bar & Beer Garden, an antique store by day and bar by night for a unique vibe.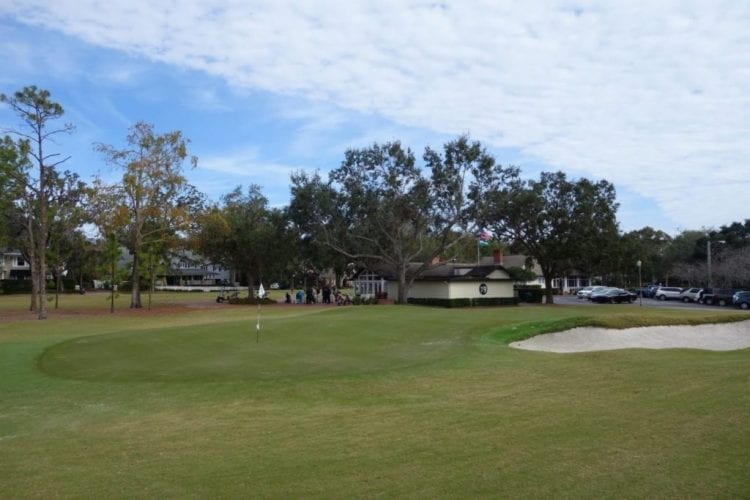 Day 2
MORNING: If you stay near Winter Park, start the day properly at The Briarpatch. Try the pancakes and then hop on I-4 to tackle the traffic and Bay Hill Club & Lodge. I miss seeing Arnold Palmer pounding balls on the range. The home of the Arnold Palmer Invitational includes a closing stretch that ensures plenty of drama if there's a wager on the line. Need an emergency nine? The nine-hole Charger Course was made for such occasions. Bay Hill also added a two-acre short-game facility with pitch slopes, nobs, false fronts, backboards and various bunkers styles.
AFTERNOON: Have lunch at Bay Hill's Grill and order the oyster soup, Mr. Palmer's favorite, and an Arnold Palmer to wash it down before heading to Shingle Creek Golf Club at the Rosen Shingle Creek Resort. I wasn't a fan of the original layout until Arnold Palmer Design Co., was hired and re-shaped all of the greens and bunkers to deliver a more interesting golf course full of angles, width, strategy and recovery options. It's almost an anti-resort design, at least by the traditional definition of resort golf.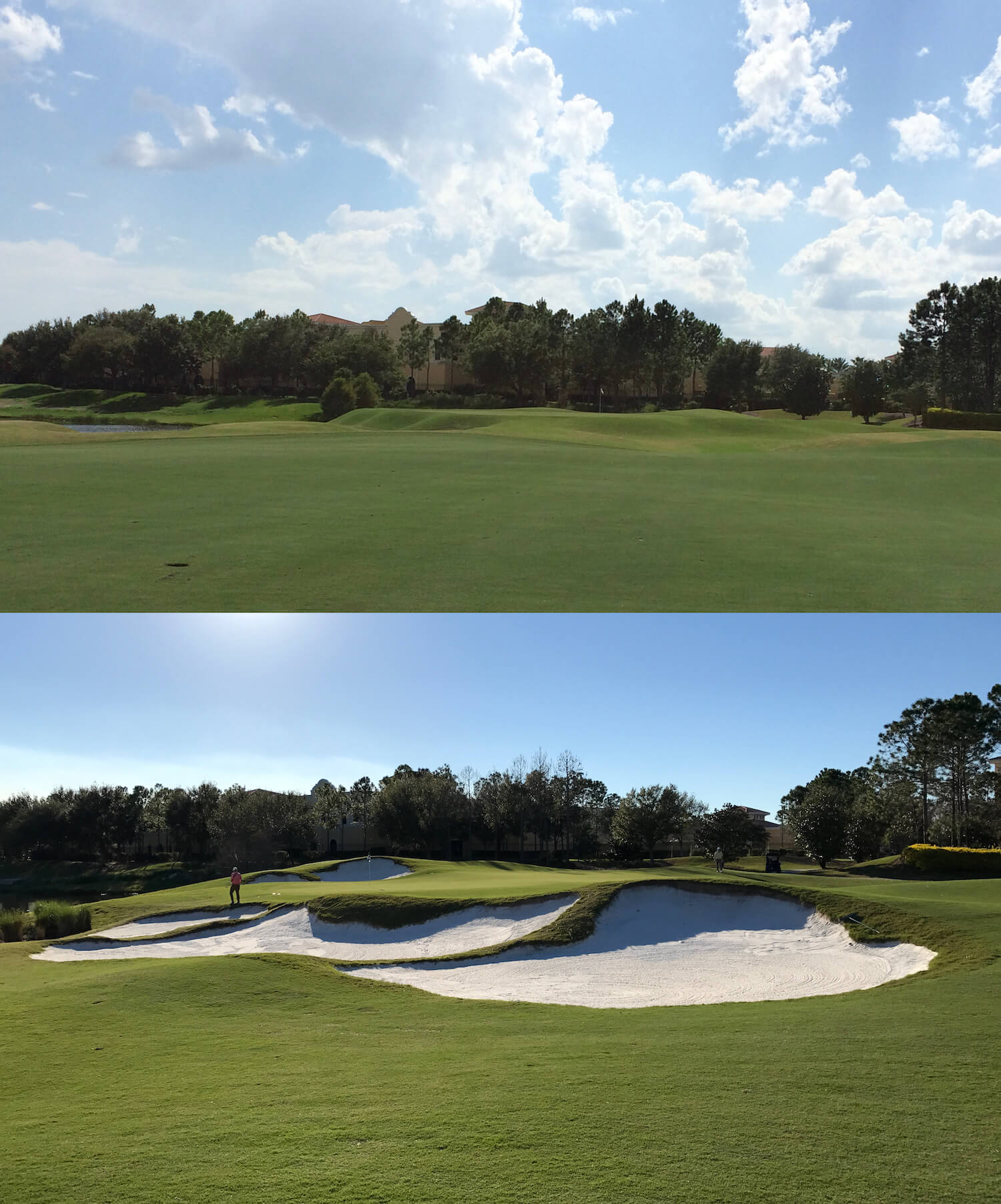 OFF-COURSE OPTION: If the theme parks are calling your name, you're in the right place to hit up Universal Studios and Islands of Adventure. Walt Disney World, Epcot and Animal Kingdom are a little farther down the road. When in Rome…
EVENING: Sand Lake is restaurant row and the dining options run the gamut. Eddie V's, Ocean Prime, and Urbain 40 are among my favorites. Season's 52 and Rocco's Tacos & Tequila Bar are usually packed and have a great atmosphere and bar scene. TopGolf Orlando isn't far away if you're looking to the swing the wrenches some more.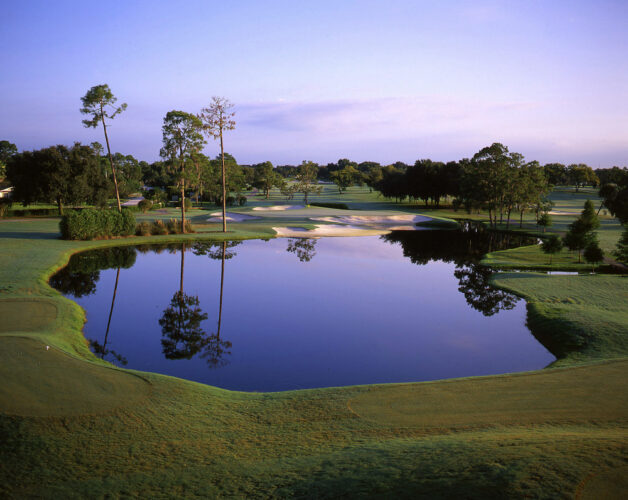 Day 3
MORNING: Continue down I-4 to exit 58 and options abound. Turn right and you'll hit Champions Gate Golf Club, a 36-hole facility designed by Greg Norman. I prefer the International over the National, but both were enhanced by the restoration of all 18 greens and all greenside bunker complexes to their original sizes, look, and feel in the last two years.
AFTERNOON: If you turn left off Exit 58, you'll come to Reunion Resort. There are 54 holes to choose from—Jack Nicklaus, Arnold Palmer and Tom Watson designs. The Watson is my choice because the green complexes are tougher than your typical resort course.
OFF-COURSE OPTION: Trust me on this one: You haven't lived until you've seen a feeding at Gatorland.
EVENING: Reunion and Champions Gate are just 20 minutes removed from Disney, but this area feels like the boonies to me. Head back to civilization and experience Downtown Orlando, where the locals go out. Have a walk along Lake Eola and then hit the town. Jonesing for sushi? Go to Amura Downtown Japanese Restaurant. Thai? Oudom. Apps, burgers and flatbreads to watch a game? Stubborn Mule. Casey's serves the strongest drinks and the best free popcorn while Lizzy McCormack's Irish Bar gets bonus points for having a Golden Tee.
HONORABLE MENTIONS: Orange County National has 36 holes (Panther Lake/Crooked Cat) and a world-class practice facility; Scottish links-style golf in the Sunshine state? You better believe it.The Grand Cypress New Course represents; You better have a strong bunker game for Southern Dunes in Haines City.
_________________________
What's your favorite course around Orlando? Tell us in the comments below!