Few things are more revered in Ireland than its golf and its whiskey. Visitors to the Emerald Isle should take advantage of the opportunity to experience this match made in heaven by combining whiskey distillery tours with visits to the best nearby courses. (I recommend that you schedule your distillery visits for after you've played your golf.)
To be classified as an Irish whiskey (with an e, as opposed to Scots whisky with no e), it must be made with barley mash, be bottled at no less than 40 percent ABV and no more than 94 percent ABV and be matured in wooden casks for no less than three years, though most are aged longer. Four different styles are prevalent: single malt, single grain, single pot, and blends. You should look to try them all, as each has its own unique characteristics and flavor profiles.
You'll find a wide range of Irish whiskey brands on offer at every Irish pub—favorites like Redbreast, Jameson, Bushmills, and Teeling. But to get the full Irish whiskey experience, you need to visit the distilleries, taste the many different varieties, and understand the varied approaches each brand takes to create its unique products. Here's a list of a few of the better distillery tours Ireland has to offer, along with some recommendations on where to tee it up while you're in the neighborhood.
DUBLIN
They don't actually distill whiskey here anymore—that operation moved in the 1970s to Jameson's Midleton location in County Cork—but it's still a good place to learn about the whiskey distilling process and Jameson's 240-plus-year history. Make sure to leave time to draw your own bottle of Jameson Black Barrel from a waiting barrel.
Located in the Liberties, Dublin's historic distillery district, Teeling opened its doors in 2015 as the first new distillery in Dublin in over 125 years. But the Teeling family was making whiskey as far back as 1782. Since then, the brand has made quite a name for itself. Its 24-year-old single malt was the first Irish whiskey to be named world's best single malt in 2019.
Also in the Liberties district, the Roe & Co. Distillery is located in the Guinness Power House, just a short stroll from the Guinness Store House, where Guinness Brewery tours are offered. This brand was created in 2019 and named for 19th Century Irish whiskey-making icon George Roe. During your tour, you can choose from a Flavours Workshop in which you'll create your own cocktails, or an Old Fashioned master class where you'll learn how to create the perfect Old Fashioned.
Is whiskey a religion to you? The Pearse Lyons Distillery is located in beautifully restored St. James' Church on James Street, a place of worship dating back to the mid-19th Century. Here, the huge copper stills are aglow with sunlight filtering through stained glass windows, and there are several tours to choose from—each guided by entertaining storytellers.
Golf Nearby
The Dublin area is as rich in excellent golf as it is in excellent whiskey, beginning with the historic links at Portmarnock Golf Club, where the narrow fairways and well-protected greens present a heady challenge even when the wind isn't blowing (which it always is). Over on Bull Island just east of the city, Royal Dublin Golf Club is another traditional links that's always a memorable test, in part because of its strong finishing holes and Christy O'Connor Room, full of interesting memorabilia. North of the city overlooking Malahide Beach, The Island Golf Club threads its way through majestic dunes. The tee shot over a corner of the beach at the long, par-three 13th is unforgettably fun.
COUNTY CARLOW
Royal Oak is a modern distillery located on a beautiful 18th century estate in the heart of Ireland's Ancient East region. There, you can learn about all three types of Irish whiskey, as they produce their Busker whiskies in single malt, single grain, and single pot still, along with a triple cask style, which is matured in rare Cantine Florio and Sicilian Marsala wine casks, lending it a unique aroma and flavor.
Golf Nearby
Carlow Golf Club isn't a long course, but this hilly, par 70, parkland favorite serves up a great variety of memorable holes, each finishing at a green that's likely to be small in size and tricky to negotiate. The views of the countryside from the elevated 8th tee always make up for the high score you may have made at the uphill par-four 7th, with its tall pines, gorse, and deep rough guarding the fairway and a green featuring a devilish falloff to the right. As on Carlow's other terrific holes, accuracy is key.
COUNTY CORK
Want to see Jameson actually being made? At this impressive 15-acre facility, you can learn all about the malting, mashing, fermentation, blending, distilling, and maturation processes that go into making Jameson the world favorite that it is. You can also snap a selfie with the world's largest copper pot still.
View this post on Instagram
Golf Nearby
Located on one of the most scenic peninsulas you could ever hope to see, the Old Head of Kinsale, Old Head Golf Links takes you on a clifftop adventure that offers a thrill a minute. The par-five 12th hole, for example, calls for a tee shot up and over a corner of the cliff; don't bite off more than you can chew. Cork Golf Club is a championship-caliber parkland layout that Alister MacKenzie had a hand in creating. There's water, a quarry, deep bunkers, the shore of Loch Mahon, and undulating MacKenzie greens to negotiate here—all of which add to the challenge and enjoyment. The Deerpark Course at Fota Island Resort has hosted the Irish Open and from the back tees it will give you all you can handle. Both nines on this parkland layout culminate with potentially score-wrecking holes where water comes very much into play around the greens.
COUNTY MEATH
To get to Slane Distillery, just scan the County Meath horizon for Slane Castle and head to the estate's 250-year-old stables. Slane Irish Whiskey brings grain and malt whiskeys together through a blend of the distinctive flavors of three kinds of casks. A range of different experiences are offered, from the 45-minute class in making the perfect Irish coffee to the full two-hour Amplified Tour, during which you can sample the different components of Slane's virgin, seasoned, and sherry cask offerings.
View this post on Instagram
Golf Nearby
From Slane Castle, venture to Killeen Castle and play Killeen Castle Golf Club, a Jack Nicklaus-designed, American-style parkland course that's perennially in top condition and can play as long as 7,700 yards. The course hosted the 2011 Solheim Cup, and its closing stretch of holes, and especially the 18th with a stream running all along the right side, require players to stay focused right to the end. Headfort Golf Club is located on the Headfort Estate in Kells and of its two courses, the New, is the one to play; in fact, many players consider it to be Ireland's finest parkland layout. Designed by Christy O'Connor Jr., it has a modern feel to it, with water coming into play on several holes and a terrific mix of tricky short holes and others that call for power. Laytown and Bettystown Golf Club is the area's links golf standout. There you'll find the blind shots among windswept dunes, plus the pot bunkers and undulating greens that typify links courses and make them so alluring.
COUNTY KERRY
The Dingle Peninsula in the west of County Kerry is one of Ireland's most-visited spots for its coastal scenery. It's also a favorite for golf—and whiskey. A visit to the Skellig Six18 Distillery, located right on the Skellig Coast, gives you the chance to see a new, state-of-the-art whiskey distillery in development. The brand's triple-distilled single pot still product won't be available for a few years, but they plan to release some special edition bottles in 2022.
Golf Nearby
County Kerry is blessed with many fine course choices, including the links golf gems at Tralee, Waterville, and lesser-known but highly visit-worthy Dooks Golf Club. The 36 holes at Ballybunion should all be played—multiple times if possible. And inland, Killarney Golf & Fishing Club offers another 36 holes, with its Mahony's Point course playing right along the edges of lakes in the shadows of Ireland's highest mountain range, the McGillicuddy Reeks.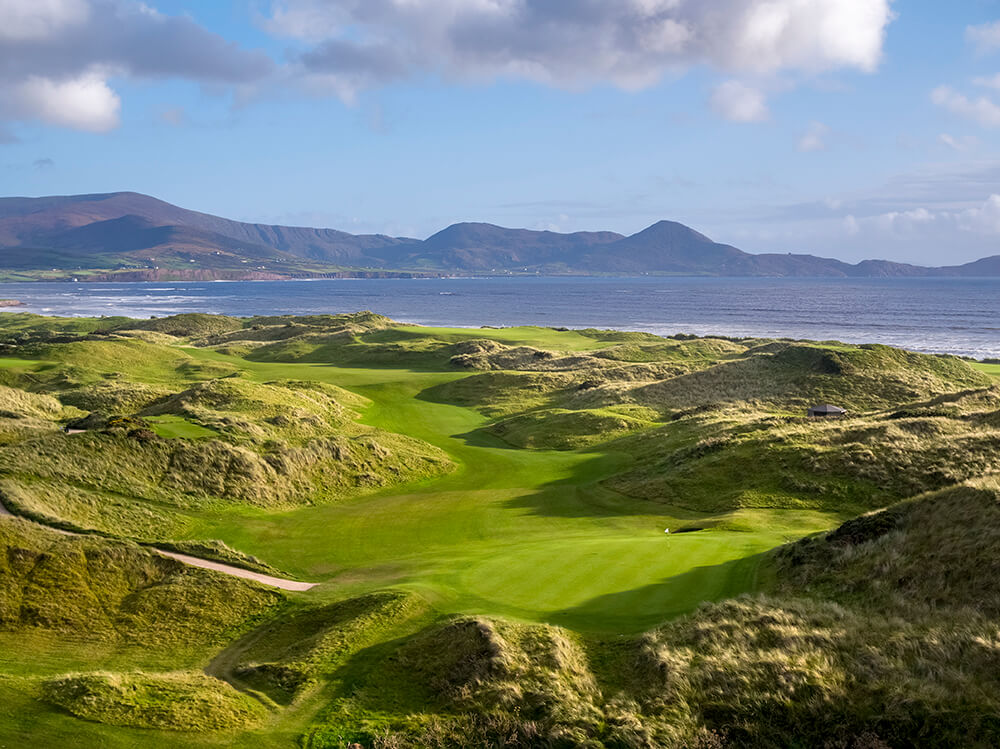 COUNTY KILKENNY
Kilkenny City was the capital of medieval Ireland, so it's only natural that it would also have been the birthplace of Irish whiskey. The first written account of whiskey distilling in Ireland originated here in the Red Book of Ossory in 1324. At Ballykeefe, you will learn about each stage of the distilling process as the company's master distiller shares his secrets and details how he shapes each release and explains why the barrels and climate are so crucial to the finishing stages of the process—and the ultimate product.
View this post on Instagram
Golf Nearby
Ever since Jack Nicklaus opened Mount Juliet with a match against Christy O'Connor Sr. in 1991, this parkland course on an old Irish estate has been a favorite of locals and visitors alike. Starting at the 18th century manor house that serves as its clubhouse and continuing right through to the long, par-four 18th with water running all along the left side of the hole, Mount Juliet offers an upscale experience centered around an American-style championship course that has hosted Irish Opens and many other notable events. Its tree-lined fairways demand accuracy, as do its nice set of par threes, which frequently play over water.
COUNTY ANTRIM
They've been making Bushmills in the village of Bushmills in County Antrim on the rugged northern coast of Northern Ireland since 1608. Located close to Giant's Causeway and Dunluce Castle, Bushmills attracts lots of visitors who come to see where its millions of liters of whiskies are made each year. Guided tours of its mash house and still house end with the opportunity to sample many different styles. Collum Eagan, Bushmills's Master Distiller, likes to say: "We're not good because we're old, we're old because we're good." A visit to the Bushmills Distillery will show you what he's talking about.
View this post on Instagram
Golf Nearby
County Antrim is home to one of Ireland's most revered links courses—and the only one ever to host the Open Championship, which the Dunluce course at Royal Portrush Golf Club last did in 2019 when native son Shane Lowry earned the title of Champion Golfer of the Year there. Named for the nearby Dunluce Castle, the Harry Colt design sits atop headlands that offer spectacular views, especially from the clifftop green site of the short, downhill par-four 5th hole called "White Rocks." The 210-yard, par-three 16th hole, "Calamity," calls for a near-perfect shot over a ravine, and it's surely one of the world's great par threes. Just across the county line in County Londonderry, the Strand course at Portstewart Golf Club is another perennial favorite with visitors to this part of the Emerald Isle. The dunes there are massive, and your opening tee shot of the day at the downhill, dogleg-right 1st hole offers one of the most breathtaking vistas in the world of golf. Should you not fare well on the scorecard, may you find consolation in the fact that the Bushmills Distillery is just a few scenic miles up the road.