During the summer of 1993, Greg Norman teed it up at Royal St. George's for the Open Championship and promptly shot four rounds under par. He saved the best for last, however, shooting a six-under 64 during the final round to win by two strokes.
"That final round was one you just dream about," the then-38-year-old said following the championship. "I cannot say in my whole career that I have played a round and not missed one shot, but that day I never mishit a shot. I hit every drive perfectly, every iron perfectly, and only made a mess of one putt. That was the best I ever played in my life."
We sat down with the past-champion-turned-course designer to talk about the unique character of Royal St. George's, the challenge of playing links golf, and how classic links courses have influenced the Shark's contemporary course designs.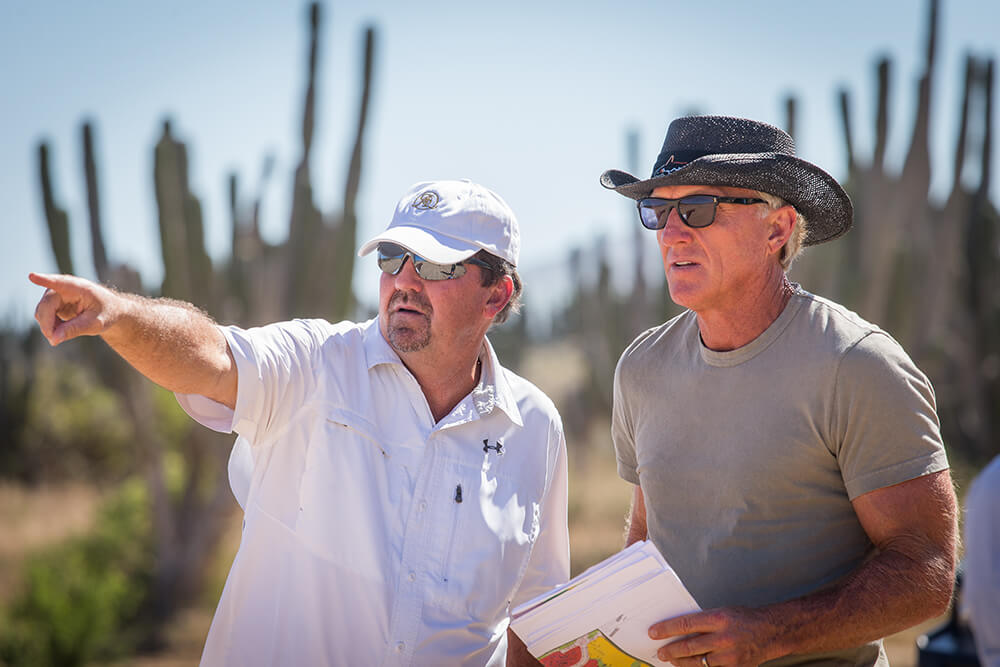 Do you believe that the winning player at Royal St. George's will have to play near-perfect golf all week, as you did back in 1993?
You don't know because of the weather conditions. The way Royal St. George's is situated, you can get the wind out of the north/northeast off the North Sea and you can get it out of the south/southeast up the English Channel, and the wind coming off those cold oceans is a very heavy wind. If the wind is coming out of the northwest or the west, it's a totally different wind because it's coming over land, so the wind is going to be a lot warmer and the ball is going to go a lot farther. That's why playing links golf courses is not just about the art of playing links golf, it's about understanding the climatic conditions that change during a round.
I think the course is very advantageous for a long hitter. If the wind is coming out of the south/southeast that back nine plays pretty damn tough, especially holes 14 and 15. If you're a power player left to right, like I was, I don't care how good a driver you are, that tee shot on 14 makes you pucker up, especially if they have thick, heavy rough to the left of the fairway. If you're into the wind—a 10 o'clock wind—and you hit it in that rough, you may not be able to carry the burn with your second shot.
Aside from the weather, what should golfers of all ability levels expect during their rounds at Royal St. George's?
Anybody who's going to play Royal St. George's has got to be mentally prepared for a quirky golf course, because of the different angles that you come by and understanding those angles. Like all links golf courses, the fairways are very undulating and gnarly. Take the 1st hole, for example. If you miss that 1st hole anywhere on one-third of the fairway on the left side, the ball is going to kick into the rough. That happened to me on the very first tee shot of the tournament [in 1993]. I hit it down the left side of the fairway, it bounced left into the rough, and I took a six. That's the quirkiness of links golf courses. You will hit good tee shots that will finish up in the rough, and you will hit bad tee shots but you might be up where the spectators are and you might have a shot.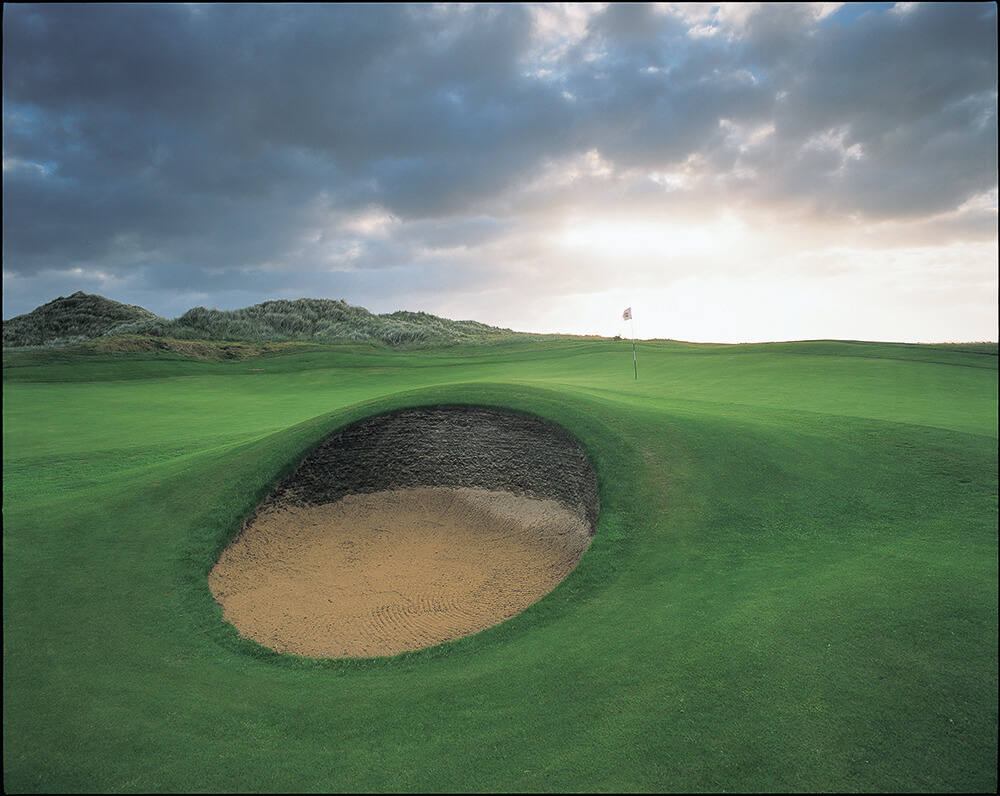 Is Royal St. George's a quirkier golf course than many of the other links courses in the Open Championship rota?
In my opinion, yes. Is St. Andrews quirky? Yeah, it's quirky. Muirfield is a different story. Even though it's a links golf course, everything is laid out in front of you on the tee shot. You know where you're going. You can see the golf course out in front of you and you know what to expect. The fairways aren't as undulating as they are at St. Andrews or Royal St. George's.
As someone who enjoyed playing links golf, do you now try to implement architectural features and design concepts from classic links courses into the new layouts that you design?
I would say yes, to a degree. I'm a big Alister MacKenzie and A.W. Tillinghast fan. I'm a big fan of green complexes where the ball gets taken away from the hole location. The further it gets away from the hole around a green complex the more complicated that third shot, or second shot, or fourth shot becomes. So I love that concept and the way old-style golf course architects did that. And links golf obviously speaks volumes about that, so from an architecture standpoint, there might be a situation where I do that, but I don't do that all the time.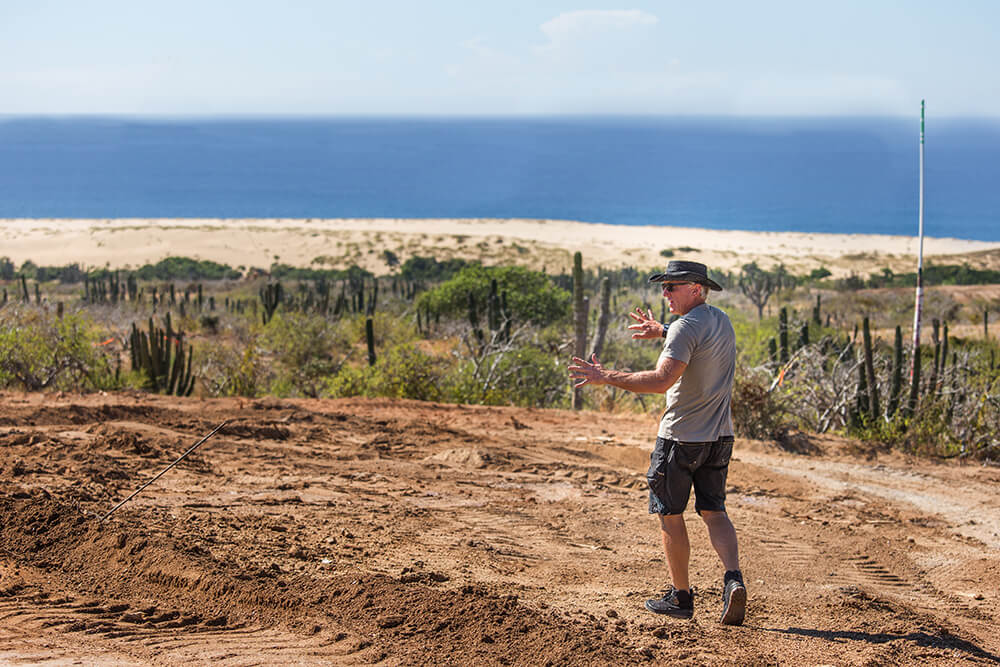 Are there other components of links courses that you find yourself emulating in some way?
From a bunkering perspective, I'm a gatherer. I always make my bunkers gather just like links course bunkers gather the ball. I see a lot of architects nowadays when they design bunkers, the front edge of the bunker as you're looking at it from the landing area to the green, it's always higher. I like the front edge of my bunkers lower so it actually gathers the ball in. Then you see more of the bunker and it becomes more visually intimidating.
Do you have any pet peeves when it comes to course design or course conditioning? 
If you want to add to the skill and the challenge of the game of golf like MacKenzie did in the days when he designed big run-offs on the right-hand side of a green like I've done with some of my designs, make bunkers true hazards. A bunker is supposed to be a hazard, correct? So why is a bunker always the most perfect lie on a golf course every freaking time? I don't know if the R&A still use those big old wooden rakes with the thick tines, but I remember back when I was playing, the players were complaining about it because there was a burrow created in the bunkers, so you either got lucky or unlucky. You were either in a divot or not in a divot. It became a bit of an equalizer.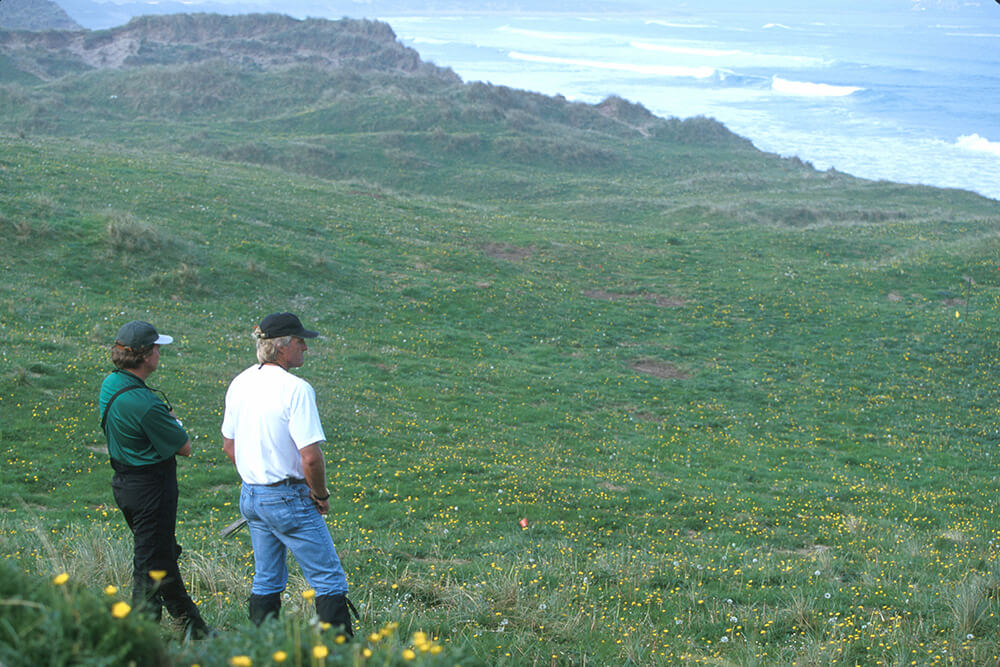 You've designed half a dozen links courses around the world, including Doonbeg in Ireland. What was that process like and how did it differ from designing and building other types of courses? 
At Doonbeg, we had the most perfect piece of links property on Doughmore Bay to work with and we built it by hand. I went there I think 28 times because I had to understand the nuances of the golf course, the links, the sand dunes, and the weather conditions. I went there in the dead of winter—in the middle of January when it was blowing 40 out of the northwest. I wanted to be able to understand the layout of the golf course. Over there, they don't have storms with lightning that pull you off the golf course. You've got to play in the wind and the rain. That's all part of links golf. So as a designer, I had to be able to understand that to allow you to be able to play that same hole in whichever way the wind is coming from. That's not an easy thing to do, to balance out a golf hole like that.
Were you able to learn other things about the course during your many visits there?
When we were there in the middle of January, I actually wanted to see where the cattle and the sheep went to get out of the wind. So there are probably half a dozen to 10 natural bunkers out there that I left exactly where they were. Those are some of the interesting nuances that links golf gives you. And if you can incorporate that in, then you're accomplishing exactly how Mother Nature wanted you to deliver a golf course on that piece of property.