The back nine at Pacific Grove Golf Links has gotten a lot of recognition over the years as a municipal course located along the same dramatic Monterey Peninsula coastline as Pebble Beach. But the front nine is special in its own right, particularly the start.
One of the game's great munis, Pacific Grove opens with back-to-back par-three holes as it weaves around homes, tall trees, and a cemetery in the town of Pacific Grove before taking a turn toward the water, with holes that overlook Point Pinos. The first hole, named "Little Tombstone" for the El Carmelo Cemetery bordering on the right, is a pretty straightforward 146-yarder to a green on the small side. That's followed by "Big Tombstone," an uphill par three of about 200 yards that puts the graveyard even more in play. To be sure, it's a decidedly rare way to start a regulation 18-hole course.
There aren't many courses that even have a par three as the starting hole.
While unconventional, there arguably are virtues. Most would concede that a short par three allows for an easier start, almost a warm-up. Others point to a par-three opener helping to space out tee times right off the bat and possibly alleviating that early-round backup at the first par three on the scorecard. (I know I'm not the only one who's encountered several groups waiting at that first par three at a popular public course on a weekend morning.) But generally, you're not going to find many regulation-length courses that begin with a one-shotter.
Here's an assortment of other first hole par threes I've come across, a few in the U.S. and a number of others in the UK.
Tanna Farms Golf Club (Geneva, Ill.)
About 50 miles west of Chicago, Tanna Farms has a unique start—a short par three with an island green. Playing about 140 yards from the back tees, it's the shortest of four par-three holes on the front nine of the Roy Case-designed course, which weaves through a residential community.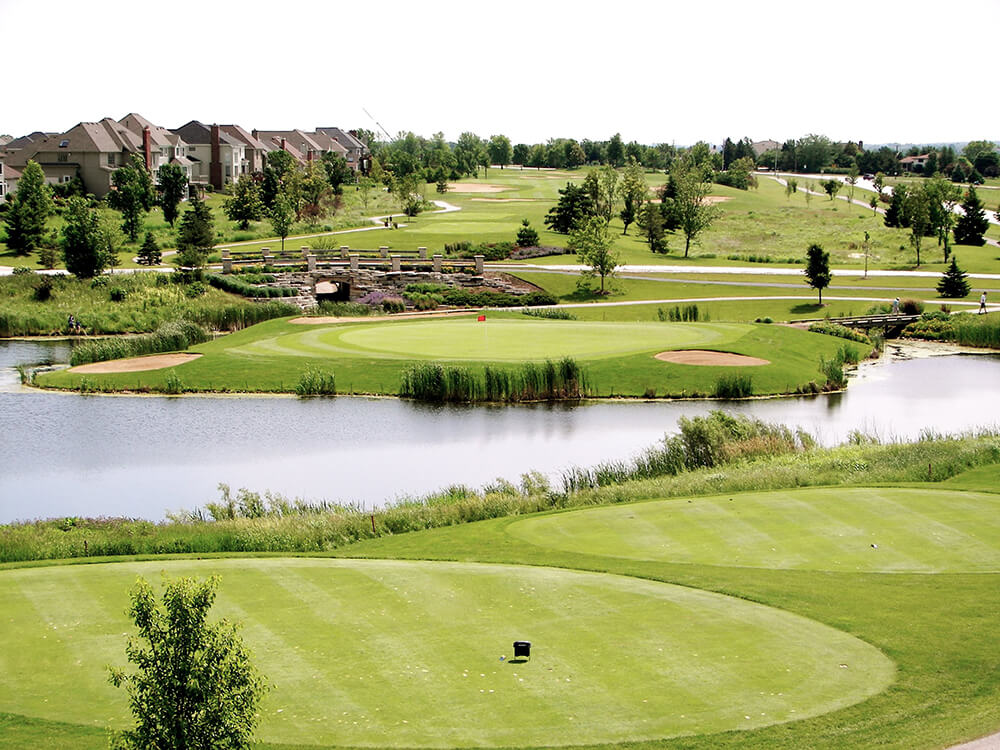 Napa Valley Country Club (Napa, Calif.)
This private club in the heart of wine country was established in 1915 as a 9-hole course with oil and sand greens. Today, it's expanded to 18 holes, but the original front nine includes a 130-yard par three to ease into the round.
Cumberland Country Club (Cumberland, Md.)
This semi-private club in the Appalachian Mountains of western Maryland starts with a par three of more than 200 yards. There's a hill to the right of the green that kicks shots to the left, but the hole is hardly forgiving, making par a good score to open the round.
Musselburgh Links, The Old Golf Course (East Lothian, Scotland)
The Old Golf Course at Musselburgh Links was one of the original venues for the Open Championship, hosting the event six times between 1874 and 1889. The historic course starts with a par three with a raised green that can range in distance from 141 to 240 yards.
View this post on Instagram
Royal Lytham & St. Annes Golf Club (Lancashire, England)
One of the premier links courses in the world, Royal Lytham has hosted 11 Open Championships and two Ryder Cups. The demands of the layout are evident from the par-three opener, as trees to the right of the first tee shield players from the prevailing wind but make club selection to a well-protected green a challenge.
The 1st hole @RoyalLythamGolf is a distinctive par 3 and gives ample warning of the demands that lie ahead.

Sitting 206 yards from the tee, the green is fiercely protected by 7 bunkers, therefore only an accurate shot will find the putting surface.#WalkThePathofLegends pic.twitter.com/EN4FNFBiA2

— Royal Lytham Golf Club (@RoyalLythamGolf) February 9, 2021
Walton Heath Golf Club—Old Course (Tadworth, England)
It's said that course designer Herbert Fowler liked to test the extent of a golfer's repertoire. That test begins from the opening hole at Walton Heath's Old Course, a long par three of about 230 yards to a green that's a sign of things to come—large, hard, and fast.
View this post on Instagram
The Berkshire Golf Club—Blue Course (Berkshire, England)
As at Walton Heath, Fowler again immediately confronts the golfer with a long par three of more than 200 yards to begin the Blue Course. The first green is on the far side of a sea of heather, perched atop a mound, making for a magnificent, but devilish, start.
View this post on Instagram
The Club at Meyrick Park (Bournemouth, England)
Golf commentator Peter Alliss called this one of the toughest opening holes around and it's easy to see why—an opening tee shot of more than 240 yards over a valley to a small green cut into a hillside. Oh, and there are trees on either side of the hole, meaning you'll need one of your best shots of the day right out of the gate.
View this post on Instagram