Given the wealth of golf options in the U.S., which has more places to play than the next 10 best-supplied countries combined, new course openings are exceedingly limited. As a result, it's only natural there's added excitement among golfers when it comes to the latest and greatest in new design.
A glance around the golf landscape shows that many recent openings are destination properties off the beaten path. Case in point are 2022 debuts like Landmand, which sprawls across heaving farmland in rural Nebraska, and Black Desert Resort at Entrada, which winds through black lava fields not far from Zion National Park in Utah. The Lido at Sand Valley Golf Resort in central Wisconsin also falls in that category, with the resurrected course set to officially debut its full 18 holes in 2023 after providing a sneak peek of some of its wild template holes during the tail-end of 2022.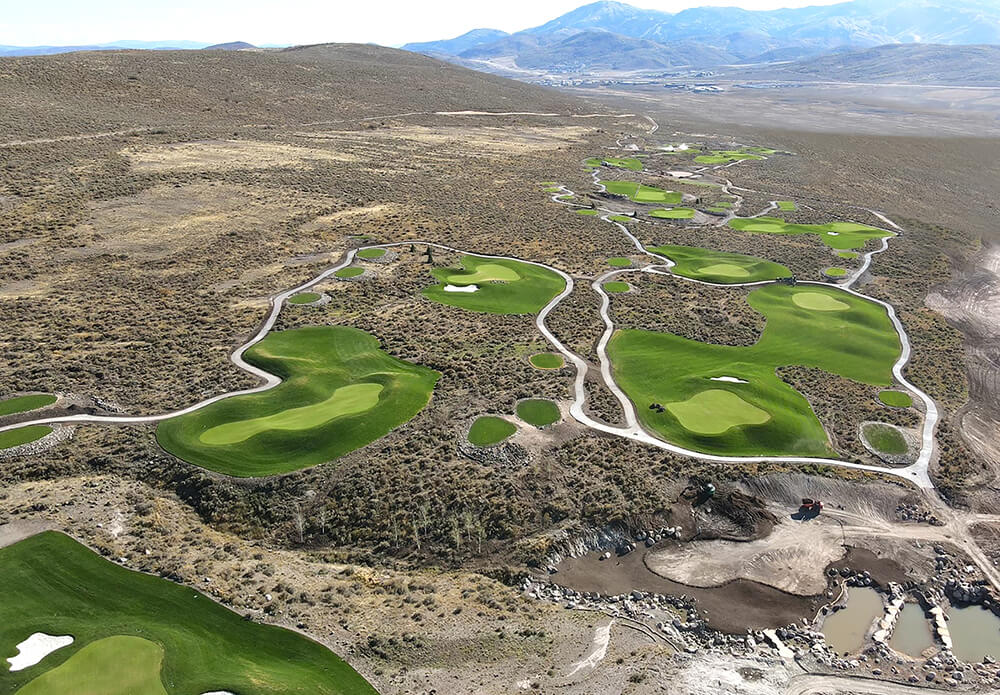 Also popular are short course offerings, as evidenced by 2022 additions such as the 10-hole Little Sandy course at Omni Amelia Resort in Florida and the 13-hole Gravel Pit Golf Course in Minnesota. Forrest Richardson's 18-hole par-3 course, The Hills at Promontory, debuts in Summer 2023 at private Utah community Promontory Club featuring drop shots and views of Bald Mountain spread over a 300-acre hillside (see above).
Here are nine other U.S. projects in the pipeline that are scheduled to open in 2023.
PUBLIC
Fields Ranch (Frisco, Texas)
The two 18-hole Fields Ranch courses at the Omni PGA Frisco Resort are officially opening this spring alongside the new PGA of America headquarters about 35 miles north of Dallas. Both the East course (designed by Gil Hanse) and West course (designed by Beau Welling) will be open to the public and resort guests, while the facility also has a membership component. There's also a lighted 10-hole, par-3 short course ("The Swing") at Fields Ranch, which is already set to host 26 tournaments within its first 12 years of opening, including the 2027 PGA Championship. It will be the first major championship in Texas in more than 50 years.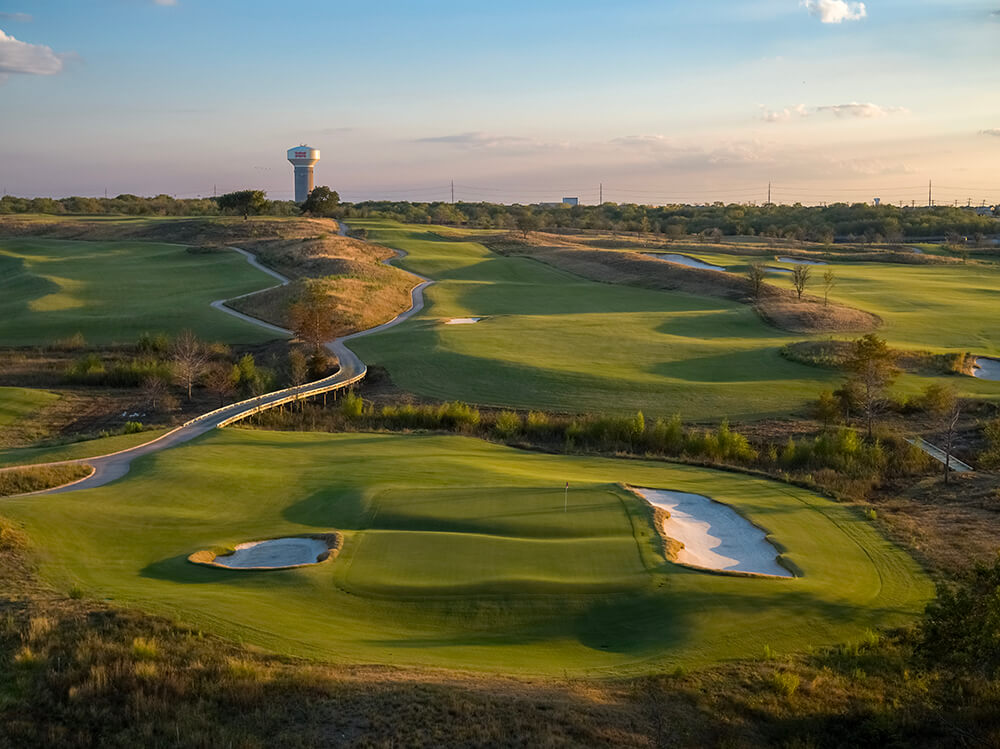 West Palm Golf Park (West Palm Beach, Fla.)
In one of the most golf-rich parts of the country, Gil Hanse has designed an 18-hole layout as well as a 9-hole short course—similar to The Cradle at Pinehurst—on the footprint of a neglected former course. A project funded through individual charitable contributions and spearheaded in part by the South Florida section of PGA of America, the West Palm Golf Park will have a major focus on junior golfers and will be operated and maintained by a trust at no cost to the city. The municipal facility occupies a special site, just a few miles from Palm Beach International Airport on a sandy piece of land featuring native palmetto, palms, pines, and oak trees.
Old Bridge Golf Club (Old Bridge, N.J.)
The nation's most populous state is getting a new municipal golf course less than five miles away from the site of a private club that closed in 2021. In order to have that highway-adjacent property rezoned for warehouses, a prominent local developer reached an agreement with township officials to build a long-discussed public course nearby without any taxpayer money. Golf architect Stephen Kay embraced wide fairways and memorable green complexes as well as some template holes (such as "Short" and "Eden") inspired by Golden Age golf architecture.
Cabot Citrus Farms (Brooksville, Fla.)
Since establishing a strong reputation with its resort destination in Nova Scotia, the Cabot brand has continued to expand and Citrus Farms is its first U.S.-based property. The central Florida facility formerly known as World Woods Golf Club is being completely overhauled, with two 18-hole courses, plus an 11-hole par-3 course and a 10-hole regulation-length course. All are scheduled to open in late 2023, with Kyle Franz having a hand in both 18-hole redesigns (Pine Barrens and Rolling Oaks). Mike Nuzzo is co-designing Rolling Oaks with Franz and also overseeing the build of the other two shorter courses.
The Chain at Streamsong (Bowling Green, Fla.)
Streamsong will be the latest resort to join the short course club when The Chain opens, potentially in late 2023. The layout, designed by Bill Coore and Ben Crenshaw and located on a 100-acre site across the entrance road from the main lodge, features a mix of par-three and par-four holes and will allow resort guests to play loops of six, 12, or 18 holes. The first six-hole loop features only par-three holes, while the other 12 holes range from about 125 to 300 yards and weave through old mining cuts along Little Payne Creek.
PRIVATE
Old Barnwell (Aiken, S.C.)
Just outside of historic Aiken is a private club nestled on almost 600 acres of sandy soil, rolling hills, and towering pine trees. The first of the property's three courses is set to open in the spring, kicking off a traditional club that is rooted in camaraderie and community, but is also mission-based and features junior developmental programs and partnerships with historically black colleges and universities (HCBU).
Hole #3, courtesy of @bschneider126 and @Dundee_Golf (photos courtesy of @PurvisMorgan) pic.twitter.com/VLnkDodhyi

— Old_Barnwell (@Old_Barnwell) July 22, 2022
The Tree Farm (Aiken, S.C.)
PGA Tour golfer Zac Blair finally has his own golf course, one that will be officially opening in spring 2023. Blair initially had aspirations of building a course in his home state of Utah before shifting gears and acquiring a sandy site in South Carolina for his destination club that will feature an 18-hole course (designed by Tom Doak) along with dining and lodging. While the club will have founding and national members, there will also be opportunity for limited public play.
Red Feather Golf and Social Club (Lubbock, Texas)
With laid-back luxury, Red Feather is a family-friendly private club that features an 18-hole course designed by Rob Collins and Tad King, the creative minds behind Sweetens Cove and Landmand. The course boasts multiple shared greens and the vibe of the property is not unlike Bluejack National outside Houston, where owner Brad Ralston, a successful Lubbock businessman, has a national membership.
https://twitter.com/redfeathergc/status/1605707993974046720?s=20&t=TO7UJgPvobF6RxJleSvjIw
Wicker Point Golf Club (Lake Martin, Ala.)
Alabama gets its first Coore & Crenshaw course with this layout that's the centerpiece of the newest luxury residential development on Lake Martin. The lakefront retreat, defined by serene pine plantations, meandering creeks, and holes along the water, has a scheduled opening for summer 2023. It's one of a couple Coore & Crenshaw private clubs set to make official debuts in 2023, along with the delayed Brambles project in California.
What 2023 U.S. golf project are you most excited about?