As the Scots like to say, "Tis nae wind, nae golf." However, when a balmy breeze stiffens into a howling wind, an already demanding golf course can become almost unplayable. Admittedly, even friendly tests can turn torturous when a freak wind blows through. In the first round of the 2021 Bermuda Championship at Port Royal Golf Course, England's Matt Fitzpatrick groaned, "This is the hardest wind I've ever played in. You may see winds like this, but normally you don't play in them."
Nevertheless, many great tests of golf are regularly paired with steady gusts. When the wind velocity climbs another notch, here are the seven toughest courses to play and post a respectable score.
Carnoustie (Carnoustie, Scotland)
Dubbed "Car-nasty" during the 1999 British Open, where skinny fairways and jungle-like rough produced a prehistoric sounding winning score of 290 (+6), Carnoustie has long been considered Scotland's toughest test. It's the reliably ferocious sea breezes, together with its massive 7,400-yard girth, that bring the 112 bunkers, heather, gorse, and a twisting stream into play. When the wind is gentler, whether dry or damp, Carnoustie is still a hard golf course. As Zach Johnson put it in 2018, "Carnoustie is difficult whether it's green or brown." When the wind wakes up, things get nasty. After three calm days at the 2018 Open championship, it finally blew on Sunday. At the par-five 6th, an easy birdie hole turned treacherous. The leaders faced 23-mile-per-hour breezes against and across. 1996 Open champion Tom Lehman observed, "Under these conditions, it takes a great drive just to put it in play. All the bunkers are in play. To hit it in the right rough is not a bad place to hit it." During the 1996 Scottish Open, at the long par-four 17th (the hardest hole at Carnoustie), Tiger Woods hit 4-iron, 4-iron on a downwind day. The following day, he needed two drivers to reach the front of the green. Ouch.
Shinnecock Hills (Southampton, N.Y.)
Wind, or what Robert Trent Jones Jr. calls, "golf's invisible hazard," can send scores soaring at Shinnecock. While there's almost always a stout breeze about, given the layout's location next to Long Island's Great Peconic Bay, when it picks up, it brings all of Shinny's potential scorecard wreckers into focus. That includes firm, fast, severely sloping, often elevated greens, fairways bracketed by tall fescues, and a set of brutish par fours. Complicating matters is the wind direction, which can change early and often. On day one of the 2018 U.S. Open, the wind peaked at a sustained 30 mph around 2:00 pm. Phil Mickelson shot 77, Tiger Woods and Jordan Spieth posted 78s, Jason Day returned a 79, and Rory McIlroy skied to an 80. This was a breeze-fueled massacre.
The Ocean Course at Kiawah Island Golf Resort (Kiawah Island, S.C.)
The real winner at the "War by the Shore" 1991 Ryder Cup Match was the battlefield itself. So tough was the windswept, oceanside layout that can stretch 7,900 yards that Ray Floyd speculated no one would break 80 if it were hosting a stroke-play event. Its architect, Pete Dye, softened it several times over the years, but competitors in two majors since were whipsawed by tidal marsh carries, scrub-topped dunes, and fiercely guarded, wildly undulating greens. In the moisture-laden heat and humidity of August, winner Rory McIlroy was the only player who bettered 5-under-par, 283 at the 2012 PGA Championship. In May 2021, Phil Mickelson's 6-under-par, 282 was enough to win by two shots.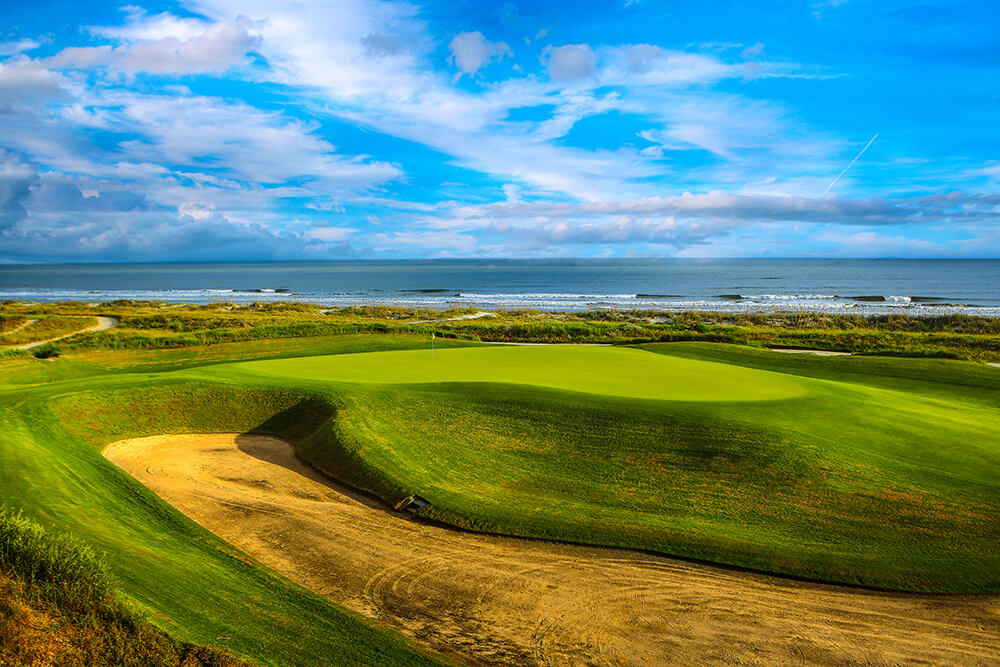 Pebble Beach (Pebble Beach, Calif.)
When a mere zephyr soothes Pebble Beach, any Tom, Seamus, or Jordan can post a 63. When sturdy breezes kick in off the Pacific, 73 is a good number. Some of golf's smallest greens become even harder to hit and dense ryegrass rough, 118 bunkers, and ocean hazards add to the headaches. Jack Nicklaus won the 1972 U.S. Open with 290 (+2) and Tom Kite was one of only two players to break par at the wind-addled 1992 U.S. Open, when the final-round scoring average was 77.3. That day called for 6-irons at the downhill, 107-yard par-three 7th hole. In 2000, plus-3 (287) earned a second place U.S. Open finish.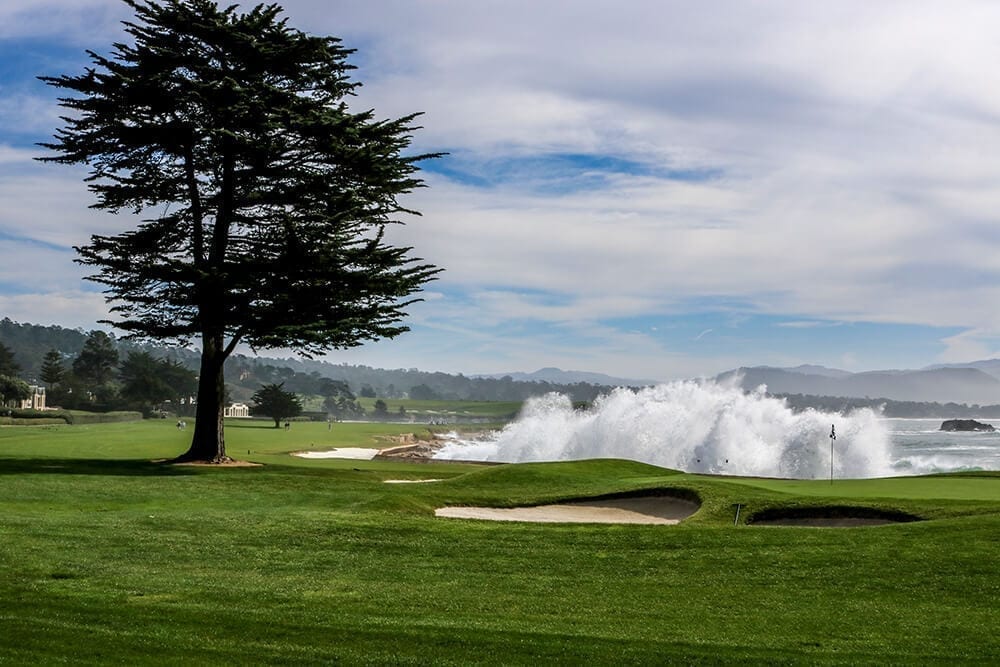 TPC Sawgrass (Players Stadium) (Ponte Vedra Beach, Fla.)
PGA Tour pros got a break when the Players Championship moved to May in 2007. As of 2019, it has returned to its traditional March dates. The traditional March winds, heavier and in a different direction than those in May, have returned as well. Pete Dye's minefield of hazards at TPC Sawgrass can be soul-crushing on a calm day. Sharp-edged lakes, wrist-fracturing St. Augustine rough grass, small, contoured greens, and a variety of penal bunkers increasingly capture golf balls when the needle moves on the anemometer. "Everything's harder with 15–20 mph wind," said Jim "Bones" Mackay (now Justin Thomas' caddie) to USA Today in 2019. "You're on edge. You can't play nearly as effectively from the rough… It's a completely different animal." The island green par-three 17th and rugged par-four 18th are scary any day of the year. In spring, both holes battle wind coming at you from the left and into your face. That's total terror.
The last three holes at TPC Sawgrass are undeniably among the most exciting in golf. The reachable par-5 16th is a terrific risk reward opportunity, while the long par-4 18th is a test of survival, but the true star of the show is, of course, the iconic island green par-3 17th. pic.twitter.com/cHeWMICcFi

— LinksGems Golf Photos (@LinksGems) December 31, 2019
Royal County Down (Newscastle, Northern Ireland)
Ahead of the 2002 Senior Open Championship at Royal County Down, Tom Watson reflected on his only other round there, in 1989, with Byron Nelson. "I remember the short 7th with the shoulder off the left of the green. I played a wonderful short-iron in there and I remember thinking, 'My Lord! What a difficult hole this is with this type of wind!' And I imagined how much tougher it would be to get on the green if the wind were blowing stronger." And blow stronger it does. With the Irish Sea next door, conditions can wreak havoc on the game's best, with fairways narrowed by thick heather and gorse bushes, many with blind landing areas and pockmarked by cavernous, bewhiskered bunkers. Qualifying rounds at the 1999 British Amateur routinely took six hours to play due to the difficulty, and at the 2015 Irish Open, three men made the playoff at 2-under-par 282. Denmark's Soren Kjeldsen took the title, despite a final-round 76, on a day when only three players bettered 70.
Royal Liverpool (Hoylake, England)
It would be easy to make a case that Muirfield, Royal Birkdale, Royal Troon, Waterville, or Ballybunion should make this list. So could Royal Lytham & St. Annes, European Club, Royal St. George's, and Trump International Scotland in Aberdeen. Yet, Royal Liverpool, on England's Lancashire Coast, is just as deserving as any. "Hoylake," as it's often called, dishes out bleak vistas and flat, exposed fairways, meaning there's no escape from the wind that blows off the Dee Estuary. Stern bunkers and internal out of bounds swallow up wayward shots. Nick Faldo recalled that Hoylake provided his windiest experience on a golf course. "During the 1975 British Amateur, a score in the low 90s constituted a good round!" said Faldo. "We were literally aiming shots at adjoining fairways." At the 2019 Walker Cup, U.S. Amateur champ Andy Ogletree remarked of a practice round the day before, "The wind was crazy. John (Augenstein) hit a 4-iron 330 yards. That's about a 100-yard wind… There's no way to practice that. You just have to go out and feel it, and no one has ever really played in that." Well, no one except Nick Faldo, and a host of others who have braved Hoylake in the elements.
What do you think is the toughest golf course to play in the wind?