When you set your sights on the Caribbean, where a bevy of beachside resorts provide ideal settings to soak up the sun, don't forget your sticks—some of those properties are also home to exceptional golf courses.
Here, we spotlight seven Caribbean destinations with notable golf.
The island of Anguilla is remarkably safe—perhaps more so than any other Caribbean isle—which makes it easy for visitors to venture off property. Of course, guests staying at Aurora Anguilla Resort may not deem that necessary, not with the property's crescent of soft-sand beach and seven restaurants, all of which serve up incredible fare (there's a reason this 178-room property was previously branded a Cuisinart resort).
Better still, Aurora Anguilla is home to the only golf course on the island—a recently renovated championship-caliber layout designed by Greg Norman. Stretching to 7,165 yards, the par-72 course offers sweeping views right out of the gate. The opening hole plays due south to a green complex framed by the Caribbean Sea and the island of St. Martin in the distance. A putting surface rivaling those expansive views greets players on the 2nd hole, a medium-length par three that plays over a saltwater lagoon to a 16,000-square-foot green that is positioned right along the ocean's edge and is shared by the 10th hole—a 590-yard par five that runs parallel to the two opening holes.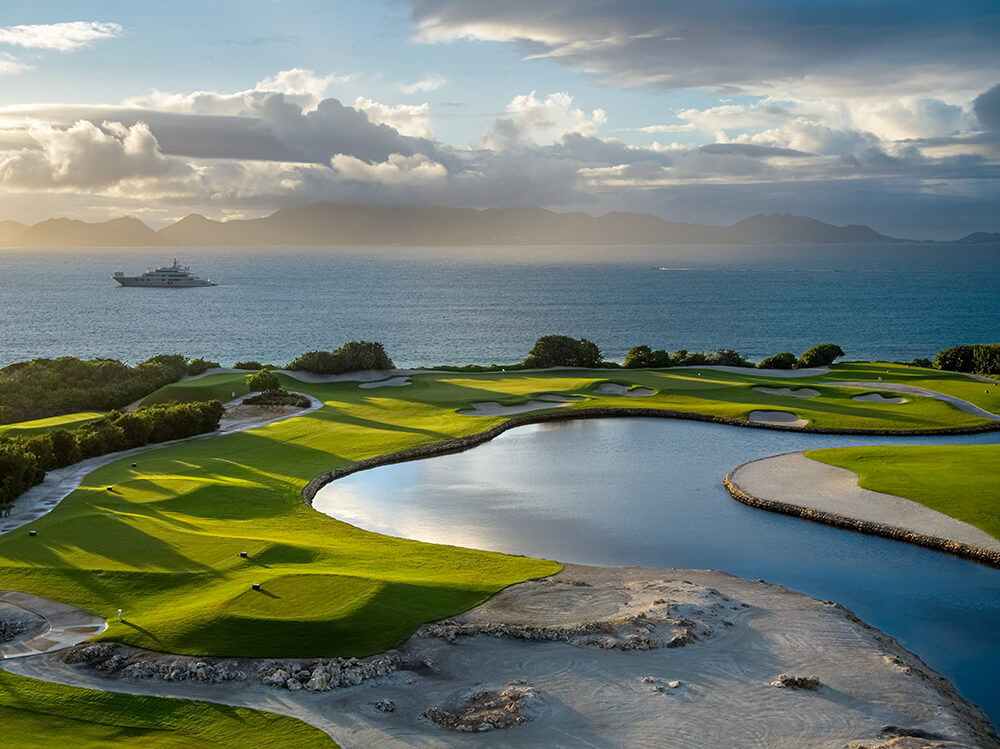 Featuring a beachfront water park, a 100,000-square-foot casino, and three high-end hotels, the Baha Mar resort on Nassau in the Bahamas offers something to suit every taste and interest. That includes golf. The expansive resort is home to a Jack Nicklaus Signature Golf Course, Royal Blue, which is designed with a unique, free-flowing tee system that allows the club's head pro and director of golf to reposition the course's only set of tees each day. Those changes can sometimes significantly alter how a hole plays, which means resort guests can book multiple rounds over consecutive days knowing the course will play drastically different one day to the next.
Most of the time, the course's Royal Blue tees will offer a total yardage between 6,400 and 6,500 yards, but as Director of Golf Andy Deiro explains, the length of each hole and the placement of each tee box is merely a suggestion for what he and his team believe will offer golfers the most fun on that particular day. "We're going to have a variety of some back tees, some middle tees, and some forward tees," he says. "But if you think it's too long or too short on any given hole, play from wherever you want. Just know that if you come back tomorrow, it will be a completely different golf course."
These days, Casa de Campo Resort & Villas is synonymous with golf—and for good reason. After all, the 7,000-acre gated resort community began back in the early 1970s with golf as its sole amenity; however, that 18-hole course was no ordinary layout. When Pete Dye visited the Dominican Republic's southeastern coast in 1969 to begin work on the course, he had more than a dozen course projects under his belt. That experience came in handy, as Dye spent a year and a half carving out the 7,263 yards that became Teeth of the Dog, a seminal creation for Dye and a coastal course that has served as the benchmark for all Caribbean golf courses ever since.
Today, Casa de Campo is home to a beach club, a shooting center, and a marina, not to mention tennis courts, an equestrian center, and plenty of other amenities for guests to enjoy. (A new destination spa is also set to launch in May 2023). The resort's nucleus, however, is—and forever will be—exceptional golf. With three options to choose from (Teeth of the Dog, The Links, and 27-hole Dye Fore) each Dye-designed golf course on property offers memorable holes and/or spectacular views, but the seven oceanfront golf holes at Teeth of the Dog are undeniably Casa de Campo's crown jewels.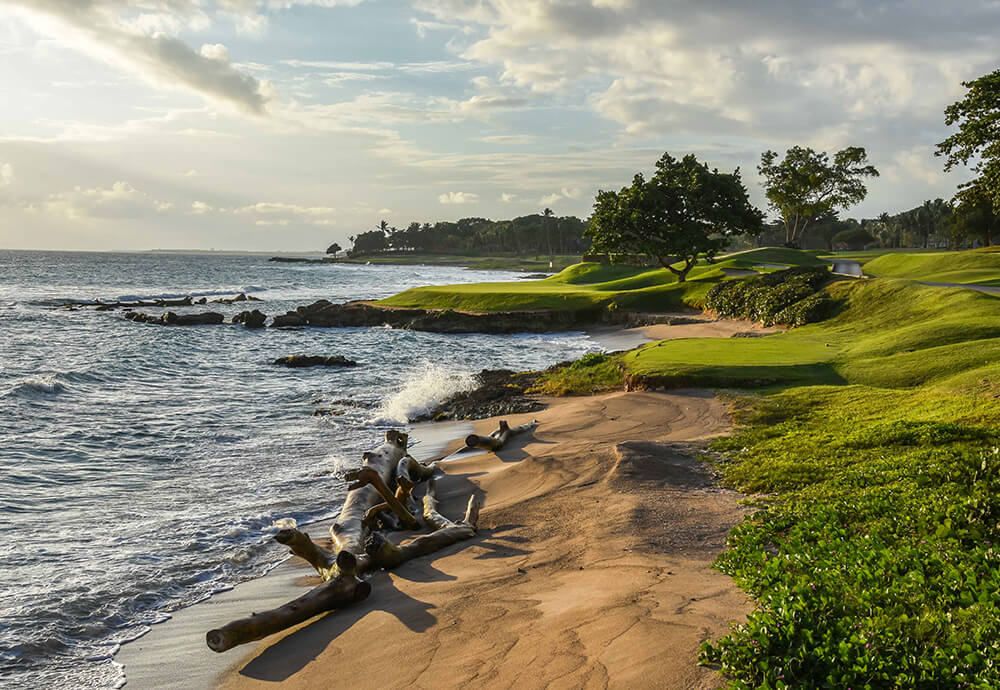 Set at the edge of a crescent-shaped beach almost half a mile long, Sandy Lane encapsulates everything you would imagine a luxurious Caribbean Resort to have. The 113-room property opened in 2001 after three years of construction during which the finest materials were shipped in from all corners of the world. The same attention to detail was paid to the resort's two championship-caliber golf courses, designed and built by Tom Fazio. According to Tom Marzolf, a senior design associate with Fazio Design, it cost $24 million to build the resort's Country Club course and $27 million to build the resort's famous—and private—Green Monkey course.
The Country Club course plays over exposed land with a smattering of small pot bunkers positioned in clusters. The course offers wide playing corridors to account for the wind that, as Marzolf acknowledges, "is always blowing." The Green Monkey course, by contrast, plays across a parcel of land that previously was used as a mine to extract the material necessary to build all of the roads on the island. The bold terrain was made even bolder, as Fazio carved the quarry's cliff sides into straight limestone walls. While the Country Club course is open to outside play, the Green Monkey course is extremely exclusive, so much so that the resort keeps a record of every person who has ever played it.
When visiting less-populated island nations in the Caribbean, where you stay becomes even more important. St. Kitts and Nevis, for example, is home to less than 55,000 people (based on United Nations estimates), but it's also home to a Four Seasons resort, which assures guests that they'll be able to get away from it all without giving up all of the luxurious amenities that they've come to expect on their vacations. Boasting a sumptuous spa and almost three miles of beachfront property (outfitted with eight cabanas), the resort allows guests to relax and unwind with ease.
Four Seasons Nevis also features a Robert Trent Jones II golf course, which meanders up and down the hillsides of Nevis Peak and plays along the edge of the Caribbean Sea. Some have described the course as "an oasis within an oasis," though it will certainly challenge golfers with dramatic elevation changes and thick jungle lining the corridors of many holes. Jones acknowledges that the site's natural terrain provides plenty of difficulty, so the course isn't overly tricked out with hazards. Some fairways feature clusters of small bunkers, and the greens are receptive with subtle breaks. Birdies can't be guaranteed, but as golfers make their way around the course's 6,766 yards, they're almost assured sightings of the island's green vervet monkeys.
Offering miles of sandy beach; an intricate, lagoon-like seaside pool (complete with posh cabanas); a boathouse equipped with sea kayaks and other water toys; an expansive destination spa; multiple tennis courts; a network of jogging trails; and other amenities, the St. Regis Bahia Beach Resort on the northeastern coast of Puerto Rico offers something for every sensibility. That includes the avid golfer.
The 139-room resort located 25 miles from San Juan is home to a 6,890-yard championship-caliber golf course designed by Robert Trent Jones II. Built on a site that was once home to a previous course, Bahia Beach's layout is the centerpiece of the 483-acre resort and features a series of natural lagoons and thick canopies of native maritime forest. Although the greens are welcoming with only gentle contours, getting to them is often where the difficulty lies. The putting surfaces here are protected by broad, flared-out bunkers and, as is the case throughout the Caribbean, ocean breezes often influence drives and approach shots.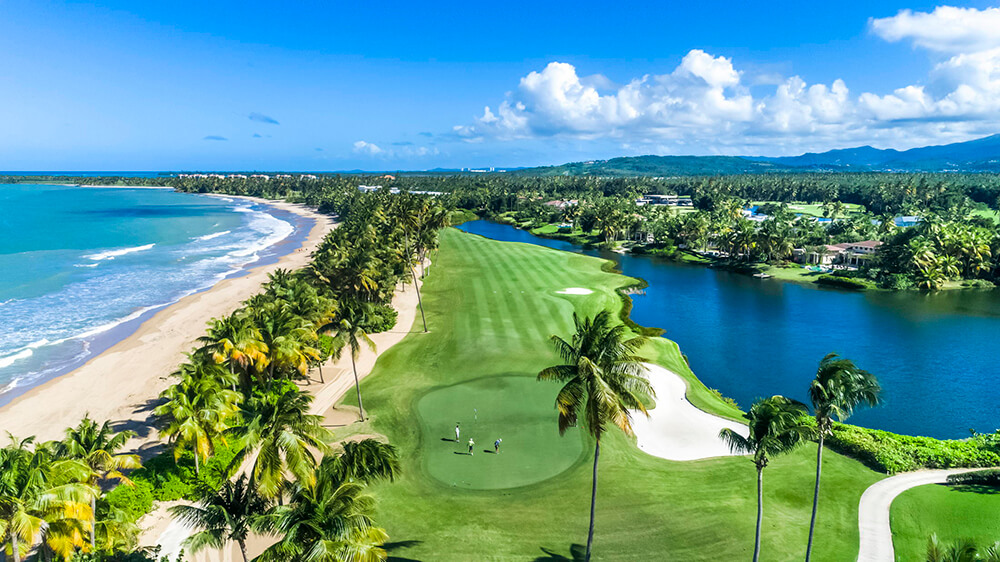 Set on the shores of Montego Bay, the Half Moon resort, a Salamander Hotel property, is the highest rated resort in Jamaica. The property offers a plethora of water-based activities and experiences, from scuba diving and snorkeling to deep sea fishing, parasailing, windsurfing, and pedal boats. Ironically, the resort's 7,120-yard golf course—originally designed by Robert Trent Jones Sr. and later renovated by Roger Rulewich—is almost completely devoid of water, save for a small pond guarding the left side of the 9th green. Running predominantly east and west, the course's 18 holes trundle across a former sugarcane estate and abut the base of a series of hills that look out over the resort and the ocean beyond. The course is easily walkable—a nice distinction given that so many Caribbean courses require golf carts—and while the layout lacks water hazards, the trade winds provide plenty of challenge.
Where is your favorite place to play golf in the Caribbean?