The southern suburbs of Chicago are the setting for the second round of the 2023 FedExCup Playoffs, contested on the North course at Olympia Fields Country Club. Coincidentally, 2023 has served as a notable year for "North" courses, both competitively and recreationally—the U.S. Open graced the fairways of the North course at Los Angeles Country Club in June, for example, while Tom Doak's anticipated North course at Te Arai Links in New Zealand is scheduled to make its debut this October.
Here, we spotlight a handful of North courses in the U.S. where memorable rounds are guaranteed.
The North course at Olympia Fields is as quintessential an example of American parkland golf as you'll find anywhere across the country. Stretching as long as 7,353 yards, the Golden Age layout, circa 1923, requires accuracy at all times, as its holes play through tight, tree-lined corridors and its diminutive putting surfaces are protected by copious amounts of sand.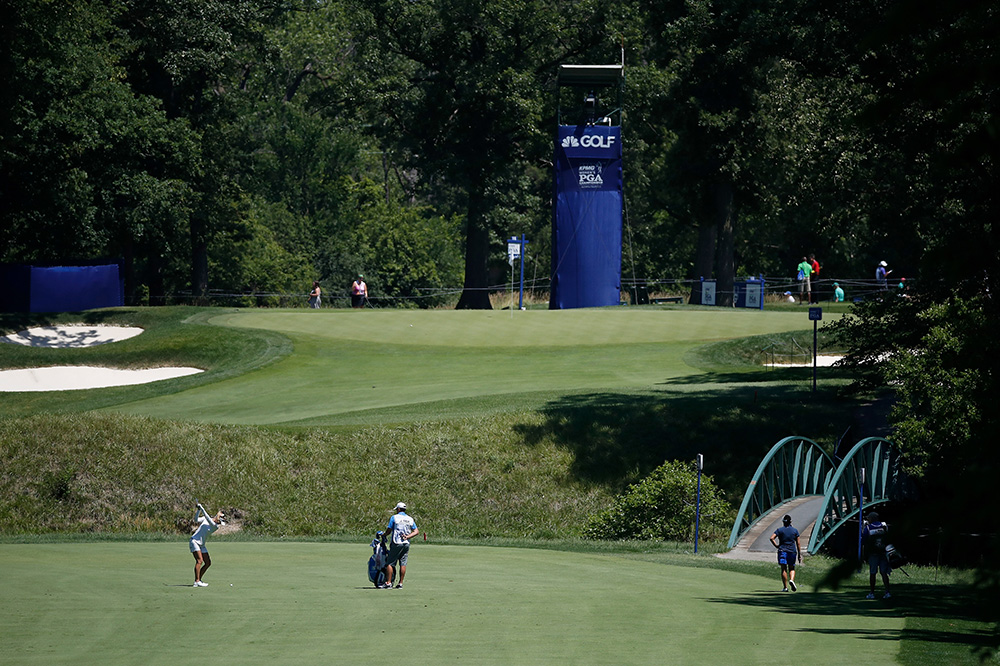 Routed across terrain that trundles gradually up and down (with no more than 42 feet in total elevation change), the course was deemed by its creator, Willie Park Jr., to be set upon the purest site for golf that he had ever seen. "I have examined thousands of places adaptable for the ideal golf course, both in Europe and America," Park once said, "but I have never seen a more natural setting for a championship course."
In fact, Park, who designed more than 170 courses through Europe and North America, described Olympia Fields's North course as: "the equal of any golf course I have ever seen, and I know of none that is superior, either in beauty or natural terrain."
When the U.S. Open was contested at LACC in June, the world got a glimpse of a classic, late-1920s golf course that was originally designed by George Thomas and more recently renovated by Gil Hanse and Jim Wagner—with the assistance of golf historian and author Geoff Shackelford. The layout that they polished, which opened for play in 2010, features generously wide fairways; however, those playing corridors are characterized by significant contours and slopes. "He figured a firm and hard golf course with all the tilted slopes and rolls…if you hit it on the wrong side of the fairway, the ground was going to take it in a direction you didn't want to go," Hanse says of Thomas's design philosophy.
Where they exist on LACC's North course, the bunkers reflect their original creator's distinctive style—one that featured finger-like extensions that protruded out from the sand trap's center, with bunker edges rimmed with shaggy, fescue grasses. That being said, the bunkers that Hanse and Wagner built on the North course aren't historically accurate to what Thomas initially created there. Instead, Hanse took inspiration from what Thomas had designed at other courses in the area, specifically at Riviera and Bel-Air. "Our representation was historically accurate in the way the holes were laid out, the green sizes, etc.," Hanse says. "But we took a little bit of artistic license in looking at a more evolved style of Thomas's bunkering. We felt comfortable presenting the evolved bunker style because, number one, we thought it was better and more dramatic. It was just the better version of Thomas."
Just east of Palm Springs, Calif., (and on the western edge of Joshua Tree National Park), sits The Golf Club at Terra Lago, a 36-hole property with a North course that is defined by significant elevation changes. Given those high and low points throughout the routing, the North course offers dramatic vistas, none more impressive than the view from the 7th tee box, which delivers a panorama showcasing the entirety of the Coachella Valley.
Built in 1999 by Brian Curley and Lee Schmidt, the 7,060-yard North course features numerous playing corridors framed by native desert areas. Although the fairways are well bunkered, the landing zones are generally wide and forgiving. Closer to the putting surfaces, players will encounter undulating green complexes that can be accessed through a variety of short-game shots. And, despite the layout's desert setting, players should also be prepared for the occasional water hazard—the most memorable of which defines the 15th hole, a par three with an island green that once featured prominently in a televised Skins Game played at Terra Lago during the early 2000s.
When William Tucker built a golf facility at the University of Mexico in 1942, it featured 27 holes. The 18-hole championship layout within those three nines exceeded 7,000 yards in distance, which set a precedent as the first course in the United States to do so. Twenty-five years later, a new Championship course was built at the university, which relegated those original holes into a supporting role. In time, they became known as the North course.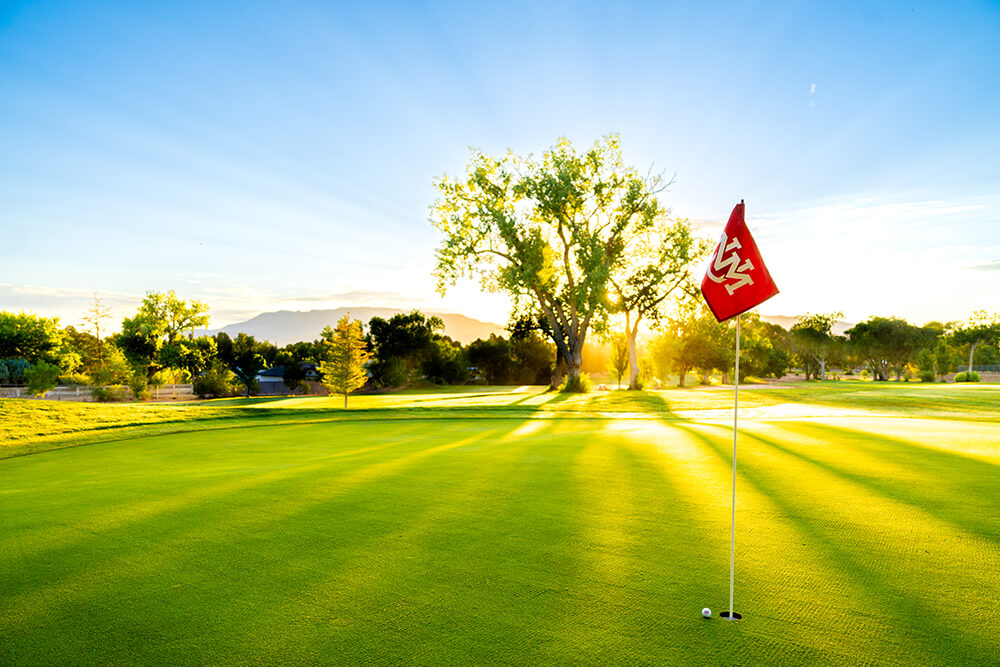 Today, only nine holes of the original North Course at the University of Mexico remain, but they benefited from an Andy Staples-led renovation in 2014. With narrow fairways and a plethora of mature trees that have grown up along the perimeter of its playing corridors, the North course is a stout test of golf, despite its length of only 3,333 yards. Given the notoriety of the university's Championship course and the North layout's location on the north side of campus, these original nine holes are often referred to as "Albuquerque's hidden gem" for golf.
Myrtle Beach National features multiple courses designed by one firm—in this case, the Arnold Palmer Design Company. Of the trio of layouts at the club, King's North is the property's flagship course, one that stands out as a must-play track along the Grand Strand, a 60-mile stretch of coastline in South Carolina that includes Myrtle Beach, as well as its neighboring communities to the north and south.
Upon arrival, visitors will know immediately who conceptualized the courses that they're about to play, as a statue of The King stands out on the lawn in front of the clubhouse. Known for his daring play, Palmer was a crowd favorite for often taking on difficult shots, and throughout a round on King's North, golfers will encounter many shots that will test their mettle, too. The 6th hole, for example, is a par five nicknamed "The Gambler," and its routing lives up to the name. The hole offers players two routes to take off the tee. They can hit out to the fairway on the right, which lengthens the hole but provides more margin for error with their drives. Or they can take aim at an island fairway to the left. Should those more aggressive tee shots land on solid ground, players will have a shorter distance into the green and could conceivably find themselves putting for eagle. Later in their rounds, players will also encounter a par three with an island green and a final hole punctuated by 40 bunkers with water in play down the right for the final 140 yards.
Talking Stick is home to two championship-caliber courses designed by the dynamic duo of Bill Coore and Ben Crenshaw. Set on a parcel of land that comprises a portion of the Salt River Pima-Maricopa Indian Community reservation, the two courses are ideal complements to one another, though the O'odham course—formerly known as the golf club's North course, which opened for play in 1997—is generally considered to be the more challenging of the pair.
Across its 7,133 yards, the O'odham course's fairways and greens are placed strategically near brush and other waste areas, which puts a premium on accuracy. While it offers a diverse mix of distances off the tee, the O'odham's long holes are undeniably that (some par fives can stretch more than 580 yards from the back tees, while some par fours exceed 470 yards). That said, the course can accommodate all levels of play. According to its designers: "Talking Stick's O'odham course, with its broad angular holes, rewards thoughtful play…. Its low-profile, slightly crowned greens and close-cropped approaches encourage running [shots] as well as aerial assaults."
Neither the Monument course nor the Pinnacle course was ever previously known as a "north" course; however, the two championship-caliber layouts are worthy inclusions on the list, as they serve as the foundation of Troon North Golf Club in Scottsdale. While it might be a bit of a stretch to include the property on this list, the experience that the golf club provides is deserving of the coverage.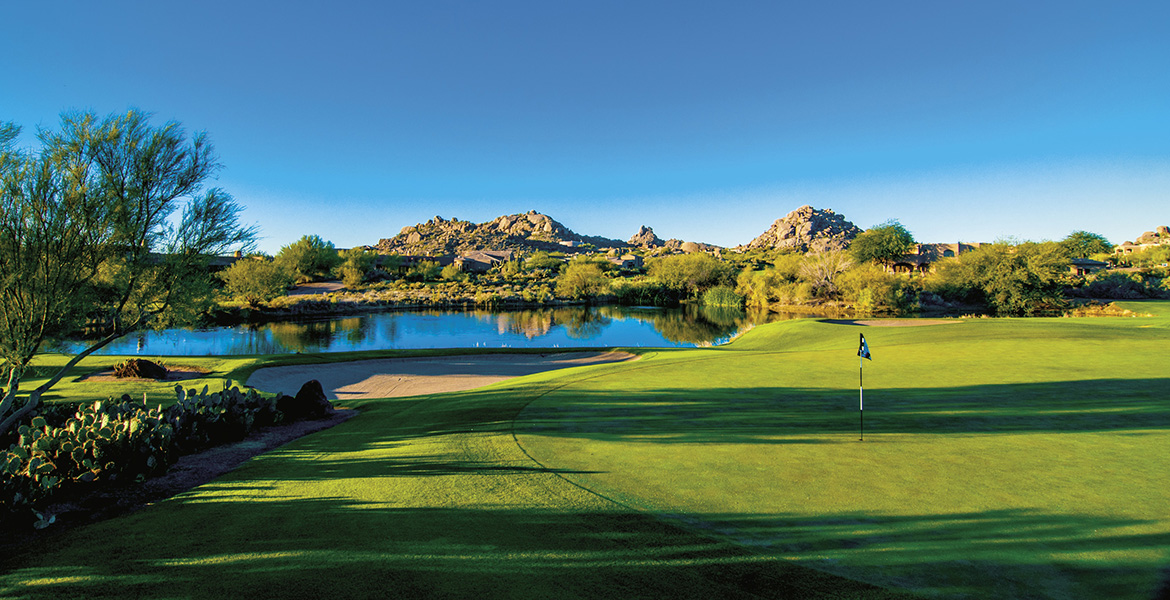 It starts with extraordinary playing conditions—impeccably manicured fairways and greens that golfers might otherwise expect to find only at exclusive private clubs. During Troon North's early years, those conditions were maintained in part by relegating golf cart use only to the courses' paved pathways. Today, players in golf carts aren't limited only to those paths, and the club recently renovated its Bentgrass greens. By itself, that turf provides an exceptional experience since it produces an ideal putting surface; yet Troon North remains one of the area's only daily-fee golf clubs to feature it, mostly because the club's location in the cooler high hills makes for easier maintenance.
Troon North also offers guests the option of taking a forecaddie. During a three-hour block of time in the high season (mid-January through May)—when daily rates at the club exceed $300—those caddies are mandatory, but their fees (along with range balls and golf cart use) are included in the price. "It's another level of service that we can offer to our guests," says Brian Thorne, the club's general manager. "We're so fortunate to have two spectacular courses, but they're not the easiest to play. Our forecaddies add to the experience."
What great American "north" courses did we miss?