When talking about golf courses in the far north of France to a largely American audience, the term "hidden gem" may be a little redundant. We know many readers are keen travelers and like to experience the game away from home, but it's likely even the most intrepid won't know the golf on the Brittany, Normandy, or Hauts-de-France coastlines well enough, or visit them often enough, to go looking for tiny, out-of-the-way courses on a whim.
It means even the coast's top layouts are effectively hidden, so we can legitimately list the best. If you're heading to the Normandy beaches, Paris, or perhaps crossing the border into Belgium to visit the wonderful medieval city of Bruges, a game at any of these French courses (moving west to east) will certainly elevate your trip.
Dinard
Like a lot of early golf courses around the world, Dinard was formed by British servicemen who couldn't live without sport. Having retired to the Brittany coast, these army officers found 125 acres of suitable ground for a golf course four miles west of Dinard and hired Scotland's Tom Dunn to lay out the course which opened in 1887, making it the second oldest in France (31 years Pau GC's junior). There have been several revisions to Dunn's layout, but it's still a thrilling walk with a number of memorable seaside and clifftop holes, and it has an outstanding clubhouse. http://dinardgolf.com/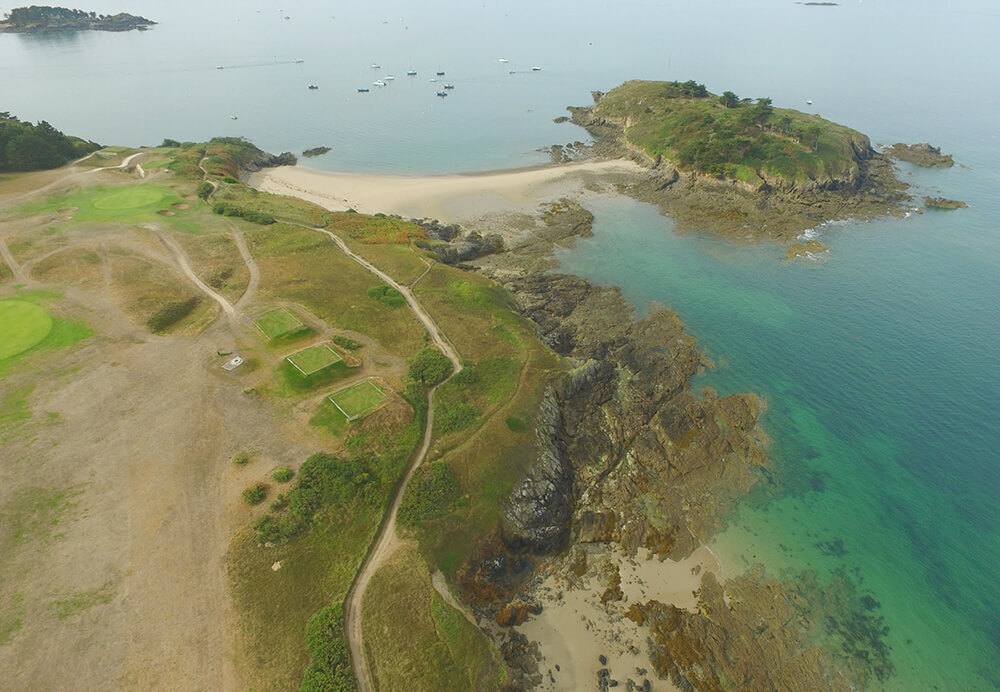 Granville
Outside the UK and the Republic there are precious few instances of pristine duneland on which golf is played, but the game has been enjoyed here on the dunes at Bréville-sur-Mer since 1912. When England's master architect Harry Colt was engaged to redesign the course following the First World War, it became something altogether different. Martin Hawtree made a few changes in the early '90s and, since 2006, French-based English architect Stuart Hallett has worked hard to restore Colt's magic and bring back links characteristics that had been lost to time. https://www.golfdegranville.com/links-of-granville-1912/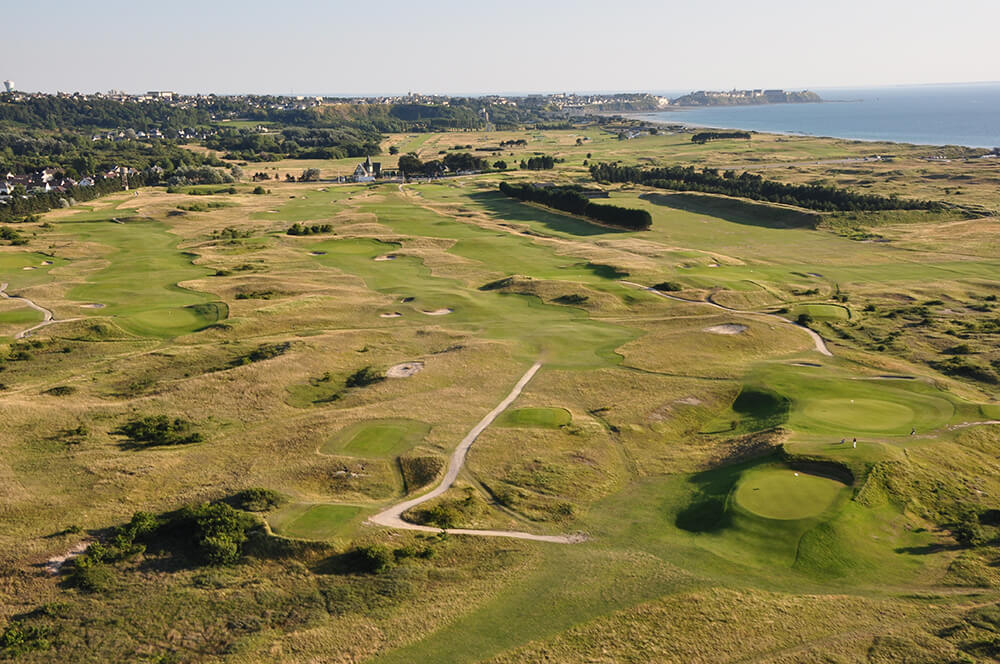 Étretat
The golf club at Étretat, about two hours east of Omaha Beach, was founded in 1908 and counted a number of English dukes and earls among its original membership. The course's 13 holes (five were played twice) were laid out by Julien Chantepie and Arnaud Massy, who had won the Open Championship at Hoylake the year before the course opened. A few changes have been made, most notably by Didier Fruchet in 1992. The front nine is a little pedestrian perhaps, but the course strikes a totally different note on the back as you move along the chalk cliffs with views of two magnificent arches: Porte d'Aval and Porte d'Amont. https://golfetretat.com/
Belle Dune
The southernmost course on the Côte d'Opale's (Opal Coast) splendid stretch of linksland was built by the Syndicat de la Côte Picarde, a governmental organization seeking to boost economic, cultural, and ecological interests in the Baie de Somme (Somme Bay) area. It opened in 1992 in the Marquenterre Reserve, a 200-acre park characterized by forests, marshes, and impressive dunes through which Jean Manuel Rossi's magnificent course moves. https://www.baiedesomme.fr/lieu/1-11-0-golf-de-belle-dune
Le Touquet (La Mer)
In 1903, Le Touquet Syndicate Ltd. purchased the fashionable town of Le Touquet and bought grand hotels and casinos as well as sport—tennis, cars, horses, dogs, cricket, and golf. Horace Hutchinson designed La Forêt (The Forest) Course which opened in 1904, and 27 years later Harry Colt and design partner C.H. Alison's celebrated La Mer course debuted. It hosted five French Opens, the last in 1976; in 2015, Holland's Frank Pont and Frenchman Patrice Boissonnas completed a renovation that made La Mer French Open-worthy once again. https://www.letouquetgolfresort.com/fr/
View this post on Instagram
Hardelot (Les Pins)
About 25 minutes north of Le Touquet is the popular seaside resort town of Hardelot-Plage where John Whitley first created nine holes in 1905, with the opening tee shot playing from one of Chateau d'Hardelot's towers. By the end of the decade Hardelot turned to Tom Simpson to lay out an 18-hole course among the dunes and through the pines. It was much in need of Pont and Boissonnas's deft renovation skills by 2012—together, they removed 3,000 trees, expanded the greens to their original sizes, and rebuilt the bunkers reviving Simpson's artistry. https://www.hardelotgolfclub.com/fr/
Wimereux
The Boulogne Golf Club began playing nine holes at Wimereux within a racecourse in 1901. Following WWI, Guy Campbell and Cecil Hutchinson were asked to extend the course to 18 holes. This authentic links with wonderful views over La Manche (English Channel) and Fort d'Ambleteuse has become an essential part of an Opal Coast golf trip. http://www.golf-wimereux.com/
Have you played any of our hidden gems in France?