As great golf properties go, a lineup of multiple courses to play is a must. But this isn't strictly a numbers game. It's one thing to offer numerous layouts, but it's another when those courses also showcase varied styles of architecture. What was in vogue in the 1960s, for example, will starkly contrast with what was conceived several decades later. In that way, the most diverse golf properties not only bring you onto distinctive courses, they bring you back to notable eras in history. Here, we spotlight seven that do just that.
The Eden Course in St. Andrews, a Harry Colt design from 1914, is a classic links layout that epitomizes the notion of creating a golf course in tandem with Mother Nature. In other words, make the best of what the land provides. Doing so required Colt to implement a quirky routing on the front nine, where the 5th and 8th holes—two par threes of short and medium length, respectively—essentially play from adjacent tee boxes to parallel greens, meaning the two holes effectively form a narrow X when viewed from above. Moderate-size hillocks and the occasional pot bunker reinforce the honest links character of the course, one that produces a relaxing round of golf through stretches of pastoral terrain.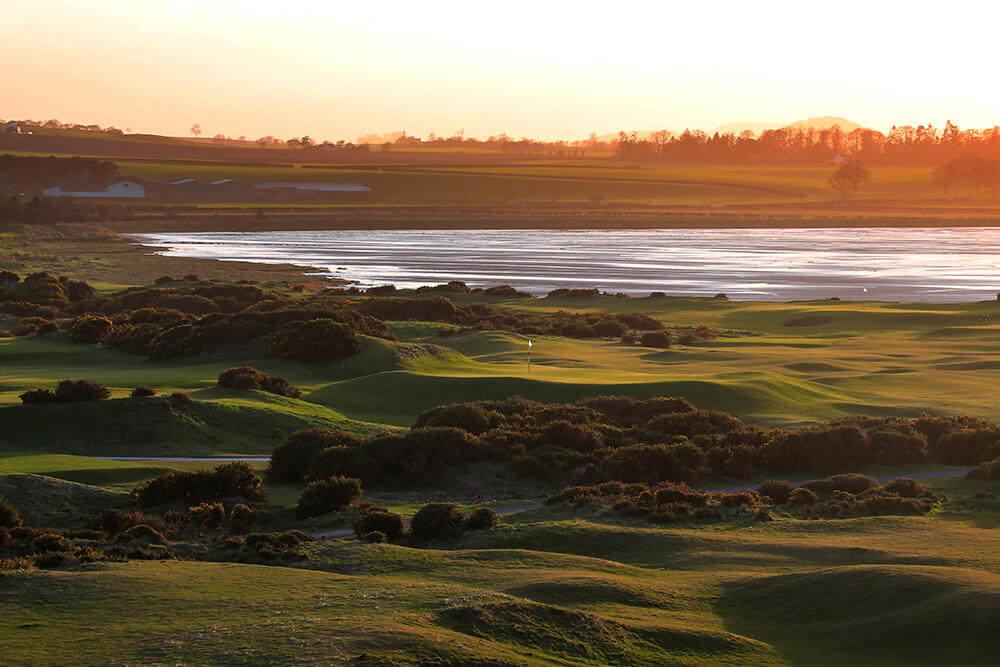 Set atop a bluff on the opposite end of town a few miles away, the Castle Course, designed by David McLay Kidd in 2008, exemplifies the possibilities of links course construction in the modern age. Kidd took what was once a barren and uninteresting parcel of defunct farmland and sculpted it into a polarizing golf course. Initially, the greens featured extreme contours to the point that first-time players often were warned that three-putts should be seen as a victory. The course has since been softened in spots—certainly across all putting surfaces—but its greatest feature remains the dramatic vistas that it offers of the North Sea and the city of St. Andrews.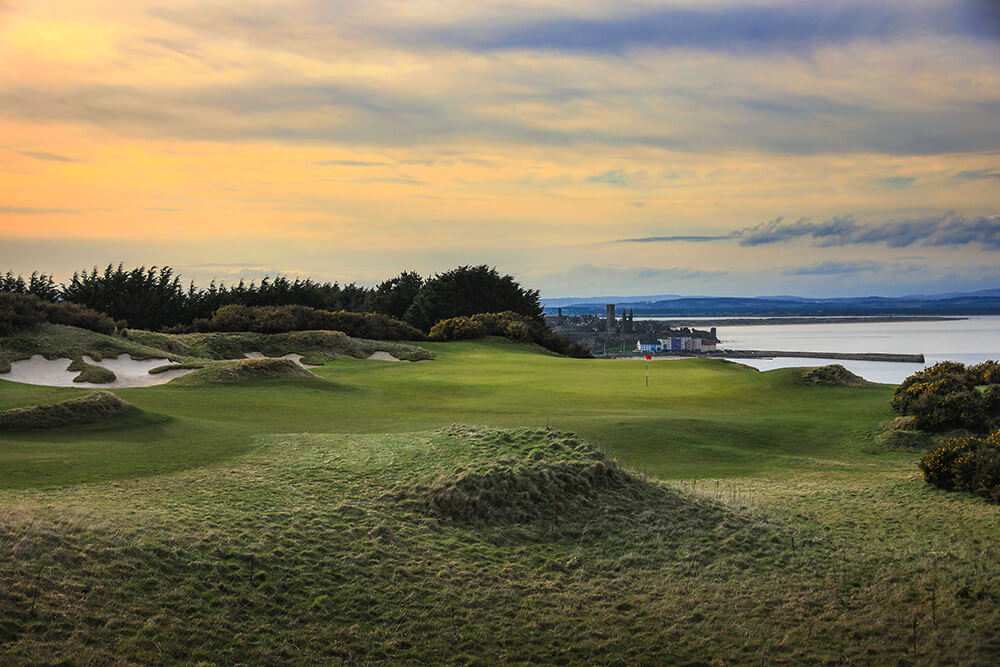 Donald Ross and Pete Dye both implemented design features that, in time, became signatures of their courses. In many respects, those features also encapsulated the eras in which those layouts were created. At French Lick Resort, the contrasts are striking, as the two courses were designed and built almost a century apart. The Ross course, created in 1917, prominently showcases golden age design philosophies that emphasized fitting a golf course—and its 18 individual holes—into (and onto) the parcel of land upon which it was built. For example, most green complexes are placed up on top of the rolling hills, making them more difficult. Given that location, the Ross course's greens slope drastically from back to front with steep run-offs on many sides. Ross purists will often point to French Lick as a site that features some of the designer's most difficult putting surfaces.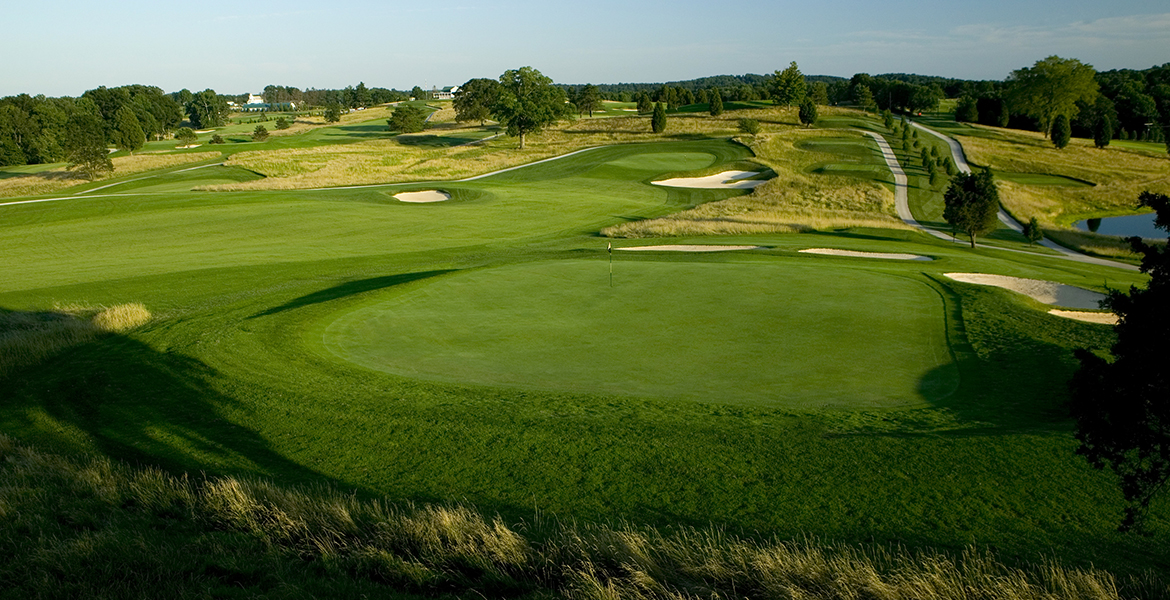 Built in 2008, the Dye course reflects a golfing era where athleticism was redefining how the game was played at the highest levels. As such, this championship course was designed to be a beast. Narrow fairways require precision off the tee, and the course is strewn with Dye's signature potpourri of bunkers—classically small pots, volcanos, and long skinny expanses of sand. The course's design also showcases Dye's affinity for creating visual illusions, especially off the tee. And then there's the length. From the tips, the Dye course trundles just over 8,100 yards, with five par fours playing more than 500 yards long. "He always argued that the ball and the equipment go too far," Dave Harner, the resort's director of golf, says of Dye. "He built this golf course assuming that no change would be made and in 20 years, 8,102 yards would be fine. It's a futuristic play, not a devilish play."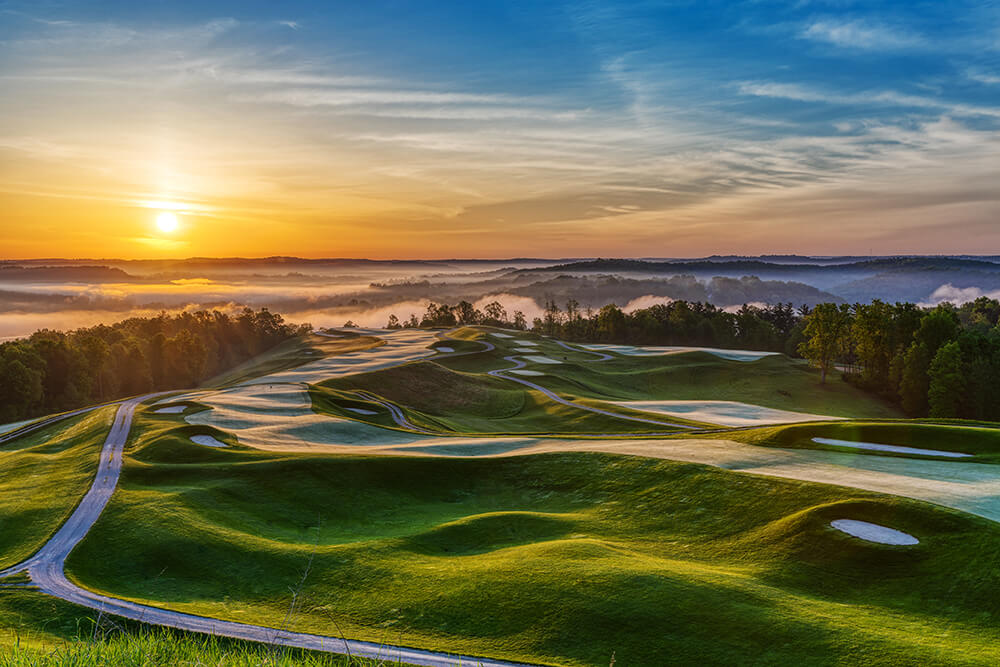 Golf course architecture during the 1960s embraced vast, sweeping courses with big fairways and equally large fairway bunkers that were positioned adjacent to landing areas in a somewhat formulaic way. Pete Dye pushed back against that, and in 1970 he sparked a new era of course design with the creation of Harbour Town Golf Links, a layout that was carved through corridors of live oaks and required precise shotmaking. "When Pete was starting Harbour Town," says Tom Doak, "he was living close by a course by Robert Trent Jones, and every day he drove past it, he became more convinced he should do something radically different than that—that he owed it to golf not to just follow the same path as everyone else." Those changes included small pot bunkers and tiny troughs of sand—hazards that Dye saw and fell in love with on trips to Scotland—as well as long splashes of sand including an expansive tract on the 16th hole that gave birth to the term "waste bunker."
Forty-six years after Harbour Town opened for play, Davis Love III and his brother, Mark, unveiled Atlantic Dunes, a redesign of Sea Pines Resort's Ocean course—the first golf course built on Hilton Head Island. "We didn't want to try to outdo Harbour Town," Love III recalls. "A big theme there was to keep it friendly." That reflects the era in which the redesign occurred, as more and more courses in the last decade have been conceived with the average player in mind. In other words: room to miss it off the tee and green complexes with bailout areas that offer options for recovery. The course incorporates slightly elevated edges on either side of the playing corridors for each hole, which promote helpful bounces for errant shots, and the putting surfaces were conceived with moderate green speeds in mind. "All of the golden age courses feature a lot of movement in the greens, and that's fun," says Mark Love. "Say you hit an approach shot—maybe you pull it a little bit—but then you watch the ball catch a slope and run 30 feet to the right. Now you're close to the hole. A little bit of movement makes it more challenging for the good player and it makes it more interesting and fun for everyone."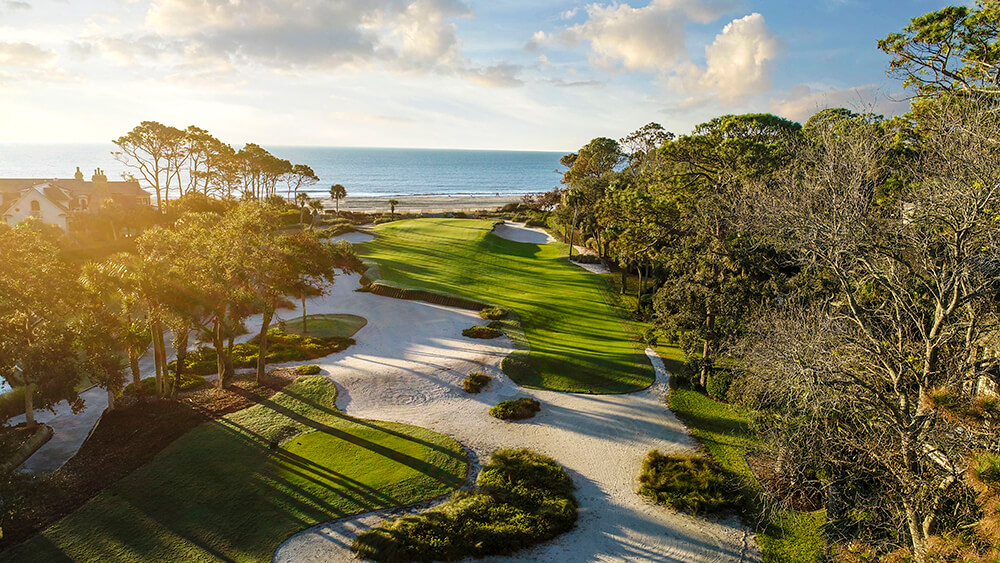 The Old course at Les Bordes Golf Club, about two hours south of Paris, was designed by Robert von Hagge in 1986 and routed across a bog-like parcel of land. Because of that, fairways and green complexes had to be built up, not unlike what Pete Dye orchestrated at TPC Sawgrass when he built the Stadium course six years earlier. Both courses reflect a theme that many golf design projects during that decade upheld—they built courses that were both striking and terrifying in their landscapes. "It's very much target golf," Jack Laws, the club's director of golf, says of a round played on the Old course. "Shots are really played through the air. It's a contemporary-style golf course with large bunkering and it's synthetic in ways with some large lakes that were built by von Hagge."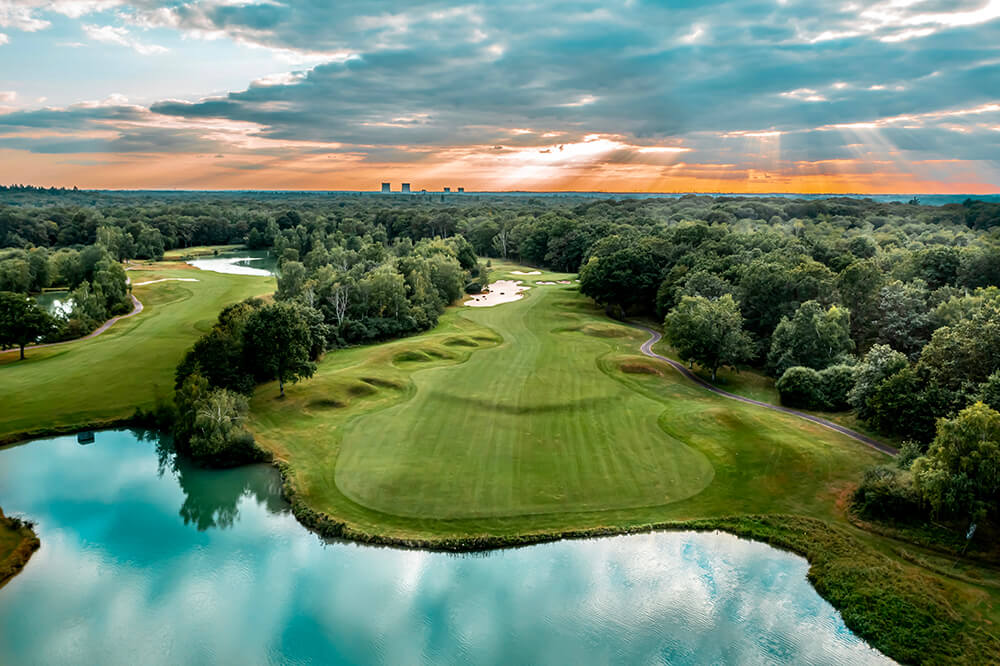 The club's New course, by contrast, encapsulates the modern-day interest in building golf courses in the style of the early 20th century. Designed by Gil Hanse in 2021, the 7,285-yard layout is routed across sandy terrain with fairways and greens built into the land, not above it. "The vegetation, sandy soils, pine trees—it's just the total opposite character to what we have with the Old course," says Laws. "The ball will bounce and release and skid across the fescue grass, so we get these two strikingly different golf courses that are both great."
A visit to Pinehurst can almost serve as a travel back in golfing time, but not just to one era. Take, for example, a round played on course No. 1. It may not get the fanfare that some of its successors have enjoyed, but the early Donald Ross design often leaves players beaming as they walk off the 18th green. Built in 1901, the course is routed in a way that makes it clear how golf design operated at the turn of the 20th century. Most doglegs are gently curved, hills are often tackled head on—it was too laborious then to move significant amounts of dirt—and many greens sit level with the fairways, which allows players to utilize the firm ground of North Carolina's Sandhills to bump-and-run shots onto the putting surface if and when they need to.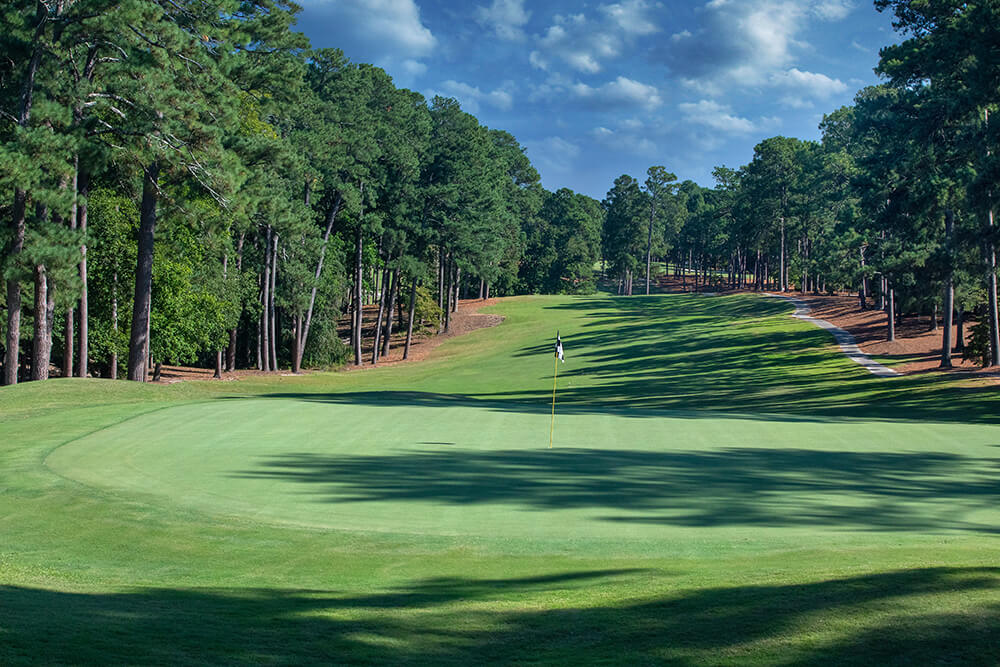 Eighty-five years later—and one mile to the east—Rees Jones designed the 7th course at the resort, which perfectly encapsulates the style of course architecture at the time. Most holes on the 7,216-yard layout commence from elevated tees, play down into valleys, and require players to hit uphill to elevated greens that are well-guarded by trouble. The '80s were all about difficulty, and course No. 7 is walkable proof—well, that's not true. You could walk the course, but No. 7 also reflects a time when courses were built with golf carts in mind.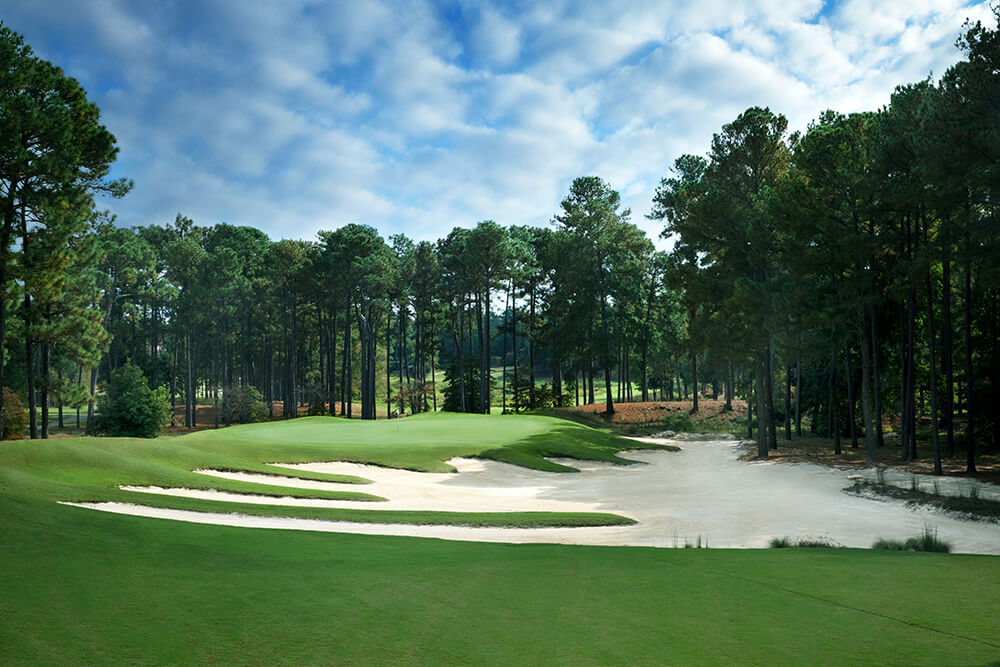 Playing through tight, conifer tree-lined corridors, The Heather—a Robert Trent Jones Sr. design, circa 1966—serves as a golfing time capsule at The Highlands in Harbour Springs, Mich. The 7,143-yard layout is characterized by heavily bunkered green complexes and expansive water hazards that penalize wayward shots on more than half of the par threes and par fives. It's a course that is equal parts idyllic and demanding, and it effectively encapsulates the distinctive style of mid-century course architecture.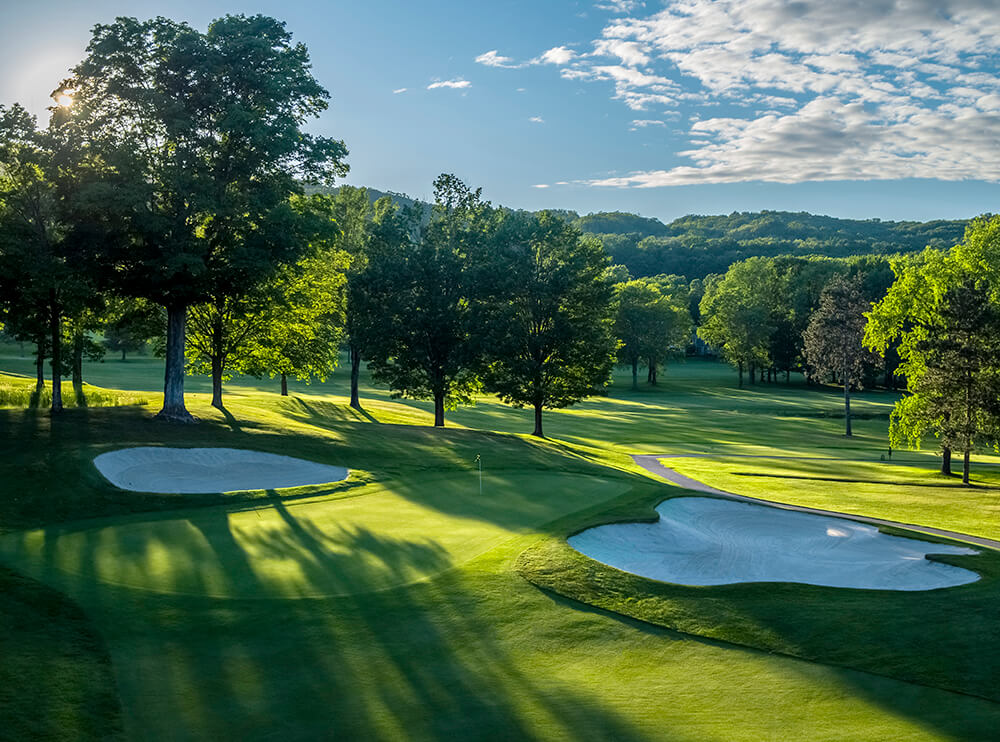 By contrast, the eponymous Arthur Hills course, designed in 1995, is a snapshot in time when course design ideologies were beginning to shift. An emphasis on difficulty, which characterized much of the 1980s, was slowly giving way to the recognition that resort courses needed to better reflect the ability levels and the expectations of the golfers who would be playing them. With that in mind, Hills constructed wide fairways dotted by a modest amount of bunkers; however, many of the holes get tighter as players approach the greens. The greens themselves feature bold contours, which ratchets up the difficulty, and several of those greens are elevated—further evidence that "defense against par" was still top of mind.
When Tripp Davis began his redesign of Atlanta Athletic Club's Riverside course, which reopened in 2022, the impetus of the job was entirely related to infrastructure. With that came an opportunity to transform the golf course in terms of how it looked and played. As Davis said at the grand reopening of the course, the focus was to make it more interesting and fun, but for it to still have the potential for a challenging setup if and when it hosts significant championships. The course now boasts fewer (and smaller) bunkers—Davis reduced the surface area for bunkers by about 50,000 square feet. He also rebuilt the greens to be smaller but included short-cut collection areas around the greens that allow for manageable recovery efforts. The course's new greens also look less imposing than they were before, but they're no less challenging.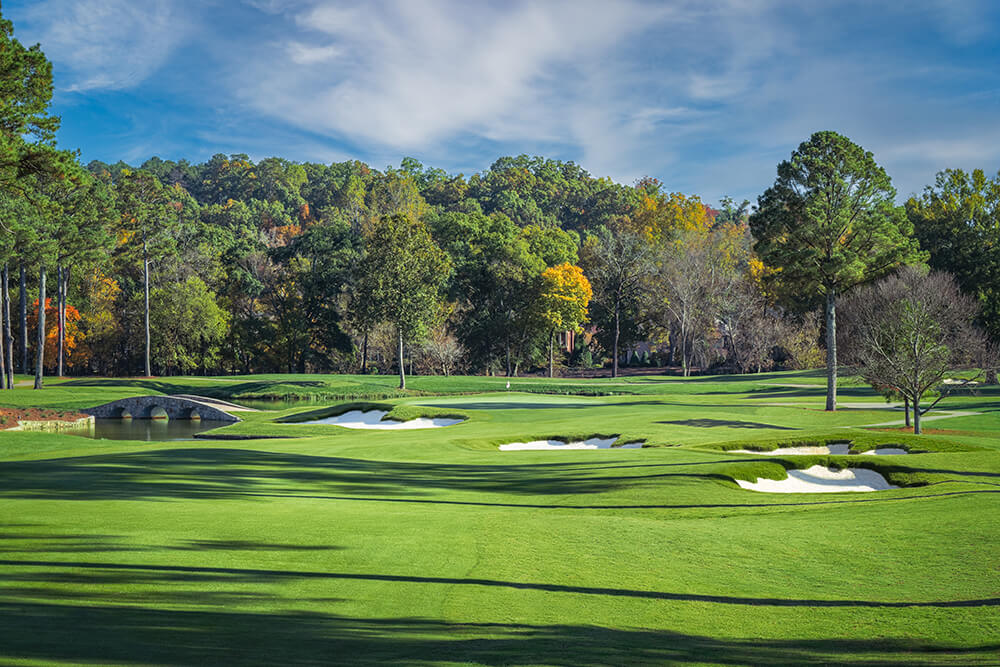 A round played on AAC's Highlands course, by contrast, introduces many of the features and design characteristics that Davis was intent on changing with his Riverside redesign. For example, Highlands—which was co-designed by Robert Trent Jones Sr. and Joseph Finger in 1971—requires players to navigate bold contours on the greens. Getting to many of those greens also requires forced carries over hazards or deep and expansive greenside bunkers. Although renovated multiple times by Rees Jones throughout the decades, the club's flagship championship layout still reflects the ethos of many course architects during the 1960s and '70s: Several times throughout the round, you will be faced with shots that force you to take on penal areas where only two outcomes exist—success or failure.
Have you played at any of these golf properties? Tell us about your experience in the comment section.