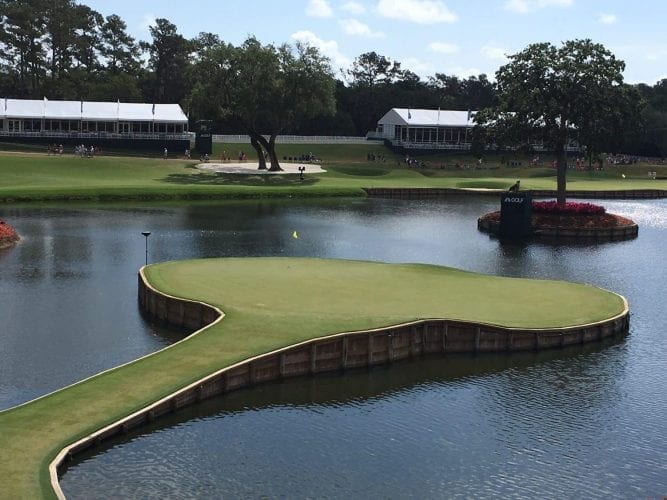 Despite playing at just 137 yards, the par 3 17th at TPC Sawgrass is one of the most exciting and nerve-racking holes in all of golf. Take a shot that is normally just a pitching wedge or 9 iron for pros and surround it by water and you have one of the most famous holes in all of golf.
While there were 68 birdies this week at the 17th hole, there were also 69 water balls. Skratch provided a full breakdown of every shot that was hit on 17 this week:
Week in review at 17…

Balls in the water: 69
Eagles: 1
Birdies: 68
Bogeys: 51
Doubles: 38
Others: 12 pic.twitter.com/4cRyjkthK3

— Skratch (@Skratch) May 14, 2017
Here is a look at some of the most memorable, and strangest shots that ended up in the water on 17 this week.
Martin Laird was the first to step foot on 17 on Thursday, he was also the first to put a ball in the water:
We're 1 for 1 at the island on Friday.

🌊🌊🌊🌊🌊
🌊🌊⛳️🌊🌊
🌊🌊🌊🌊🌊#QuickHits pic.twitter.com/uABtxrlWZs

— PGA TOUR (@PGATOUR) May 12, 2017
On Friday, the group of Zac Blair, Blaine Barber, and Tyrone Van Aswegen all found the water on 17. The group put a total of 5 balls in the water on the hole, with Blair putting 3 in on his own:
147-yard par 3.

It's now playing as the hardest hole today.

This group added 5 water balls to the count. #QuickHits pic.twitter.com/BSHm81Naol

— PGA TOUR (@PGATOUR) May 12, 2017
On Saturday morning, Ben Crane put two in the water before hitting the third onto the green and receiving a standing ovation:
Bulkhead to water? Sure.
Flag to water? Unlucky.

Both back-to-back? That's @bencranegolf's Saturday at No. 17. pic.twitter.com/LJHvoy2eC2

— PGA TOUR (@PGATOUR) May 13, 2017
Not everyone struggled on 17 this week though. Kyle Stanley played the 17th four times this week, birdieing it all four times. Then there was Sergio Garcia, who had the shot of the week on 17 on Thursday:
The loudest roar of the week.#MustSeeMomentshttps://t.co/cIVC2ngtK8 pic.twitter.com/geWmhM037c

— PGA TOUR (@PGATOUR) May 13, 2017