Golf is among the most traditional of games, with a history that dates back hundreds of years. But technological advances continue to change the way golf is played, taught, learned, analyzed, and consumed—all in the name of improving the overall experience.
Think of the evolution in golf equipment in just your lifetime, from clubs and balls to distance-measuring devices, indoor golf simulators, and the latest apps to track… well, just about anything.
We golfers are on a never-ending quest for improvement and so much in the name of technology is geared to precisely that end. Looking beyond the latest in golf club design and composition, here's a rundown of six newer tech products worth knowing a bit more about.
deWiz
There are seemingly as many training aids on the market as there are different types of swings out there, and that's saying a lot. But this high-tech wearable is a unique way of introducing learning stimuli based in motor learning. Rather than complex swing analysis tools or flight monitors, deWiz tracks the position of direction of a user's hands throughout the swing and offers instantaneous feedback via a tickling electric pulse on the wrist. Essentially, this wearable helps golfers figure out the problem points of the swing—whether it's tempo, swing plane, transition, or backswing length—and can reduce the time needed to make fixes. https://dewizgolf.com/
Arccos
Arccos has been around for a while, relatively speaking, since introducing the first fully automatic shot tracking platform for recreational players. The company continues to forge partnerships with club manufacturers for its sensors, most recently adding TaylorMade to a lineup that also includes PING and Cobra. But one of the most recent Arccos updates is allowing users to select the specific brand of golf ball they're using before they start a round. The Arccos mission is allowing golfers to optimize performance and make better decisions through data and AI, so while the "ball used" feature is still in initial data collection stages, the implication is that it will be able to help users better understand individual differences between ball selection and performance. https://www.arccosgolf.com/
Precision Pro Golf—ACE Speaker
ACE in this case stands for "Audio Caddie Experience." Golfers don't even need to look at their phones during a round, as this smart speaker relays data via Bluetooth from the Precision Pro Golf app, providing standard and slope-adjusted distances without the need of a standard rangefinder. The ACE displays and announces yardages to the front, middle, and back of the green, smoothly vocalizing GPS distances over anything that's being played—music, podcasts, or other audio. The unit even allows users to activate various audio celebrations—ideally after a playing partner's swing—with a feature the company jokingly calls the "Bababooey Button." That feature might not be for everyone, but with a battery life of up to 24 hours, ACE's performance extends far beyond the golf course. https://www.precisionprogolf.com/product/ace-smart-speaker/
V1 Pressure Mats
One of the growing trends in sports is the study of ground force and this is particularly true when it comes to the golf swing. V1's portable pressure mat captures data on pressure, velocity, and dynamic force throughout the golf swing to help golfers improve—from the ground up. The V1 Pressure Mat can be used on any lie on the practice range or on the course and, combined with video analysis, golf instructors are using it to provide golfers with immediate data and feedback. Among the investors is Black Cat Ventures, the golf technology fund started by Michael Jordan. https://v1sports.com/hardware/pressure-mat/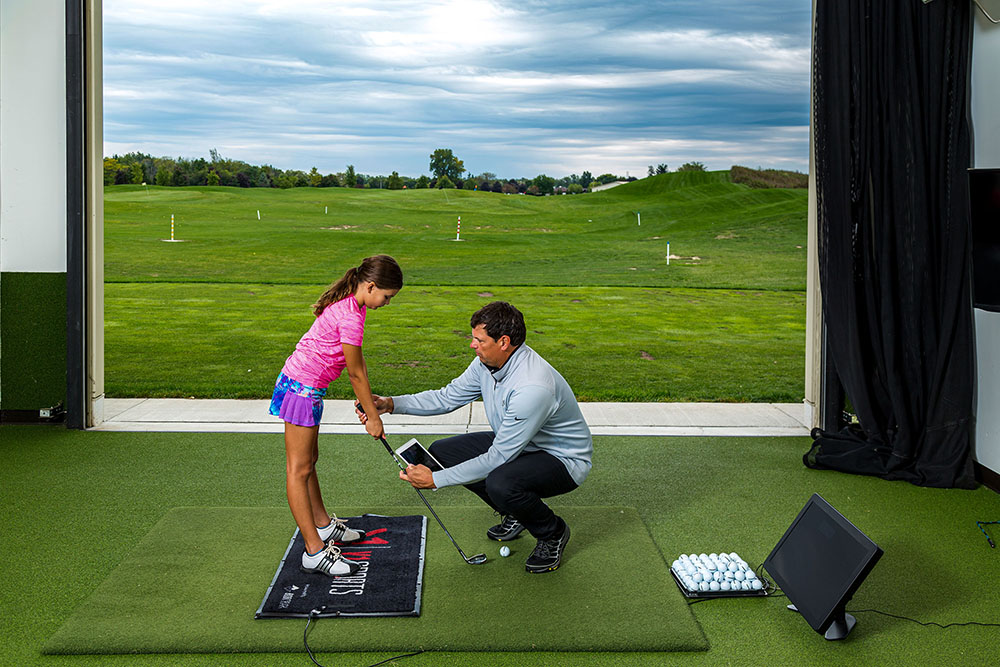 Shot Scope PRO LX+
A first-of-its-kind rangefinder, the PRO LX+ combines three innovative devices into one unit. There's a fast-firing laser rangefinder optimized for stability and accuracy, a GPS that's loaded with 36,000 golf courses, and a built-in performance tracker. The GPS can be detached from the laser (which has a 900-yard range) and used independently—attached to a player's golf bag, stuck to a cart with a powerful magnet, or clipped onto a belt. As technology has continued to emerge as more of a factor on the golf course, research indicates that golfers often rely on multiple GPS distance and tracking devices. The aim of the PRO LX+ is to provide these multiple products in a single system. https://shotscope.com/us/products/golf-rangefinders/pro-lx-plus/
FlightScope MEVO+
Not much bigger than a cell phone, FlightScope's Mevo+ launch monitor and golf simulator offers professional quality at a price point more suited to recreational players. At a fraction of the cost of high-priced launch monitors, it's designed to help golfers improve their swing, while also incorporating gamification and entertainment elements. Mevo+ provides instant visual feedback for its 3D Doppler Tracking Radar technology, which measures parameters such as carry distance, ball and clubhead speed, smash factor, spin rate, angle of attack, roll and total distance, apex height, and flight time. It's little wonder FlightScope's products are used by a growing number of professional players and top instructors. https://flightscopemevo.com/