A beguiling blend of value-oriented classic tracks and modern marvels makes for a surprisingly strong golf destination
For decades, Cleveland took its knocks from comedians and talk show hosts. These days, the Rock and Roll Hall of Fame, an NBA Championship, and a vibrant downtown have helped shed some of the insults. With its Midwestern virtues and myriad attractions museums, pro sports, Lake Erie), Cleveland offers a unique ambience—as well as a collection of enticing, affordable public golf courses.
Although the majority of Cleveland's must-play public layouts reside in the eastern suburbs, we'll begin our tour from the city center, where you'll find excellent hotels, restaurants, the Museum of Art, and the stadia that house the Browns, Guardians, and Cavaliers. Our first golf stop, 19 miles east of the Cleveland Guardians' (FKA Indians) Progressive Field is Manakiki, a venerable 95-year-old muni designed by Donald Ross. Operated by the Cleveland Metroparks, Manakiki boasts a wooded, variety-filled routing and stout tests at the 443-yard par-four 8th and the 205-yard par-three 15th. Cary Middlecoff won the PGA Tour's Carling Open here in 1953 and Julius Boros captured the title in 1954.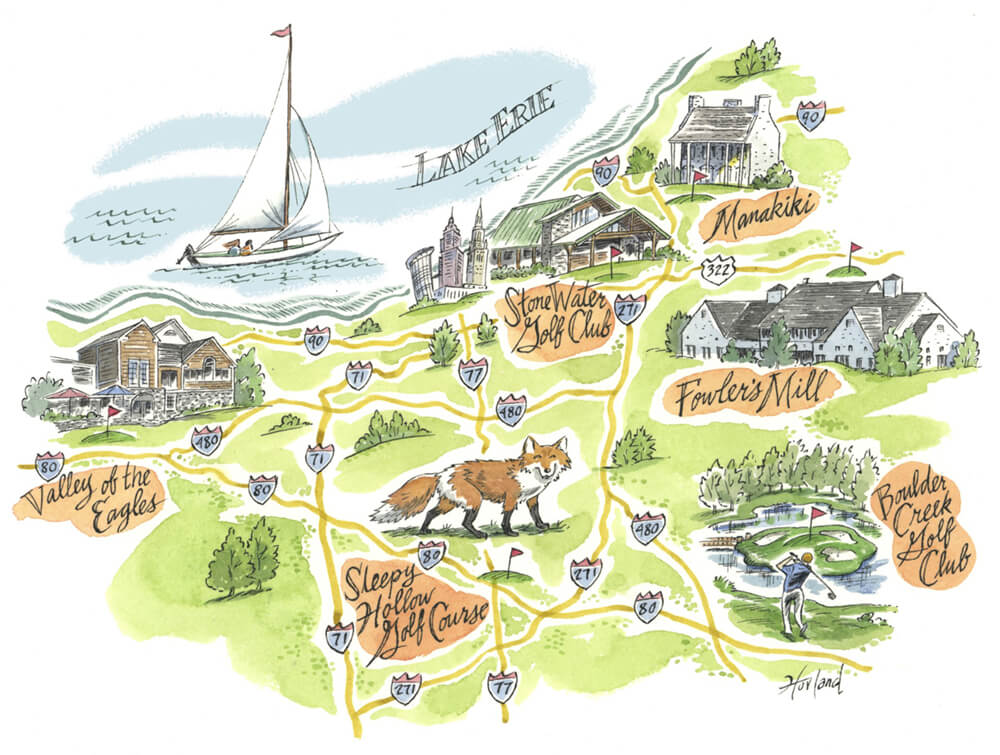 A 10-minute drive south brings us into the modern design era at StoneWater Golf Club in Highland Heights. Dana Fry did most of the heavy lifting on this rugged Hurdzan-Fry design from 1996. Softened somewhat since its debut, StoneWater still punishes rusty swings with slender fairways, forced carries over creeks and wetlands, and contoured greens. Jason Day captured his first professional tournament win here, at a Nationwide Tour event in 2007. Before or after golf, the vibe and offerings at the Rustic Grill restaurant in the huge clubhouse make it a locals' favorite, especially in summer when The Yard (Rustic Grill's outside bar) is operating on the patio, complete with live music.
Fourteen miles to the east sits 27-hole Fowler's Mill in Chesterland. An early Pete Dye design—in 1972, with brother Roy—it was once the private domain of aerospace giant TRW. Its Lake and River nines form the championship test, bursting with glimpses of the style that would define Pete Dye, including railroad ties, split fairways, and demanding water holes.
If you're headed back to your downtown hotel, don't miss the Marble Room. Housed in a historic bank building built in 1893, this steak-and-raw-bar restaurant dazzles with a spectacular space.
6 COURSES
176 MILES
$210–$385
It's well worth the half-hour drive to Streetsboro to play Boulder Creek Golf Club. More than 100 feet of elevation change characterizes this 21-year-old, heavily forested property, which features bookend behemoth par fives at 1 (615 yards) and 18 (624 yards). But most pellets are lost at the 175-yard island-green 17th.
We return to classic design at Sleepy Hollow Golf Course in Brecksville, 20 miles west of Boulder Creek via I-80. Designed by Canadian Stanley Thompson in 1924, this Metroparks course challenges with quick, sloping greens and holes that edge the deep ravines of the Cuyahoga River Valley, including the dramatic 171-yard par-three 6th.
Valley of the Eagles in Elyria is a worthy layout on departure day. It's a bit of a hike from Sleepy Hollow, 35 miles to the west via I-80, but it's nicely situated to Cleveland Hopkins International Airport, 25 minutes away on I-80 E and then I-480 E. A Nicklaus Design makeover from 2017, Valley of the Eagles features steep drops, exposed rock outcroppings, and exciting risk/reward holes. And when it comes to rock—and rocking out—there aren't many cities that do it better than Cleveland.
Thank you for supporting our journalism. If you prefer to read in print, you can also find this article in the Summer 2023 issue of LINKS Magazine. Click here for more information.