As national indoor golf franchises have blossomed in recent years, it's clear that even in the winter, after dark, or in adverse weather, there are still ways to get in a round, albeit virtually. With that in mind, we've singled out the best indoor golf facilities in six major cities across the country.
So, what are you waiting for? Get inside and play some golf!
NEW YORK CITY
Set in the heart of midtown Manhattan, Premier Indoor Golf is equipped with four simulator bays, each equipped with Foresight Sports GC2+HMT launch monitors, which capture a slew of analytical data about the shots you hit. Every swing you take is (or can be) recorded using high-speed video equipment, too, which means each visit you make can lead to better swings, better shots, and better scores.
Of course, if you're only looking for an indoor venue to play a virtual round on a bucket-list course, Premier Indoor Golf can also oblige. The facility offers dozens of well-known courses, including Oakmont, Merion, Medinah, and Hazeltine National—layouts that are likely to be blanketed in snow in the winter. If you'd rather fantasize about playing famous courses in warmer climes, you can always tee it up at Pelican Hill, Torrey Pines, or Abu Dhabi Golf Club. Premierindoorgolf.com  
CHICAGO
If you live in the Windy City and are committed to playing better golf—so much so that you want to tailor your fitness regimen around maximizing your potential on the course—then a membership at SMART Golf & Fitness Instruction is for you. This isn't your typical indoor golf facility. All practice sessions must be scheduled and reserved in advance and memberships are required (a limited number of practice-only memberships are offered, but priority access is given to those with full memberships, which include a pre-set number of individual golf and fitness sessions with certified instructors).
The cost of a membership isn't cheap, either. Prices range from $1,100 a month to $10,000 a year, with annual memberships including 48 golf lessons and 48 coached fitness sessions. But the golf instruction includes all of the latest, high-tech teaching aids: high-speed video, Trackman launch monitors, Boditrak sensor plates, and K-Vests. Golf instructors also coordinate with the facility's certified fitness coaches to create an inclusive training package that allows you to maximize your potential on the course. Smartgolffitness.com
BOSTON
To leverage a popular golf term, the Lynx Fitness Club in Boston is ideally located in the A-position.  Set on the edge of the Back Bay and Theater District neighborhoods, the club is easily accessible by car or the city's subway system, and a few sizeable parking garages are nearby, too. While its locale is a perk, the club's virtual golf operation is the real draw.
Equipped with Boston's first Topgolf Swing Suite, the Lynx Fitness Club utilizes Full Swing simulators—the same technology used by PGA Tour pros such as Tiger Woods, Jordan Spieth, and Jason Day. Those who want to improve their games can easily do so by taking a lesson with one of six PGA-certified teaching professionals employed at the club. But guests who are just looking for a casual indoor round will have their pick of more than 90 real-life courses to choose from. And those who want to make a long-term commitment can invest in golf memberships or golf + fitness memberships, which also allow for personal training with Titleist Performance Institute golf fitness coaches, as well as traditional strength and conditioning coaches. Lynxfitnessclub.com
HOUSTON
Admittedly, there won't be many weeks during the year when the mercury in Houston dips low enough to discourage rounds of golf played outside. But when the skies open up and the city is deluged with rain, avid golfers can escape to State of Golf, a facility that opened only a couple of years ago and was founded by two young, golf-obsessed entrepreneurs.
State of Golf is backed by Trackman 4 simulators that are programed with four dozen courses, although additional layouts are added every month. As is the case for many indoor golf facilities, State of Golf is a little rough around the edges, but it embraces the idea that golf should be fun and it's created an atmosphere that promotes that ideal. Thestateofgolf.com
DENVER
"Sporty but not sports bar-ish," is how owner Michael Burbage describes the GC Lounge, Denver's newest indoor golf facility, which opened in November 2021. With an interior footprint of slightly more than 3,800 square feet, the facility can accommodate almost 150 people inside and an additional 50 guests on the outdoor patio. That total occupancy far exceeds the lounge's capabilities as far as its simulator experience is concerned—GC Lounge is home to only three hitting bays outfitted with Trackman simulators—but given that the establishment is run by a local team with a background in fine dining, it's easy to picture golfers arriving early or staying late to partake in the lounge's food and drinks. (It's not often you find an indoor golf facility serving steak frites, niçoise salads, crab cakes, and 12-hour braised short ribs.)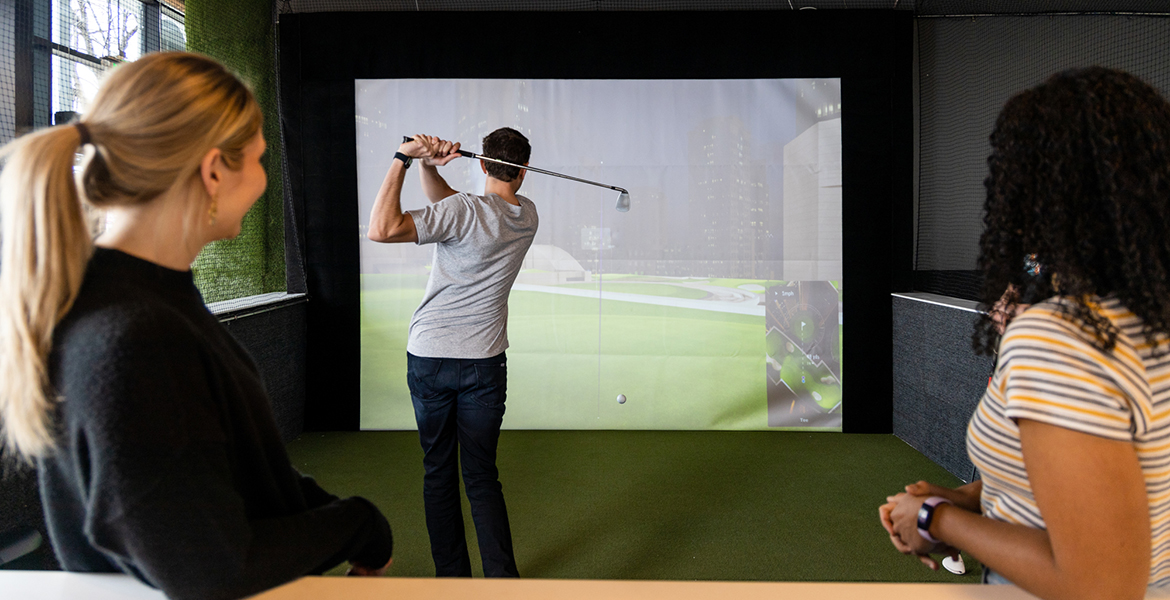 Beyond its attractive dining options, GC Lounge also excels for its ambience. The space brings in a lot of natural light—something you rarely experience at indoor golf facilities—and it's accented by retro neon golf signs and nostalgic, sepia-toned photos of Golden Age golfers, including that iconic shot of a young Arnold Palmer standing with hands on hips and a cigarette pursed between his lips. He epitomizes early 1960s cool in that shot, and GC Lounge encapsulates the modern, cool spot to go to squeeze in some winter rounds in the Mile High City. Thegclounge.com
SEATTLE
Like all of the facilities mentioned thus far, Back 9 Parlor, located only a few miles north of downtown Seattle, is equipped with industry-leading simulators. In Back 9's case, those take the form of Full Swing machines. But unlike so many indoor golf operations, Back 9 Parlor delivers them in an upscale bar environment accented by leather couches; plush, suede-upholstered arm chairs; and lacquered, natural wood plank counters.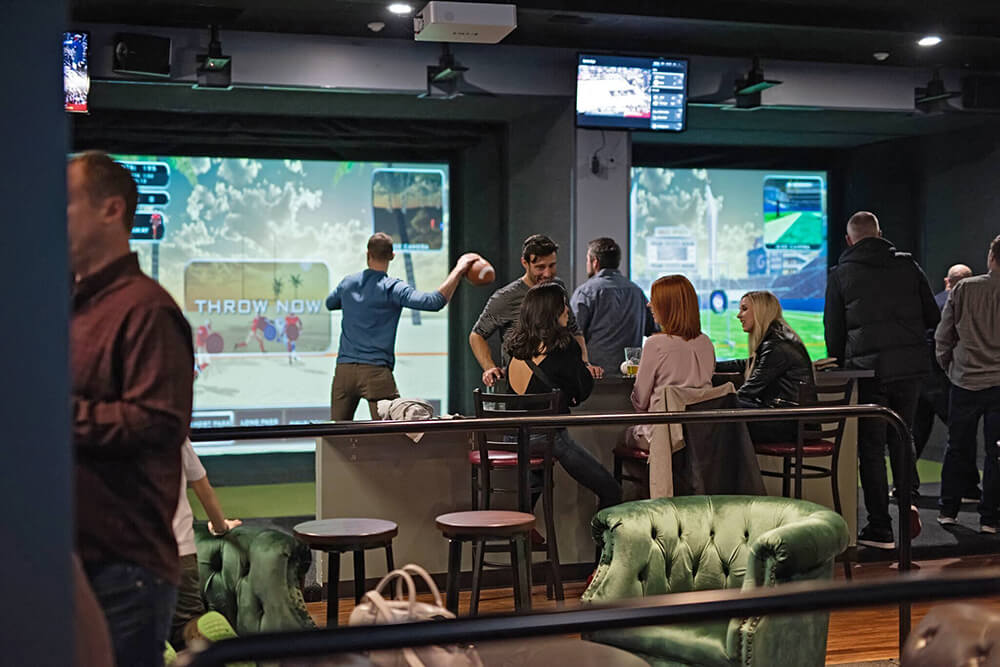 Owned by four friends who enjoy traditional rounds of golf together, Back 9 is designed to deliver all of the fun and socialization that a normal, outdoor round imparts. Yet, given the Pacific Northwest's often wet and rainy days—especially during the fall and winter—the establishment can do so in a dry, comfortable environment. Back9parlor.com
Have you visited an indoor golf facility?