Austin Kaiser has been the caddie for Xander Schauffele for nearly the entirety of the PGA Tour star's professional career, starting on the bag in 2015 on the Korn Ferry Tour. College teammates at San Diego State University, the duo didn't take long to build chemistry on the course and develop a winning formula that has resulted in 10 professional wins worldwide (including the 2017 Tour Championship where he sealed the PGA Tour Rookie of the Year), three wins as part of the U.S. team at the Ryder Cup (once) and Presidents Cup (twice), and a spot atop the Gold medal podium at the 2020 Tokyo Olympics.
There's no doubt Kaiser knows how to approach a course as both a player and a partner to one of the world's best players. On a recent trip to The Grand Golf Club in San Diego—hometown of both Schauffele and his caddie—Kaiser shared with me some helpful tips that any golfer can use to improve their strategy and results during a round.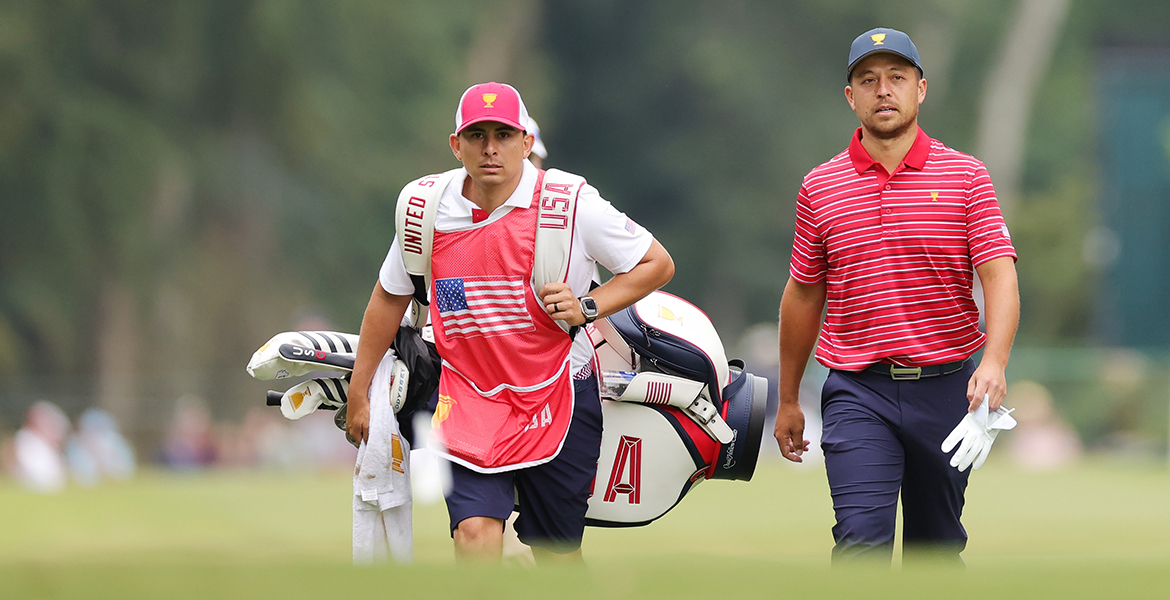 1. Find your comfort zone
The first decision every golfer faces on a given hole is what to hit off the tee. For a player like Schauffele, who ranked T35th in driving distance and 60th in driving accuracy out of 193 players on the PGA Tour in 2022, Kaiser's decision to choose the driver is typically an easy one. Even when faced with a risk/reward par four, "there's no reason to take his strongest club out of his hand," says Kaiser, who mentions they almost always go for the green as opposed to laying up.
Although it's not so clear-cut for the everyday golfer, the same logic can be applied. Kaiser says that the decision on the tee should be based on what club gives you the best chance to hit the fairway (while not sacrificing too much distance, of course) and keep you in the hole. From there, it's all about leaving yourself with shots you're comfortable with (i.e., laying up on a par five to a confident yardage). Stick with the clubs that you can count on for a better, less frustrating round.
2. Know where to miss
A big part of Kaiser's job is being able to tell Schauffele where the proper miss is on each hole during a tournament—that is, the easiest place to recover from if his player doesn't execute a shot. To do this, Kaiser arrives early in the week to prep, spending about 45 minutes per hole analyzing every angle and taking notes. Regular players aren't privy to those same insights but can view the hole in certain ways to help avoid short siding themselves.
On approach shots, hit toward big, open areas away from any hazards, where it's easier to get up and down from a miss. Pay attention to where the pin is—don't try to be a hero if it's tucked tight against danger. In fact, Kaiser recommends not aiming for the pin at all; in his experience, Schauffele only aims straight for the pin half a dozen times over the course of a 72-hole tournament. The middle of the green is your friend.
3. Get really good at your short game
Hypothetically, even if you hit every green in regulation and make par on every hole on a given course, more than half of your shots are going to come on the putting surface. So, Kaiser says, working on your short game should be the highest priority to start seeing immediate improvement. Lower scores are a direct result of learning to escape bunkers on your first try, being confident over a tight-lied chip, and eliminating three putts. "If you become a good putter, it's going to leak into the rest of your game," says Kaiser.
4. Never use negative self-talk
If there is one thing that Kaiser never mentions to Schauffele on the course, it's where not to hit a shot. Think about it—if a caddie tells you, "anything is good here, but right…" what are you thinking about as you stand over the ball? Instead of worrying about the parts of the course you don't want to end up on, focus on the landing zone you want to hit to and have confidence in the club you pick to make it happen. When Kaiser picks a plan of attack for Schauffele, he is intentional about avoiding words like "don't" or "can't" when communicating back to his player. After years of experience as a team, there is not much debate anymore—"lots of trust," says Kaiser. Don't worry about what you can't do—trust in what you can.
5. Go easy on yourself
As Kaiser says, "Just have fun. Don't be hard on yourself, because it's a really hard game." There's only a few hundred people in the world that make a decent living from their golfing ability. If you're not relying on golf to pay the bills, it's just not that important. And, to quote the legendary Payne Stewart, "a bad attitude is worse than a bad swing."