Think of the most iconic holes in the game of golf. We see many of them on television year after year, but most of us can only dream of actually putting a tee in the ground at these historic plots of land. Tee time at Augusta National? Good luck. Tackling the 17th at TPC Sawgrass? Better raid your savings account.
While the majority of the most famous golf courses and holes in the game are not accessible to the recreational golfer, there are opportunities around the country to get a taste of what the fortunate few experience, even if it's not the real thing.
Over the last 25 years, replica and tribute courses have been flourishing. From Vegas to New Jersey, Wisconsin to Maryland, golfers have a variety of opportunities to play Amen Corner, the 10th at Riviera, or even a hole straight out of A.W. Tillinghast's archives.
Here are five of the top replica courses accessible to public play.
The Golf Course at Northern Bay Resort (Arkdale, Wis.)
Set along the shores of Castle Rock Lake and the Wisconsin River in Central Wisconsin, Northern Bay Resort features a fun, family-friendly golf course that pays tribute to seven championship golf holes. Tour 18 design group teamed up with Matt Mootz to put together the 18-hole layout located about a two-hour drive northwest of Milwaukee. The course includes replicas of Augusta National's 13th and 16th holes, the 17th at TPC Sawgrass, the 5th at Oakland Hills, Bay Hill's 18th, and the 16th at Firestone Country Club. The highlight of the round comes on Northern Bay's 12th hole, a replica of the 3rd hole at Oakmont featuring the infamous church pew bunkers up the left side just waiting to gobble up errant tee shots. A weekday round during peak season (May–September) will run you just $84 and includes cart and range balls. http://www.northernbayresort.com/-the-golf-course-at-northern-bay
International World Tour Golf Links (Myrtle Beach, S.C.)
There's certainly no shortage of great golf choices on the Grand Strand, but for a change of pace from Lowcountry gems like Caledonia or Tidewater, golfers should check out the International World Tour Golf Links. Originally opened in 1999 as a 27-hole facility, the golf course underwent a major renovation in 2013 and was reduced to 18 holes. World Tour touts that golfers would have to travel to five countries and more than 20,000 miles to experience the courses that inspired this collection. The Open nine features holes from Pine Valley, Colonial, and the 18th at St. Andrews, while the Championship nine has gems like Cypress Point's 10th, the 18th at Olympic Club, and a three-hole stroll through Amen Corner. Mid-week tee times will run golfers $72–$120 depending on the season, with some specials available. https://theworldtourgolf.com/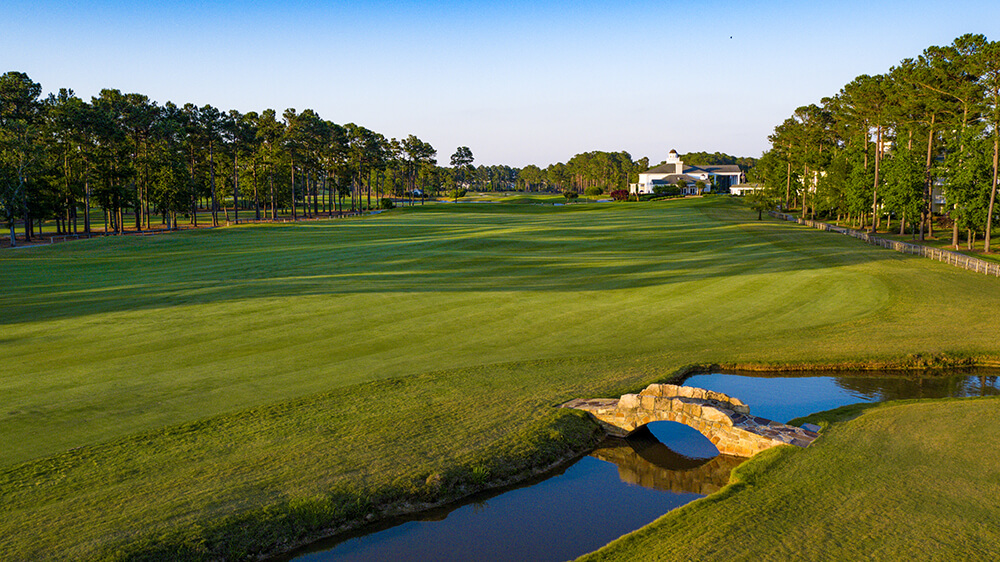 The Architects Golf Course (Lopatcong, N.J.)
Nestled just east of the Pennsylvania border in western New Jersey is a golf course geared towards the design fanatic. The Architects Golf Course is a Garden State must-play simply on layout and conditions alone, but the course's tribute to history is what sets it apart. Designed by Stephen Kay and Ron Whitten, the course pays homage to the design styles of the game's legendary architects that constructed some of the top layouts in the world from 1885–1955. Golfers experience the design characteristics from the likes of Old Tom Morris, Seth Raynor, Donald Ross, A.W. Tillinghast, Alister MacKenzie, and C.B. Macdonald, among others. Each architect's well-known courses are showcased on corresponding tee signs, which make you feel like you're flipping through your history textbook. The most memorable hole may be Architect's 13th which mimics MacKenzie's work at Augusta National. Architect's uses dynamic pricing for its tee times with green fees running from $58–$118. https://www.thearchitectsclub.com/
View this post on Instagram
Renditions Golf Course (Davidsonville, Md.)
Touted as "Golf's Grand Slam Experience," Renditions Golf Course showcases holes inspired by heavy hitters like Shinnecock Hills, Royal Lytham & St. Annes, Royal Birkdale, and, you guessed it, Augusta National. Located 45 minutes from both Washington, D.C., and Baltimore, Renditions opened in 2002 and prides itself on being an immersive golf experience. The clubhouse is filled with major championship memorabilia while the golf course features a Masters leaderboard along its version of Amen Corner. Once in a while the David Edsall design is lucky enough to give golfers the ultimate experience of playing multiple major championship venues the same year the pros play them—this last happened in 2018 when Augusta National, Shinnecock Hills, and Carnoustie were all on the schedule. Weekday rates run around $64 with twilight rates (after 3:00 pm) available for just $50. https://www.renditionsgolf.com/
Bear's Best (Las Vegas, Nev.)
Replicas in Las Vegas—like those of the Eiffel Tower, Roman Colosseum, and Space Needle—are certainly nothing new. Though when it comes to Bear's Best, the quality of golf at this replica course is certainly no phony. The course is geared towards the Jack Nicklaus fan, as the Golden Bear selected 18 of his favorite personal hole designs around to world to put together this desert showcase. Nicklaus layouts such as Castle Pines, Cabo del Sol, and PGA West (Private and Resort) are all featured on the golf course that stretches to more than 7,100 yards. Bear's Best is located in the Ridges community in Summerlin and is a fun stroll through Jack's design book. Elevated tee boxes offer panoramic views of the Vegas skyline and will run golfers $99–$199 depending on the season. https://www.clubcorp.com/clubs/bear-s-best-las-vegas/
View this post on Instagram
Have you played any replica courses?