The Open Championship's older, and the U.S. Open a more grueling test, but no major has endeared itself to golf fans quite like the Masters. The genteel traditions and rich history of Bobby Jones's annual jamboree in the Georgia pines have earned it a singular place in the annals of golf.
Ever since it was first played in 1934, the history of the Masters and the history of golf have been inexorably intertwined. Naturally, this has given rise to decades of Masters Mythology—truisms that don't always prove true. Here are five myths about the Masters that don't necessarily hold up to scrutiny.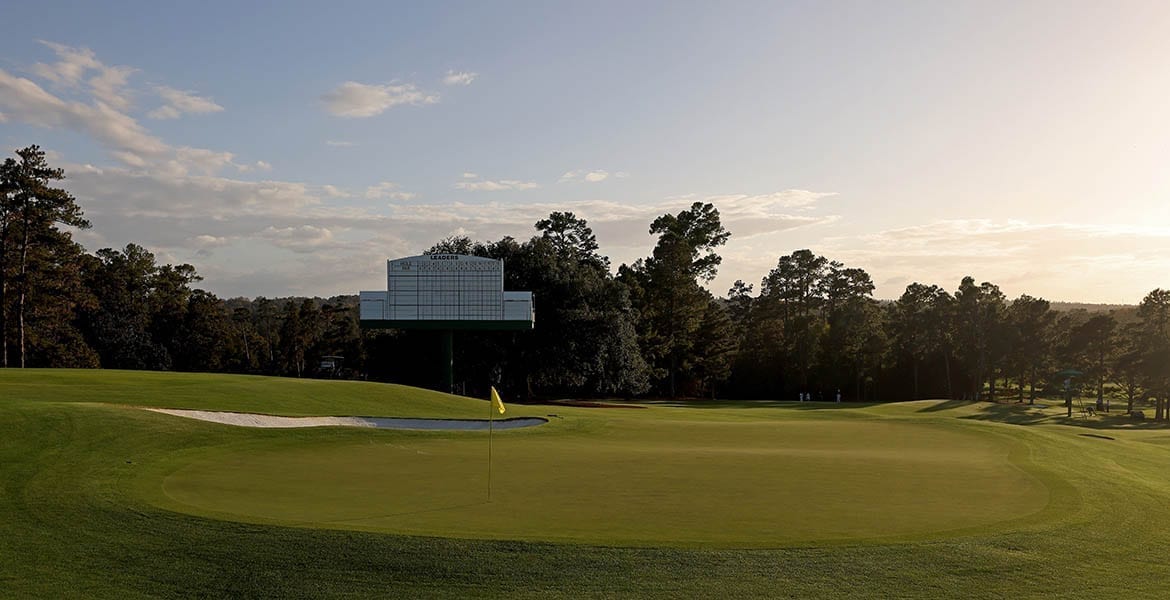 1. The tournament doesn't begin until the back nine on Sunday
Augusta National's back nine, with its legendary Amen Corner and two reachable par fives, is often the scene of high drama—as it was in 2020 when one challenger after another met his Waterloo at the par-three 12th and paved the way for Tiger Woods to claim his 15th major. But if you look back at the last 22 Masters, in 14 of those years the winner started the final round leading or tied for the lead. In 2000: Vijay Singh. In 2001, 2002, and 2005: Tiger. In 2004 and 2006: Phil Mickelson. In 2008, Trevor Immelman carded just a single birdie on the back nine on Sunday and still won. He led wire-to-wire that year, as Jordan Spieth did in 2015. Patrick Reed led after both the second and third rounds en route to his 2018 win. In 2020, Dustin Johnson was tied for or held the lead after each round and started the final round with a four-shot advantage on the field. And in 2021, Hideki Matsuyama started and ended Rounds 3 and 4 at the top of the leaderboard, too. So, while you definitely need to finish strong to win the Masters, last-minute heroics, while entertaining, are not always the key to victory.
2. The winner will be the player who owns the par fives
Today's top players can reach all of the par fives at Augusta National in two, so nobody's going to don a green jacket without getting the better of them. But is that really the secret to winning? Not always. In 2019, Tiger Woods played the par fives in 8-under for the week. Not bad, but not close to second-place finishers Brooks Koepka, Xander Schauffele, and Dustin Johnson, who played them in minus-13, minus-12, and minus-12 respectively.
Where did Tiger make up the difference? Mostly on the par threes. Woods scored 4-under on those, while Johnson and Schauffele were just 1-under and Koepka 3-over. It's not surprising to see Augusta's one-shotters prove so resistant to scoring. The 4th hole can play as long as 260 yards. The downhill 6th features a treacherously sloped green. We all know how difficult the 12th hole can be. And the 16th is no cinch, either, when the hole is anywhere but its usual Sunday location. Want to win at Augusta? Start by mastering the par threes.
3. Rookies can't win at Augusta
There's no doubt that the more times you compete in the Masters, the more course knowledge you'll acquire and the better your chances will be of making a late-afternoon appearance in Butler Cabin. For one thing, Augusta National's greens are deceptive. They take some learning. And this is one tournament that doesn't allow players to use green-reading books.
But three players have won the Masters on their first trip down Magnolia Lane: Horton Smith in the inaugural 1934 event (because someone had to win), Gene Sarazen in 1935, and Fuzzy Zoeller in 1979. More recently, two notable rookies have come close. In 2011, Jason Day finished T-2 only because Charl Schwartzel reeled off four straight birdies to close out his win. And Jordan Spieth began his final round as a rookie in 2014 tied for the lead; he got his green jacket just a year later. With so many young players arriving on tour ready to win these days, it's only a matter of time before another rookie wins here.
4. Augusta National doesn't have rough
Technically speaking, this is true: it has a "second cut." And while it will never be mistaken for U.S. Open rough, it doesn't mean Augusta plays easy. For one thing, tee shots have a tendency to run farther offline, bringing hazards and all those Georgia pines more into play. But equally importantly, the greens at Augusta require players to be able to control the spin of the ball to place approach shots in the right spots—spots that will make birdies possible (and reduce the risk of three-putting). That's not always possible from the second cut, short as it may be. Bottom line: at Augusta, as elsewhere, hitting fairways is key.
5. The course favors big hitters
With the course stretching to 7,475 yards now, will the winner have to be able to bomb the ball, as Bryson DeChambeau did when he overpowered Winged Foot in the 2020 U.S. Open? Maybe. But you need more than just length to win at Augusta National (just as DeChambeau did to win the his first major). If you look at Masters champions from 2000-2022, the average of their driving distance rankings for the years they won was 34th. Some winners (Tiger Woods, Bubba Watson, Angel Cabrera) ranked in the top 10. But we also saw winners like Schwartzel (43rd), Immelman (66th), Spieth (78th), Zach Johnson (169th), and Matsuyama last year (36th). And then there was famously short-hitting Jose Maria Olazabal, who rode to victory in 1999 almost entirely on the strength of his short game.