We know golf has become a popular pastime during the coronavirus era, but did you realize the net increase in off-course golf participants was twice that seen at courses themselves in 2020? And while the golf entertainment space and Topgolf continues to be a driver, the biggest rise is in the use of golf simulators, according to the National Golf Foundation.
Indoor simulators have become fixtures at golf retailers, custom club fitters, and many golf clubhouses and instructional locations, while consumer franchises are proliferating in cities nationwide. Meanwhile, home simulators, once the pricey realm of the true golf devotee, are gaining traction as technology advances and costs retreat. And the stay-closer-to-home mindset embraced during the pandemic only accelerated the adoption of home simulators, which provide easy, anytime access for practice and play.
So, for those interested in a golf simulator at home, what are the most important questions to consider? To learn more, I reached out to the team at Rain or Shine Golf, which sells home setups for consumers and works with a wide variety of top industry brands—for simulators, launch monitors, golf mats, hitting bays and enclosures, and accessories.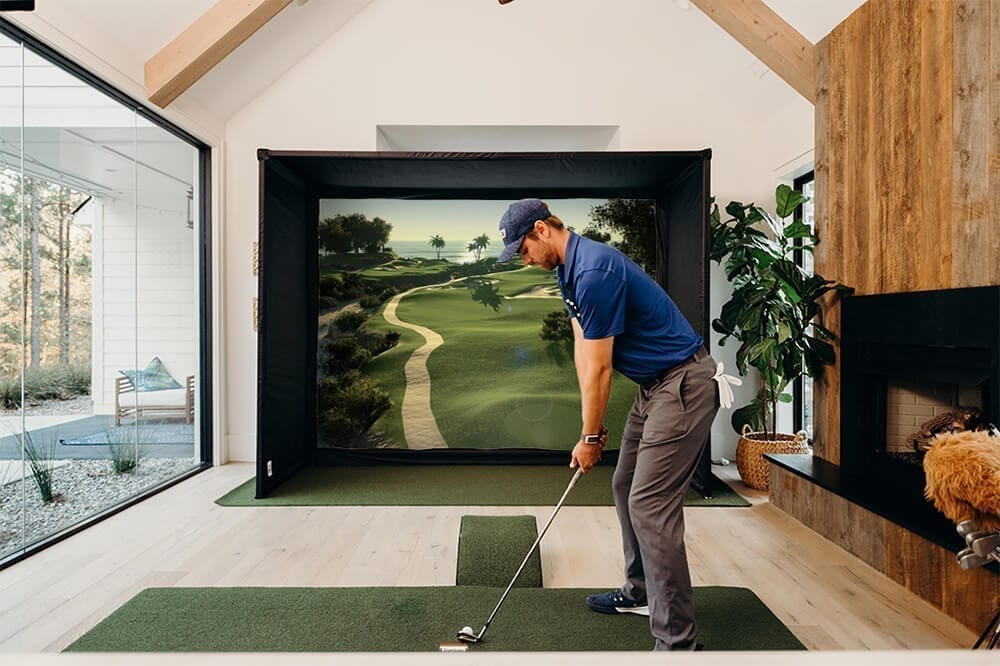 1. WHERE WOULD YOU PUT IT?
Based on customer surveys, 50 percent or more of home installs are in the garage, while roughly 25 percent are in a shed or similar structure and the remaining 25 percent are elsewhere in the house, whether in a high-ceilinged basement or a dedicated room. "We're really just trying to bring golf into people's world who don't always have a chance to play 18 holes," says Rain or Shine Golf co-founder Shawn Foley. "It's about connecting families and connecting friends."
2. WHAT ARE THE DIMENSIONS OF YOUR SPACE? 
This question really goes hand-in-hand with where, as the golf simulator has to fit the space appropriately and give customers the ability to swing all of their clubs comfortably for the most accurate feedback possible. "If they feel cramped, they may not swing their clubs 100 percent, which will definitely affect their data that they're getting from the launch monitor and simulator," says Stephen Calhoun, Rain or Shine Golf's inside sales manager. "We're really based off the dimensions. That gives us an idea of what can and can't fit in their space. From there we can eliminate certain options."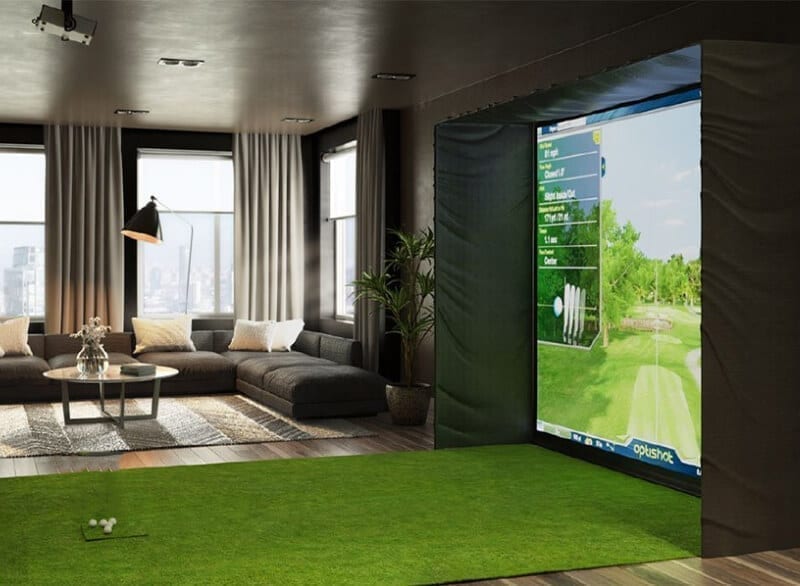 3. WHAT ARE YOU TRYING TO GET OUT OF A SIMULATOR?
Some golfers are just looking to keep the swing from getting rusty in the offseason. Others might be focused on game-improvement or seek to play realistic rounds of simulated golf. Some may be looking for all of the above. "If it's really just to stay loose during the winter months, we have certain recommendations for that," Calhoun says. "If they're really looking to dial in their distances with all their clubs, we're going to want a more accurate launch monitor—a more high-end device that may measure clubhead speed and club data rather than just ball flight. Other customers may be interested in the entertainment factor; just having a few buddies over to their house, playing a few rounds, and having a good time."
4. WHAT'S YOUR PRICE POINT?
The first two questions provide an idea of options, but budget is a crucial component, even if some golfers are initially reluctant to get too specific. One way of feeling the customer out on a price range, Calhoun notes, is asking whether there's a particular simulator they're interested in. Working with a host of top brands means it's easier to focus on a customer's specific needs than recommending a particular product, as Rain or Shine Golf carries everything from lower-priced options like OptiShot to midrange offerings like SkyTrak and FlightScope, and higher-priced systems such as TruGolf, Uneekor, and Foresight.
View this post on Instagram
5. WHAT'S THE PREFERRED SET-UP?
Whether you're looking to spend around $1,000 or upwards of $20,000 will determine on the set-up. How big of a hitting mat and what's the quality? Is a hitting screen desired or is a net sufficient? How full is the enclosure and would you like sides that shield light and provide better screen visibility? What kind of launch monitor is preferred? Do you want an overhead, short-throw projector to display courses or other visuals on the screen? These elements all factor into the final price tag.
"The realism has been around for a while, but there's been advancement in tech to make those components and pieces at a more affordable level," says Foley. "It's still an expensive item, don't get me wrong, but we're not talking $30,000 to $50,000 anymore. You can start with something in the few-thousand-dollar level that's able to do quite a bit and work up from there."
Do you have a golf simulator at home?