While Georgia's crown jewel of golf, Augusta National, sits at the far eastern edge of the state, the area around the state's capital city is flush with superior golf courses. Well-known are private clubs like Peachtree, Atlanta Athletic Club, and East Lake Golf Club, but public golf is also extremely accessible in and around the Atlanta metroplex.
With the PGA Tour set to conclude the FedEx Cup playoffs at the Tour Championship at East Lake, here's five of the star-studded public golf options near the Atlanta area.
Bobby Jones Golf Course (Atlanta)
Located just north of downtown in the Buckhead district is one of the most revolutionary golf courses in the country. Widely applauded for its innovation, Bobby Jones Golf Course is a 9-hole reversible course which maximizes its urban footprint. The first public golf course in Atlanta, it originally opened in 1932 as an 18-hole tribute to the legendary Jones. In 2016, the course underwent a complete redesign under the direction of Bob Cupp with funding from the Bobby Jones Golf Course Foundation. Cupp transformed a rundown 18-hole layout into a reversible 9-holer in what became his final project before his passing in 2016. The course reopened in 2018 and many regard it as the blueprint for the future of urban golf. For $18–$39, golfers can tee it up on the Magnolia and Azalea nines for as unique of a round as they come. https://www.bobbyjonesgc.com/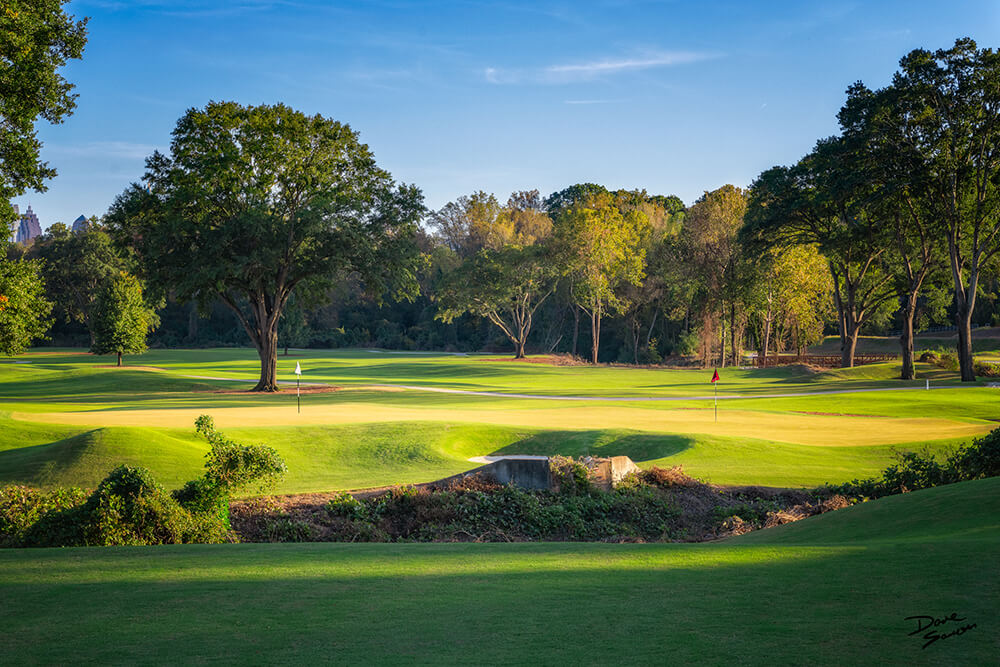 Stone Mountain Golf Club, Stonemont Course (Stone Mountain)
Travel 30 minutes east of downtown and you'll find a 36-hole club easily worth navigating through Atlanta traffic. Stone Mountain is home to the Stonemont and Lakemont 18s, both residing a flop shot away from Stone Mountain Park, a popular hiking and fishing destination. "Pure," is how one of my local Atlanta buddies describes the Stonemont course; designed by Robert Trent Jones Sr. in 1969, the par 70 stretches out to just over 6,800 yards, but don't let that number deceive you. Stonemont is a strong test forcing golfers to hit narrow fairways off the tee and navigate around Jones's perfectly placed bunkers. It's a challenge that low handicappers traditionally embrace as Stonemont has hosted several prestigious Georgia amateur events. Dynamic pricing runs between $42–$85 depending on time of day. https://www.stonemountaingolf.com/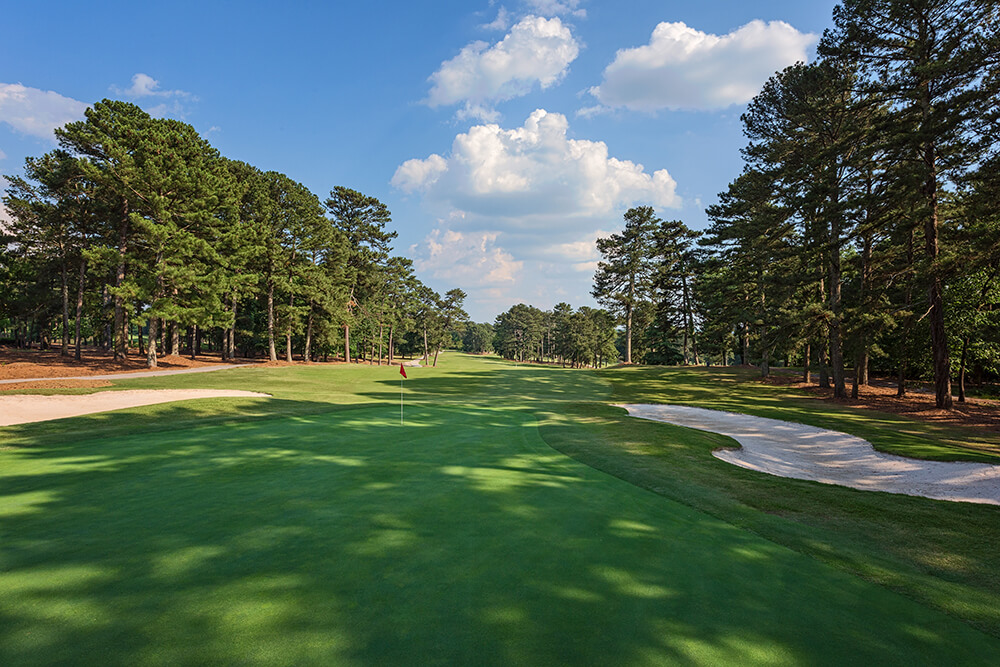 The Frog Golf Club (Villa Ricca)
Located 40 miles west of downtown Atlanta, The Frog opened in 1998 and has been an area favorite ever since. The golf course is a fairly straightforward layout in an undisturbed natural setting which has been certified as an Audubon Cooperative Sanctuary. The Frog's holes seamlessly flow together; here along Sweetwater Creek, the course's lack of residential development creates a serene walk through the forest. Legend has it, the look of the layout reminded Tom Fazio of a leaping frog, hence the name. Rates run from $59–$75 with juniors (12 and under) playing for free with a paid adult. https://www.golfthefrog.com/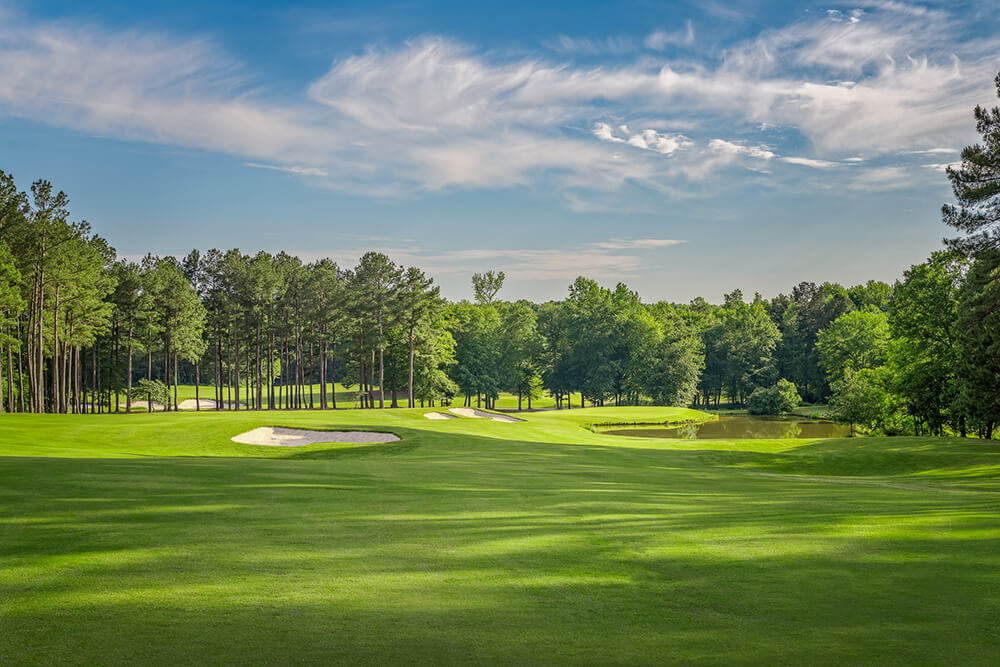 Lanier Islands Legacy Golf Course (Buford)
Golfers willing to travel just over an hour north of downtown will find one of the most scenic waterfront layouts in the Southeast. Considered the "Pebble Beach of the South" by many locals, Legacy is part of the Lanier Islands resort on Lake Lanier, Georgia's largest lake. Originally designed by Joe Lee and renovated by Billy Fuller in 2010, the course stretches out to just under 6,600 yards with 12 of its 18 holes providing scenic lake views. Legacy is also home to a unique pricing system as all green fees include complimentary food and nonalcoholic beverages all day long, for between $56–$89. https://www.lanierislandsgolf.com/
Chateau Elan, Chateau Course (Braselton)
Along with being home to a 3,500-acre winery and the American Junior Golf Association (AJGA), Braselton boasts one of the top golf resorts in the Peach State. About an hour's drive from Atlanta, Chateau Elan features two 18-hole layouts, the Chateau and the Woodlands, as well as a 9-hole executive course. The Chateau course opened in 1989 and was designed by Denis Grif­fiths, who made his claim to fame by becoming one of only a few American-born architects to design a golf course in St. Andrews, Scotland (St. Andrews Bay). The Chateau tips out at over 7,000 yards and would be best described as "lush." With three separate lakes on property, water comes into play on 10 of its 18 holes. Players who send their Titleists to the bottom of those lakes can drown their sorrows post round at one of the largest wineries on the east coast, as Chateau Elan produces 30 different varietals. As for the golf, tee times run from $39–$102 on the Chateau course. https://golf.chateauelan.com/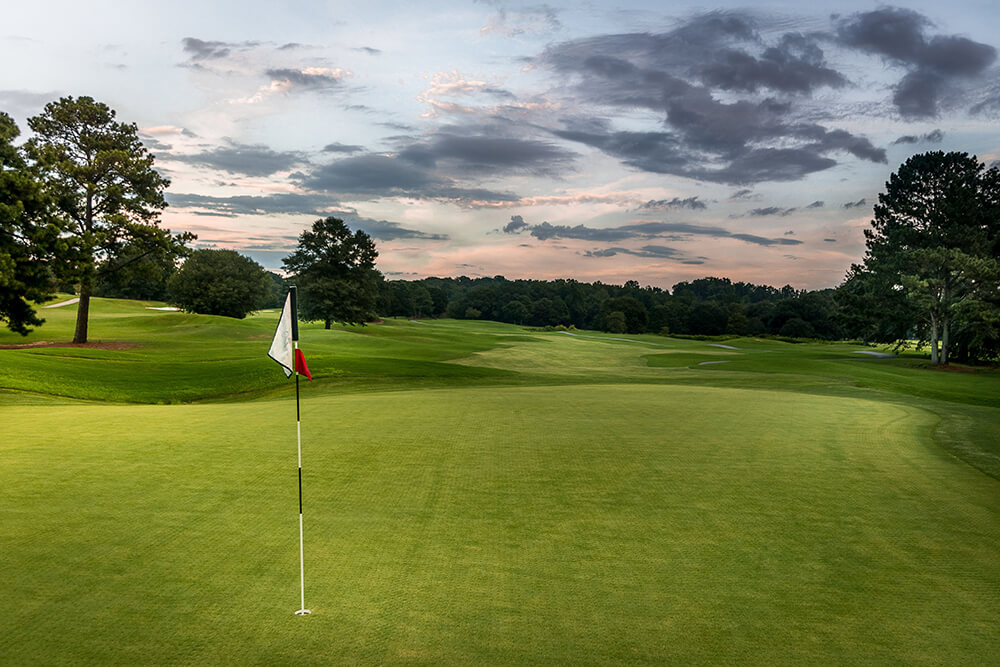 What is your favorite public golf course near Atlanta?