LINKS Magazine and PerryGolf are proud to partner with Azamara® for an exceptional 16-night, 4-round golf and sightseeing voyage to the land of the Midnight Sun. This cruise with less than 700 guests onboard the outstanding Azamara Journey will take us along Norway's spectacular and revered coastline of mountain and fjord, and as far as the North Cape.  Our carefully crafted itinerary will also allow us 4 great golfing opportunities including the stunning and remote Lofoten Links, rated #1 in Norway; plus Tromsø, the world's most northerly 18-hole course as a real bragging rights round.  Rounds at Trondheim Golf Club (considered Norway's most beautiful 9-hole course) and Stavanger Golf Club (Norway #5) complete the well-balanced lineup spread throughout the voyage.
16 Nights | 4 Rounds | Edinburgh – Amsterdam | August 1 – 17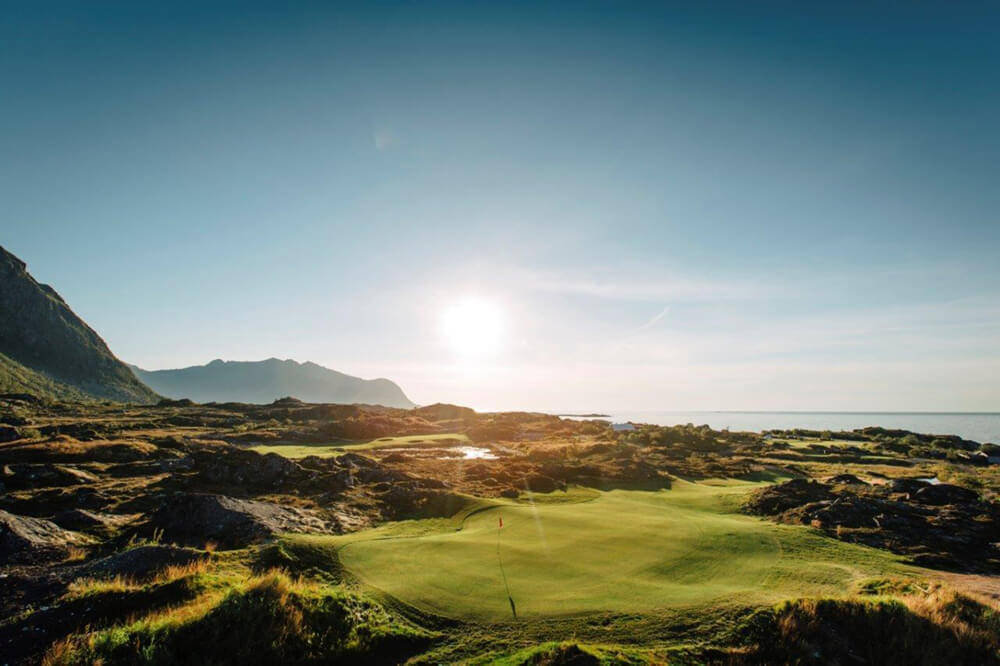 Date
Port
Arrive / Depart
Golf
Sightseeing
Aug 1
Edinburgh, Scotland
Embark / 6:00PM
Edinburgh Castle
Aug 2
At Sea
Aug 3
Stavanger
8:00AM / 8:00PM
Stavanger GC
Stavanger Cathedral
Aug 4
Haugesund
8:00AM / 2:00PM
Nordvegen History Centre
Aug 5
Olden
8:00AM / 8:00PM
Briksdal Glacier
Aug 6
Alesund
8:00AM / 10:00PM
Mount Aksla
Aug 7
At Sea
Aug 8
Svolvaer
7:00AM / 5:00PM
Lofoten Links
Lofotr Viking Museum
Aug 9
Tromsø
12:15PM / 10:00PM
Tromsø GC
Arctic Cathedral
Aug 10
Honningsvag
1:00PM / 8:00PM
North Cape
Aug 11
Alta
9:00AM / 5:00PM
Northern Lights
Cathedral Hjemmeluft
Aug 12
Harstad
10:00AM / 8:00PM
Grottebadet Waterpark
Aug 13
Bodo
8:00AM / 8:00PM
Saltstraumen Maelstrom
Aug 14
Trondheim
1:30PM / 10:00PM
Trondheim GC
Nidaros Cathedral
Aug 15
At Sea
Aug 16
At Sea
Aug 17
Amsterdam, Netherlands
Disembark / 9:00AM
Van Gogh Museum
For a detailed itinerary including rundowns of notable sightseeing attractions at each stop as well as information and history for each golf course, please CLICK HERE.
_________________
PRICING PER PERSON
Our prices are provided as Golf Package and Cruise Fare so that your choices for suites and staterooms are clear. The total cost is the combination of both plus applicable taxes.
The cruise fare is dynamic and may change until booked and locked in, but you are assured of the best available selection of suites and staterooms and the very best available rates which exist at any point in time. Cruise fares below are the current "from" prices, supplements apply for prime locations within each main category. Your PerryGolf golf travel specialist will assist in selecting the best suite or stateroom for you, and will be pleased to book and confirm both your cruise and your golf package.
For golf and accommodation options and pricing please CLICK HERE.
_________________
Deposits Per Person: Golf Package $750; Staterooms $550 / Suites $1,100
Payment & Cancellation Terms per Reservation Form
Lock in Early for the Best Suites & Staterooms at the Best Price
The Cancellation Fee Is Only $125 Per Person Until 12 Months Out

Prices exclude Port Taxes & Fees of $336 Per Person
IMPORTANT : Please review the PerryGolf Travel Insurance.
_________________
2023 Norwegian Golf Cruise
For current pricing, additional information, or to register for the event, fill out the form below and Michelle Rozek from LINKS Magazine will be in touch.