LINKS Magazine and PerryGolf are proud to again partner with Azamara® for an exceptional 10-night, 6-round golf and sightseeing voyage nearly circumnavigating the Emerald Isle. This cruise with less than 700 guests onboard the outstanding Azamara Journey will sail from Dublin for 6 diverse ports including Belfast, Londonderry, Donegal, Galway, Foynes, Cork, and finally, Southampton. The golf is exceptional with six of Ireland's most treasured clubs including Portmarnock Links, Royal County Down, Royal Portrush, Donegal, Adare Manor and Fota Island.
There is also a 3-round GOLF LITE option affording the opportunity to play three of our acclaimed courses—Portmarnock Links, Royal Portrush, and Fota Island, OR Royal County Down, Donegal, and Adare Manor. The rounds are nicely spread throughout the duration of the voyage, ideal for guests who prefer a little less golf and a little more sightseeing, or simply for couples where one half prefers a little more golf than the other half. In all other respects the Golf Lite program is identical, inclusive of all other amenities and participation at all onboard golf group social events.
10 Nights | 6 (or 3) Rounds | Dublin – Southampton
August 29 – September 8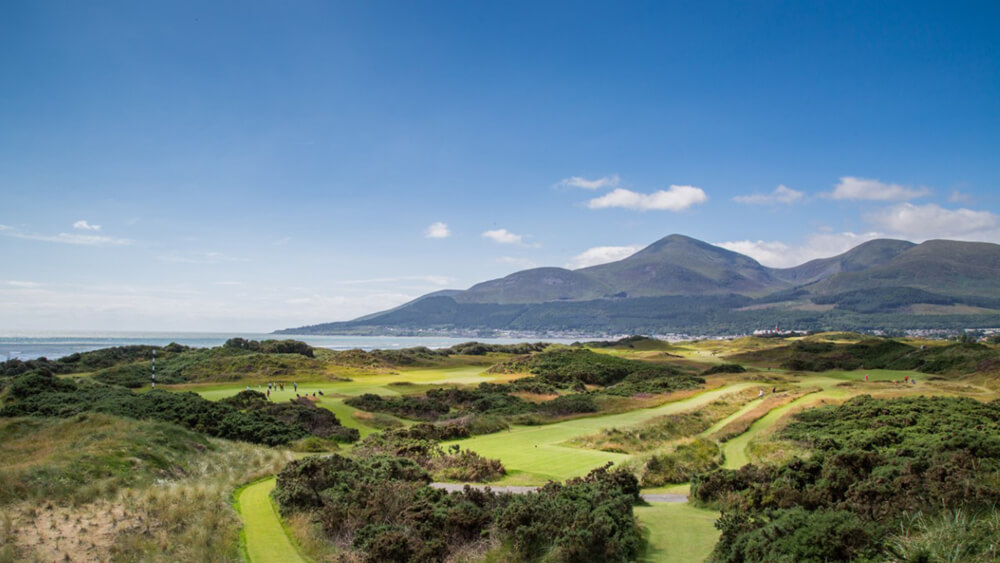 Date
Port
Arrive / Depart
Golf
Sightseeing
Aug 29
Dublin, Ireland
Embark / IN PORT
Aug 30
Dublin
IN PORT / 10:00PM
Portmarnock Links*
The Guinness Storehouse
Aug 31
Belfast
8:00AM / IN PORT
Royal County Down
Titanic Museum
Sep 1
Belfast
IN PORT / 8:00PM
Royal Portrush
Donegall Place
Sep 2
Londonderry
8:00AM / 8:00PM
St. Columb's Cathedral
Sep 3
Donegal
8:00AM / 6:00PM
Donegal
Glenveagh National Park
Sep 4
Galway
8:00AM / 8:00PM
Eyre Square
Sep 5
Foynes
7:00AM / 6:00PM
Adare Manor
Flying Boat & Maritime Museum
Sep 6
Cork (Cobh)
9:00AM / 10:00PM
Fota Island*
Cobh Cathedral
Sep 7
At Sea
Sep 8
Southampton, England
Disembark / 9:00AM
Play is walking with caddies throughout with exception of golf courses identified with an asterisk (*) where play will be using golf carts. GOLF LITE—Limited places are offered on a 3-round Golf Lite program (A—Portmarnock Links, Royal Portrush, Fota Island; B—Royal County Down, Donegal, Adare Manor)
For a detailed itinerary including rundowns of notable sightseeing attractions at each stop as well as information and history for each golf course, please click HERE.
_________________
PRICING PER PERSON
Our prices are provided as Golf Package Options and Cruise Fare so that your choices for suites and staterooms are clear. Combine the Cruise Fare with Selected Golf Package(s) for the Total Cost.
For golf and accommodation options and pricing please click HERE.
_________________
Deposits Per Person: Golf Package $1,250; Staterooms $550 / Suites $1,100
Payment & Cancellation Terms per Reservation Form
Lock in Early for the Best Suites & Staterooms at the Best Price
The Cancellation Fee Is Only $125 Per Person Until 12 Months Out
Prices Exclude Port Taxes and Fees of $560 Per Person
IMPORTANT : Please review the PerryGolf Travel Insurance.
_________________
2023 Irish Links Golf Cruise
For current pricing, additional information, or to register for the event, fill out the form below and Michelle Rozek from LINKS Magazine will be in touch.