Great Scottish golf doesn't have to have a big name—or a big price tag
I dislike the hackneyed phrase "hidden gems," but regarding the courses that follow it's 50 percent correct: They're all gems, though not hidden; they're just not on the radar screens of most North American golfers.
Whether you're a first-time visitor to Scotland or a weathered veteran, I suggest playing at least one or two of these on any trip. Besides providing welcome respite from the rigors of the more famous championship tracks, these are where you'll most likely rub shoulders with the Scots, both on the courses and in their homey clubhouses. Plus, they give excellent golf at a reasonable price: None costs more than £80 (about $100).
I've noted the more famous courses these are near, and along with 10 18-hole courses I've included five 9-holers where you are guaranteed to have fun at rock-bottom prices, find some of the most memorable, quirkiest holes, and play in well under four hours—unless you want to go around twice (not a bad idea).
Glen Golf Club (near: North Berwick)
Among the most scenic courses in Scotland, this track is on the opposite end of town from the historic West Links. A ski-slope first hole rises to a plateau looking out to Bass Rock and the Firth of Forth. When not admiring the scenery, you'll find a collection of unforgettable golf holes—all consistently good, some outstanding. Back down at the modern clubhouse, "The Glen" presents one of the great panoramic sea views in Scotland.
Arbroath (near: Carnoustie)
Seven miles north of Carnoustie, Arbroath offers a classic out-and-back layout with a few holes meandering in the middle. The pedigree is top drawer: Tom Morris laid out 18 holes in 1877; 30 years later, Willie Fernie completed redesign work; in 1931, James Braid applied his bunkering touch to the layout. Since that time, Arbroath has little changed and its history as an "artisan's" (working man's) club assures a no-nonsense experience with emphasis on value.
Newburgh-on-Ythan (near: Cruden Bay & Royal Aberdeen)
Located in a small village seven miles south of Cruden Bay, the links at Newburgh fans out on the south side of the River Ythan as it flows to the North Sea. A tale of two halves, the modern opening nine, added in 1994, plays over relatively lush, hilly terrain a bit removed from the river. The contrasting second nine nearer the river defines pure Scottish links golf: Hard ground, humps, bumps, ridges, and blind shots produce unpredictable caroms and rollouts. This is pure fun and you can view it from a striking, glass-enclosed clubhouse perched on high ground between the 1st and 10th tees.
Fraserburgh (near: Cruden Bay)
Courses associated with James Braid were usually short before being massaged and lengthened over the ensuing decades. This one dates from 1922–24, when Braid came to work on linksland where golf has been played since 1613. Twenty-five miles north of Cruden Bay, Fraserburgh features testing par fours and only two par fives over a suitably rumpled landscape.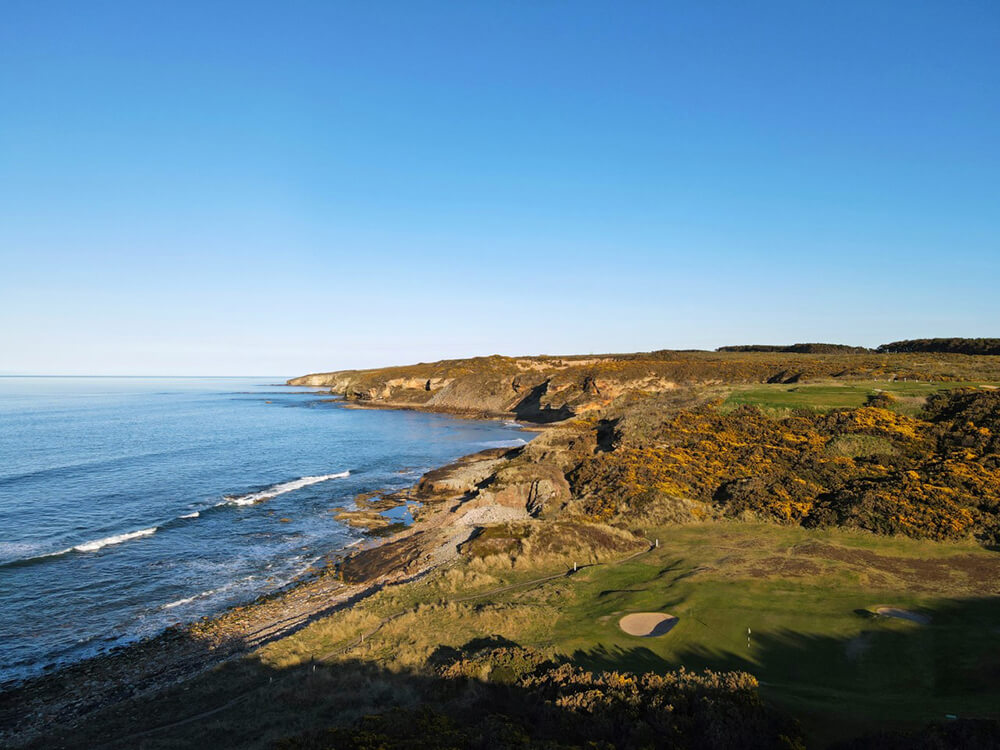 Hopeman (near: Nairn)
Few American golfers make the scenic trip rounding Scotland's northeast corner then traversing the Moray coast westward to Nairn. But those who do find a bevy of quality courses offering great value. Representative is the bracing course at Hopeman, 21 miles east of Nairn, where you'll encounter more gorse than you ever hoped to see and the signature par-three 12th that drops some 100 feet from the teeing ground.
Fortrose & Rosemarkie (near: Nairn)
Welcome to Scotland's magical "Black Isle," a few miles northeast of Inverness. Fortrose is located on a promontory (Chanonry Point) jutting into the Moray Firth, with eight holes playing at seaside and water visible from all parts of the course. Fortrose claims to be the 15th-oldest golf club in Scotland, but the current course took shape between 1932–35 when James Braid extended an existing nine holes to 18. New tees installed in 2013 added salutary length to what was a rather short course.
Golspie (near: Royal Dornoch)
Halfway between Dornoch and Brora, Golspie is easy to overlook. Another creation of James Braid, it is the only course I know that breaks so clearly into an even six holes of links turf, heathland, and parkland pasture. Several first-rate par threes and blind shots will keep you thinking. Nearby Dunrobin Castle is not to be missed.
Wick (near: Royal Dornoch & North Coast 500)
In 2015, a promotion dubbed the "North Coast 500" was launched to lure visitors to the Northern Highlands. In and out of Inverness, the NC500 follows a largely coastal 500-mile route round and about the most wild and lightly populated part of Scotland. Along the way, golfers will find good golf at Wick (63 miles north of Dornoch), Thurso, Durness, and Ullapool. Wick's classic out-and-back design is memorable and recent improvements have elevated the course into the second or third tier of Scotland's best.
Dunaverty (near: Machrihanish)
At the southern tip of the Kintyre peninsula, Dunaverty is a true Scottish treasure, created and maintained by locals since 1889. Only 4,800 yards and par 66, it plays toward imposing Dunaverty Rock, past a farmhouse, and through a small herd of cattle. The par-three 4th, "Dunaverty," played over a ridge to an unseen punchbowl green, will remain forever in your memory.
Southerness (near: South Coast)
If this course were located in Scotland's Midlands instead of the less traveled "Borders," it would be a prize target: It's that good, easily in my Top 10 links courses in Scotland. Varied, challenging holes follow a counter-clockwise routing designed by Mackenzie Ross, who resurrected Turnberry from its role as a landing strip after World War II.
The Nine-Holers
Gifford (near: Gullane/Muirfield)
The only parkland course here, Gifford is a scenic 10-mile drive south of Gullane or Muirfield, through lush East Lothian countryside to the Royal Burgh of Haddington. The course appeals to all golfers. Multiple tees provide variety, two of the holes measure 400-plus yards, and the closing par five is 497 yards. Greens are excellent and the members are always delighted to welcome visitors into their inviting whitewashed clubhouse.
Anstruther (near: St. Andrews)
Nine miles south of St. Andrews, this quirky little course is a favorite of locals and visitors alike. Its reputation is built largely around hole No. 5, "Rockies," a diabolical, seaside par three of 245 yards once voted the toughest one-shotter in the UK. Four more par threes provide memorable golf after the opening hole begins uphill with a blind second shot to a small green. Back at the clubhouse or in town, restaurants serve up the region's best fish 'n' chips.
St. Olaf (near: Cruden Bay)
Surrounded by the dunes and fairways of the great 18-hole course at Cruden Bay, you won't have far to go to play a delightful extra nine after lunch in the clubhouse with its stunning views across the dunes to the open sea. Given its thoughtful design and incomparable setting, this is my favorite 9-hole course in Scotland. What's more, it's free with a booking on the championship course!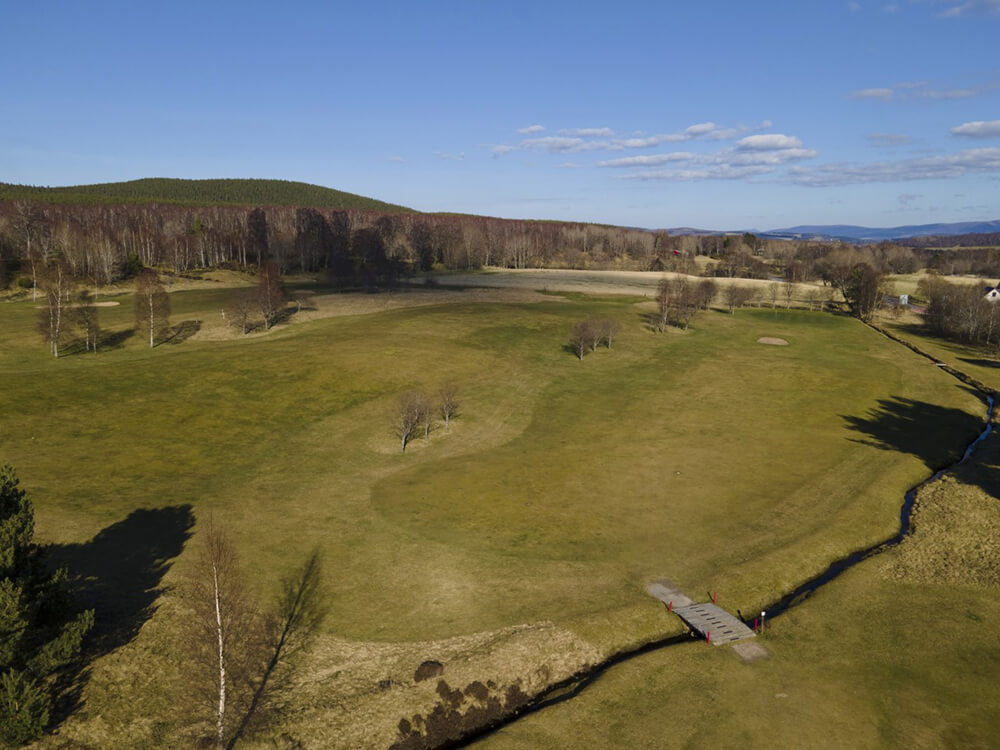 Carrbridge (near: Nairn & Boat of Garten)
I've never had more fun playing golf than at little Carrbridge, four miles north of Boat of Garten. Under a crystal-blue sky, breathing fresh Highland air, with stunning views all around, this is as good as it gets. Only 5,382 yards and par 71 twice around from the back tees, Carrbridge gives plenty of challenge. Two closing par threes of 178 and 225 yards return to a picture-book clubhouse maintained by devoted members.
Durness (near: North Coast 500)
A must stop on the North Coast 500 referenced above, Durness is of fairly recent vintage (1988). The first hole is a rousing start, sliding uphill from left to right, and the last is one of the best par threes in Scotland, played over an inlet of the North Sea to a tightly bunkered green.
Allan McAllister Ferguson is a golf travel writer and consultant whose book Golf in Scotland is widely considered the "bible" of Scottish golf travel.
What are your favorite lesser-known golf courses in Scotland?