Beantown has a proud golf history that begins well before Francis Ouimet's upset win in the 1913 U.S. Open. The city is home to America's second-oldest golf course, the William J. Devine Course at Franklin Park. (Bobby Jones played there whilst pursuing his English degree at Harvard.) Oakley Country Club in nearby Watertown was the first place famed course architect Donald Ross worked when he came to America from Scotland. Ross spent 11 years there, honing his design skills and revising the course's layout several times before going on to create over 400 other courses.
If you have connections, Boston offers a long list of strong private courses in addition to The Country Club. Salem Country Club just north of the city has hosted multiple major championships. TPC Boston in Norton has been the site of PGA Tour events since its inception in 2002. And many other Boston-area clubs have hosted national championships, including Myopia Hunt Club, Brae Burn, Charles River, and Winchester. The Gil Hanse-designed Boston Golf Club is one of the area's newer private clubs, and invitations to play there are highly coveted.
But the average Bostonian isn't playing those courses. They're playing the public courses—the locals and munis—and the Greater Boston area has 'em in spades. Here's a list of your top choices that are within a Paul Revere midnight ride of Boston.
Robert T. Lynch Municipal Golf Course (Brookline)
We'll mention the Robert T. Lynch course in the Putterham neighborhood of Brookline first because it's literally right next door to The Country Club in Francis Ouimet's old stomping grounds. Designed by Wayne Stiles and John Van Kleek in 1933, it's a 6,300-yard track that's busy from dusk 'til dawn just about every day that it's not snowing. The 420-yard finishing hole is just one of many challenging holes here, and the course is usually kept in good shape. Lynch Municipal may not have the pedigree of its illustrious neighbor, but it's good golf. And you don't need to be a member of the Boston Brahmin to get a tee time.
George Wright Golf Course (Boston)
One of two city-owned golf courses in Boston, George Wright GC was designed by Donald Ross and is considered one of the best municipal courses in America. Named for a Hall of Fame baseball player who went on to found the popular sporting goods store where Francis Ouimet once worked, the George Wright course is located in the city's hilly Hyde Park neighborhood. It's an attractive course with ridges, valleys, blind shots, false fronts, and some long par threes. The sharply downhill 12th hole, with a stream guarding the approach to the green, is emblematic of the challenges offered. Playing conditions aren't always the best; the layout deserves better. But it's worth playing just to experience that layout.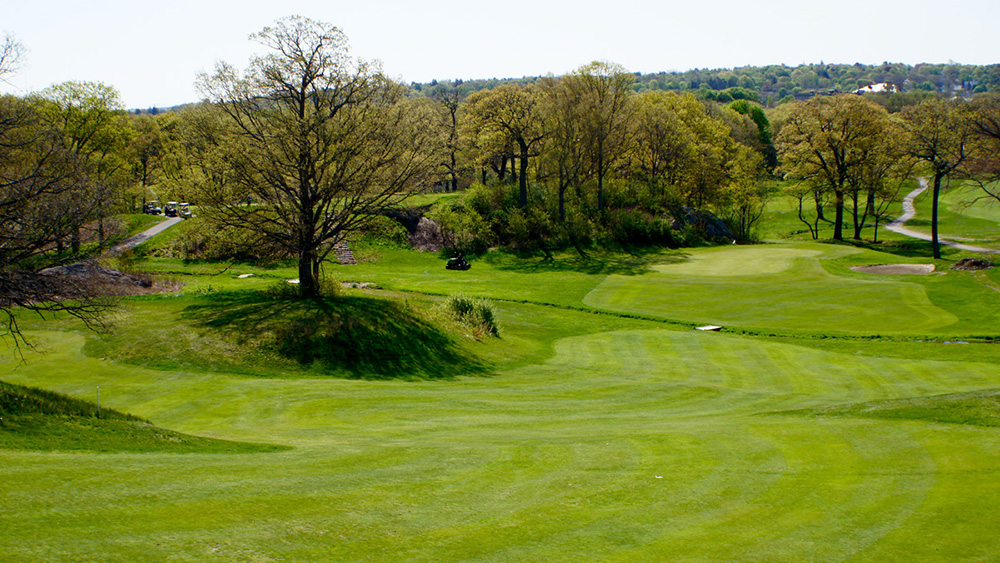 William J. Devine Golf Course at Franklin Park (Boston)
Boston's other municipally owned course, William J. Devine GC, has lots of history of its own. The course's first professional was Willie Campbell, winner of the first U.S. Open at Newport Country Club. America's first female golf professional, Georgina Campbell, gave lessons at William Devine. And George F. Grant, the inventor of the golf tee, was a regular player at the course. It's also one of the few courses where you might hear a lion roar while playing, as Franklin Park also includes a zoo. It's not a long course, and it's hit and miss with conditions (though they've improved markedly from what they once were). The course is generally open but expect thick rough and greens that will test the best of putters.
The Meadow at Peabody (Peabody)
To get to Peabody (pronounced "PEE-biddy" by the locals), you travel north from Boston until whatever road you're on intersects with about 15 others. There you'll find this standout, town-owned Mark Mungeam-designed course, which dates to 2001 and tips out at over 6,700 yards. Like many courses in the area, it's hilly, tight in spots, and features granite outcroppings in many places. It's a fun course and a good test from start to finish.
Newton Commonwealth Golf Course (Newton)
Just west of Brookline, Newton Commonwealth dates to 1897. Donald Ross worked his magic in the 1920s and the result is a tree-lined course that's tight, hilly, and requires accuracy all day long. No bomber's course, you'll have to contend with water, small greens, and on most days, pretty slow play. But you can play all 18 holes for under $50.
Leo J. Martin Golf Course (Weston)
Keep moving west to the town of Weston and you'll hit Leo J. Martin GC, which is run by the state of Massachusetts. This is another Donald Ross creation that stretches to 6,300 yards and offers views that are as good as the holes themselves. The Charles River meanders right through the middle of the property, adding to the scenery. The driving range at "Leo J." is a great place to work on your game.
Ponkapoag Golf Course (Canton)
Ponkapoag, or "Ponky" as the locals call it, is another state-owned course. There are two tracks here, but it's the No. 1 Ponky course that you'll want to play. This is yet another Donald Ross layout, one memorialized in Rick Reilly's hysterical golf novel, Missing Links, in which it plays the part of a muni whose members are at war with those of a neighboring, snobby, private club. Sadly, Ponky is seldom in great condition. But it's a terrific routing sited amongst gently rolling hills and beautiful, mature trees. Hopefully it will someday get the tender loving care it deserves. Until then, it's worth a visit if you arrive with the right expectations.
Brookmeadow Country Club (Canton)
As its name suggests, you'll find brooks and meadows at Brookmeadow, along with trees, ponds, subtly difficult greens, and generally good playing conditions. You really need to hit the ball straight here, especially on holes like the 440-yard, dogleg-right 2nd hole. Attempt to cut the corners at your own peril. The long, par-four 18th hole is one of the tougher finishers you'll encounter. And when you're done and head to the 19th hole, the family atmosphere at Brookmeadow will make you feel right at home.
View this post on Instagram
Braintree Municipal Golf Course (Braintree)
The ad in a 1931 issue of the Boston Globe said it all: "Proposed New Golf Course at South Braintree; Meeting Called for Monday to Determine Whether Club Will be Organized." Well, the club was organized, and in 1932 the Wayne Stiles-designed 9-hole course opened at the intersection of several area rivers. The town of Braintree purchased the course in 1955 and later expanded it to the current 18-hole course, with design work from Geoffrey Cornish and Samuel Mitchell in 1957 and 1971, respectively. Today's course has water everywhere, with the Farm, Monatiquot, and Cochato Rivers all meandering through the property. But the 40,000-plus people who play the course annually enjoy it and you will, too.
Granite Links (Quincy)
Granite Links isn't a links course. But its 27 holes are in high demand. The John Stanford design was created on the site of former landfills and granite quarries using 13 million tons of material from Boston's "Big Dig" highway project. Today, Granite Links also moonlights as a condo community and a premier wedding venue. But the golf is good on all three nines as you traipse up and down the slopes of the quarries. And the views of the city of Boston in the distance from some holes are unforgettable.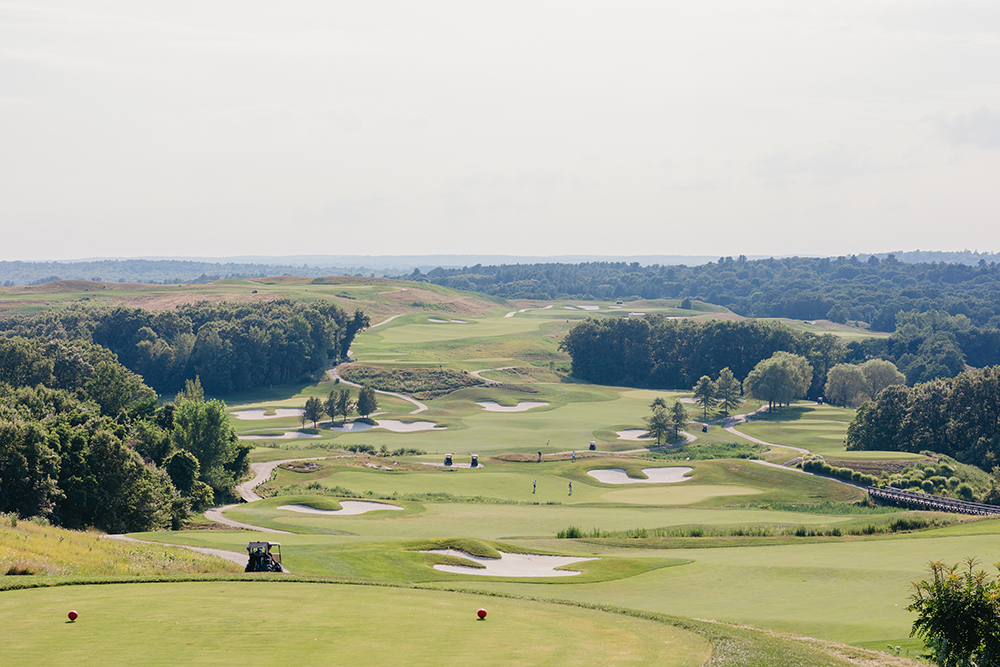 South Shore Country Club (Hingham)
Hingham is one of Boston's tonier suburbs. It's located on what's known as the South Shore, where Vineyard Vines clothing predominates, and the Range Rovers are kept shiny and clean. But South Shore CC doesn't have a stuffy vibe. Another Wayne Stiles course, this one dating to 1922, South Shore has lots of elevation change and more than its share of vexing greens. The downhill-then-uphill 5th and 12th holes are just two of the terrific challenges that await you here. Bring game and you're sure to enjoy this course.
Gannon Municipal Golf Course (Lynn)
Gannon isn't a long course—just 6,100 yards from the tips. But don't let its length fool you. There are some tough holes here, including two par threes that play over 200 yards. The course didn't have grass tees until the 1970s, but today's playing conditions are decent and its location in the second-largest municipal forest in the U.S., the Lynn Woods Reservation, is downright idyllic. The 15th hole, "Happy Valley," pays homage to the course's nickname and is a strong par five with a devilishly imposing cross bunker. It's one of many memorable holes at Gannon.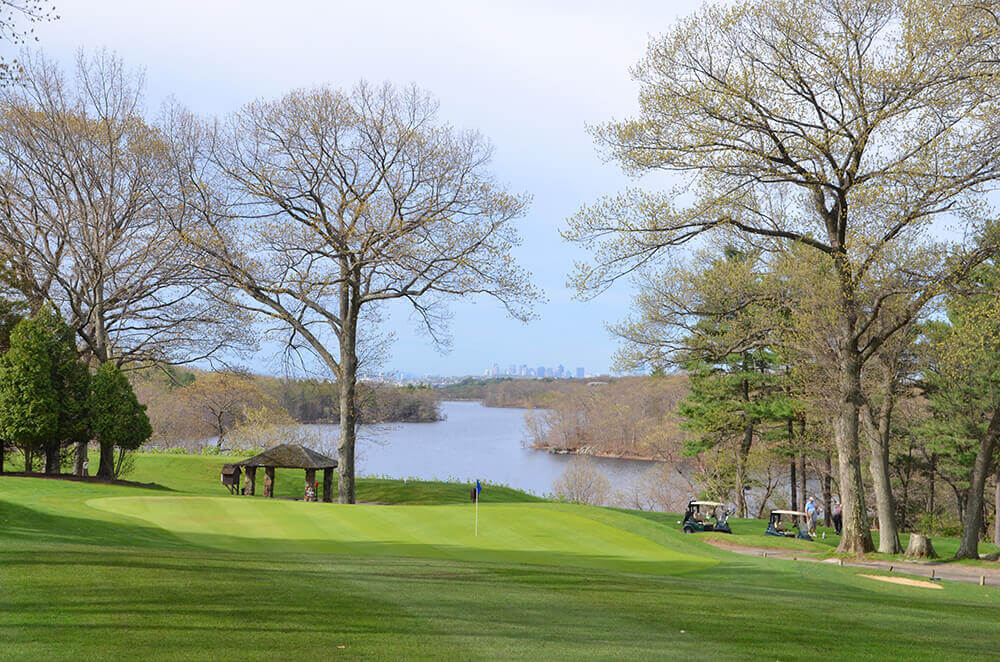 What are your favorite public golf courses near Boston?