There's just something about a downhill par three in the way the green is invitingly laid out in front of you. And the more pronounced the drop, the more the golfer needs to consider—or reconsider—which club to use.
Here are 11 of the most significant par-three elevation changes, the kind of exhilarating holes that mess with a golfer's depth perception and leave them waiting with bated breath for a few extra beats before their tee shot lands.
Blue Lakes Country Club, 6th hole (Twin Falls, Idaho)
It isn't often a par three is the No. 1 handicap hole on the scorecard. But the 6th hole at Blue Lakes can be scenic and sadistic, playing over 100 feet downhill to a green set on a narrow tongue of land that's flanked by two bunkers in front. The backdrop is terrific, but when the wind is blowing the hole gets even harder.
https://twitter.com/Top100Rick/status/1403486579088257028?s=20
Chambers Bay, 9th hole (University Place, Wash.)
The teeing ground on this long par three is the highest point on the course, perched nearly 100 feet above an oversized, well-contoured green complex that slopes from left to right. The hole is called "Olympus" as a nod to Mount Olympus, which is the tallest peak in the Olympic Mountain range visible across the Puget Sound.
The par-3 9th at Chambers Bay, with the 1st & 18th beyond. From the upper tee, this reverse-redan style one-shotter provides an incredible vantage over the entire course, Puget Sound, Fox Island and McNeil Island. Easily one of the best public courses built in the US since 2000. pic.twitter.com/fMHFozv5c2

— LinksGems Golf Photos (@LinksGems) March 13, 2018
Crystal Springs, 11th hole (Hamburg, N.J.)
An old limestone quarry serves as the setting for the most dramatic hole on a course full of challenges. The teeing area sits on the edge of a cliff, approximately 80 feet above a wild green shaped like a dog bone that's fiercely guarded by a pond that had been a swimming hole before Crystal Springs was built three decades ago.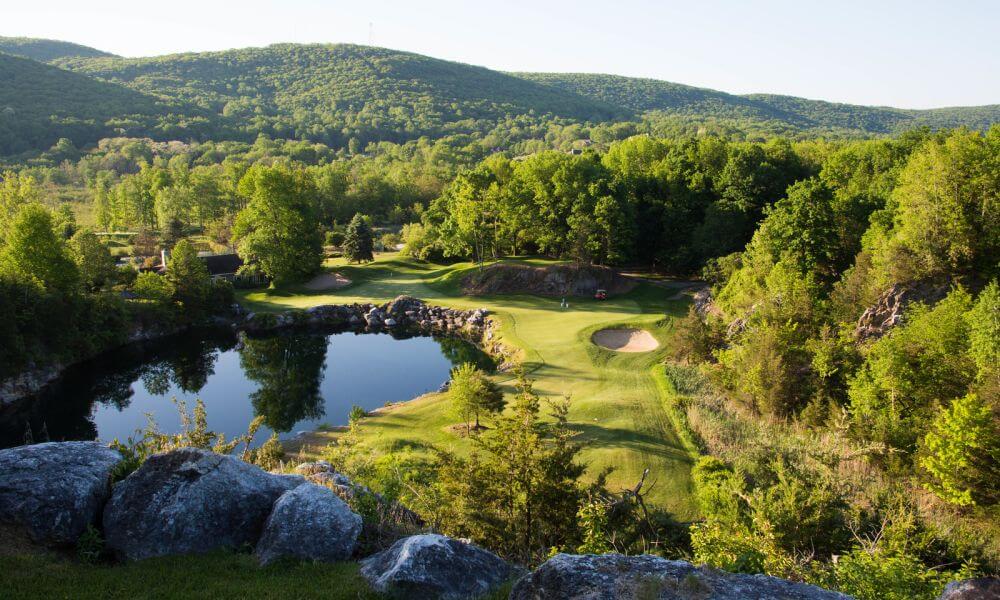 FarmLinks at Pursell Farms (Sylacauga, Ala.)
Considered the best public course in Alabama, this scenic Hurdzan/Fry design near the foothills of the Appalachian Mountains navigates through a mix of woodlands, fields, and wetlands. It's also known for its elevation change, with no hole more striking than the par-three 5th, known as "Hang Time," showcasing a 172-foot drop from the tips (the Longhorn tees) to a green surrounded by three bunkers, one on either side and another behind.
Gatlinburg Golf Course, 12th hole (Pigeon Forge, Tenn.)
The unique 12th hole on this public course, which is adjacent to Dollywood and boasts views of the Great Smoky Mountains, is known as "Sky Hi." Measured at 194 yards from the back tee, it plunges 200 feet from tee-to-green.
Sky high!!!! Look out below! Smoky Mountain splendor!!! The 12th hole at Gatlinburg Golf Course plunges 200 feet. But let's face it, the mountains way beyond the green are attraction. pic.twitter.com/DJc4UUUQMy

— Guy Cipriano (@GCIMagazineGuy) August 7, 2021
Hideaway Hills, 7th hole (Kunkletown, Pa.)
Many of the golf courses in the Pocono Mountains of Pennsylvania have embraced a different kind of template hole—a severely downhill one-shotter known by some locals as a "Pocono Par Three." The 7th hole at Hideaway Hills, a daily fee course designed by its owner, has a 135-foot drop and can play as long as 217 yards (on the scorecard).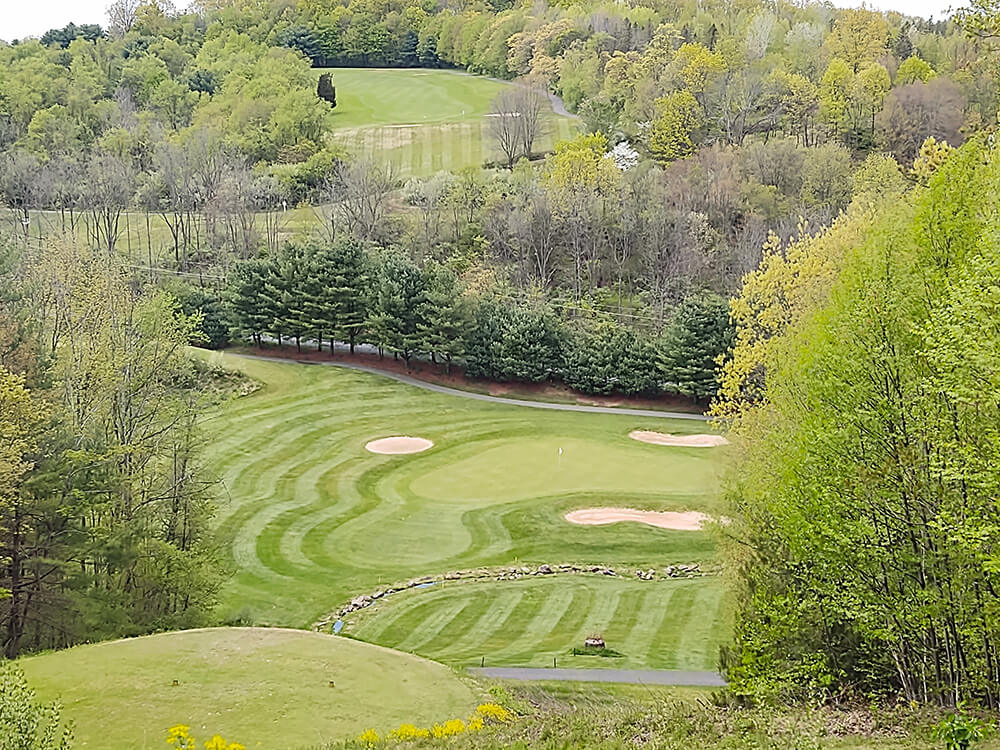 Linville Ridge, 16th hole (Linville, N.C.)
This mountaintop community in northwest North Carolina boasts what's said to be the highest elevation golf course east of the Mississippi River, with its highest point almost 5,000 feet above sea level. The tee-to-green elevation change at the par-three 16th is 110 feet, the equivalent to an 11-story building.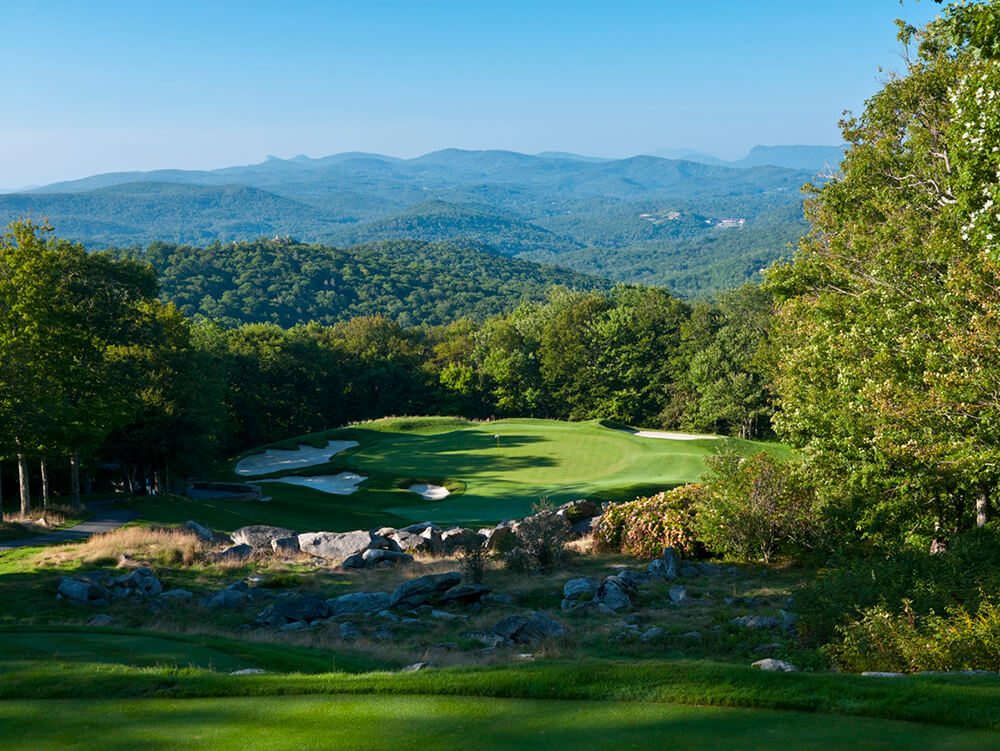 Mountain Air, 10th hole (Burnsville, N.C.)
Another community in the North Carolina mountains, Mountain Air has no shortage of scenic views. One of the most dramatic is at the par-three 10th hole that drops well over 100 feet from the back tee, with a ribbon of cart path running serpentine down the slope below as added visual intimidation. Some golfers see as much as 10 seconds of hangtime.
View this post on Instagram
Old Edwards Club, 11th hole (Cashiers, N.C.)
This course in Macon County, N.C., is relatively straightforward—except for the 11th hole, which drops as much as 180 feet. A rule of thumb from the director of golf at the property: Go down three clubs from whatever a player would ordinarily hit at the listed distance.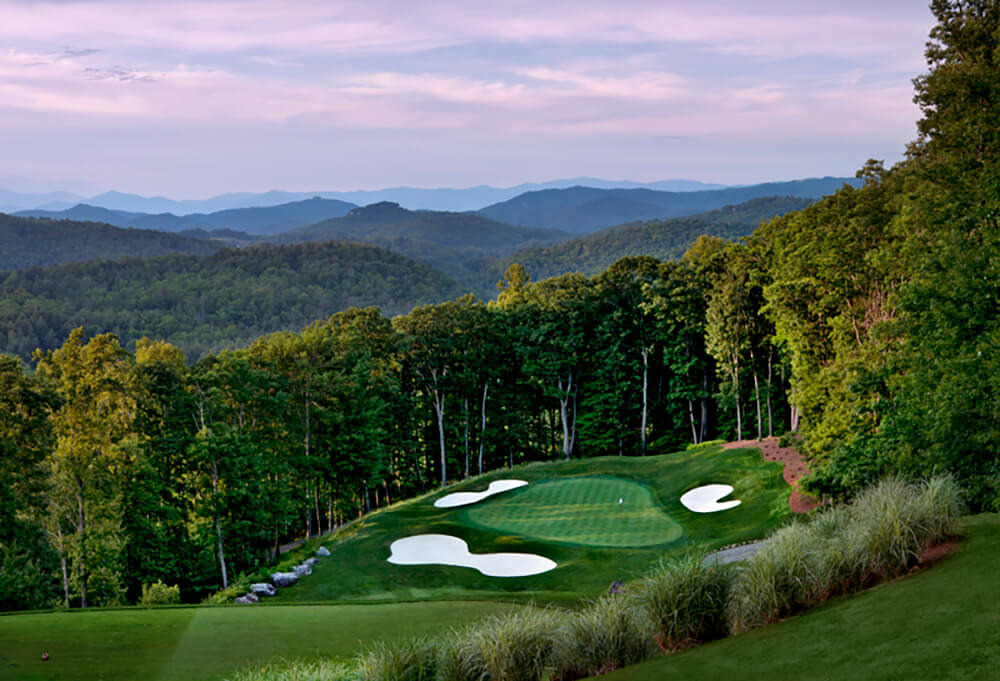 Pocono Manor East, 7th hole (Pocono Manor, Pa.)
The 7th hole at this quirky course (also in the Poconos) has one of the more unusual par threes you'll ever see: a 77-yarder that plays straight downhill—with almost 150 feet of elevation change. Consider that Pennsylvania native Arnold Palmer once shot 69 here and double-bogeyed the William Flynn-designed 7th hole.
View this post on Instagram
Sugarloaf Golf Club, 11th hole (Carrabassett Valley, Maine)
One of the most photographed golf holes in New England, "Precipice" is an absolute stunner, dropping more than 120 feet to a well-guarded green. With bunkers behind and to the right of the putting surface, plus the rocky Carrabassett River hard left, walking away with par here can feel like a win.
View this post on Instagram
Let us know your favorite elevated par-three holes.