Before it recently closed, Farmstead Golf Links in the Carolinas not only finished with a 767-yard par six, but players would hit drives off the 18th tee in South Carolina and putt out in North Carolina. It made Farmstead a novelty in the golf world, and that didn't even take into consideration that the course's beverage cart wasn't allowed to cross state lines into South Carolina.
Sadly, Farmstead was sold to a developer and is being turned into residential subdivisions. But that doesn't mean golfers can't play other U.S. courses that straddle state (and even international) lines. Here are 11 examples.
Bois de Sioux Golf Course (Minnesota and North Dakota)
Bois de Sioux is the only public golf course in the nation to have nine holes in one state and nine holes in another. The front side is in Wahpeton, N.D., and the back nine is in Breckenridge, Minn., with the course split by the Red River of the North.
Council Fire Club (Georgia and Tennessee)
This private club that's hosted PGA Tour and collegiate tournament events straddles the Georgia-Tennessee border, one of at least two clubs that do—along with WindStone Golf Club. Bob Cupp designed the Chattanooga-area course, which is the centerpiece to a housing development that winds through a 300+ acre property that's bisected by a creek and surrounded by natural wetlands.
View this post on Instagram
Crestview Country Club (Connecticut and Massachusetts)
Known as the "Gem of Western Mass," this semi-private facility winds through both scenic Agawam, Mass., and Suffield, Conn., offering up panoramic views of the Pioneer Valley. While most of the course is in Massachusetts, parts of several holes extend into northern Connecticut.
Gateway Lodge Golf Course (Michigan and Wisconsin)
This simple 9-hole course next to Gateway Lodge in Land O' Lakes, Wis., is now separately owned and operated, with five holes in Wisconsin and four on the other side of a roadway that stretch into the towering pines of Michigan's Upper Peninsula.
Highland Springs Golf Course (Pennsylvania and West Virginia)
This public, daily fee 18-hole course is located in the upper point of the left "horn" of West Virginia, tucked in between Ohio and Pennsylvania. It's across the street from an alpaca farm, with golfers starting in Wellsburg, W.Va., and finishing their round across the border in Pennsylvania, not far from the Stateline Café and Drive-Thru.
Knollwood Country Club (Indiana and Michigan)
Just north of South Bend, Ind., and the University of Notre Dame, six holes of this 36-hole private club in the rolling, wooden countryside of Granger extend across the border into Michigan. The property spans more than 400 acres in total.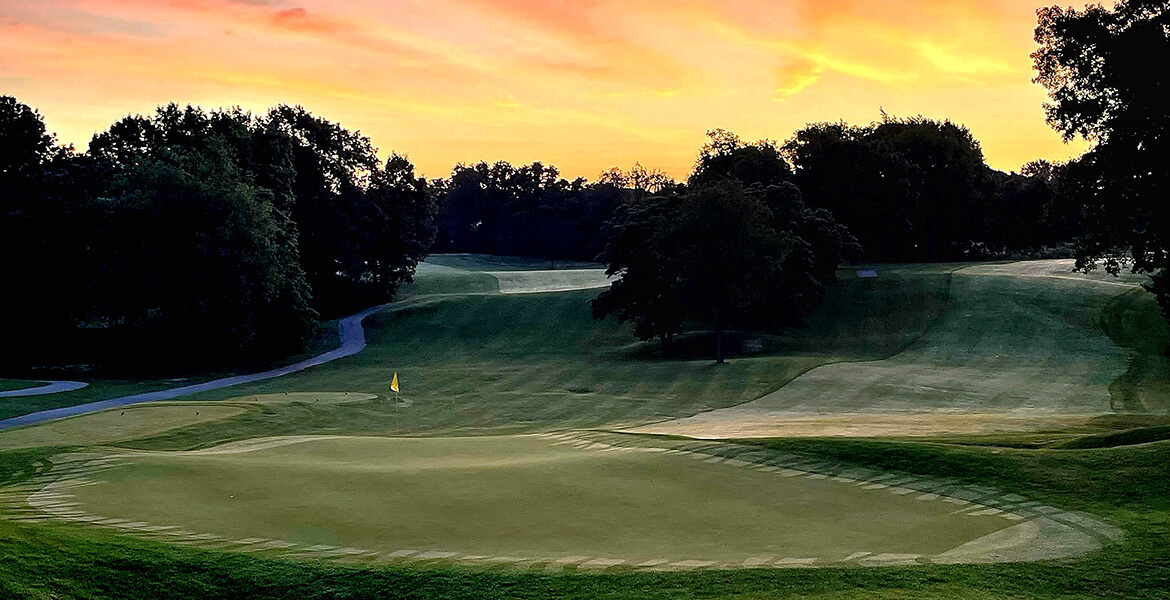 Pawtucket Country Club (Massachusetts and Rhode Island)
At least three country clubs span the New England states of Rhode Island and Massachusetts: Wentworth, Swansea, and Pawtucket. At the latter, the tees for holes 1 and 10 are in Rhode Island, as is the 18th green and the clubhouse, while the majority of the course is located in Massachusetts. This caused some issues early in the Covid-19 outbreak, as Rhode Island at one time had rules that prohibited golfers from other states (like neighboring Massachusetts) from visiting to play golf.
View this post on Instagram
Province Lake Golf Course (Maine and New Hampshire)
In southeast Maine, a few lakefront holes of this 18-hole public course extend into New Hampshire. Fourteen of the 18 holes have views of Province Lake, the majority of which is in New Hampshire. Interestingly, the final three holes of this course feature out-of-bounds areas on BOTH sides of the fairways, so accuracy is a premium.
Rockrimmon Country Club (Connecticut and New York)
A group of Stamford residents began talking about the idea for a new golf club at a 1947 dinner party and shortly afterward purchased a 218-acre farm that spanned the Connecticut and New York state lines. Golf course architect Robert Trent Jones Sr. was retained to design the 18-hole layout, being familiar with New England topography, though the majority of the club's holes are actually located across the border in New York.
Gateway Cities Golf Club (Canada and North Dakota)
Is it possible to take longer than an hour to play a single hole? It is at this course, which has eight holes in Canada (North Portal, Saskatchewan) and one in the United States (Portal, N.D.), along with the clubhouse. Because Gateway Cities straddles two different time zones, golfers tee off on the 9th hole in Canada and end up putting out an hour later across the 49th parallel in the U.S. Another decidedly unique aspect are its oiled-sand greens.
The city of Portal is an important border crossing and only one of 3 24-hour crossings in the state. The Gateway Cities Golf Club is an "international" golf course with one hole in Portal and 8 across the border in North Portal, Saskatchewan in Canada. pic.twitter.com/fp2gqPvC9X

— Yash Marathe (@ymarathe) June 21, 2019
Aroostook Valley Country Club (Canada and Maine)
Almost the entirety of this course and the clubhouse are on the Canadian side of the border, in Perth-Andover, New Brunswick, but the pro shop and parking lot for Aroostook are on the U.S. side in Fort Fairfield, Maine. If you're wayward off the tee, it definitely is possible to end up on U.S. soil on a few holes, most notably the 1st hole. Back in the prohibition era, having the 19th hole on the Canadian side of the border was a big deal for golfers who wanted that post-round drink.
Is there a course that spans multiple states, or international lines, you've played that isn't on the above list? Let us know, we'd love to hear about it!