When you hear "island green," what's the first thing that comes to mind?
Chances are it's Pete (or Alice) Dye's design at TPC Sawgrass, the iconic par-three 17th hole seen every year at The Players Championship. If not, maybe it's the floating green golfers need a boat to get to at Idaho's Coeur d'Alene or the stunning one-shotter at Mexico's Punta Mita Resort otherwise known as "Tail of the Whale." Other newcomers are vying for consideration, like the jaw-dropping 19th hole at the Tiger Woods-designed Payne's Valley course at Big Cedar Lodge in Missouri.
The reality is that most golfers won't experience the thrill and anxiety of standing on the tee box of Sawgrass's 17th. But that doesn't mean they won't get the chance to stare down a memorable and unique island green at some point. There are dozens of other options and imitators across the country, from the simple to the sublime.
From a design standpoint, the island green—or peninsula green in some cases for the sticklers out there —admittedly isn't everyone's cup of tea. They're kind of an all-or-nothing proposition. In most instances, you either hit the target and are rewarded… or miss and are penalized. But it's hard to dispute they're pretty memorable, especially when a golfer plays an island green for the first time or stumbles across one they didn't know about at a new-to-them course.
There's no official (or unofficial) database of island greens, at least as far as I know. So, I figured I'd offer these 10 lesser-known U.S.-based examples as a starting point. They're either island greens I've had the opportunity to play during my travels or have heard about from others. We would love to hear versions you've come across… and maybe how you fared.
16th hole—Lost Tracks Golf Club (Bend, Ore.)
An old railroad car serves as your bridge to the slightly larger island green at this fun daily fee course in central Oregon. As a special touch, visiting golfers have hung thousands of bag tags from past rounds as mementos in the sleeper car.
17th hole—Secession Golf Club (Beaufort, S.C.)
Like the penultimate hole at TPC Sawgrass, this short par three comes before the finisher at this very private, walking-only course in South Carolina's Lowcountry. The small green, raised and flanked by wooden bulwarks, is surrounded by marsh and wetlands that you can play from—depending on the tide.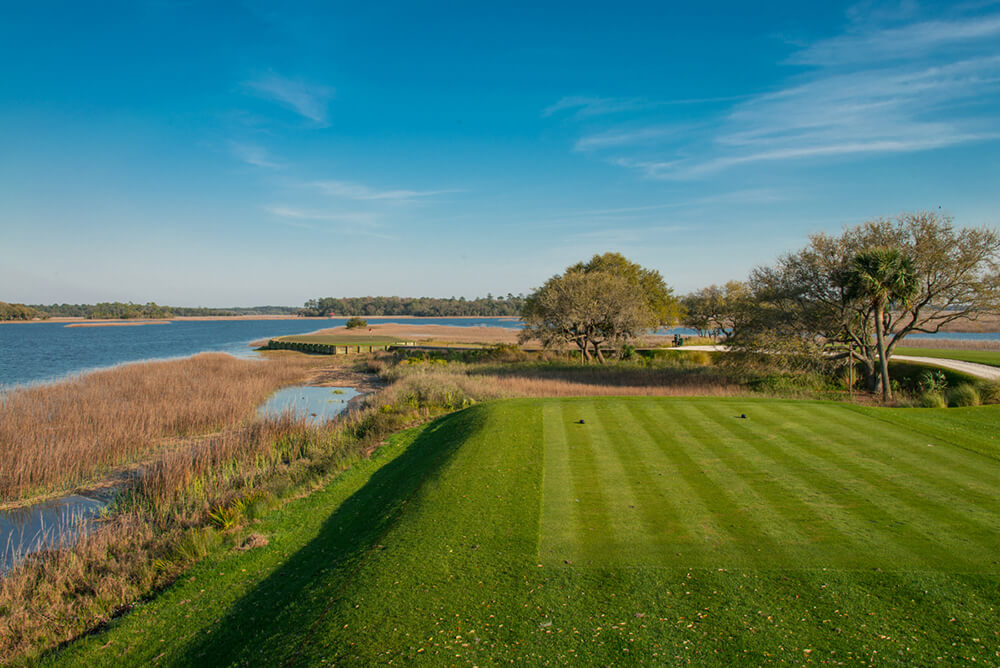 17th hole—Boulder Creek Golf Club (Streetsboro, Ohio)
This daily fee course just outside of Cleveland in northeast Ohio was the first-ever design from architect Joe Salemi, who says the island green 17th hole is probably his favorite in the routing because of the special view from the elevated tee and because it's unique in the golf-rich state.
15th hole—Galen Hall Golf Club (Wernersville, Pa.)
The par-three "Moat Hole" at this public course is a true island, with a small green designed by A.W. Tillinghast surrounded by a ribbon of water and multiple bridges providing access. Some golf historians have pointed to Galen Hall's 15th as one of the first island greens created.
6th hole—Raven Golf Club at Sandestin (Miramar Beach, Fla.)
One of four courses at Sandestin, the Raven features this large island green from Robert Trent Jones Jr. that demands a 200-yard carry over water from the back tees.
View this post on Instagram
15th hole—Man O'War (Myrtle Beach, S.C.)
Built around an 80-acre lake, Myrtle Beach's Man O'War course is a rarity, with back-to-back island greens. Both are fairly generous in size, the first coming at the par-four 14th hole before the mid-length par-three 15th. Water defines the entire layout from Dan Maples, but this two-hole stretch is especially unforgettable, with two of the top island greens in and around Myrtle Beach.
15th hole—Sweetgrass Golf Club (Harris, Mich.)
One of golf's newer island greens can be found at the scenic Island Resort & Casino on Michigan's Upper Peninsula. Sweetgrass has a Redan, a Biarritz, and a double green, while the 15th hole, called "Turtle," is a classic island green that makes golfers pay close attention to wind and yardage.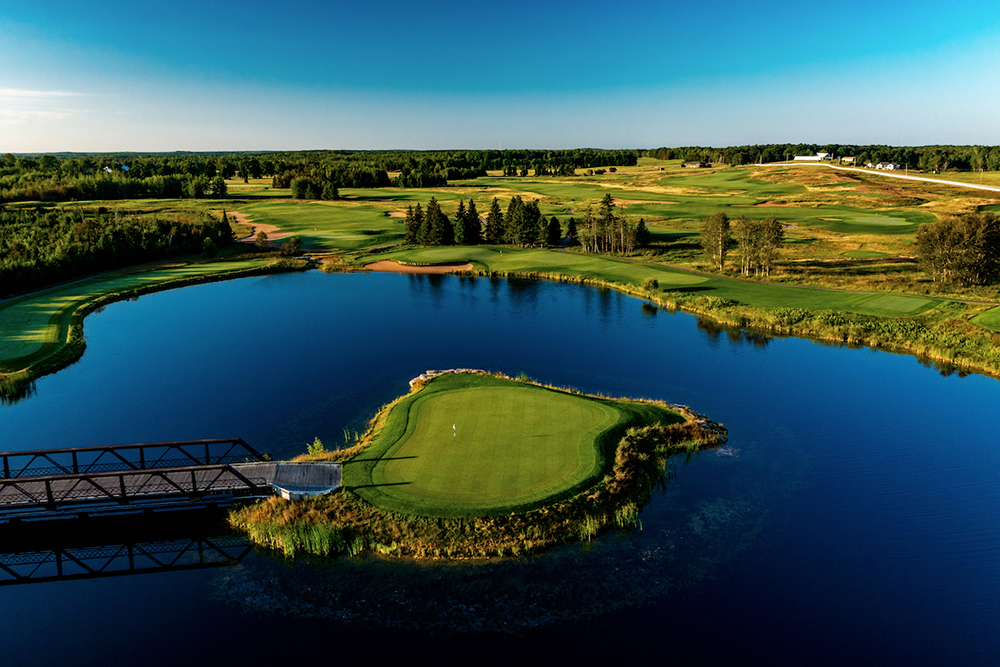 15th hole—Wolf at Las Vegas Pauite Golf Resort (Las Vegas, Nev.)
The longest course in Nevada has a memorable shorter hole with this island par three that features a three-tiered green. Perhaps not surprisingly, the Wolf is one of three 18-hole Pete Dye designs at the property.
It's a love/hate relationship but can't deny the beauty!#golf #golfcourses #lasvegasgolf #vegasgolf #whyilovethisgame #beautifulgolfcourses #lasvegasgolfcourses #desertgolf #birdiecage #lvpaiutegolf pic.twitter.com/KfQmFIHbxu

— Las Vegas Paiute Golf Resort (@realpuregolf) January 21, 2022
17th hole—Cherry Hills Country Club (Denver, Colo.)
While you might know of Cherry Hills as one of the nation's esteemed private clubs (and the host of five men's major championships), you might not know it's reputedly the site of the first island green on a par five in America. It doesn't get a lot of public exposure but will be a pivotal hole when the U.S. Amateur Championship comes to C.H.C.C. in 2023. This golf rarity is where Ben Hogan came undone at the 1960 U.S. Open, losing a share of the final-round lead when his third shot spun back into the water after a run of 34 straight greens in regulation.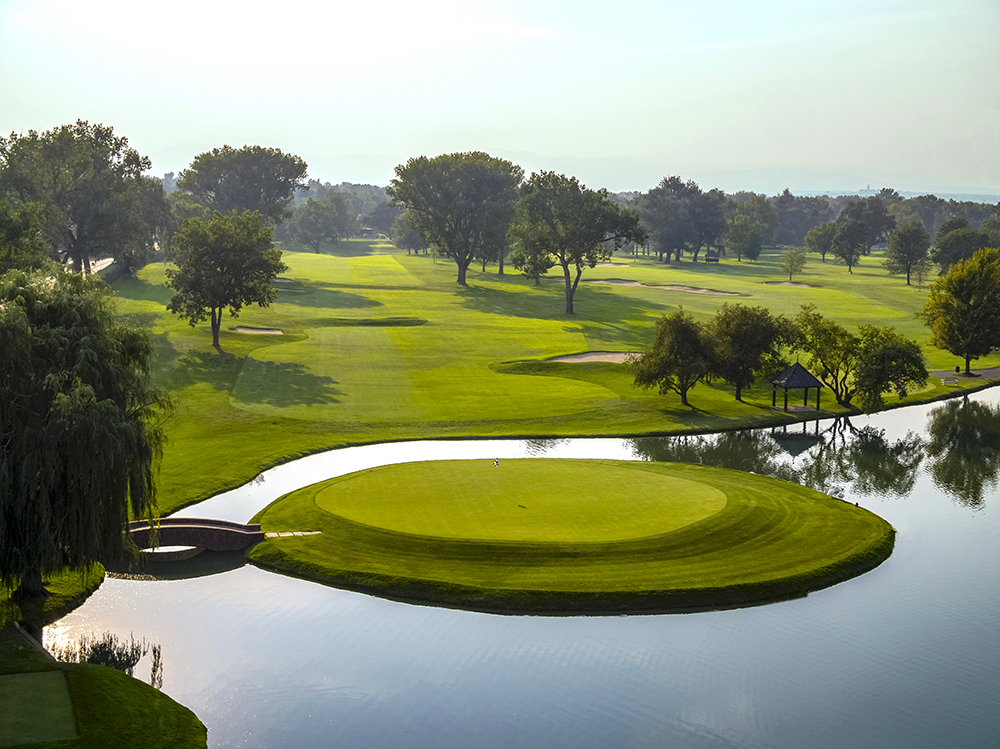 4th hole—Ram Rock (Horseshoe Bay Resort, Texas)
Robert Trent Jones Sr. designed courses in over 500 locations. While it's probably not known how many incorporate island greens, this one in the Texas Hill Country does for sure. This par three comes early in the round, too, playing to a shallow green surrounded by a low rock wall… and water, of course.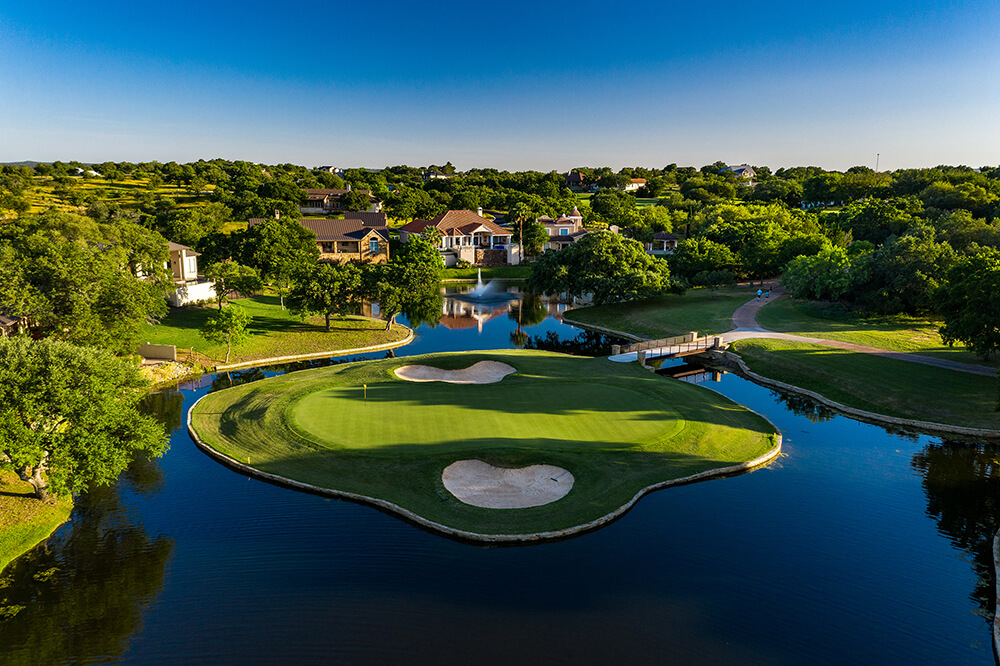 I kept this list to 10, but of course there are plenty other worthy candidates. Let's hear more examples you've encountered!