The most fearsome tee shots in golf are those where the golfer has nowhere to miss. The Volcano green certainly qualifies. A bit of a rarity in the golf design world, Volcano holes have a green that is built up on at least three sides, often appears to be raised above the tee box, and weak or wayward shots tend to spill off the front or siding slopes.
A Volcano green, when missed, can be especially penal—often yielding a bogey or worse. Conversely, it's thrilling when executed properly, not unlike a great tee shot on an island green hole.
Golf architect Donald Ross was a noteworthy adopter of the Volcano green, incorporating the concept at a number of his courses throughout the U.S. While not a traditional template like Redan, Biarritz, Punchbowl, or Cape holes, Volcano holes are a memorable design—good or bad—for those who have experienced them.
Here are 10 top examples of Volcano holes, which some may also describe as plateau, butte, or chimney-style greens.
The Misquamicut Club (R.I.)—8th hole
The third of three par threes over the first eight holes at this old-school Rhode Island club, the 8th hole plays about 165 yards to a green fronted by what looks like a 20-foot wall from the tee, with severe drop-offs on both the right and left. The original 1895 Tom Bendelow design was overhauled by Ross in the early 1920s and today plays as a charmingly challenging par-69 layout.
The 8th at Misquamicut isn't to shabby either pic.twitter.com/GFJWZXvRws

— Jim Nagle (@jimnagle_gca) October 21, 2020
Omni Bedford Springs Resort (Pa.)—4th hole 
It's not often that a par three is a course's No. 1 handicap hole, but that's the case with the Volcano hole at this resort in the Allegheny Mountains of south-central Pennsylvania. Ross and A.W. Tillinghast designed holes at the Old Course and Ross's contributions included this brute, which plays more than 200 yards to a two-tier green perched atop a hill, with bunkers at the base of the steep side slopes.
Torturing pops for Father's Day. Making him play the "Volcano" hole on the Old Course at Bedford Springs. Dave Swartzel and team have the brutally difficult hole (and the 17th others) in magnificent shape. pic.twitter.com/nOs84wYyMJ

— Guy Cipriano (@GCIMagazineGuy) June 19, 2020
Roaring Gap Club (N.C.)—6th hole
This club was created by former Pinehurst President Leonard Tufts as a private getaway for the summer months in the Blue Ridge Mountains of North Carolina. With the rolling topography presenting a perfect canvas, Ross incorporated a Volcano hole called "Do-Drop" as the par-three 6th, with short, slightly downhill tee shots that either "do" land safely or "drop" down the surrounding steep embankments.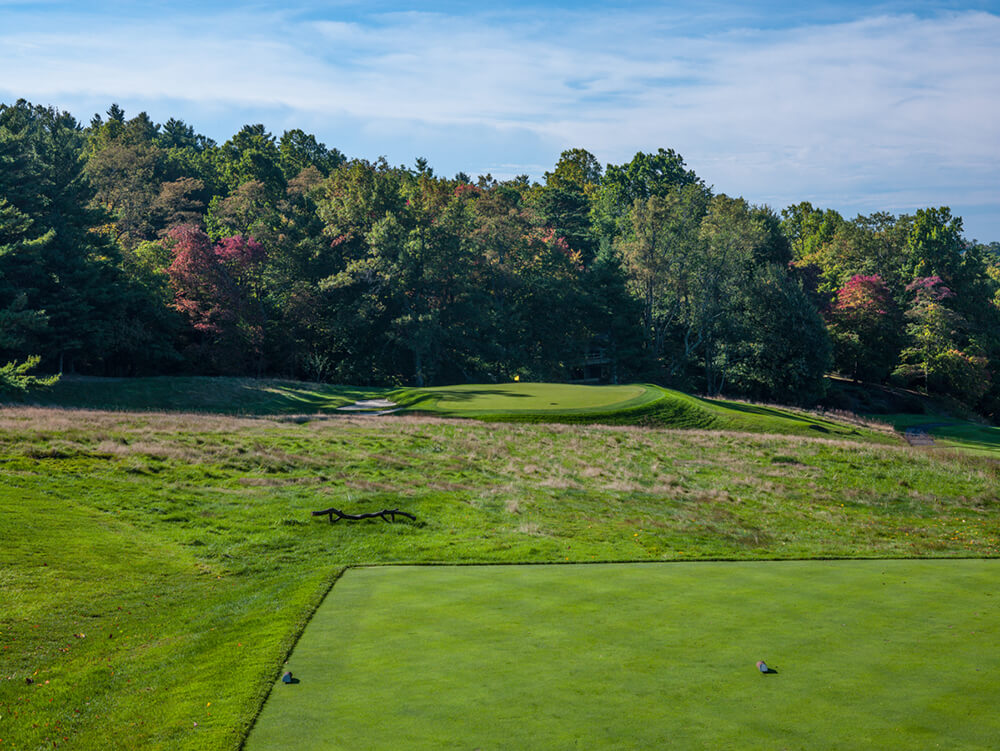 Eagle Springs Golf Resort (Wis.)—2nd hole
The signature hole at the oldest course in Wisconsin is short and… steep. Some locals call this 134-yarder to a green perched atop a tall, domed mound "Two or 22," a nod to the range of scores in play depending on whether a player hits or misses the tabletop target. Several years back, ownership added an alternate second hole (2b) because some senior players opted to skip the Volcano.
Step back to 1893 and the volcano hole at Eagle Springs. They don't make em quite like this anymore. pic.twitter.com/YcwHM70i93

— Jason Way (@JasonWay1493) October 11, 2016
Irondequoit Country Club (N.Y.)—2nd hole
One of a number of classic Ross designs in the Rochester/Buffalo area, Irondequoit's first par three plays between 147 and 173 yards uphill to a green that sits atop a plateau. Described as a "chimney" design on the club's website, the hole puts a demand on accuracy early in a player's round, with severe drop-offs in front and both sides.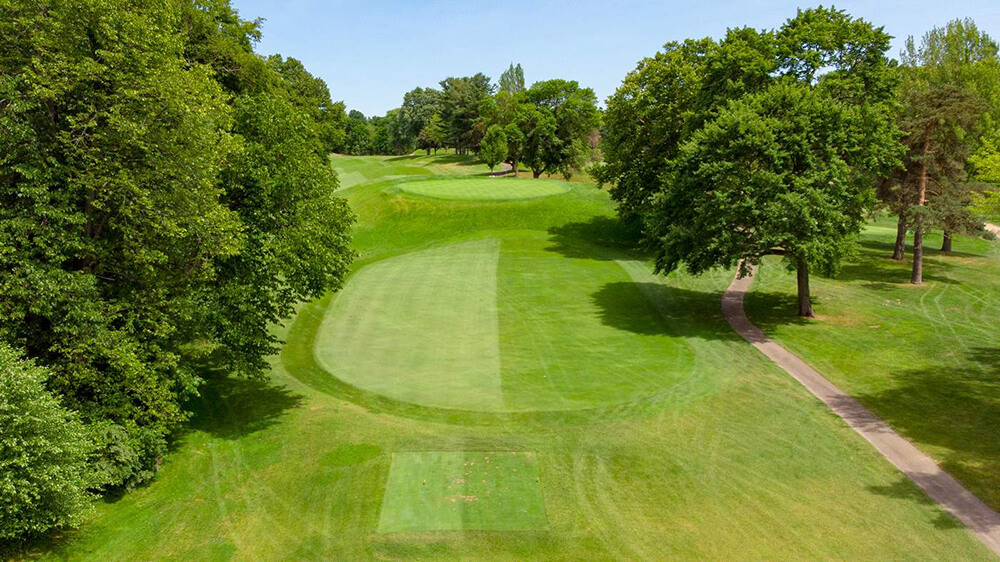 Bald Peak Colony Club (N.H.)—12th hole
Playing slightly downhill and (typically) downwind, this 138-yard par three called "Battleship" plays to an elevated green that slopes significantly back-to-front and has several boulders in front. In addition to dangerous drop-offs on every side, the pitched putting surface features a range of tricky pin positions that make par a good score.
Leading off tonight's requests: Bald Peak Colony Club. This beautiful 1920 Donald Ross design was my pleasant surprise of 2019. Set high above Moultonborough Bay, the course is full of dramatic holes, none more so than "Battleship," the 138yd par-3 12th with its volcano green. pic.twitter.com/rBxqiIMbiQ

— LinksGems Golf Photos (@LinksGems) March 23, 2020
Glens Falls Country Club (N.Y.)—9th hole
The par-three 9th at this Ross gem in upstate New York plays slightly uphill to a raised green that has steep, closely mown drop-offs on the front and left. The slope on the right side of the green features a bunker benched into the hill.
View this post on Instagram
Shennecossett Golf Course (Conn.)—4th hole
The first par three at this municipal layout in Croton is certainly memorable, playing over 200 yards to a small green perched atop what looks like an inverted bowl. Wind is also a factor and, with long irons, hybrids, and fairway woods in play for many, it's a common occurrence to see misses tumble over 20 yards down the greenside slopes.
https://twitter.com/walkinggolfer/status/1013160253297512448?s=20
Lulu Country Club (Pa.)—4th hole
This short par three, which plays only 129 yards from the back tees, epitomizes the hit-it-or-else principle of the Volcano green that Ross embraced. Misses on Lulu's "Quarry Hole" will tumble down into the surrounding grassy quarry, leading to a tough recovery.
The amazing and quirky volcano green at LuLu Country Club. This Donald Ross design is a must-play if you're in the Philadelphia area. pic.twitter.com/qif3oiFoPz

— Adrian Logue (@AdrianLogue) April 18, 2019
Buffalo Country Club (N.Y.)—6th hole
Built on an expansive limestone outcropping that sits down in an old quarry, this tabletop 6th green known as "Pulpit" is one of the more dramatic inland par-three holes you'll find anywhere. The green is angled and pitched in addition to being significantly elevated from its surrounds, leading to a tough recovery for those wayward off the tees situated on the quarry rim.
https://twitter.com/LinksGems/status/1445951498085613572?s=20
What are your favorite Volcano holes?