When Mike Keiser created Bandon Dunes on the windswept coast of Oregon, it involved a leap of faith. It wasn't so much a matter of "Build it and they will come," but of, "If you build it and it's really good, they will come." And come, they have. Keiser and Canadian development partner Ben Cowan-Dewar went on to create Cabot Links and Cabot Cliffs in northwestern Nova Scotia. Again, a remote location—but again, rave reviews followed, as have thousands of intrepid golfers.
The truth is diehard golf travelers are not deterred by locational challenges. Golf is a global game that's played everywhere. And the opportunity to discover new courses—and cultures—is just too tempting.
That said, you'll have to be dedicated indeed to make your way to these 10 remote—but very visit-worthy—courses. Having a million frequent flyer miles will help, and so will having an unquenchable thirst for adventure.
Barnbougle Dunes & Lost Farm—Tasmania, Australia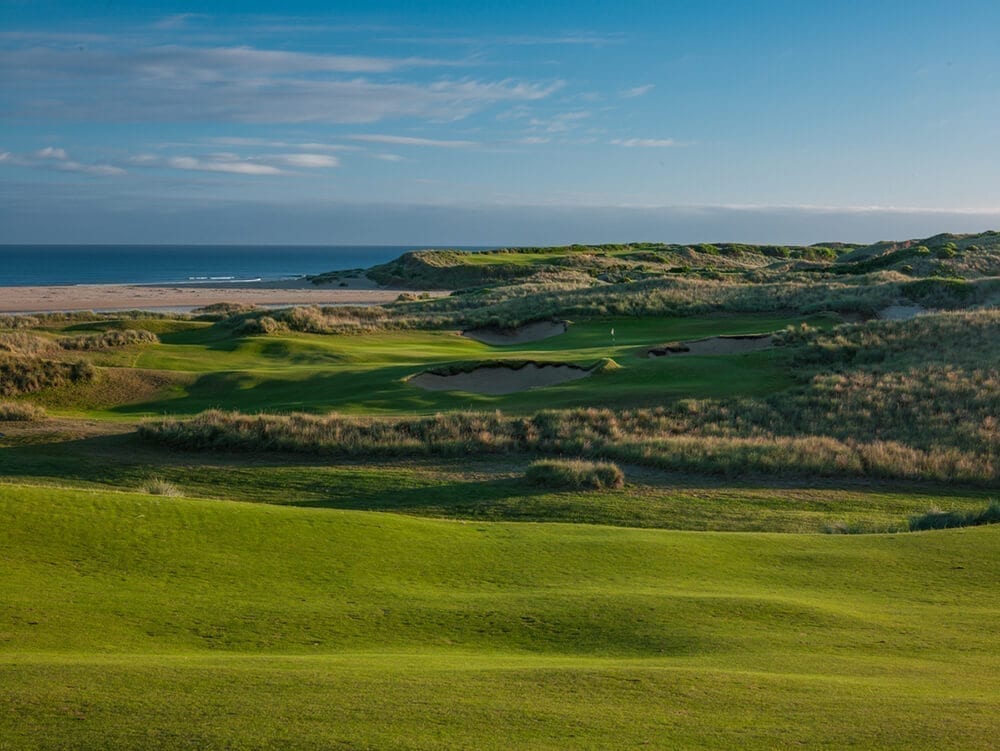 There's superb golf all over Australia, but to get to the country's two top-ranked public courses, you'll need to venture a bit further to the island of Tasmania. There, Tom Doak's Barnbougle Dunes and the Lost Farm course from Bill Coore and Ben Crenshaw will make you very glad you made the journey. Since you're there, make a stop en route at King Island to play the seaside stunners at Cape Wickham, Ocean Dunes, and the exhilarating nine at the King Island Golf & Bowling Club.
Cruit Island—Donegal, Ireland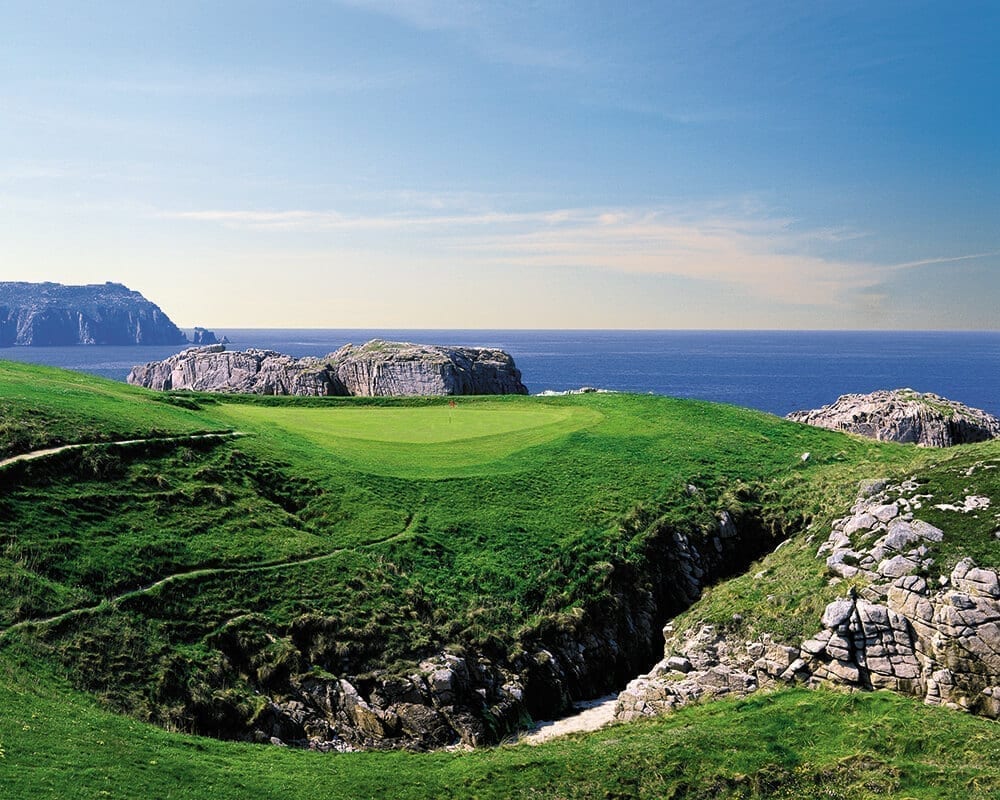 Cruit Island (pronounced "Cruch") is an achingly scenic 9-hole course on the rocky coast of Donegal in Ireland's northwest. It has a slew of better-known neighbors; courses like County Sligo, Narin & Portnoo, Donegal, Ballyliffin, and Carne Golf Links get far more visitors than Cruit Island does. But it has to be seen to be believed. It'll take some doing, but you can drive there from anywhere in Ireland. And you should.
Ushuaia Golf Club—Tierra del Fuego, Argentina
You may not technically be at the end of the Earth when you tee it up at Ushuaia, but you should certainly be able to see it from there. The southernmost golf course in the world, Ushuaia offers nine holes that twist along the banks of the Pipo River and offer jaw-dropping views of the usually snow-capped Martial Mountains.
Gokarna Forest Resort—Kathmandu, Nepal
View this post on Instagram
Hidden away in a protected sanctuary that was once the hunting grounds of the royal families of Nepal, Gokarna Forest offers luxe accommodations and a David McLay Kidd-designed, 18-hole course that sits 4,550 feet above sea level. Up for more Himalayan golf? Add Himalayan Golf Course in western Nepal and Royal Thimphu in Bhutan to your itinerary.
Phokeethra Country Club—Sieam Reip, Cambodia
After a day of exploring the historic temples of Angkor, return to your luxurious spa suite at the Sofitel Angkor Phokeethra Golf and Spa Resort, enjoy a spectacular Khmer dining experience (accompanied by traditional Cambodian dancers) at the resort's Royal Court restaurant, and get a good night's sleep before tackling Cambodia's best golf course—a course defined by its thousands of palm trees, many water hazards, and massive red sand bunkers.
Pyongyang Golf Club—Pyongyang, North Korea
@TheCraigEvans A picture is always worth a thousand words so from my archive, here's #Pyongyang Golf Club. pic.twitter.com/6QxOBLyO3V

— Olli Lehtonen (@OlliLehtonen) November 1, 2013
While you're in Asia, why not see if your passport can get you into the Hermit Kingdom, also known as the Democratic People's Republic of Korea. To get to Pyongyang Golf Club, you take the Youth Hero Highway from central Pyongyang to the banks of Taicheng Lake. There, you can play the same course where Kim Jong Un reportedly made five aces en route to shooting a 34 on this admittedly not difficult par-72 layout.
Akureyri Golf Course—Jadar, Iceland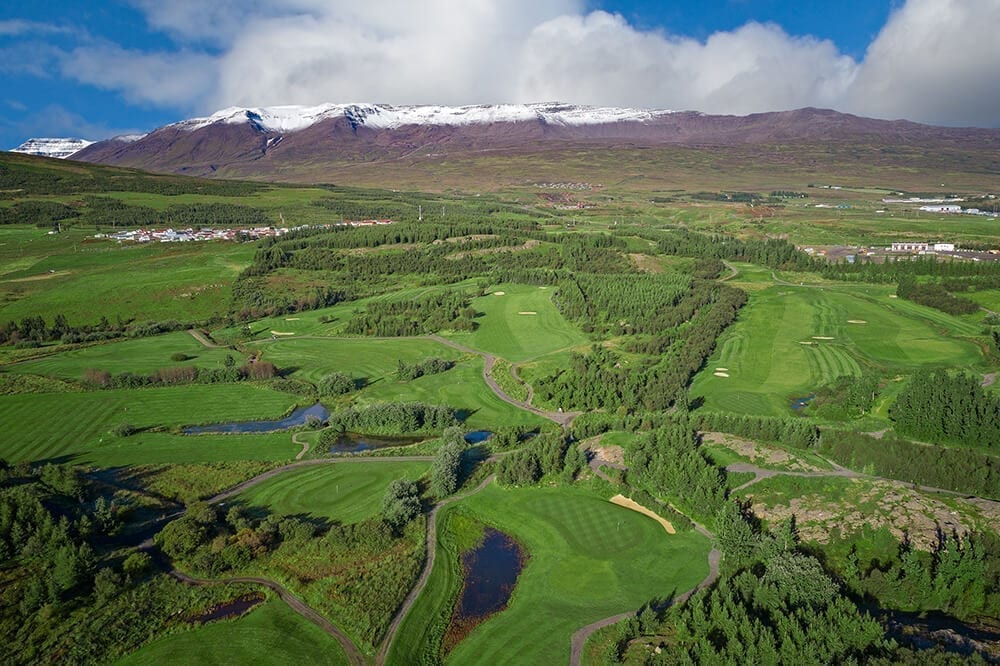 The stunning 18-hole course here dates back to 1935. For the past 30-plus years, it has played host to the Arctic Golf Championship in which players from all corners of the world compete under the midnight sun. Akureyri is also a great place to take in the Northern Lights.
Lofoten Links—Gimsøysand, Norway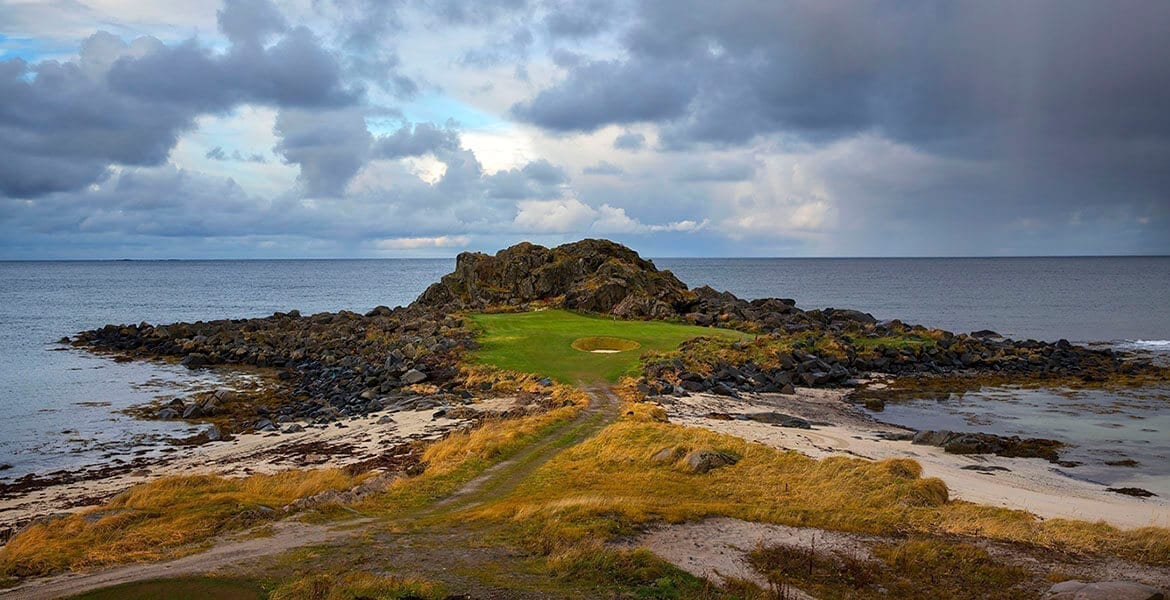 Another place you can play midnight golf is Lofoten Links—one of the most beautiful seaside layouts in creation. Located at Hov on Gimsøy Island, this is Viking country: rugged, rocky, untamed. You'll have to take multiple flights and make a long (but scenic) car ride to get there, but wow, what a course. You're at the edge of the sea, surrounded by mountains, threading your way through corridors of granite rock outcroppings and scraggly vegetation. The 2nd hole, a par three with a green set at the tip of its own narrow peninsula, is worth the trip alone.
Askernish Golf Club—South Uist, Scotland
https://twitter.com/AskernishGolf/status/1248585731863445509?s=20
One can only imagine what Old Tom Morris thought of this remote island site when he traveled to the Outer Hebrides in 1891 to lay out a golf course there. Or what golf course consultant Gordon Irvine thought when he learned of the existence of the course, which by the time of his visit in 2005 had all but disappeared. Irvine and others (including Martin Ebert, Tom Doak, and Mike Keiser) promoted the idea of renovating the course and today, the Askernish you can play is 6,259 yards of the purest, most natural links golf on Earth.
Ile aux Cerfs Golf Club—Trou d'Eau Douce, Mauritius
View this post on Instagram
Mauritius, the lively island in the Indian Ocean off the east coast of Africa, is home to a number of good golf courses. But the Bernhard Langer-designed course at Le Touessrok is the only one situated on a tropical island of its own. Located a short boat ride from the Shangri-La Le Trouessrok Resort, it features spectacular ocean views, undulating fairways, nine lakes, and volcanic rock formations you'd do well to steer clear of.
What remote courses are on the top of your must-play list?