True leaders are developed over time.
For new LPGA Tour Commissioner Mollie Marcoux Samaan, the qualities that will help her lead the women's game were born on a small public golf course in Ithaca, N.Y. That is where Marcoux Samaan's passion for the game of golf—one that has grown and developed over the last 30 years—began.
After seven years as Athletic Director at Princeton University, Marcoux-Samaan was named the ninth Commissioner of the LPGA Tour in May 2021. She takes over at a time when the LPGA is thriving, with record-size purses and a deep pool of talent. But the new leader knows there are challenges ahead for the LPGA and women's sports as a whole.
I recently caught up with Mollie to talk golf, goals, and the road ahead.
How has your time as LPGA Commissioner gone so far?
It's just been a complete whirlwind. I've been running a hundred miles an hour and trying to dive into every aspect of the organization, the golf industry, and obviously the women's sports industry. I think it's been going really, really well. There's a tremendous opportunity for growth. I think we're in a very good position, but also see this amazing future ahead of us.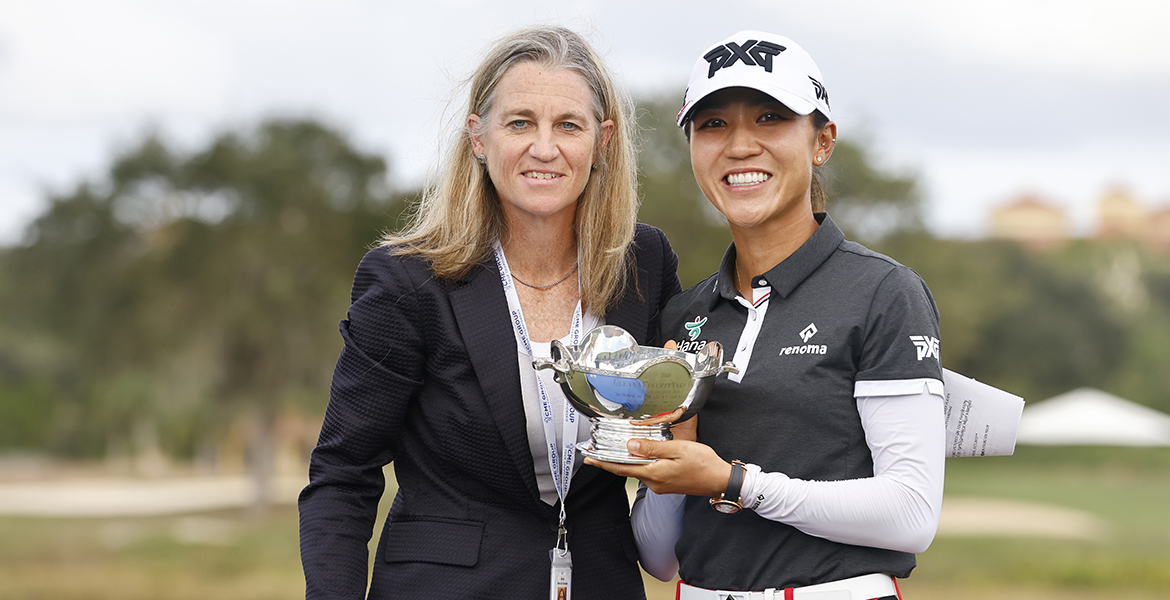 What's been the biggest challenge as you've transitioned from Princeton to the LPGA Tour?
I hadn't worked in golf specifically. I've worked in and around golf and have been around the game my whole life, but I've had to learn the industry. The LPGA is a pretty complex organization. It's been a challenge balancing wanting to do great work in the moment, and also knowing that I have a ton of things to learn and people to meet in order to do it effectively.
What has surprised you so far in working for the LPGA?
I think there have been a lot of surprises. One that jumps out is very positive—just how incredibly passionate people are about the LPGA. I've always been a big fan, but I didn't know much about the behind-the-scenes work. There's so much passion for what we do and what we stand for. The players really see this as their organization, and they have a passion for wanting to make the LPGA better. Personally, it's surprised me how connected I feel to the mission.
What is your background in the game?
I started playing when I was 12 years old, but my family did not play. We didn't belong to a country club. I started playing because my older brother picked up the game with his friends at the local public course and I just wanted to do what he was doing, and I convinced my parents to get me a set of clubs. I think they bought them at a garage sale. I started going down to the public course and just became obsessed with it, so I played a lot of golf as a kid, just on my own.
My dad would drop me off at Newman Golf Course in the morning and pick me up at night, and we would just loop around this 9-hole course. I think it was $45 to be a member with unlimited golf for the whole summer. Playing in Ithaca was really a special part of my youth. I often was the only girl playing and it really taught me so many life lessons, not just as an athlete but as a young girl. It helped me develop certain skills. How to be polite, have the right etiquette, be respectful to those around me, and how to act in that environment. It really made a big difference in my growth.
Do you have a career golf highlight?
Yes! The highlight of my golf career came when I was 14 years old. I played in the city championship in Ithaca at that same public course. I shot 75 on the second day of the 36-hole competition to put me in a tie for the lead. I went to a playoff with the reigning city champion, who was much older than me—I lost the first hole of the playoff, but that was the shining moment of my golf career.
The only hole in one I've ever had was during my tenure as Princeton athletic director. It was actually my first day on the job; I was with the lacrosse program during an outing and was sitting on the same hole hitting shots all day long as groups would come through, so I had a lot of practice. But I did knock one in that day!
First official day on the job. Thank you @LPGA HQ for the warm welcome. Ready to get to work with our remarkable team of players, people and partners! #DIVINGIN #DriveOn pic.twitter.com/SV8UD8rg06

— Mollie Marcoux Samaan (@mmarcoux91) August 9, 2021
You took over for former commissioner Mike Whan as the LPGA is seeing record-size purses and an expanded schedule. How do you build off the success that he was able to accomplish?
Mike has passed the baton, and my team and I plan on running hard with it. We've established a strategic planning framework, and by listening and learning we have six pillars that we're working off of. There's so much room for growth and I am really grateful to have entered this position while the tour is in such a great spot.
One of our pillars is to differentiate, strengthen, integrate, and grow our players' brand. That comes through increased media, increased marketing, and developing fan-engagement programs, both virtually and on-site. We are doubling down on technology, doubling down on the data. Our KPMG performance insight program that we launched in 2021 has really highlighted our players; not just compared to women on various tours, but we've also started comparing the data to men as well. Our players are amazing golfers as well as amazing athletes.
What is the greatest challenge for the LPGA Tour in 2022?
We've identified challenges that do exist. Only 7–8 percent of all media coverage goes towards women's sports. There's a lot of opportunity there, but that's a challenge. You have to find creative ways to get yourself out there. If traditional media is not available, you've got to be creative. Right now, only 4–7 percent of sports sponsorships go towards women's sports. Companies that have invested money in sports have traditionally looked at men's sports. I do think companies are reevaluating and asking themselves, "Why am I only looking at men's sports?" There's a huge value opportunity to associate with our brand, which is mission-driven and has the best athletes in the world.
Are there any lessons you learned as an athlete that have helped you in business?
Learning how to be a good teammate. Golf may be an individual sport, but the LPGA is definitely a team sport. We couldn't do this without our amazing partners. I couldn't do this without an amazing group of players and professional staff. We all have to come together and align ourselves around our mission.
Also, the confidence that you develop as an athlete carries over, knowing that you can win. Playing sports has driven all parts of my personality, my mindset, and my approach to life.
Princeton Athletics' fearless leader Mollie Marcoux Samaan '91 suited up for the Shooting Stars. #TAGD #stillmakingpattyproud pic.twitter.com/st4MrOfLdG

— Princeton Hockey (@PWIH) December 1, 2020
You played soccer and hockey at Princeton. How much of that competitive spirit that you had as an athlete drives you now in this new position?
Well, I think that's the beauty of sports and why I think that every young girl should play some type of sport. I think it starts to develop a mindset in you—one of growth. Golf is very hard. You try something that's really hard and every day you wake up trying to get better. I think that the mindset that I developed as an athlete was, "You're never done." The work is never done, and you have to put in the hard work to accomplish the goals that you want.
Are you still very competitive?
My mindset is extremely competitive and that has really helped me in the business world more than anything. Life's about getting the wins.