Transitions aren't always easy for professional golfers, but somehow, 17-time PGA Tour winner Jim Furyk has made his career transition seem effortless. Now 51 years old, Furyk recently wrapped up his first full season on the PGA Tour Champions. With a year-and-a-half schedule created by Covid, Furyk made the tour's "Super Season" one to remember—Furyk won in his first two starts, joining Arnold Palmer and Bruce Fleisher (and now Phil Mickelson) as the only Champions Tour players to accomplish the feat, and added a senior major win at the U.S. Senior Open at Omaha Country Club.
After finishing in a close second place behind Bernhard Langer for the Charles Schwab Cup season points title, we caught up with "Mr. 58" while he was relaxing at home in Florida. Furyk reminisced about his impressive Champions debut, the difference between the PGA Tour and Champions Tour, and how guys like Mickelson and Langer have motivated him for next season.
How was your first season on the Champions Tour?
Jim Furyk: I felt like it was a pretty solid year. It was bittersweet at the end with the opportunity to win the Schwab Cup, but I wasn't able to close the door on that Sunday. In a year and a half, I've played in almost every tournament and I've got a good idea of what the golf courses are like and what it takes to compete out there. I wasn't sure what to expect when I turned 50, but I've really enjoyed playing the Champions Tour.
What did you enjoy most?
JF: I really enjoyed playing in the cities we play, and the three tournament rounds instead of four takes much less out of you. Usually we can take a cart during the pro-am and practice rounds. I played more golf this year than I have for the last 10 years and I feel better body-wise at the end.
It's still fun to get out there and get the juices flowing, get in contention, and try to win tournaments. I grew up playing golf with all those guys on that tour, so I've got a lot of great friends out there. Just because you're 50 doesn't mean you don't like to compete—we just don't hit the ball as far as we used to.
Did you learn something about your game this year?
JF: It's getting harder and harder to compete on the PGA Tour flying the ball 265 to 270 yards. I'm probably a little longer than average on the Champions Tour, but I'm just starting to lose a little distance. The golf courses we're playing now are more manageable, so I'm getting the opportunity to be a lot more aggressive. Being in contention again, I've gotten back to trying to handle the stress and hit the shots to win a golf tournament. You learn a lot about your game when you're under stress and I'm kind of relearning that.
Are there big off-course differences in tour life?
JF: I think they are similar, but on the Champions Tour we do hang out a lot more. I find myself at lunch telling stories and laughing a lot more. For a part of the season, I was helping with the Ryder Cup so I hung out a lot with Davis (Love III) and Freddie (Couples) since we were at a lot of same events keeping track of players, but overall I'd say the PGA Tour Champions is a more laid-back experience. But I always caution people when I say that. The range is still full of guys hitting balls and working on their game. We've got guys that have had very successful PGA Tour careers, some guys that had good careers, and then the guys who are working to keep their status on tour. It's very competitive out there.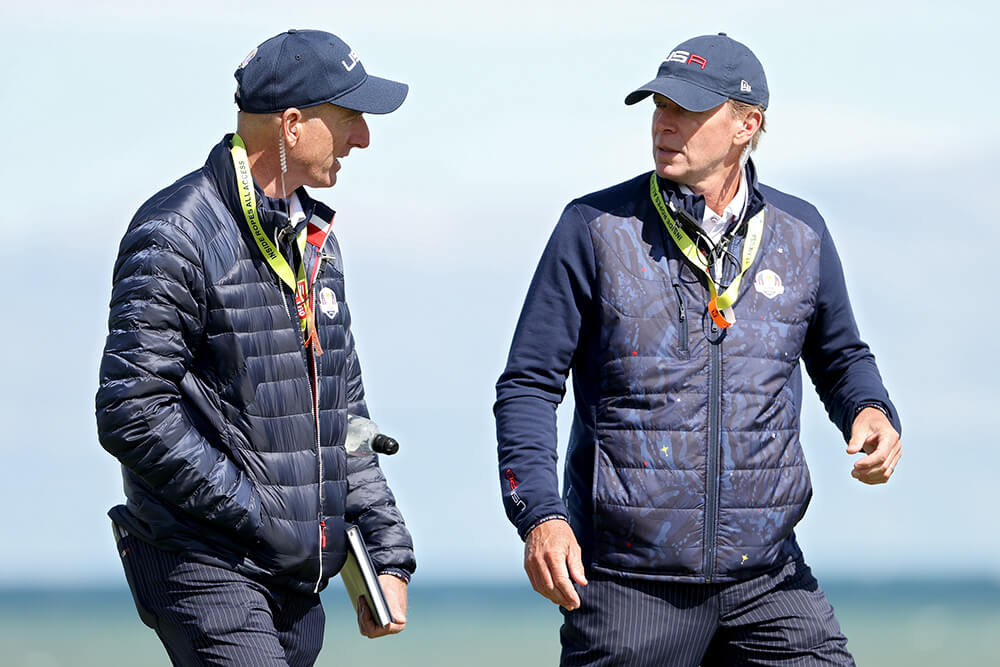 Like you, Phil Mickelson has also experienced instant success on the PGA Tour Champions. How does his presence on tour motivate you?
JF: He's won four tournaments when he's been in the field, so he's obviously the guy to beat. And he won the 2021 PGA Championship, so he definitely still moves the needle. Phil has dabbled, which has been really good for the tour. There are a lot of guys that have had a ton of success that are committed to the tour full time: Myself, Ernie Els, Retief Goosen, Jerry Kelly, Steve Stricker, and of course Bernhard Langer, who's been the guy to beat the last 14 years. It's nice to have Phil out here. I think he's really enjoying it out here and I think, as he gets older, he's going to come out here more.
You mentioned Langer, who just edged you out to win his sixth Charles Schwab Cup. At 64 years old, how is he still able to have such consistent success?
JF: If we all knew that it would be a lot easier. It's really a combination of things. He's obviously super talented, but he has a work ethic like no one else. He really enjoys playing and putting a lot of effort into his game, his fitness, and his equipment. He's been the best player on the tour for 14 years and has a hell of a lot of records out there that honestly, I don't think will be touched. You can kind of compare it to when Tiger (Woods) dominated the tour for a 15-year stretch. It's hard to reinvent ways to keep getting better. Tiger had the ability to do that better than anyone, and Bernhard just has that drive. He played in 39 events during this super season; that's unbelievable that he still has that will and that drive.
Can you see yourself playing that many events at 64 years old?
JF: (Laughs) You know, I really like to practice and work at my game. 64?  That's a long way down the road to even think about. I can't even imagine it.
What was your favorite tour stop from this past season?
JF: If I don't say Timuquana Country Club, my home course, I could get in trouble. I missed the PURE Insurance Championship this year because of the Ryder Cup, but I love Pebble Beach. My wife and I got engaged there and we love Carmel. It's nice to transition from the AT&T to the PURE at Pebble.
The two courses that stick out immediately that were nice to go back to were Firestone Country Club, where we had the WGC Championship, and Warwick Hills Golf & Country Club in Flint, Mich., for The Ally Challenge. Warwick Hills is a golf course that I've won on playing on the PGA Tour and had a ton of top 10s, and then I won in my first start on the PGA Tour Champions there, so I've got a ton of great memories at that golf course.
We're proud to provide families in Jacksonville with meals this Christmas! https://t.co/8yFM65CjVN

— Constellation FURYK & FRIENDS (@FurykandFriends) December 25, 2021
The year of 2021 was also extremely busy for the Jim & Tabitha Furyk Foundation; you and your wife hosted a Champions Tour event and also held your "Hope for the Holidays" event. How important has the foundation become in this second stage of your career?
JF: We started the foundation back in 2010 when my kids were young, and now that they are more mature and have become adults, the foundation has become more important to our family as a whole. Caleigh helps with a lot of our graphic design work and Tanner has also volunteered at a lot of our events, and even brought his friends and teammates to help out. Our vision for a lot of our events is to get our community involved, and Hope for the Holidays was a perfect example of that. Our entire community came out and worked on the assembly line at TPC Sawgrass under a big tent where we packed 5,000 meals to help a ton of folks who are in need. Tabitha and I have always tried to instill the idea in our own kids of helping others in need, and that event is really what it's all about.
Do you still set goals for yourself at this point in your career?
JF: Absolutely, without a doubt. I've always been goal oriented. Even as a kid, I'd look ahead at what I wanted to accomplish. I try to make a plan on how to get there. That works out sometimes, and sometimes it doesn't, but I've always been that way. And it's not really, "I want to win X-amount of tournaments or money." It's really just about improving and getting better.
Heading into 2022 my goals would be to try to improve each and every day and to feel like a more-rounded player. This time of year, I set out a plan on identifying what I can get better at. The hard part is figuring out how to get there.